Microsoft Launcher delivers a beautiful Android experience
Microsoft's mobile efforts on Android continue to expand with the official rollout of Microsoft Launcher. But it's in preview so there are bugs to fix and a few areas to improve.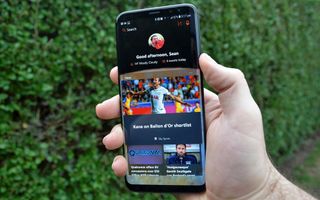 Microsoft Launcher is the upgraded version of the Microsoft Garage project Arrow Launcher and we covered the key changes that came with that upgrade last week. It's free and can be picked up from the Google Play Store.
After some heavy usage over the last few days, we're breaking down what works, what doesn't, and where Microsoft should take their launcher from here.
Design
As Microsoft Launcher gains more publicity, there have been some rumblings about how it doesn't look like Windows 10 Mobile. It's important to point out that it doesn't seem to be the goal of Microsoft to make Android look exactly like Windows 10 Mobile. For example, you won't find Live Tiles anywhere in the launcher. If you're looking for as close to a facsimile of Windows 10 Mobile on Android as possible, there are other options such as Squarehome 2.
But this isn't a bad thing. Microsoft isn't trying to turn Android into Windows 10 Mobile, they are trying to integrate Microsoft services into the Android experience while also adding some design elements that will be familiar to Windows users. And in that respect, Microsoft Launcher is phenomenal.
For example, there's also an option for a transparent theme. With all the transparent design elements coming in the Windows 10 Fall Creators Update, having a glass effect throughout all of your devices helps them feel more like siblings. Microsoft Launcher's transparency is found on every page in the launcher, including your newsfeed, calendar, people section, and more.
Other options, such as accent colors, allow you to extend the look used to on your PC, though at this time accent colors are limited to five options. This needs to increase dramatically to come close to the customization level available on Windows 10.
Even if you have no interest in making your phone look or feel like Windows 10, Microsoft Launcher is a great way to make your phone looks nice. The attention to detail that the developers put into the launcher adds up. Things like your profile photo smoothly shrinking and moving as you scroll through your newsfeed, the easy-to-navigate interface, and handy pages that you can pin and then swipe between make using an Android phone easier and better looking than many other launchers, especially the ones that come preinstalled on some Android phones.
Integration with Microsoft services and devices
Arrow Launcher already had features such as Wunderlist and Outlook calendar integration. Microsoft Launcher takes that idea further by bringing "Continue on PC" to Android. This lets you start doing things on your phone and easily jump to another device. This will be familiar to anyone who has taken advantage of Project Rome.
It's a nice addition to Android and will hopefully get better over time. You can take a document you're working on and push it over to your PC. It also works with links, even if you're browsing on Chrome on your phone and have Edge as the default browser on PC. It works fairly well, though it can take a couple seconds to open on your PC.
While it is handy, it's limited at this time. If you are listening to a song on Groove on your Android phone and click "Continue on PC" it opens the app on your PC in a browser which can then switch apps and open the song in the Groove Music app on your PC from the beginning of the song. This is a lot less elegant and functional than Spotify Connect which will keep playing the same song seamlessly. (We should add that Groove is now dead.)
Microsoft is focusing on features like real-time co-editing in Office apps so there's hope that a more seamless continuation between devices could come in the future, but it's not here yet.
Other Microsoft services work well on Microsoft Launcher. The calendar page makes sure you're only a few swipes away from seeing a beautiful layout of your agenda. You can have a page to jump to any of your recent documents. And there's also a nice page you can pin for your to-dos that syncs with Wunderlist.
The services that are available work well but Microsoft needs to take this trend even further over time. The to-do list works very well but at the moment only syncs with Wunderlist and not Microsoft To-Do. The newsfeed in Microsoft Launcher is good looking and customizable but doesn't have the option to sync with your Cortana notebook. And speaking of Cortana, Microsoft's digital assistant has no native support within Microsoft Launcher. A pinnable Cortana page would be a great addition to the app.
The app is in preview so it's understandable that features and integration need to be added but at this time you still need to do some extra steps to get that full Microsoft experience on your Android device.
Performance
Speaking of which, being in preview brings some performance bugs. Some users have spotted lag while vertically scrolling between their app page. We've run into some issues with the launcher when connecting to a device via Miracast and then disconnecting it.
But overall the launcher is very solid. It's fast and generally fluid, aside from some specific issues. It would be a lie to say that the launcher is perfect but considering it came out last week and has already seen an update, it's clear that Microsoft is working to iron out any kinks.
One of the knocks on Android is that it can take effort and knowledge to set up. Microsoft Launcher is fast and performs well while also being simple to use. If you are looking for an easier experience on Android or know someone who is, Microsoft Launcher did well in our testing.
Other things that need to be added
In addition to adding more integration with Microsoft services and some more options for customization, there are some features that need to be added to make Microsoft Launcher better as an Android launcher. A big one is a landscape mode. Phones may be getting taller and more portrait mode oriented but there are still times that landscape mode is just better, like when you're in the car. Above is what Microsoft Launcher looks like if forced into landscape mode by a third party app.
It would also be nice to have the feel of Microsoft Launcher come to the lock screen. The Microsoft Garage app Next Lock Screen is already available and highly rated but is due for a refresh. Adopting Next Lock Screen into the proper family of Microsoft apps on Android — the way Arrow Launcher was — would sprinkle your Android phone experience with Microsoft dust from unlock to everyday use.
Overall thoughts
Arrow Launcher was good, Microsoft Launcher is even better. While it isn't perfect, it is a well designed, feature rich launcher that allows you to extend your Microsoft experience to and from your Android phone.
Over time, Microsoft can add more features and options to close the gap between your devices even further while also enhancing your phone experience.
If you're looking for an easy to use a launcher that will enhance your overall phone experience as well as phone's connections with Microsoft services and design, Microsoft Launcher is a must-have.
Do you like Microsoft's decision to launch their own Android launcher? Have you tried Microsoft Launcher yet? Let us know in the comments.
Get the Windows Central Newsletter
All the latest news, reviews, and guides for Windows and Xbox diehards.
News Writer and apps editor
Sean Endicott brings nearly a decade of experience covering Microsoft and Windows news to Windows Central. He joined our team in 2017 as an app reviewer and now heads up our day-to-day news coverage. If you have a news tip or an app to review, hit him up at sean.endicott@futurenet.com.