Microsoft Launcher delivers a beautiful Android experience
By Sean Endicott last updated
Microsoft's mobile efforts on Android continue to expand with the official rollout of Microsoft Launcher. But it's in preview so there are bugs to fix and a few areas to improve.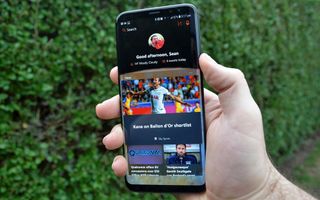 Microsoft Launcher is the upgraded version of the Microsoft Garage project Arrow Launcher and we covered the key changes that came with that upgrade last week. It's free and can be picked up from the Google Play Store (opens in new tab).
After some heavy usage over the last few days, we're breaking down what works, what doesn't, and where Microsoft should take their launcher from here.
Design
As Microsoft Launcher gains more publicity, there have been some rumblings about how it doesn't look like Windows 10 Mobile. It's important to point out that it doesn't seem to be the goal of Microsoft to make Android look exactly like Windows 10 Mobile. For example, you won't find Live Tiles anywhere in the launcher. If you're looking for as close to a facsimile of Windows 10 Mobile on Android as possible, there are other options such as Squarehome 2 (opens in new tab).
But this isn't a bad thing. Microsoft isn't trying to turn Android into Windows 10 Mobile, they are trying to integrate Microsoft services into the Android experience while also adding some design elements that will be familiar to Windows users. And in that respect, Microsoft Launcher is phenomenal.
For example, there's also an option for a transparent theme. With all the transparent design elements coming in the Windows 10 Fall Creators Update, having a glass effect throughout all of your devices helps them feel more like siblings. Microsoft Launcher's transparency is found on every page in the launcher, including your newsfeed, calendar, people section, and more.
Other options, such as accent colors, allow you to extend the look used to on your PC, though at this time accent colors are limited to five options. This needs to increase dramatically to come close to the customization level available on Windows 10.
Even if you have no interest in making your phone look or feel like Windows 10, Microsoft Launcher is a great way to make your phone looks nice. The attention to detail that the developers put into the launcher adds up. Things like your profile photo smoothly shrinking and moving as you scroll through your newsfeed, the easy-to-navigate interface, and handy pages that you can pin and then swipe between make using an Android phone easier and better looking than many other launchers, especially the ones that come preinstalled on some Android phones.
Integration with Microsoft services and devices
Arrow Launcher already had features such as Wunderlist and Outlook calendar integration. Microsoft Launcher takes that idea further by bringing "Continue on PC" to Android. This lets you start doing things on your phone and easily jump to another device. This will be familiar to anyone who has taken advantage of Project Rome.
It's a nice addition to Android and will hopefully get better over time. You can take a document you're working on and push it over to your PC. It also works with links, even if you're browsing on Chrome on your phone and have Edge as the default browser on PC. It works fairly well, though it can take a couple seconds to open on your PC.
While it is handy, it's limited at this time. If you are listening to a song on Groove on your Android phone and click "Continue on PC" it opens the app on your PC in a browser which can then switch apps and open the song in the Groove Music app on your PC from the beginning of the song. This is a lot less elegant and functional than Spotify Connect which will keep playing the same song seamlessly. (We should add that Groove is now dead.)
Microsoft is focusing on features like real-time co-editing in Office apps so there's hope that a more seamless continuation between devices could come in the future, but it's not here yet.
Other Microsoft services work well on Microsoft Launcher. The calendar page makes sure you're only a few swipes away from seeing a beautiful layout of your agenda. You can have a page to jump to any of your recent documents. And there's also a nice page you can pin for your to-dos that syncs with Wunderlist.
The services that are available work well but Microsoft needs to take this trend even further over time. The to-do list works very well but at the moment only syncs with Wunderlist and not Microsoft To-Do. The newsfeed in Microsoft Launcher is good looking and customizable but doesn't have the option to sync with your Cortana notebook. And speaking of Cortana, Microsoft's digital assistant has no native support within Microsoft Launcher. A pinnable Cortana page would be a great addition to the app.
The app is in preview so it's understandable that features and integration need to be added but at this time you still need to do some extra steps to get that full Microsoft experience on your Android device.
Performance
Speaking of which, being in preview brings some performance bugs. Some users have spotted lag while vertically scrolling between their app page. We've run into some issues with the launcher when connecting to a device via Miracast and then disconnecting it.
But overall the launcher is very solid. It's fast and generally fluid, aside from some specific issues. It would be a lie to say that the launcher is perfect but considering it came out last week and has already seen an update, it's clear that Microsoft is working to iron out any kinks.
One of the knocks on Android is that it can take effort and knowledge to set up. Microsoft Launcher is fast and performs well while also being simple to use. If you are looking for an easier experience on Android or know someone who is, Microsoft Launcher did well in our testing.
Other things that need to be added
In addition to adding more integration with Microsoft services and some more options for customization, there are some features that need to be added to make Microsoft Launcher better as an Android launcher. A big one is a landscape mode. Phones may be getting taller and more portrait mode oriented but there are still times that landscape mode is just better, like when you're in the car. Above is what Microsoft Launcher looks like if forced into landscape mode by a third party app.
It would also be nice to have the feel of Microsoft Launcher come to the lock screen. The Microsoft Garage app Next Lock Screen (opens in new tab) is already available and highly rated but is due for a refresh. Adopting Next Lock Screen into the proper family of Microsoft apps on Android — the way Arrow Launcher was — would sprinkle your Android phone experience with Microsoft dust from unlock to everyday use.
Overall thoughts
Arrow Launcher was good, Microsoft Launcher is even better. While it isn't perfect, it is a well designed, feature rich launcher that allows you to extend your Microsoft experience to and from your Android phone.
Over time, Microsoft can add more features and options to close the gap between your devices even further while also enhancing your phone experience.
If you're looking for an easy to use a launcher that will enhance your overall phone experience as well as phone's connections with Microsoft services and design, Microsoft Launcher is a must-have.
Do you like Microsoft's decision to launch their own Android launcher? Have you tried Microsoft Launcher yet? Let us know in the comments.
Sean Endicott is the news writer for Windows Central. If it runs Windows, is made by Microsoft, or has anything to do with either, he's on it. Sean's been with Windows Central since 2017 and is also our resident app expert. If you have a news tip or an app to review, hit him up at sean.endicott@futurenet.com.
Need a video to see how it performs. Going to YouTube.

Excellent launcher. Gets rid of much of the Android home screen busyness. Use this and the "white icons" icon pack, it looks very Windows Phone 'esque. Its made my Android phone bearable.

I don't mind getting an Android phone. As a matter of fact, I'm excited about finally having a complete smartphone experience.
And, I still have my 950 to "play around with". Lol
.......
What's majorly disappointing is how beautiful WP is (was), and that crispness won't be carried onto Android, no matter what launcher is used. WP8.1 hands down just had the best look, and feel of any mobile OS so far. MS sucks at selling themselves (well, they don't even try), but they have some terrific artist.
Personally, for me, that's about the only thing I see I will miss, and not be able to get pass, but It's not the end of the world, it's just a damn phone.....
Hopefully, one day I can enjoy those terrific Windows elements on a mobile device again; who bloody knows. But, until then, if you want the best MS experience on a "smartphone" MS intends for Android to provide that... iOS second.
.
.
.
.
.
Still love WP, doe......😃😃😃
And, no Jason.. I haven't given up on the dream of a pocket Windows PC. That'll always be there. I'm just going for what's readily available now, and hopefully our options will increase in the future..
Right now, two options in the market is sad, and bad for consumers. The mobile market IMO is just like the American auto industry.. We argue about whether Chrysler, Ford, or GM, is best, but in the end they are all three provide diversity, like one or the other, or not. They all three push the other to do better. The competition is just right.. Having only two options hurts the consumer. Consumers only have two choices, and therefore are split off by two personality types. That allows companies like Apple, while making quality products, to jack up prices, and provide a relatively basic experience compared to the only other option, just because they GOT people by the balls... I guarantee you if MS HAD some balls, and actually did what they need to do to bring WP to 10% marketing share, that iP10 would be looking a lot more innovative on paper... Without a third (or even fourth) platform Apple, Google, Samsung, and others, don't have to work as hard for the consumer as they possibly could, and to tell the truth about it, they have become seriously complacent in recent years...
Any reasonable iDroid fan should have prayed Windows Phone would succeed, just to push competition alone. The trolls hating on WP, and hoping it would fail, aren't actually working to their own benefit in the long run. Two options in the market could never last as long as they could if there was a third, and even fourth, VIABLE option to keep them all running hard, and long. (I know, that's what she said)... No, Android, and iOS, can't play back, and fourth, until infinity. Their luster will fade, and I promise you guys one day, short, or long, someone will come take them out. Without a third OS in the market that's bound to happen sooner, rather than later... It's the sad truth, one that I don't glorify, but one 40 years as a consumer has taught me. One day those that didn't at least show respect for WP will be in WP fans EXACT situation as well. It's called Karma, the boomerang effect, whatever. It's imminent.
But, that's what makes me not as mad; the fact that times change, and one day none of this Galaxy/Snapgram/Lumia/iOS30/Droid/played out Windows Phone, smartphone year 2008, old-school technology of the past era, will matter.....
Case, and point, be humble about what you have now because you won't have it forever, ESPECIALLY IF YOU'RE AN ******* ABOUT IT. Nothing great stays on top forever EXCEPT FOR THE SUN! 🌣🌣🌣🎃🎃🎃🎃🎃🎃

For me the best phone to go to that feels like a Windows phone is the xperia xz premium as it feels like a lumia has a camera button and the phone is fast. This Launcher also works well on it to.

🤔🤔🤔🤔 I forgot about that camera button. Terrific point.

A few phones out there (My Nexus 6P for example) doesn't have a camera button. BUT, Stock Android allows you to double-press it to launch the camera app directly. Then you can use volume buttons to act like the trigger... Not perfect but better than nothing

See, this is why WP fans defend their phones.. With WP the hardware has always made up for the lack of apps... Hardware wise, a Lumia 950XL offers practically every feature even the most high end iDroid device have in 2018.... Seems like the only competent choice for WP users is a Galaxy device, because Samsung seems to have it all,,,,,,,, and apps.

I think the LG V30 would be a better option for WP users than the Galaxy because Samsung puts way too much fluff in their Android devices.

So much of our talk now will be on Android and apps for Android, and that makes perfect sense. The phone is where all our IT begins today, or as Daniel stated "our phone is our most personal PC". We want launchers for it, wearables for it, apps for it, peripherals for it, new devices that are coming, and on, and on. Having a few computer links to our phone is nice, but really it's the phone that is our PC now. That said, with everyone jumping on Android, and Microsoft dropping non-enterprise related services (like Groove), isn't it time for us to consider options. I'm with Dan, Zac and team to the end, but wouldn't be in our best interest to invade Android Central now, merge expertise, and try to take it over? :) . We have felt, despite assurances from Nadella and Myerson, that Nadella wasn't really committed to mobile. Now, we are beginning to feel (despite assurances again) that Microsoft's "focus" is turning to the enterprise. Well, they have Xbox too, but that could be easily sold off as rumored in the past. Should we just wait around again waiting for something more interesting than a $3K all-in-one, or a laptop? Will Nadella tell us in another 3 years, "I never really saw the need for Microsoft to be in the consumer space"? Jokes and emotion aside, it feel like the passion in this relationship is one sided. So why not jump to someplace where positive news and consumer innovation happens on a regular basis? Just a thought...

You think .2% of mobile Nations readers are gonna take over Android Central?? Hahaha😂😂😂😂
.......
I really do appreciate your enthusiasm, and you really should be praised for being so open minded, but let's get real...
Windows central probably still is the best place for WinDroid news.
(can't believe I just said that. Someone put a bullet in my head, already)🙄

MSFT should rename themselves to Michaelsoft Bimbows and Windows Central should change to WinDroid Hub!

Trying to have a mature conversation over here. SMDH 🙄

My ears perked when you mentioned the Xperia XZ Premium. But then I found that it doesn't have wireless charging. :( The search continues...

Speaking with a lot of other Android users, they said to avoid Huawei, Sony, and budget-Samsung at all costs because of poor support after you buy the device.
.
One of my friends used a Sony XPeria last year and after having many issues with software updates and camera he moved to Apple iPhone.

Holy ****... The more y'all go on about these half baked Android device the more I realize that WP hardware has it all.... No wonder everyone get's Galaxy devices. I might have to get a Note 8. SMDH

Got the note 8 with Microsoft launcher. Best phone I've ever owned for business, blazing fast and the Spen is great for off screen notes. And got an Honor 8 as a personal phone (had a Mate 9 but wanted a smaller phone for personal use). Keeping that pretty stock to get the Android experience lol. Gave away my 950xl and continuum. Still keeping my 1520 though. Can't bear to get rid of it. 😢

Honestly the Note 8 is the only one that makes me think about leaving my 950, because at least there i get something new, inking.

Hey Rodney, I've been a loooong time reader of this site, dating back to my HTC Titan after my Palm Pre went to HP and then went the way of the Zune and Kin lol I've enjoyed reading your take on things and wanted to offer an option for your first/next non-WP phone: Galaxy S8+ or Note. My 950XL recently introduced itself to a tile floor and when i brought it to my local MS Store for replacement under extended warranty, they offered a Galaxy or x3. Since I've sworn to never buy anything from HP again (see above), i asked about the S8+ - yep, they had, yep i could exchange my brick for it and yep, I only had to pay my deductible and a little extra for the difference in cost. So for $115 i got a top of the line phone. I was n.e.r.v.o.u.s. Had never used an Android before, but i can now honestly say, except for missing the UI of WP, i don't think i could ever go back. All the apps that i use that have a password can also use the fingerprint reader so i don't have to remember the passwords. I found a WP-like launcher in Square 2 Home; it works great and isn't a drag on resources or battery life. Speaking of battery life, a couple of times that i've forgotten to charge overnight and the phone still lasted through the next evening. Another nice touch: wireless charging. I'm still able to use the 950XL wireless charging pads for the S8+, I only need to line it up just right and it works great. There's another Windows blogger, Paul Thurrott, that did a review/comparison of the S8+ and the iPhone and he said the S8+ is the closest he's come to replacing his iPhone and he never expected an Android phone to be that good (my slight paraphrasing). Give it a look on his blog/website; he's got some good reads/takes on the phone – the only reason he didn't keep it and make it his daily driver? He said it cost too much; I can't argue that but when most premium phones are going for around that amount, not a lot of options other than the cheaper ones that are loaded with crapware and spyware. You get what you pay for (and if you buy it at the MS Store, maybe there's a little less of the crapware 😊) Sorry for the tome but wanted to give you my two cents.

Yes, and I read every single word!!... Between you, and NIST, take on the S8+ I'm convinced.. Well, I'll wait for the S9+, because my 950 is still working great. Thanks for your help!!

I know what you mean. Really do miss Windows Phone 8.1. Very unlikely, but Microsoft should let it go Open Source. Keep the UI, make a music player (like Zune) that integrates with OneDrive, DropBox, Google Drive... and make sure it has a very capable browser so we can use web apps in place of the missing apps. I would love to see Hubs again, but facebook, twitter, etc. made it clear they will not stand for that.

Remember how well that search button worked on WP7.5? How everything on that OS just flowed? Android still is just nasty looking compared to that.. Even after all these years Android looks like the old WinMo 6.5, and WP7.5-WM10 look worlds better, and more modern..
I'm telling you. If MS could make a phone that used Android underneath, but litteraly the entire OS looked like a mix of WP7.5-8.1, that would be a beautiful thing.... Apps, functionality, and a modern UI... Maybe these guys are right... IDK. Maybe a dual boot Surface device. Android, and W10. Lol. Whatever. Who knows. That's what dreams are for.

"If MS could make a phone that used Android underneath, but litteraly the entire OS looked like a mix of WP7.5-8.1, that would be a beautiful thing.... Apps, functionality, and a modern UI... " I have been saying this very thing for a long time now. WP OS was the best OS ever put on a smart phone. I still have a Windows Phone. I tried to use them. I tried to get others to use them. I sent developers emails asking for WP apps. Now. If windows just used an android base with a GOOD WP skin on top, boom, WP with a million apps. I would be all over it. but I would want MS to make the hardware (or license Samsung to do it for them) and put all MS stuff as Native Defaults. (with options to change them) And anther thing you were right about. All these Fanboys that wanted MS WP to fail were complete idiots. We needed a viable 3rd option to keep apple and android moving forward. Now both are lazy because they both are taking mobile in two completely different directions and they don't really compete with each other. Each are just doing their own thing. Image if you went to best buy to get a TV and you had TWO options. Sony and Samsung. .... no other option. That would Suck so bad for the consumer. But, that's what we have in Mobile and people are happy with that ... so dumb....

I'd love a Windows Phone with Android layer and Google Services (what is Android if the Play Store isn't part of it?). But also be able to use the current Mail, Calendar and People app from Windows as they're way ahead of anything on Android and even the Outlook for Android don't come close to the originals in WM.

I think most people think that when they use Android they have to use Google services, but that's not true, previously I had a Lumia 625 device and now I have a Sony Xperia device and most of the apps and services I loved on Windows Phone 8.1 are now on Android, the only services of Google I keep on my Android Sony Xperia device are:
Chrome, Maps, Street View, Youtube And I have disabled most Google services: Google, Drive, Gmail, Google Play Music, Google Play Movies, Hangouts, Talkback. My most used apps on my Android are from Microsoft: Bing, OneDrive, Outlook, Spotify (Groove made partnership with Spotify), OneNote, Word and Excel

My Android phone was really crisp and responsive for the first 3 days. For those 3 days I wondered if I had been wrong about Android or if things had changed. Nope, my God is it laggy.

Yeah. All I hear from people is how their Android device is having trouble, and degrades... Well, WM is laggy, but at least it's consistently laggy.. Lol. It doesn't degrade, but it has gotten better.. Sad, just when the WM OS got good in performance MS left it alone. Stupid.

Yes that is the biggest problem with Android even though it's open source and majority of people using it. The OS just lags and causes crashes and many other issues. This is what caused me to switch to WP8 (from Android 2.3 Gingerbread) more than 4 years ago.
.
I enjoy Windows devices including phones like Lumia 950 but alas the platform hasn't really succeeded and I'm being forced to go back to Android (I think latest version is 8.0)

Maybe that's MS's trick... Get a bunch of fans to go over to Android, annoy the crap out them, and release a bad ass Surface something so they'll never leave again.. Lol.
Seriously unnecessary step there, MS. 🙄🙄

I just switched to Android (Samsung S8) just over 2 weeks ago. I have not had a single app crash or phone reset since powering it on, which is better than can be said for the 950xl I left behind.

My Nokia 6 purchased in July has not had a crash yet and is not laggy but still pretty responsive. Must be the stock Android and I get regular updates. Nokia promised this would get the Oreo update so that is something to look forward to. Of the few androids I have had I like this one the best so far. Just the build quality alone is worth it for a mid range device.

@StevenHillerAlienKiller - What phone did you switch to?

Nothing special didn't want to spend too much on it. Moto g5 plus.

I don't buy this. I have honor 9 and its laggy when at 20 or less % battery life, because it clock down cpu to last longer I guess. But otherwise it's much faster than 950XL - the phone I had for almost v two years... Honor is in my pocket for around 2 month now. But I will go for note 8 because of pen and amoled display. Android gets laggy if it has crap specs or overloaded with running apps - which will happen to any phone. Besides its more about developers of apps imho... Eg cortana on android isn't really well optimized...

I've used Arrow Launcher on my S7 for a while now and really like it. I've also tried to use Cortana instead of the google one but it keeps resetting back to google periodically for no apparent reason.

I don't see the point of MS making one of these. It is looking like 2018 will see the launch of the Surface not-Phone and once that's happened what will be the point of trying to make Android devices look like Windows? May as well run the real thing.

is that some my people UI I see

I installed this on my mum-in-law android phone and she loves it.

How do you get that top black part with the profile pic?? Cant seem to get it or find the setting to activate it ..and for some reason, it still says arrow launcher in some places

You have to sign up for the beta to get the Microsoft Launcher and not the Arrow Launcher. It sounds like maybe that's your hangup at the moment. I had that issue initially.

Thanks for that, it worked =)

It looks well throughout, beautifully designed and sleek. One wonders the possibilities of win10m if this effort was afforded there also. I know Ms says they tried but had they actually tried like they did with Surface, this would he a different story.

I think that Microsoft had many amazing ideas (such as Force touch on Mclaren, and no-bezel displays) but they never implemented it or in some cases like Groove and Films&TV they just took way too long to advertise their platforms.
.
They expected everyone to know about it and come to the platform and then MSFT would start adding features. Backwards thinking is what caused this disaster of a company.

Yes exactly. At some point instead of improving and telling people about what they had, they decided they needed to be more like iOS and Android. For some reason MS believes that if they simply make something the users will magically show up. They ignore the massive amounts of money Google apple and Samsung spend on advertising. I just feel sorry for the software engineers who put their efforts into a device it's company never supported.

Those amazing ideas were Nokia, not Microsoft.

yes but ultimately it is Microsoft who will support or ignore those ideas. Also around the time those features were being developed, MSFT was acquiring NOKIA.

There are launchers with tiles which is better i think for Windows Phone users. I think i saw one that has live tiles but needs a good setup.

I got the LG G6 and am trying out Launcher10. I had to pay $10 to get the Live Tiles feature but will be trying out and comparing to my Lumia 950.

I don't have android devices to check but in case you are interested have a look at this also https://www.windowscentral.com/e?link=https2F2F... i think that support live tiles

I also just got the G6. I find the tile replicating launchers to be poor imitations and I did not keep using them. They're close enough to live tiles that I was frustrated they weren't just like WM10's. I'm using this Microsoft Launcher instead now.

I have 207 employees on my campus. Every year we have 3-4 get hit with identity theft or financial accounts hit. Everyone of them used an Android. Coincident, probably but what if....... I dislike Apple more them the Devil himself, so I will go back to a dumb flip phone when my 950 dies.

Or maybe it was one of the numerous breaches at companies like Equifax.....

I don't want to defend Android - but if 80% of the market owns some sort of Android device - the odds are that someone getting run over on the road probably has an Android. Should Android be blamed for that?

It's about the user really... I highly doubt that someone can easily break android or any other system without help if stupidity of the user...

It's really awful to see this article on this site. Sad state of affairs

You need to move along, Windows Mobile failed as Joe Belfiore said, it's time to think in Andromeda OS and its capability to run Android apps, that will make me purchase a device with this new OS since the app gap will not be there and I can use my bank application since its not available on Windows Mobile.

that too will fail as it's the same people behind it that were working on WP7 and WP8.

Well win mob supported to 2019 so im good. I still use a 640 everyday, planning to get a 950 or alcatel and have no issues or complaints.

I hate Microsoft right now

I'm staying with Windows Phone until the wheels fall off i have a 950

Same here, I'm going to keep my Lumia until the hardware is unusable ir the batteries are no longer sold. Android doesn't do anything that I want that WM10 doesn't do too.

Well, in all seriousness, there's no reason for anyone to just run out, and get another device, unless they feel they need one... I'm most likely going to keep using my 950 well into next year. If MS doesn't come with something, I'll definitely be getting an Android device... No big deal.

You don't have to pretend to be enthusiastic. This stuff is crap and people, for a couple of useless apps, should enjoy this? Most, obviously, will ignore its existence and will use Apple and Google services. This is a crazy strategy. Windows Mobile gives you all another user experience. This UI seems Symbian 10 years ago, it's far to be new.

I don't like the way Android looks at all..... But, like I said, having apps, a good camera, some modern, and available, hardware isn't the end of the world....
I'm sure that day when I pull to my house on my bike, and open my garage door with my smartphone, I won't miss WM. 😂😂😂😂😂

I was forced into Android world by my employer, and both Arrow and now the much improved official version Microsoft Launcher certainly help make the transition better. No live tiles true, but lots of information at a glance in available and with a widget, I have a page for my backyard weather station. I want better Cortana integration as well and camera control.

Damn.. WM really does have it's merits... Sad.

same thing. I have most of my family on Windows phone with my younger brother switching to Samsung S8. My father's workplace had to give him an iPhone7++ as the Lumia 950 doesn't have the apps anymore (those apps were discontinued last week).

Using it right now. It looks nice, it's smooth and it's easy to use. If I MUST use something other than WP then it's a good option! Still finding it hard to make the break though, keep picking up my 640xl and 930 and thinking of what might have been...

MS Launcher is good, but a tad complicated and unrefined at times. I just tried the newest beta, but switched back to Evie Launcher, and it's incredible. Simpler yet powerful, more fluid and smooth as butter, smoother than MS launcher.

All of this Microsoft stuff on Android makes me sick.

I hope you don't use chrome browser on your computer

I hope you use Vivaldi and avoid both MSFT and Google for now.

Not being familiar with Androind, can the 5 buttons on the bottom be changed to what I want and need?

The app drawer and 4 app icons, you mean? Yes those can be rearranged however you want, or also be folders of multiple apps. If you mean the navigation buttons below, those can't be customized as much. You can swap the position of the multitasking and back buttons, but that's it.

I suppose it depends on the manufacturer. With LG I can also put a button for my notification tab and a screenshot button on the nav bar. Not much customization, but some.

Exactly. On my honor I disabled those buttons and use finger print scanner with gestures on it. It's much better than those buttons :-)

They should give us an option to make the dock more visible on HOMESCREEN and to choose the color + transparency + the blur

If you want to keep the look and feel of Windows 10 mobile, check out Launcher 10. The tiles ca be resized and rearranged. Live tiles are avilable as well but as a paid unlocked feature. I used it for a week and loved it. I recently bought a Galaxy S8+, and I'm trying to get used to an Android interface instead of clinging onto Wndows. I might switch back to Launcher 10 in the future.

Bah, yet another Android launcher, looking awful, eating battery, etc... Still recovering from the news Belfior shared on Twitter. What a disgrace. ☹

I wish I could have the option to swipe left to see a list of apps (Like the app drawer list), rather than the most used apps. Other than that it's as good as I could expect, although it'll always have a soft spot for my 521/950xl.

Launcher 10 gives you the option to swipe and then see the list of apps in alpha order with thei similar abilty to search.

try out Launcher10 as it looks very close to Windows 10 Mobile but sad I have to pay for using Live Tile option.

SquareHome 2 also has a swipe left list of apps (by name or by frequency of use).

I tried it on a galaxy. Didnt get the point of it. Wasn't enough of a difference from what the device came with to even bother with it. Just another fail.

You didn't try it for long enough then.

you are not wrong ... it isn't that different from most android launchers

Exactly. So why switch? To appease a company that essentially crapped all over me? Nope, good riddance until they get a real CEO.

Absolutely love this launcher. Was using it when it was Arrow now it's even better

I like the ability to choose how your icons look. It's better than Arrow too. Still want hey Cortana as a replacement for Google assistant though and think the swipe up should be app drawer. Don't need quick settings as Android already has those by swiping down

I love this launcher on my Sony Xperia Phone. It's how I personally would have redesigned Windows Phone UI, replace the tiles with icons and keep your home button and your 4 most used apps locked in the bottom as on iOS and Android since that way If I keep too many icons in multiple screens I always can have my most used apps (Phone, Whatsapp, Outlook, Contacts) always there for an emergency.

Was already using the Arrow Launcher. Moving from Xiaomi to Samsung, the default homescreen on Samsung felt weird so I installed Arrow and sorted my apps into folders just like I had on MIUI and removed the all apps button. The new updates after rename have added a little more functions to arrow and I love them. My favourite is that Microsoft Launcher now lets me swipe down to open notifications panel which for some weird reason didn't work previously. All I can say about MS Launcher is that it's awesome.

Let's see here, the Massively Screwed-up dys-Functional Team (MSFT) is developing a consumer focused piece of software. DO NOT TOUCH IT WITH A 10 FOOT POLE!!!! They will abandon its development. Core habits are hard to change!

I feel your anger but let's give them a chance...MSFT may be much more successful with Android than with WP...they do have several major patents on the Android software that earns them hundreds of millions in profits each year scot free...

Give them a chance? That's rich. Do we need to list all of the abandoned consumer products again?

@TK Well I feel defeated by MSFT...I know about the abandoned products because I purchased all of them (Zune HD Player, Band, Surface RT, Zune/Groove Music Pass, WM/WP (15years)...I will never buy another MSFT branded hardware product except for an XBox and even that has me worried...if I can get a modicum of a WP experience on my soon tombe Android Galaxy phone I will be ok...I will however miss the seemless integration of MSFT services across all my devices...them abandoning WP and Groove breaks that horribly...

Hey FG13, The only place I know that was selling the Samsung G8 Microsoft Edition was the Microsoft Store. Head over to store.microsoft.com and see if you can find that elusive beast?!?! It isn't in the online store anymore. The Massively Screwed-up dys-Functional Team has already abandoned its first foray into the Android world! It isn't there! Is anyone really surprised? The market for this launcher is the .01% of us (yes I'm currently on a L950XL) that are currently on a W10M device! And that was for the total market for all smartphones. Do you think any Android fanboi is going to jump to a product put out by the Massively Screwed-up dys-Functional Team?!?! Now way! If they were previous W10M users, they already weren't impressed enough with the MSFT product "to go down with the ship". Those of us who are looking to jump to what appears most likely will be Android, again make up a tiny fraction of the Android population. The Massively Screwed-up dys-Functional Team already cancelled a line of business because it wasn't popular enough. With the preceived pain of switching a launcher in an unfamiliar OS, they won't capture 100% of us drowning rats. I see no reason why MSFT will support a launcher that someone probably wrote on their lunchtime. They just won't update it and when CrackerJack, Twizzler or whatever name comes after Oreo comes out, it won't work and MSFT won't make an announcement for 2 years that they have dropped support. It is the Massively Screwed-up dys-Functional Team way! Wash-Rinse-Repeat!!!

Will be getting a Samsung Galaxy soon...am happy that MSFT has this launcher because hopefully Live Tiles may come...that is one of my most beloved features on my WP...

Two Options are Square Home launcher and Launcher 10. About as good as you can hope for.

2 things i dislike about arrow launcher: 1. it is a pain in the butt to drag icons in and out of the dock when the dock keeps jumping around 2. when you open a folder it opens in the center of the screen instead near where you positioned the folder other than those two things its pretty solid.

I tried it twice on my S8, but it stucks the focus of the camera. Samsung support said that a wrong driver disturbs the focus.

If they made Cortana work as well as it does on W10M, I would install this launcher. Don't know if the launcher can overcome the restrictions, but it would be nice. Unless someone else knows a way to get it to prompt on Bluetooth when I get a text. I really miss that, and haven't figured out a way to get Google Assistant or S-Voice to do that

I agree with this. I was shocked that this isn't standard on Android, having had it on Windows since...8.1? Earlier? I don't remember. I have settled for the time being on Android Auto. It's set to automatically come on when I connect to my car's bluetooth, it gives me access to maps and music/podcasts, and it prompts for text messages to come in. It's not the same as WM, in that I get a notification and have to either say "Ok, google...ready my text messages" or touch the screen to play the text message. But you can respond with voice. Bonus, I do like how it's tied to specific bluetooth connections. When connected to my car it also shuts off wifi (to save battery, although I'm plugged in) and will shut off automatically when I turn my car off and exit the vehicle.

I'm surprised the left-swipe screen isn't full cortana or even tied to cortana. Maybe it will be in the future, because it seems like a no-brainer to simply have the cortana "upcoming" and "interests" feeds there at a swipe with the option to add a reminder or enter a text/voice command.

What app is that which forces the launcher to rotate to landscape mode? I'm an avid fan of this launcher but that is the one flaw I see with it - this would be nice until they add that.

It's called Rotation Control the dev is CrapeMyrtle. It isn't perfect because some apps don't know how to handle landscape mode but it's a good rotation controller and also let's you flip your phone upside down so your charger is coming out of the top.

Hey Sean are you still at WinBeta/ onMSFT? I see you here more often than on the other place 😎

too bad it can't make android work like win phone

I switched to Android 6 months ago, used every launcher I could find that could TRY to replicate WP, and they all suck. I will always miss the WP UI.

I agree. I tried the most notable ones and they all just felt like poor imitations of WM. They're close, they look similar, but in the end they're just bandaids. Maybe I need to give them a longer try and perhaps I will. My thought at this point though is, I'm on Android, I'll try Android and see what all of the hype is about. I've gotten this MS Launcher to a state that I like the layout, so I'm happy for now.

This launcher has been out for ages but is still another generic grid of icon launcher of which there are ten a penny on android. MS could have made this stand out in so many ways but then again it is MS. So Wunderlist and Groove work with it, great both services are being shuttered by MS. Where is Cortana integration? It's just another MS app that could be great if they made an effort buuuuut they won't. Hardly going to convince anyone to stay with MS after the last few years. 4/5 stars is a seriously rose tinted specs score!

For me like other launchers and it take more than 200 mb of ram... Too much i think

I get the focus on Android, since this is where most of us will probably end up. I switched to the iPhone, simply becasue I can't get myself to invest in a device that will only get worse over time, lags and requires frequent restats and this is exactly what I heard about Android. Don't get me wrong, there is nothing to like about the iPhone, beside the fact that is simply works pretty reliably. Having said that, I guess I will have to move over to iMore to try to stay on top of things. I hate Microsoft for that. Their experience on iOS really sucks and ther lack of a WC app doesn't help either. It was fun while it lasted, but I wish I never used WP, so I wouldn't have to see the switch as a downgrade.

hello. my ideal "Microsoft launcher" would be the ability to change these ugly round small icons into large squares. even if live tiles could not be recreated, if at least the look of a windows 10 mobile home screen could be recreated I would be interested.

You can get different icon packs that change the shape and style. I'm using "material cards" which makes each icon a rectangle shape, which I like much better than the circles.

Look for launcher 10 in Google store. It is very close to Windows experience...

Yeah, I like it overall. But I've had issues with hangs on an LG G6 and Moto G5 Plus. Started over with a new install and fresh setup and it's been OK.

So I recently moved to a GS8+ from my 950xl. I want to try this launcher out but being new to Android not sure what will happen. If I try out this launcher over the stock one will I loose a bunch of features on my phone like the edge panel? Also, lets say I try this launcher out and dont like it, what does installing it do to my current stock launcher?

each launcher is like an app. You current one stays even when you install another. At least that's what I've noticed when I have installed Launcher10

You just switch back. It saves the setup from the other launchers. At least that's what I've experienced in my limited time with Android. Turn on the launcher, set it, if you don't like simply switch to another one.

I'm using Microsoft Launcher on my Galaxy s8+. It still has Edge Panel and Samsung Pay quickly access.

how it could be a Microsoft product if its not have a few bugs

So which beta software (which is what this is) is bug free... I seem to remember day zero fixes on all recent Android and Apple releases too.

They need to add syncing between Chrome on Android and Edge on Windows as well (bookmarks/favorites, forms, passwords, etc.).

That would be the point of Edge coming to Android. I don't mind using a Blink-engined Edge on my Nexus, but I sure as hell don't want to use Chrome on my W10.

I use SquareHome2 on my Samsung S8. Works great.

Try out Launcher10 it is much closer to Windows 10 Mobile.

Thanks for the suggestion. Now I am ready for Android :-)

I don't like their launcher. It has some nice stuff, but calendar does not talk to outlook which I have installed... And it's still a lot like android. Launcher 10 was my choice and I am happy with it. Now MS should integrate cortana reminders to show up in outlook calendar as was in W10M and is on desktop...

I'm still using my 950 as my daily driver and don't see trading out any time soon since to get feature parity (apps aren't an issue for me) I would have to get an expensive flagship. However, I do use Microsoft Launcher (formerly Arrow Launcher) on my Nexus 7 table and definitely prefer it to the standard and Google Now launchers. I'm interested to see Edge on Android so I can lose the last Google app on there.

Unsure why anyone would put this on their phone, when they can just install Google Chrome on their PC and be almost done with it. Google also has Drive, Photos, and Music Manager for Windows. Just stick with the ecosystem that works best on the mobile devices, etc. Microsoft's is not that ecosystem, sadly. IMO, the best way to go about this is to simply fork Android and make it your own, like Amazon did with their FireOS Tablets. Otherwise, you're asking users to install a ton of redundant bloat on their devices - basically accepting an inconvenience in the name of convenience.

I ordered a LG G6 and plan to put everything Microsoft (except for their launcher) and then delete all Google stuff. I know things like Google Play Services will have to remain :(

I've been using Arrow for a while (android as my secondary device) and it's been good. My GF has some moto and after a recent software update she didn't like the changes, so I installed arrow for her and she likes it too. I has some nice features and simplicity at the same time. Give it a try, worst thing that can happen is you don't like it so you unisntall it.

The #1 thing I'm missing moving from Windows Phone to Android is a photos app. Having the gigs and gigs of photos in my onedrive intergrated with my photos-- man I took it for granted. I miss it so much. If I needed a #tbt I could get back a few years with a few swipes. Using Onedrive on my device isn't hard or preventative, but being able to look back a few weeks, then easily go back YEARS was huge for me. I keep hoping MS drops a Photos app. Google photos is starting to look real tempting.

Never liked it. Ill stick with Apex Launcher.

sounds good. I agree landscape support is a must now. Its been on the feedback mill for years. I disagree a live tile gui is not part of the launcher experience. Live tiles are a relevant feature that nicely and efficiently integrated the sting icon, improving advanced functionality, design and customizability. I think its efficient. The power for lies in the multifuncionality of an icon that is a button and a glanceable widget, with potential to innovate on. It is also iconic to microsoft. I think microsoft should buy Squarehome2, expand and mirror the live tile functionality at least as good as windows 10 and 8, and integrate it with MSFT Launcher. I don't see the problem why it shouldn't be done.Android is open source, they allow creative shelling. Windows phone is dead, but that is still a large cohort very likely to switch platforms, possibly android, with more customers. Microsoft doesn't have a representative app store and the search power of google. I think it is a win-win for microsoft and Google. It would also help improve customer relations and be a good pr to improve customer satisfaction with Microsoft and google. Personally I think it would be a very nice gesture to help move forward after supporting microsofts mobile experience for the past 7 years.

No tiles, no move until my L950XL dies.

Looks ok. My only problem is that every time I turn my phone off and back on my phone forgets it was even in use and it resets. I have to choose which launcher I want even though it is the default in settings and I am clicking the 'Always' button when it asks me choose the launcher on startup. I might have to root the phone and remove the other launcher.

Ugh. Launchers, icon packs, rooting, forking? What it this, a PocketPC? I'm so over that stuff.

I will be happy the day my Surface device support Android apps natively.... I have been happy so far with the experience and I try to get most of my needs covered by the windows store, but I do wish I could take better advantage of my tablet mode with more apps....

So when is MS dropping this launcher?

Looks and feels like from the past century.

It would be an instant buy if there was something close to livetiles. Just having Icons on the main screen is so ... Well, Windows95ish. I like the today screen and all the other stuff, but without the Live-Tiles Feature ... all worth nothing. I'm using Launcher 10 with Whitecons, because the configuration of Squarehome was a bit "strange".

Use the Arrow Launcher. Personally I find it makes Android usable. Of course I would prefer the Lumia 950 but it seems Microsoft support Android now.

Sticking with my 950, but until I find a way to fully degoogle an android phone, increase its security and get a true WP experience on a andriod device then im going to try and avoid it. I'm probably either going to go with the security of apple or get a tablet with lte and go all skype. Its really bad news for the consumer, the lack of choice on mobile devices is a problem.

A very sad and ominous heading.

Funny - SwiftKeyboard make iOS more usable and Launcher/Lockscreen from MS make Android more usable. Can MS someone fix security/update issues in Android before my 950 will go to heaven ?

I have moved over to Android but boy i miss my Lumia 650 like anything. Android is not as bad now as it used be be earlier. Ive got a Moto G5s Plus and its a decent device for its price. I havent used Microsoft Launcher yet but i do feel MS can maybe, just maybe release a proper Launcher for those who want to replicate the Tile feature as they had on Windows Mobile. Here on android, i need a seperate app so that Facebook syncs pictures to my contacts, Groove is not available in my region (Again Microsoft behaving like a US only company), Glance screen is missing, Cortana integration feels incomplete etc etc etc. The end point is, after moving to a well functioning android, i miss my Lumia experience terribly and Im sad MS let this happen. I keep coming back to the 650 and boot it up just for the sake of Nostalgia :\

WindowsCentral has turned into a blind advertizement channel of Microsoft. The best launcher that even delivers live tiles on Android is Launcher 10. Microsoft's Launcher does not deliver a beautiful experience, and it does not deliver what all people are asking for: live tiles. We know, Microsoft does not care about the user. WindowsCentral has joined them.

I tried it, but it was just Meh. If you're going to go for a non-stock Launcher on Android, use a bona fide one like Nova. Or, Evie which runs like butter.

Yep. I'm using Arrow for a while now, and I really loved this upgrade to Microsoft Launcher. So far, I haven't found any bugs that ruined the experience or something like that. But I'm really excited to use the "continue on PC" function!

Really love my Arrow Launcher, waiting for the change over to take place.

Right my Windows on phones history is HTC Touch HD, Lumia 710, Samsung Ativ S, Lumia 830, Lumia 930 and I currently have a Lumia 650. I like Windows on phones. We also have a Office 365 family plan. So don't think I am a Microsoft hater. This Launcher then. I tried Arrow and wasn't that impressed but I am giving this launcher a go along side my normal set up of Evie and Action launchers. See that, 3 different ways of interacting with my phone. It isn't the customisabilty that is the killer there it is the fact that there are so many developers pumping out so much good stuff all the time for Android, you can't compete with that sort of ecosystem. I will be interested in what comes next with Windows on "small portable computers" though.

I switch back and forth between my windows Alcatel idol 4s and my Nokia 6. Just downloaded this app and it certainly makes Android much more
interesting to use. Will have to play around with it and discover what it does. If Microsoft can't bring Android users to Windows then windows can show the droid fans what windows can do on their own platform. I like the way Microsoft is playing this. Time will tell.

I wish they made a Windows 10 launcher.

I've been using the MS launcher on a phone and tablet for a couple of months. On the phone, I like it a lot. Quick, stable, removes distractions, fair amount of customization. On a tablet....meh. Too much wasted space, folders are icky (kinda like iOS). I like the concept of adding widgets to the "left" panel, but the implementation is a little wonky. There are a few misses that can be easily corrected. Example: when you use the built-in agenda widget or page, when you click on an item, if you have more than one calendar application installed, it asks you every time which app to use....there's no "Do this every time" setting.

Could you guys do a video review/walkthrough of this, and maybe the Squarehome 2 one I read so much about? I am still clinging to my 950, but do realize that it wont last forever and that I should probably just warm up to the idea of getting an android phone. Hoping either one of these will make it more palatable.

Have to agree with some of the people. even if the app works well why use something from a company that you know is going to abandon it. I had to switch to Android when Microsoft abandoned Windows Mobile. I might as well stick with what 80% of the world uses now. Microsoft Mobile is dead, let it rest in peace. Or not, for that matter.

I'm initially trying it in a couple of Android TV boxes, maybe in my LG Fiesta 2 later on, and I'm quite satisfied with 1. the looks and above all 2. the snappy performance I see so far. I have about 60 apps only installed as I write this. I'm new to this launcher (and to this forum!) and I can't find an easy way to, from the main screen, close any open apps that I don't plan to reuse soon. With the Nova launcher it was easy, you have the small 'box' at the bottom for that purpose but with the MS one I can't. Also...Is there a way to make the icons' text black?! I really like some of the snowy wallpapers but... Thank you!

I liked it a lot. Until I needed Google to identify music. And when I needed "Hi Google" to work. It took a little getting used to because it moved everything around. But I loved the integration of all email in one place and all calendars in one place. Finally had to remove it which was a little difficult.

I am a computer/cell phone illiterate. I downloaded Launcher & it has overtaken my phone. I tried calling,but keep getting directed to do it online. All I want to do is get RID of this absolute disaster and get my simple phone back. A pox on Microsoft and their not responding! I hate this company.
Windows Central Newsletter
Get the best of Windows Central in in your inbox, every day!
Thank you for signing up to Windows Central. You will receive a verification email shortly.
There was a problem. Please refresh the page and try again.