Microsoft launches commercial cloud services from local datacenters in India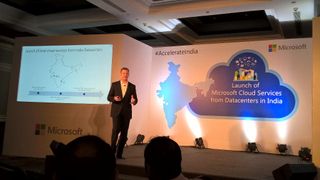 Earlier this week, Microsoft announced the availability of Microsoft Azure services via local data center regions in India. As the first public cloud provider from India, Microsoft has opened three new regions – Central India in Pune, South India in Chennai, and West India in Mumbai.
Governments, large businesses, small and medium businesses, and citizens can use the massive computing power now available locally to fuel India's inclusive growth, spur innovation and accelerate digital transformation. In addition to the Microsoft Azure services, Office 365 services are slated for availability in October 2015, with Dynamics CRM Online services to follow in the first half of 2016.
In September last year, Satya Nadella had announced that Microsoft will offer commercial cloud services from local data centers by the end of 2015. Following this, in July, Microsoft offered a private preview of Azure services to companies in India. This saw significant interest from BFSI, government departments and organizations, ISVs, e-commerce organizations and startups. It included participation from over 125 organizations such as Mahindra, Honeywell, Kotak Life, Fortis Healthcare, Rediff, Meru Cabs, Sony Corporation, and many leading Indian banks. These services are now available for broad consumption.
With the local cloud services, regulated industries such as BFSI, government departments and state-owned enterprises will now be able to leverage public cloud services and be able to take advantage of local data residency. In addition, businesses that deal with large amounts of data like media companies, will benefit from data replication in multiple regions within India for backup and recovery, reduced network distance, lower latency, and the option of a private connection to the cloud.
The move will also have a significant impact on citizens as it will accelerate e-governance and roll-out of citizen services accelerating the government's Digital India and Smart Cities programs. With the assurance of local data residency, programs like digital lockers and digital identity will also move quickly and enable better citizen services.
Microsoft has also launched Cloud Accelerator Program along with its partners to help businesses create cloud adoption blueprints to identify applications which can move to the cloud. More than 15 Microsoft partners including HCL, Wipro, and Tech Mahindra are a part of the Cloud Accelerator Program in India.
Get the Windows Central Newsletter
All the latest news, reviews, and guides for Windows and Xbox diehards.