Microsoft launches commercial cloud services from local datacenters in India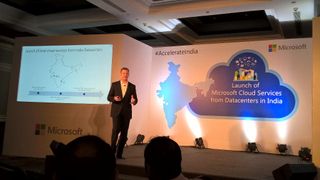 Earlier this week, Microsoft announced the availability of Microsoft Azure services via local data center regions in India. As the first public cloud provider from India, Microsoft has opened three new regions – Central India in Pune, South India in Chennai, and West India in Mumbai.
Governments, large businesses, small and medium businesses, and citizens can use the massive computing power now available locally to fuel India's inclusive growth, spur innovation and accelerate digital transformation. In addition to the Microsoft Azure services, Office 365 services are slated for availability in October 2015, with Dynamics CRM Online services to follow in the first half of 2016.
In September last year, Satya Nadella had announced that Microsoft will offer commercial cloud services from local data centers by the end of 2015. Following this, in July, Microsoft offered a private preview of Azure services to companies in India. This saw significant interest from BFSI, government departments and organizations, ISVs, e-commerce organizations and startups. It included participation from over 125 organizations such as Mahindra, Honeywell, Kotak Life, Fortis Healthcare, Rediff, Meru Cabs, Sony Corporation, and many leading Indian banks. These services are now available for broad consumption.
With the local cloud services, regulated industries such as BFSI, government departments and state-owned enterprises will now be able to leverage public cloud services and be able to take advantage of local data residency. In addition, businesses that deal with large amounts of data like media companies, will benefit from data replication in multiple regions within India for backup and recovery, reduced network distance, lower latency, and the option of a private connection to the cloud.
The move will also have a significant impact on citizens as it will accelerate e-governance and roll-out of citizen services accelerating the government's Digital India and Smart Cities programs. With the assurance of local data residency, programs like digital lockers and digital identity will also move quickly and enable better citizen services.
Microsoft has also launched Cloud Accelerator Program (opens in new tab) along with its partners to help businesses create cloud adoption blueprints to identify applications which can move to the cloud. More than 15 Microsoft partners including HCL, Wipro, and Tech Mahindra are a part of the Cloud Accelerator Program in India.
Hyderabad should be considered, isn't it?

Good question is why not in my home? Now this is going to be really absurd. Its a cloud service guys does not matter from where you access, should feel good at least in India we got its enough. In future definitely going to be at more places. Trending :- wen in India ? ;)

Yes you are right though IT center matters (btw I am from Gujarat).... Wen in India...hahaha.

But when the other US only services will come?? Bing rewards, Surface, surface clones?

Get it that surface isn't made for indian market. The price st ehst we buy pro 3 we get a high end laptop from HP,Dell,Lenovo,Sony,Acer etc. Surface would be hardly sold in India. It would be admired by ppl but still sales won't catch up. IMO those who use iPads in India can really see surface as their alternate device or exchange device where they can trade their iPads for the surface. Surface to be really a hit product has to build a fanbase of mad ppl who would blindly love surface like how the apple fanboys are :p

You think Surface is an iPad replacement and not a high-end laptop? Whom are you kidding?

I'm talking about surface 3 is a perfect replacement whereas as we Indians are more price conscious nothing wrong with that we still believe that if we pay more we should get more ram and accessories. Ppl who can afford surface pro3 will go for it but who will go pay extra for keyboard and pen the one who crazy behind surface but what about avg person buying surface 3 or pro3??

If icrap-phones are selling and crap-pad are selling with such a price tag then obviously there is a market for Surface. Many people are waiting for that. All that need is superb Ad and marketing. But as you know Microsoft's Ad department is worst.

Microsoft and their ad dept, lemme say they ain't worst, but they arrived late to the party. Do you think there's anything wrong with Linux? Yeah, there's nothing wrong with it, but they arrived late to the party. Do you think because you're late, 7 billion....alright, many of them are nomads and tribes.....lets say to be on the safe side 3 billion people, would decide overnight for a change in the operating system? As long as it's working, we anthropoids, for all the smartness and panache that oozes from the pores of our skin, will prefer to the tried and tested one. IOS is tried, is tested, having enough apps for the businessman, enough games for the jobless who's on social security, enough social media apps for the housewives, surely rules. Best of all its working good, grandmothers don't have to tweak anything on an iPad, for children it's just touch and sit back and enjoy, updates for all.......alright....now you know why it'll take time for a Surface. It's not enough if you're the best, you gotta be on time....lesson for we mortals in our daily lives too. And don't say icrap, crap pad etc. All of them are not wrong. They are just comfortable. Let them enjoy their sweet little zone.

Pune and Mumbai are less than 100km away. Still they represent different parts of the country. Just being casual ;)

One should be in Bangalore as well

Not impressed. Doesn't help me or my clients.

This government is really serious about digitalization of services at a higher scale.
The only way it can proceed is getting help from IT Giants. Thanks to Microsoft for this effort.

Modi's meeting pays off, or at least begins to do so.
Wonder where the other big players and their promises are?
All Facebook did was stir a Net Neutrality debate in the country (again) and made a lot of people change their profile pictures. Google and Apple are yet to do something, AFAIK.

If you read the post of mark zuckerburg on May 5, he said his support for digital India is not at all associated with net neutrality. As far as Google is concerned, they have said to provide Wi-Fi services at 100 railway stations by the end of 2016.

its was in the work before of that

It was in the works already. A business decision and not anything to do with government's initiatives.

Lol whatever happened to their goal of building datacenters in countries where they cant be legally told to hand over data

That way Microsoft Cloud services will cease to exist, every country has local legal laws which have to followed. In USA, NSA will directly look into accounts and even Europe has asked all the tech companies to make sure that data is locally stored. BTW, this latest Indian data centres will result in much better performance for corporates, e-commerce websites, Government departments and other normal counsumers who were relying on Singapore data centres till now with Amazon having a massive marketshare in India, This is Microsoft's way of fighting back AWS by providing better, faster, local data centres.

Is there a plan to have cloud servers in various countries to facilitate local needs?

If the potential market is big enough then why not? Microsoft is on the offensive on cloud services and will definitely open more such local data centres wherever feasible.

Are they really poor at geography? I mean, Pune is not in the central area.

They are not looking at India only. They are covering the world, or half the world. Decisions could have been cost based as well.

Ex Indian government official explains cloud computing... Funny!!!
https://www.youtube.com/embed/ApQlMm39xr0?autoplay=1&FORM=VIRE1

This article is invisible on the PC
Windows Central Newsletter
Get the best of Windows Central in in your inbox, every day!
Thank you for signing up to Windows Central. You will receive a verification email shortly.
There was a problem. Please refresh the page and try again.