Microsoft launches the new Calendar on Outlook.com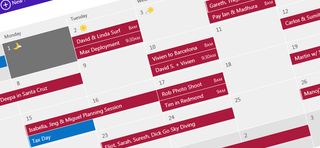 The Outlook team has released a rather welcomed addition to its Outlook.com service. Calendar has now been added, utilising the new user interface to provide a stable and clean experience. As with all Microsoft products these days, the new "Modern" look ensures that the focus is on content rather than unrelated chrome and visual effects. Should you use Windows, Xbox or a Windows Phone, you'll feel right at home.
Event management has been made more user friendly with the addition or editing of individual events available through a single click of the mouse. New events that span multiple days can be configured simply by dragging the mouse over desired dates - it's really quite intuitive. It's a much-needed refresh as calendar was still using the old Windows Live interface, while Mail and other services have already been updated.
If you're not already aware, Microsoft enables consumers to connect their Microsoft accounts to services such as Skype, LinkedIn and Facebook for friends' birthdays to be displayed. If that wasn't enough, the new calendar also keeps users up-to-date with the latest weather forecasts and calendars (.ics files) can be imported (public calendars can also be subscribed to).
Calendars are private by default, but can be easily shared with others. When shared, others may access the calendar, but as the owner, it's easily configured who can see, edit and add events. It's super easy this way to create family calendars, etc. Subscribing to notifications will ensure that should someone alter an event, everyone will subsequently be notified by email.
So when is the new calendar rolling out? It's being applied around the world this week. Should you already be using the new Outlook.com for email, you'll be able to take full advantage of the new calendar service soon as Microsoft enables it on accounts (don't freak out if you don't already have it). Remember that you can take your calendar on the move on your Windows Phone. Simply add your Microsoft account and subscribe to the calendar.
Source: Outlook Blog (opens in new tab)
Rich Edmonds is Senior Editor of PC hardware at Windows Central, covering everything related to PC components and NAS. He's been involved in technology for more than a decade and knows a thing or two about the magic inside a PC chassis. You can follow him over on Twitter at @RichEdmonds.
No its facken awsome Huzzah lol :)

whoever came up with this nonesense +1 thing. It makes no sense at all

It's from forums with 'upvoting' so you can rank more useful answers, or answers you agree with, higher. Just think of it as "I agree"

+1000. I'll give MS a hard time on this one. Way too slow considering they already had a Windows 8 metro Clanendar app that was probably written in HTML/JS anyways.

+1!!

Now, if they could just pack the same level of functionality as the old Hotmail had into that slick-looking Metro styling... but this is a good step!

Awesome! Just checked the PC site on my phone and I have the update.

This is great! I might make Outlook.com my main calendar. Can GMail calendar stuff be pulled in?

I believe so. Haven't done it myself though. But there are a lot of options for syncing or importing data from other services.

yes it can http://office.microsoft.com/en-ca/outlook-help/transfer-calendars-between-outlook-and-google-calendar-HA010167495.aspx

This is with Outlook 2007...

ma bad, http://www.wpcentral.com/how-sync-google-calendar-outlookcom-your-window...
pretty similar process

At last! The Hotmail UI was embarrassing.

the Hotmail UI was pretty cool.....in 2008.

Not on my account yet :( Look forward to seeing it this week, looks nice!

Still ugly Hotmail Calendar. How can I upgrade to the new version?

By reading the article in its entirety.

We need some kind of appreciation system here because I would like you to thank you for this eye opening comment of yours. :)
+9001

Ultra...! Ultra...!! Ultraaaaaaaaaaaaaaa!

funny just checked, my old hotmail account got the update, but outlook account didn't

Ok dumb old guy here...windows phone 822 here. How do you find out if you have outlook update

This is an update to outlook.com, the website that is the web email interface. This won't affect anything on the phone.

You need to login into your outlook.com account and check your calendar. I have one of my account updated to the new outlook calendar but the rest still the same ugly looking calendars.

Looks good, got it for my old hotmail account right away :)

Wow, wish I had that on my phone. I'm jealous

Finally! I always hated going from the new SkyDrive or outlook to that old, ugly calendar.

Cool. Excited about this update!

YAY! I can use it on my browser at work.

Next Microsoft, please make WP8's calendar better also...

This is the annoying thing, its obvious that Metro is really eyecatching and appealing and far ahead of the tired UI used in other platforms and it gave MS a head start to really great success with Metro and WP, Windows 8 and their redesign of Outlook and their other sites but they have just been so slow with rolling out updates everywhere and adding functionality its killed practically all the momentum they could have had. Just hope its not too late.

First off, holy run on sentence. Second of all, Microsoft has pretty much reinvented their selves over the past 2 years or less. They've managed to bring all their products together under one design language. And integrate them with each other. That's really impressive for a company that big. Especially when you consider how clustered and disjointed their products were before. New Outlook Calendar UI is awesome! They still need to tweet their office products. They aren't as well polished.

Dogs and cats, living together...

Aaaaaaight! Finally! Been waitin for this for a longggg time.

This is the only calender i've used that does not have search.

Great!

Now Microsoft NEEDS to fix People, so that the pictures we so painstakingly added in our Windows Phones syncs everywhere. The current design that pulls the picture from the respective contact's social sites is completely unworkable.

Not available for me yet, but the screenshots look nice. I hope someone at the MS WP team will at least think about a revamp for the WP calendar too.

Am i the only one that is wondering about the task area? Seems left out of all the updates you either have to go online or on your phone for it

Okay, I freaked out a little and then I finished the article. I read the headline went to my Calendar and got sad face. Came back here to finish reading. Ha.

its getting better and better each time

Is there a way I can convert my MS account from Hotmail to Outlook without factory resetting?

Search this site. One of the authors here wrote an extensive post on how to do that when the switch first happened.

Be nice if they updated the phone calendar.....

'Bout time! They can finally lay off about this on the Windows Weekly podcast.

Slowly but surely MS is adding all of the essential services I need to switch from Gmail to Outlook.com full time. The only remaining piece for me is an RSS reader. I really hope MS will capitalize on Google shutting down their reader and release a Bing Reader service to grab all of us left deserted.

As a frequent Outlook desktop user I am nie only missing two essentual features:
1. the integration of calendar, contacts and email. 2. The possibility to enter emails into calendar appointments likr in outlook. Hoping this will be part of Windows Blue. Especially looking forward to the last feature as it is a major time savor and in my opinion perfect for a tablet ui.

Awesome been using outlook.com since it launched and love it. So easy and better than Gmail or yahoo. I also have outlook 2013 office professional and works even great on my laptop, surface pro tablet and my desktop. So great work with my wp8 also

You'd think account in Seattle would be right behind Redmond. And, you'd be wrong! Still waiting.

Thank god. This has been much needed for a long time.

If outlooks junk mail filter wasn't to catastrophic i would use it, blocking everything i want and giving me junk. But gmail filters the right stuff near perfectly

Gmail filters are crap for me. It somehow always filters mail non-spam as spam, even after I created filters to leave mail from certain senders in inbox.

Now can they update the Calendar Win 8 app to include maps, or auto link the "where" field to the maps app?

Cant they update the crappy calendar app on Windows Phone? Its the phones worst feature by far, and since i use cal a lot, it makes me want to go back to android.

Hahaha. Great. I thought I couldn't get the updated calendar because I still use an @hotmail account. Thought it was @outlook only

This is real, right? Not a day late April Fools joke? :P

They re enabled account rename feature too, and lately hotmail to outlook upgrade was disabled.. Now it works fine!

not launched in canada yet i guess :(


Where is CalDAV and CardDAV support, Microsoft?
When will you deliver usable monthly and weekly views to Windows Phone?
Why can't we also have a year view?
Get. To. Work!

Now maybe they can add a week view into the phone and they'll be almost caught back up with Windows Mobile.

To any IT genius out there that might have an idea, any idea, as to what "behind the wall program" is running at my current employer that causes the new Outlook email to appear like something unholy? Microsoft can't figure it out. They can't even duplicate it and apparently, I am not alone. Old Hotmail was fine. New Outlook mail is unreadable. I'd like to ask my IT dept to relax some rule or alter their configuration just enough to allow Outlook users the ability to check their mail at work without seeming like I want to hack their network. Feel free to spam me or -100 me if you think I'm out of line but any idea is welcome. No, Fuck Off is not classified as an idea.

I was under the assumption that I could go to outlook.com and select calendar and see the webpage setup...I still see the old "hotmail" style calendar. What am I missing?

it's sad how the calender on WP quite sucks...it could have been improved a lot. For example, adding my companies timetable took me a long time, so few days later, when it changed, I decided to do it on PC. There should be a 'copy an paste' option. That ought to make things a lot faster...

But, does it syncs with win phone calendar? At least I can't get that done.
Windows Central Newsletter
Get the best of Windows Central in in your inbox, every day!
Thank you for signing up to Windows Central. You will receive a verification email shortly.
There was a problem. Please refresh the page and try again.