Microsoft launches public preview of Project 'Madeira' business management service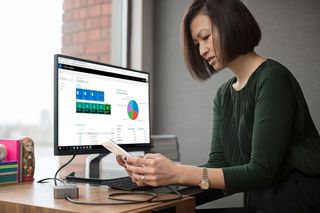 Microsoft is launching a public preview of a new business service under the code name Project 'Madeira'. The new service offers small and mid-sized businesses a new management solution that includes support for Office 365 apps.
Here's what Microsoft says are the main features of Project 'Madeira':
A new level of productivity – Project "Madeira" reduces time wasted switching back and forth between business applications and email. It automatically identifies business context such as invoices and quote requests within Outlook, and presents the user with the tools and data needed to take immediate action – all without leaving Outlook. If you know how to use Office, then you know how to use Project "Madeira."
Cloud first – Project "Madeira" is designed from the ground up as a true multi-tenant public cloud service on Microsoft Azure, meaning SMBs can get up and running quickly, manage costs and rest assured knowing their data is more protected in hyper-scale, enterprise-class datacenters.
Mobile first – Project "Madeira" is built for a mobile workforce, with a consistently great user experience across almost any device or form factor. Customers can access the service through a Web browser, or using apps for Windows, iOS or Android devices.
Built for growth – Project "Madeira" is a comprehensive business management solution for growing companies with roughly 10 to 100 employees. These are companies that need more than the simple financial and accounting tools they started with, but aren't yet ready to make a big investment in a customized enterprise resource planning (ERP) system. Without sacrificing ease of use or speed of setup, Project "Madeira" offers a fully powered business management solution in the cloud, with capabilities spanning financials, dimensions, sales and purchase management, inventory, CRM (opportunity management), multi-currency, and business insight. In addition, Microsoft's ecosystem of independent software vendors are building rich extensions for Project "Madeira." These extensions cover horizontal add-on functionality as well as full industry-specific vertical solutions. They will be available in a marketplace soon.
Microsoft says the public preview will continue for the next several months while it takes a look at feedback from its users. There's no word on how much Microsoft might charge for the service once it officially launches.
Thanks to Stephen for the tip!
Download Project 'Madeira' from the Windows Store (opens in new tab)
"Madeira" means wood, in portuguese

"Madeira" is a portuguese island ;)

Alberto João Jardim must be proud

It means rum in Hindi! :P

Interesting. I hope they throw it in with Business Essentials. I'm likely signing up for that soon anyway and this looks useful without needing something separate for finances.

Its for sales departments.

When are they launching this? The Store app listing says "Project Madeira is not currently available".

How do you get an activation code? I clicked the more link in the app, took me to a web based thing where I signed up OK and am logged in, but how do I get an activation code to use the app?

It's in preview with a slated release of 2nd half of 2016. It's a cloud based ERP system for SMB, basically dynamics light. In my mind this replaces the small business accounting program they killed off a number of years ago. It's built inside Azure and integrates with Office 365 tightly, using some of the fancy stuff they've touted over the last year, like the Office Graph and Cortana Analytics. I can't tell if they're using BI directly for the embedded dashboards, if they aren't I imagine that will be added in the future. This is really fantastic for SMB and also highlights how well a service can be integrated into Office 365 and the Office apps. I really hope to see third parties follow suit with other types of Services as well.

They need something better than a waffly description used for F 500 companies, Vague inferences to other parties doesnt help either. Complete lack of a basic intro for a small business yes they dont have a IT dept.

I agree. I get so tired of reading a 1500 word description of some new Microsoft offering, and still not having any real sense of what it could do for me, and what the value proposition is. They use too many corporate buzz words, along with vague and open-ended descriptors and statements. It's like asking me to read out loud a description of orbital trajectory calculations for the space shuttle. Could I do it? Yes. But that doesn't mean I understand it or how it might have any practical application to me. And I'm not some idiot I single-handedly handle IT for all three of my employers companies. The largest one has 85 employees and does about $25M a year in revenue. We've had at least 20% growth each year for the last 3 years. I have 5 2008 R2 servers, roughly 42 W7 PCs I'm in the process of upgrading to W10, and I also have 67 Windows Phones deployed.
We use Quickbooks Enterprise witha 30-user license, and even with it's various add-on modules that we use and the annual full service agreement/upgrade package, I have a grand total of less than $4500 in yearly costs associated with it. I've yet to see MS offer up anything I might be able to use for the same or less money. And I don't need Office 365 subscriptions for 32 people. Every feature we use in Excel, Word, and PowerPoint has been present since the Office 2000 version. In fact, were it not for teh fact that Quickbooks will not export to Open Office, we wouldn't even need MS Office at all. Everything we actually use could be had in Open Office or similar for free. We are using Office version 2010, but I buy full retail boxed disks that allow transfer to newer PCs, because there's no forseeable reason why we would ever need to upgrade beyond 2010. I just did a compnay-wide PC refresh last year, and will probably do another in 2019, and that Office 2010 software will just migrate to the new hardware at no additional costs to us. We just simply don't need the features (or additional admin or user/MS account complexity) of the newer versions. Also, everyone, MS included, is heavily pushing cloud-based solutions at the SMB. Firts off, they need to realize that not all small companies have sufficient and reliable broadband access. And even if they do, should it go down, they would be dead in the water. I could lose internet access for DAYS, and we would still be able to take the roughly 400 phone calls a day we do, and enter, print, and act upon the roughly 225 customer orders we accept each day, becuase we have everything that is mission-critical on site within our local LAN. This is storm season in Texas, and thanks to numerous severe hail storms in the last couple of weeks, we've lost our cable broadband connection intermittently several times. But we've hardly missed a beat.

I thought madeira was a type of wine

"Vinho da Madeira" - commonly known as "Madeira" is a special kind of wine produced only on the Island of Madeira in Portugal. (Madeira also means Wood in Portuguese)

Sweet. I'm glad that they got back in the game for Small Businesses. I can't stand QuickBooks. I have this set up and running already. Almost like Small Business Accounting which they discontinued years ago. I like the fact that I can access the data on all devices.

Is this US only? My 950 says it's not available.

Yeah i cant find it either. Im in mexico.

For now. I'm sure it will expand before the public launch. (I'm in Canada)
Windows Central Newsletter
Thank you for signing up to Windows Central. You will receive a verification email shortly.
There was a problem. Please refresh the page and try again.