Microsoft lists HTC alongside other Windows 10 partners at Computex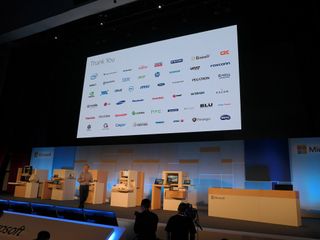 Update: HTC tells us it has nothing specific to announce regarding Windows 10 at this time, besides noting that it has a valued and long-standing partnership with Microsoft.
Original story: HTC was mentioned by Microsoft at Computex, who added the manufacturer to the slide of Windows 10 partners Redmond decided to thank for their relations. Could this be a sign of future hardware from the OEM?
Unfortunately, we have no details on exactly what will come of this special recognition but there's clearly still relations between the two companies and we can only look forward to review new HTC phones in the future.
Stay tuned to our feeds as we bring you more from Computex 2015.
Rich Edmonds is Senior Editor of PC hardware at Windows Central, covering everything related to PC components and NAS. He's been involved in technology for more than a decade and knows a thing or two about the magic inside a PC chassis. You can follow him over on Twitter at @RichEdmonds.
HTC One M9 for Windows 10

Hope a One M9+ with Snapdragon 810 arrives internationally...... And let them release their entire desire series with windowsphone O.S... I am really obsessed with lack of hardware choice by Microsoft aka Nokia . Let me buy HTC desire 820 for Windows 10 mobile.....

Saying Microsoft aka Nokia isn't really fair. They are 2 seperate companies, and MS bought the Lumia brand. There's no telling what was on the planning board at the time and what was done with those plans when the aquisition took place. Also there's like 6 Microsoft phones you can choose from, that's not really a lack of choices when you look at other manfacturers.

They won't.
Notice how they are not thanking TV tuner OEM's because they decided to ignore them by removing media center.
No wonder Asus is not interested in WP.
Samsung is listed but won't bother.
Gigabyte I don't see.
Seiko Epson I don't see.

You all know it's the new M9 with Windows 10.

Not One M9... One M9+ with Snapdragon 810

That could just be with the M8 for Windows getting the Win10 update. Not necessarily getting the M9.

U should be more positive

HTC CEO confirmed a while ago that the company will have new windows 10 handsets released after the Microsoft mobile OS will be finished

Shhhh.. Don't wake him up. ;)

M9 plus for Windows maybe with pen support and USB-C ...now that's some dope shit

HTC for pc or for phones?

My m8 for windows is nice I like this device except for the camera it sucks.

Ummm i guess your trrimg to compare it with Lumias camera. Please don't do that. Compare with other oems like LG, Samsung, Sony etc.

M8's camera is bad in general. That's why the M9 reverted back to the 20MP shooter found in the E8 (plastic backed version of M8 with a 20MP snapper), and used that UltraPixel tech for the front camera.

Trust me, the m9's camera is still horrible.

The camera really isn't that bad.

M9+ please and put OIS in the damn camera.

I'll keep waiting for Motorola...

I am surprised their parent company, Lenovo, isn't on that list.

Lenovo is, Motorola isn't

Ooh man! A gold M9 running Windows 10 would be frickin awesome! They better release it world wide though ...
Maybe I should wait & skip the 930

So, no Sony, what else might be missing?

Is there CherryMobile? I thought there was???

Alpha Prime. Windows 10 LTE model.

Makes me think about 2012 and the 8x and 8s phones. I never had one, but I remember liking the slim design and colors. I saw a couple in the wild, and they were always eye catching.

HTC ONE M10 for Windows 10 for Sure!

Why they list Intel and Pegatron twice?

Because Intel will be powering most of the devices that run Windows 10, and Pegatron will be manufacturing most of them.

Here's hoping for a HTC 10 Pro!

Yes! HTC! HTC! How about a M9+ on ALL carriers! Or something new altogether!

I can't see an M9 or M9+ launching until the end of this year for Windows Phone 10. HTC makes great products but their struggling so it'll be interesting to see where this goes. M10 with Win10 sounds better

Blackberry join the bandwagon!

M9 would be cool for those that don't already have an M8. I personally own the M8. Awesome device but I just don't see much difference between it and the M9. I'd rather wait to see what high-end Lumia is on the horizon.

So since HTC has no plans for making anything with Windows 10, technically everyone on this list (that hasn't already announced something) could also not be making anything for Windows 10... which makes this list kind of pointless, yeah? (other than "thanks for doing stuff in the past with us")
Windows Central Newsletter
Get the best of Windows Central in in your inbox, every day!
Thank you for signing up to Windows Central. You will receive a verification email shortly.
There was a problem. Please refresh the page and try again.