Microsoft looking for sales training manager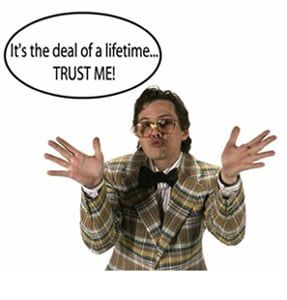 Microsoft appears to be taking sales staff who don't consider Windows Phone as a competitive platform extremely seriously, and rightly so. We ran an article a while back that broke light on Robert McLaws creating a web site that users can report on experiences (opens in new tab) with carrier (or store) salesmen when enquiring about Windows Phone. Results were far from positive.
Now that HTC are making a big push for WP Mango with the HTC Radar and Titan (opens in new tab), it makes sense for Microsoft to really clamp down on biassed sales work. A job opening at Redmond has arisen for a Training Manager in Services and Support. This could well be the first step in the battle against the sales reps, then again I'm sure Mango devices will begin to speak for themselves.
Check out the full job vacancy after the break.
Windows Phone Training Manager Job
Date: Sep 8, 2011
Location: Redmond, WA, US
Job Category: Marketing
Location: Redmond, WA, US
Job ID: 765537-63598
Division: Services & Support
Do you like taking on big challenges? Come be a part of the consumer business – helping drive Windows Phone sales vs. fierce completion at retail. It's at retail where 80%+ of customers visit stores while shopping, and that 60% purchase from large WW retailers. During this purchase that RSPs (retail sales person) have tremendous influence over consumer purchase decisions – & research shows that the more RSPs have brand preference & knowledge about a product, the more likely they are to recommend it to their customers in-store.
The WW Retail Services Training organization within CCG is looking for a strong candidate, who can create & evangelize world class retail training programs and assets to help drive and execute the Windows Phone business at retail. This person will work very closely with the Windows Phone BG and WW subsidiaries to plan, develop, deliver, evangelize and execute RSP training programs & resources for worldwide usage that build selling capabilities within RSPs that win share & drive brand preference with RSPs.
This role has two key parts:
You will be responsible for understanding what information RSPs need to successfully sell Windows Phone – partnering with the BGs & subsidiaries to design & manage tiered training programs that deliver on business needs and drive brand preference. Development of project plans with milestones for on time delivery of all learning programs & supporting assets needed to educate RSPs online (via our online community, ExpertZone or retail LMS systems) and in-person (via our field engagement teams around the world) will also be a core component.
You will be responsible for setting, communicating, and leading/executing worldwide training guidance on program implementation – partnering with the subs to then provide visibility of key learning's & best practices back to corp.
All parts of the job will require extensive collaboration with the Windows Phone BG, ExpertZone team, field labor team, and US/ WW subsidiaries including channel & category managers.
The ideal candidate will have a minimum of 5 years' experience in marketing program/ project management, along with vendor/marketing agency management. Additionally, 5+ year's experience in consumer marketing, defining curriculums and creating training programs to support retail/Telco sales professional learning & development in retail or a channel organization and have an eye for creative asset development is required. Experience in the Telco or Retail industry is desired. A willingness to work on a big, important business will also be a must, as well as the ability to thrive while taking on big challenges, succeeding against aggressive timelines. Bachelor's degree is required, MBA preferred.
Nearest Major Market: Seattle
Nearest Secondary Market: Bellevue
Job Segments: Curriculum, Education, Management, Manager, Marketing, Marketing Manager, MBA, Operations, Project Manager, Research, Technology, Training
Source: Microsoft
Rich Edmonds is Senior Editor of PC hardware at Windows Central, covering everything related to PC components and NAS. He's been involved in technology for more than a decade and knows a thing or two about the magic inside a PC chassis. You can follow him over on Twitter at @RichEdmonds.
man if only they where hiring in CANADA Montreal.......my dream job!! lol ah well maybe i can REP for SAMMY.

u can move over to my place and drive to work! its only a 5 hour drive :P

yea market for a company that has a CSR that's lower than the industry average.

Why the heck do I need a bachelors degree to teach a salesperson about this phone? The Army already trained me to be an instructor and to kill people with PowerPoint. What the sales staff at the retail outlets really need are to be shown, first hand, what this phone can do. P.S. Sine when did he** become a bad word? That's a little ridiculous.

The solution here is simple:Get phones into salespeople's hands for free. Give them at least $50 in marketplace credit to use on whatever apps they'd like to have. I'm a firm believer that people who actually get a WP in their hands will love this product. Most of my iOS or Android friends laugh when they find out that I have a WP. When I ask them, "have you ever played around with one?", the answer is inevitably no. There's nothing quite like word of mouth marketing.Also, WP needs visibility in retail! Whenever I walk into a best buy or at&t store I see a very appealing themed display for iPhone. MS needs to get a uniform display in all of their retail outlets. Familiarity is a powerful tool, and WP needs to be separated from the murkiness that is the smartphone market. Their displays need to convey that it's not just another boring smartphone, it's different, it's UI is better than anything else on the market. For many there's a certain stigma that comes along with anything that has a "windows" label on it. Microsoft should embrace this, and not be afraid to make fun of themselves. I'm not talking about cheesy commercials with Bill Gates and Jerry Seinfeld. I'm envisioning a commercial showing a old PC running windows 95 as it goes to the dreaded BSOD, and all of a sudden you realize that you're watching this commercial on a WP screen. At the end of the commercial they use the tag, "Yeah, those days are over..." or something like that. Admit your past shortcomings, embrace them, and use them to build strength in your products now! Get the phone in salespeople's hands! Build a uniform retail display across all outlets to help create brand awareness with customers! Give me a call, Redmond.
Windows Central Newsletter
Thank you for signing up to Windows Central. You will receive a verification email shortly.
There was a problem. Please refresh the page and try again.