It's Official, HTC announces the Titan and Radar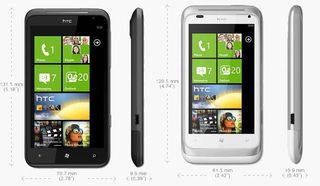 As if there was any doubt, HTC has "officially" announced the new Windows Phones the Titan and Radar. We just got the press release a few minutes ago.
Jay and Rich are still enjoying the Public Event over in London and we'll have a re-cap once the dust settles. While we wait, here's what HTC includes in their press release on these two new Windows Phones. Quoting from the release,
Both the Titan and Radar will include a camera with a fast, f2.2 aperture and wider 28mm lens. The sensor will be back-illuminated to provide better low-light performance. Each will have a panoramic feature to let you stitch photos together to create dynamic pictures of landscapes and skylines. Both cameras will have HD video capture capabilities. Maybe, just maybe, we will see an improved camera from HTC.
The Titan will sport a 4.7" Super LCD screen, 8 megapixal rear camera, and a 1.3 megapixel front camera. The body will be constructed of brushed aluminum and only measure .38" thick.
The Radar will sport a 3.8" LCD screen and will have an aluminum unibody. While the press release doesn't mention cameras, it does state that the Radar will be capable of speaking "face to face" with the new video calling. We've gotta believe that it will also have the 8 megapixel rear and 1.3 megapixel front cameras.
The HTC Titan and Radar will be broadly available from October 2011 globally, beginning in Europe and Asia. There is not telling how this translates to the U.S. Market. December maybe?
You can catch the full press release from HTC after the break.
HTC Unveils HTC TITAN And HTC Radar Smartphones
Smartphones unveiled at consumer meet-ups across Europe
LONDON, PARIS, MADRID and BERLIN – September 1, 2011 – HTC Corporation, a global leader in mobile innovation and design, today hosted a series of consumer meet-ups in London, Paris, Madrid and Berlin to unveil its new HTC TITAN™ and HTC Radar™ with Windows® Phone smartphones. The HTC TITAN brings your favorite content and multimedia experiences closer than ever with a large 4.7 inch display, HTC's largest phone screen ever wrapped in an ultra-thin 9.9mm aluminum case. The HTC Radar is designed to keep you close to the people, news and entertainment that matters to you most. Consumers enjoyed exclusive hands-on demos of the new devices and got to try out Microsoft's next release of Windows Phone, code-named Mango.
"The new HTC TITAN and HTC Radar smartphones raise the bar with new advanced photography, multimedia and social capabilities that enable you to take full advantage of the latest Windows Phone innovations," said Jason Mackenzie, President of Global Sales and Marketing, HTC Corporation. "With its large, cinematic display, the HTC TITAN packs an amazing amount of power and innovation into a device that is unlike anything you've ever held before and the HTC Radar's aluminum uni-body, compact size and finish will capture people's attention."
Picture Perfect
Both HTC TITAN and HTC Radar include a dedicated hardware camera button which enables you to capture vivid images without unlocking the phone while the f/2.2 aperture lens and back-illuminated sensor provide improved low-light performance – making sure you never miss that perfect shot. With 28mm wide-angle lenses you can capture more of the scene in front of you while the new panoramic feature lets you create dramatic pictures of skylines and landscapes. Both devices can shoot bright and vibrant HD (720p) videos, making them perfect companions for family functions or a night out with friends. And with the HTC Photo Enhancer, you can quickly touch up pictures and upload them to Facebook, tagging your friends as you go using automatic face detection built in to Windows Phones.
"Phones were originally designed for communication, but they haven't kept up with the way consumers are actually communicating today. That's why we built Windows Phone to put people first, building in all the key types of communication people are already using right out of the box," said Andy Lees, President of Windows Phone Division. "Both HTC TITAN and HTC Radar bring a sleek, modern design that perfectly complements this people first experience, making sure it's easy to connect & share with the people you care about most so the message always gets through."
HTC TITAN
With its large and bright 4.7 inch super LCD screen, an 8 megapixel rear-facing camera and 1.3 megapixel front facing camera for live video calling, HTC TITAN combines high performance innovation with a super-slim 9.9mm curved body made from a brushed aluminium shell that fits comfortably in your hand and exudes style and quality.
HTC TITAN is also the perfect portable office that enables efficient multitasking like viewing a presentation while you're on a conference call or listening to music while compiling an email. With its expansive screen with built in Microsoft® Office Mobile, this super smartphone enables you to create, edit and collaborate quickly and easily. Advanced email features like Linked inboxes makes it easy to manage multiple email accounts, synchronize your to-do list and calendars in one place, group contacts to make communication simpler and faster, and even store your latest ideas and notes in the cloud with Microsoft® OneNote®. Typing on the HTC TITAN is quick and easy with the huge virtual keyboard on the responsive 4.7 inch screen.
HTC Radar
Elegantly crafted with an aluminium unibody, HTC Radar brings you closer to the important things in life, with the new People Hub from Windows Phone. The People Hub keeps you up to date with your friends' latest news showing all of your communication history with each person, as well as their recent social network updates and photos. You can also stay in touch using SMS, Facebook chat and Windows Live® Messenger in one conversation, without having to switch applications or disrupt the conversation flow. Alternatively, speak "face-to-face" with new video calling that lets you see your friends' faces on the bright and sharp 3.8 inch screen.
Entertainment on the move
With HTC TITAN and HTC Radar, mobile multimedia is greatly improved. Both phones include HTC Watch™ – an application and service that puts an entire library of the latest, premium movies and TV shows right at your fingertips, letting people discover the latest video content in an easy and visually engaging way. Utilizing Virtual 5.1 surround sound for a rich audio experience, these phones are perfect for enjoying the Zune® music service. Internet browsing is fast and smooth with HTML5 support. You also get an amazing mobile gaming with Xbox LIVE®, giving you access to a great selection of games for Windows Phone, which include features like Leaderboards and Achievement that connect you with your friends and the Xbox LIVE community around the world.
Availability
HTC TITAN and HTC Radar will be broadly available from October 2011 globally, beginning in Europe and Asia.
About HTC
HTC Corporation (HTC) is one of the fastest growing companies in the mobile industry. By putting people at the centre of everything it does, HTC creates innovative smartphones and tablets that better serve the lives and needs of individuals. The company is listed on the Taiwan Stock Exchange under ticker 2498. For more information about HTC, please visit www.htc.com.
Windows Central Newsletter
Get the best of Windows Central in in your inbox, every day!
George is the Reviews Editor at Windows Central, concentrating on Windows 10 PC and Mobile apps. He's been a supporter of the platform since the days of Windows CE and uses his current Windows 10 Mobile phone daily to keep up with life and enjoy a game during down time.
Radar only has a 5 megapixel rear and a VGA on front? What a shame. Good looking phone with last year's specs. :(

it's a higher quality lense to be fair, and MP != quality picture.i'll take a low aperature / wide angle lense at 5MP than the standard 8MP **** that HTC puts on their current phones any day of the week.

The spokes person from HTC said to engadget there will be no twitter for the titan. Anyone know if it's been confirmed or just people that don't know what they're talking about?

The person on Endgadget is a moron and wasn't too aware of Mango in general I believe.

I'll ping Rich and Jay to see if they can get clarification. I don't see how it can not have Twitter integration seeing that such is a feature of Mango, not HTC.

Twitter integration is native to the OS, so it will be available. I think he 'fumbled' on that simply because the demo device was preloaded with a demo facebook account; I don't think that there is a demo Twitter account that it used (yet) on these devices.

Well, not being sold until November... I guess I can wait a few more months after that for Nokia. This is turning out to be a 1.5 year wait to get a WP device when I was first in line on launch day. Crazy.

The Radar, in White/Gray, definitely needs to make to the U.S. - I'm convinced that the visual shift that consumers will do (shifting from looking at a shop full of black phones) will get this device noticed and sold to many!Also, per the HTC rep , although the Radar is a 5MP, the aperature is 2.2, so the photo quality will be a lot better than on current devices.

Even though they're just another HTC phone in terms of hardware, the pictures This Is MY Next took of the Titan make it look lovely.This one in particular: http://1876.voxcdn.com/wp-content/uploads/2011/08/gld501ix.jpghttp://thisismynext.com/2011/09/01/htc-titan-specs-october-release-windo...

Will never buy a HTC phone, they have some of the most crappy cameras around

So, despite all the info about new camera tech, you think it's going to be the same without even seeing the new stuff for yourself? Right...

Is it not the same camera as in the Sensation then? I will take a Nokia WP with Carl Zeiss lens over HTC anyway.

I have no problems with the picture and video quality of my arrive,just gotta make sure ur subject is in focus and doesn't move.

Yes I know and if we had a good Xenon flash it would help with moving objects.

Radar has no Gyro or compass - so that phone is out as this are some of the new sensors that you want with mango.But the real bummer for me are the touch buttons. Looks so nice but are so stupid when you handle the phone. Don´t know how many times I have accidentaly touched the buttons when I was holding it. My next phone must have physical buttons on the front!

I am supremely under whelmed by these. They still have LCD screens, big negitive points for me. (hint to HTC: license S-AMOLED) I have the Trophy, just because it was my only choice, but I am already looking to have a better screen and camera. Until we get some true hands on review, I will reserve judgement on the camera, but rep and exp. have told me not to expect much. The Radar is basically a Trophy in a white wrapper.And only 2 phones?

SLCD is just a pinch worse than AMOLED. quit being spoiled by Samsung.

I'm really interested in the Titan but think the phone industry needs to stop this bullshit with only certain phones being locked to certain carriers. I'm temted to switch to the 3 network but I knoow the titan will only be available on one network and I dont want to have to keep switching networks... Iphone was forced to sell on all carriers so the same rule should be applied to all phones....

Just buy one unlocked (or unlock it yourself).

I find the 5.1 surround to be amusing... not so much the virtualizing "surround" part as I understand acoustical shape dynamics, but that they would actually suggest that it's 5.1 as if there were 5 separate speakers and a subwoofer. Silly marketing is silly.

I like the idea of such a huge screen on the Titan, might fill the gap for people who don't want to carry around a tablet but do need some of that functionality. Colour me interested.
Windows Central Newsletter
Thank you for signing up to Windows Central. You will receive a verification email shortly.
There was a problem. Please refresh the page and try again.