Microsoft Lumia 435 gets priced and dated for the UK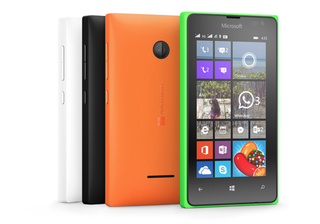 Microsoft's latest low-cost Windows Phone, the Lumia 435, has been given a price and a release date for the UK. The device is now up for pre-order on Amazon UK for £88.49 in black, green or orange and will be released on March 1. And while it's not particularly expensive, it's perhaps a little more than we'd have expected.
That's primarily because the larger, better specified Lumia 535 is now also officially available in the UK and Amazon is selling it right now for £84.95. Considering the Lumia 435 should represent the current entry level to Microsoft's own Windows Phone line, the pricing in the UK doesn't necessarily reflect that right now.
Of course, prices could still change between now and March 1, but for anyone interested it's good to know that it will officially be launching in the UK in the not too distant future.
Source: Amazon UK (opens in new tab)
Richard Devine is an Editor at Windows Central. A former Project Manager and long-term tech addict, he joined Mobile Nations in 2011 and has been found on Android Central and iMore as well as Windows Central. Currently you'll find him covering all manner of PC hardware and gaming, and you can follow him on Twitter and Instagram.
In Italy free, but in UK more than 535

I mean, there's 20% tax on everything here as it is, but yeah, I can't see how it can be justified to be priced higher than the 535.

In France, it is priced with the more plausible figure ~ 60 pounds. This UK price is probably just preliminary.
http://wmpoweruser.com/lumia-435-and-532-now-on-pre-order-on-amazon-france/

In France it was overpriced a bit two weeks ago, on Amazon... They will reduce the price on Amazon UK soon.

I am so annoyed by how many of these low-end crap phones MS keeps flooding the market. Since July, there have been at least 8 different ones, each with S400 specs. They won't even get the new features like Hey Cortana. Microsoft, how hard is it to simply put a Snapdragon 801/805 in a phone?? That's why Lumia has seen diminishing returns in the US.

That's a little narrow minded. Most average consumers don't care what cpu is in a phone. The lack of a S801 chip isn't what's hurting Windows Phone at all.

This phone looks like mini 1520

It also looks like a carbon copy of the Nokia X :P

First thing i said when i seen it,now we know where all the X series housing went to..

You mean *go get your eyes checked???

Except, the 1520 isn't blocky as far as thickness, the 1520 has a pillow design. But, the corners look similar.

Design of the back case looks like the Nokia X series. Is it dual SIM support?

UK model probably won't be. We don't usually do Dual-SIM here.

Shame really - put dual sim on a flagship and I'd use it. None of this extra phone for work rubbish. The prominence of phones bought monthly rather than outright is probably what does it.

The 630 is dual SIM though and my wife uses 2 SIMs. On that rationale, I have no idea why the 435 wouldn't be dual SIM in the UK if it was designed to hold 2.

Microsoft clouding the market even more. The 4 and 6 series are worse than the 5 yet cost roughly the same.....? Good logic

The 6 series excels in processor, and the 4 is compact.

The 6 excels in display and processor.

And the new 4 and 5 phones have more RAM. Confusing much?!

The 5 and 6 series have the same processor, the 5 has more ram, more sensors, a front camera... Its about £7 more than the 4 series and £5 cheaper than the 6 series?

If this £50 then it would sell.

Microsoft have got to get to grips with their pricing strategy and product line up. There are simply too many devices with too little difference between them.
I preferred Nokia's old strategy....where increases in product number equated to better products.
Get a grip MS.
Sincerely,
Concerned WP user

In the UK, you can buy the 535 in Argos for £89.99 - why would anyone get the 435?

Way to expensive to make sense.

That's just rrp. It will drop in price pretty quickly.

I think phones are a bit cheaper here in India than UK, and also updates are pushed a bit quiker as compared to UK by some OEMs, but not most then.....

Amazon is the first to show its prices,I expect when the carriers announce their prices that the price will drop. But it should be in the sub-£50 mark

Carbon Copy Of Nokia X :o

Release a flagship with glance screen support. Not these cheap phones...

Bear in mind the Lumia 535 was £120 when up for preorder. Now it's £85. I'm pretty confident that a month from now the Lumia 435 will be £70, if not less. To me it seems like a clear replacement for Nokia's 530.

The 532 is a better replacement for the 530. The camera on the 435 isn't going to be very good at only 2MP.

The 532 is more of an upgrade to the 530, given the RAM and front facing camera. What I meant is that the 435 is more of a replacement at the 530's price point. (i.e. I think the 435 might replace the 530 as the £60 phone)

This is RRP. Give it a week and or two and it'll hit 50 squid or less.

I like these lower cost phones as long as they ar fairly snappy performers. Slap a cheap case on and no worries. Love my 635. I like getting 3 or 4 new phones every year. And at these prices why not.

Now available in India @ Rs. 5,999 only. check here-->> http://goo.gl/IXF9ZB
Windows Central Newsletter
Get the best of Windows Central in in your inbox, every day!
Thank you for signing up to Windows Central. You will receive a verification email shortly.
There was a problem. Please refresh the page and try again.