Microsoft Lumia 535 – First impressions of the latest budget Windows Phone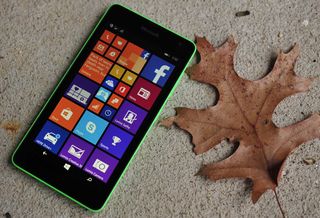 The Lumia 520 was in many ways just as iconic as the Lumia 920 but for very different reasons. The unassuming low-end device took the Windows Phone by storm, quickly becoming one of the top-selling devices ever for the fledgling OS. Fast forward to 2014 and low-end Windows Phones dominate the scene.
The Lumia 535 is the first Windows Phone with the Microsoft banner emblazoned across it instead of Nokia. The phone likely emerged during Nokia's tenure, but Microsoft is taking the credit on the packaging. Budget phones are tough to write about, but the Lumia 535 appears to get so much right when compared to the Lumia 530 and Lumia 635 it is hard to not get a little excited about it.
Let us not beat around the bush: the Lumia 535 should be the low-end device for Windows Phone. The Lumia 530 is not a bad phone per se it is just the 'value to dollar' ratio seems off, considering how much is omitted. The Lumia 635 is an outstanding device putting aside the ridiculous 512 MB RAM limitation and no front-facing camera. The Lumia 535 though hits all the right notes though and for most users on a budget it is the ideal phone.
Lumia 535 specifications
Single and dual-SIM variants
Windows Phone 8.1 (build 14192) with Lumia Denim
5-inch IPS LCD (960 x 540), Gorilla Glass 3
1.2 GHz quad-core processor Qualcomm Snapdragon 200
1 GB RAM
8 GB storage
Ambient light sensor
MicroSD card support (Up to 128 GB)
Removable 1905 mAh battery (13-hour talk-time)
5MP rear camera with auto-focus and LED flash
5MP front-facing fixed-focus camera
Six colors: green, orange, white, black, grey or cyan (swappable covers)
Coming in at just 146 grams and 8.8 mm thin, the Lumia 535 is the perfect weight and size for a 5-inch phone. It just feels outstanding in the hand with its curved edges and removable polycarbonate back. The specs also 'fix' everything that is wrong with the Lumia 530:
Larger, better display
More RAM to run all apps and games
Autofocus rear camera with a flash; a 5MP front-facing camera
More internal storage
Ambient light sensor
Double-tap-to-wake; audio equalizer, virtual surround for headphones
Even compared to the Lumia 635, the Lumia 535 edges it out in some areas (though the Lumia 635 has the enviable ClearBlack display and 4G LTE support).
Overall, the Lumia 535 brings a lot to the table and seemingly makes up for the odd Lumia 530 and the almost-perfect Lumia 635. At 5-inches, it is the ideal size for 2015 and just feels great to hold and use. For those in emerging markets where dual-SIM is preferred, the Lumia 535 even has that as an option. One issue I did notice was touch-sensitivity was a little low for my tastes, resulting in occasional mis-taps on the display.
Considering the price for the Lumia 535 should be between $130-160 off contract, depending on SIM configuration and regional taxes, it is a phone that Microsoft can be proud to put their name on. Throw LTE on this and release it in the States, and this phone could make a splash.
In conclusion, so far I am quite impressed with the Microsoft Lumia 535.
Daniel Rubino is the Executive Editor of Windows Central, head reviewer, podcast co-host, and analyst. He has been covering Microsoft here since 2007, back when this site was called WMExperts (and later Windows Phone Central). His interests include Windows, Microsoft Surface, laptops, next-gen computing, and arguing with people on the internet.
-1520. I don't get why MS would remove the camera button on their own device. I thought the idea behind lifting that restriction was so that Android manufacturers could use the same hardware.

They dropped it from the Lumia 635 and the 730 as well, but kept it for the 830. So it's a cost thing. Going forward, it looks like less expensive Lumias won't have it, but higher-end Lumias will.

let them charge a dollar more and put that damn button.

I'm not sure but I think Microsoft said that only lumias with pureview tech will have dedicated camera button.

The 620 has it.. I think the best budget phone would be 620 with 1gb ram and maybe a 5mp front camera

if that my lumia 520 has a pureview ,, haha

The 520 and 620 came before the "specs" were relaxed.

Yeah... the 620 even has nfc and glance. It's basically fully featured except for wireless charging. After 620 they started removing features from low end phones... I really think it's more about creating more differentiation between models than cost. Screen size used to be the differentiator, but now they make large cheap phones, so they have to strip things away to make step up models. Loved that 620... great to have a smaller phone with all the "stuff" baked in.

For every model they stepped it up a bit 820/830, 720/730, 920/930, but with the 630 they stripped everything good the 620 has, even the 530 is slightly worse the the 520.

Not quite. I would not consider the 830 an upgrade for my 820. Just hoping the 835 comes out before end of Feb so I have an upgrade option when my contract expires.

How can you not consider 830 an upgrade? It has upgraded everything from SoC to screen (size, resolution) to camera (PureView, higher MP). Heck even the build has changed and added a metal frame for a more flagship feeling. It's the ideal device for me.

The problem is that in many ways it is just "barely" an upgrade. CPU is better at some things, slightly worse at others. GPU definitely seems a bit weaker. The metal is preferred by some, not by others. Same with screen size... most will prefer the slightly larger display. Camera is definitely a bit better. But for the most part... it's nearly neck and neck. For a device two years on, people expect it to be much faster. Don't get me wrong, I like the 830. But I do definitely think it should have a beefier processor.

Right. The APU is at best equivalent, but low power graphics is not an upgrade for me. The screen is only LCD and a few extra pixels does not make up for the loss of OLED. No mention of Glance on the features page, but I suppose with LCD it would be pointless anyway. The shell seems delicate, do they sell the robust shell option as with the 820? Can't see it mentioned. The only upgrades are to the camera (not really a big thing for me, hence why I have an 820) and the glass (supposedly, as my non-gorilla 820 has proven very sturdy so I doubt I'll need GG3 to resist my usage). Nothing to see here for the 820 owner. Heck, I'd rather buy an old 820 than a new 830. If I was given a free one it'd go to Ebay. I am waiting for the 835 to get the true upgrade. Really hanging out for some news on that one as an upgrade for the 820 is way past due now.

I own a 620 and the camera button is a blessing.

This is the stuff that MS does that I will never understand. They are already struggling, why piss off their customers. The 53x should be better than the 52x in every way. Furthermore the Lumias specifically should stand out and above. The Xbox One suffers in this respect when compared to the 360. At least with the One its only a software problem, and being fixed every month. Is there an easy way to launch the camera, or is that something Android does better too?

Action center camera button. It's not too bad.

Perhaps they went all out with cheap on the 530 so that it could be sold at places like Best Buy for $35. Unbelievably cheap does sell phones. I thought it was only a weekend sale, but I looked and it's still only $35 as of Wednesday morning.

The MS has already said, Phones with "Pure View" will have the the camera button, and those that doesn't have the "Pure View" view won't, that the same matter of put the physical button or not, just for save money and make a cheapest phone

That Microsoft logo placement is too bad! I think it should be horizontal and on bottom of the phone

Yes and illuminated with MSFT colors when the phone is in use. Other than that it is nice to see only MSFT logo on Lumia devices.,

I don't like the logo, it looks crude and designed by a 2 yr old in ms paint as it is just 4 squares...

whats wrong with simplicity?

Nothing's wrong with simplicity, I was hoping they would use the windows logo like they did with the 1st gen Surface or just use "Lumia" in similar styling as the 2nd gen +. Right now it just doesn't fit with any of their previous windows hardware in terms of branding.

It fits with the way Nokia did theirs though, I guess they're just trying not to change too much too fast.

The problem with simplicity is that it's too simple.

I thought they would have gone with the same style logo as the start button, the tilted windows icon. Still think Lumia would have been better on the front too, but each to their own! Does look like a good phone though, not sure I'm a fan of the green

You're right. It should be an indentation of Cortana's bossom. I could rub my fingers over it in my pocket _and know_ that I have the power of Bing and Azure in my pants. I'd be aroused and knowledgeable all day long. Halo chick FTW

I agree. Going vertical on the back of the device just doesn't look as good as it could. I think if they did it the way Apple does it would look amazing. Microsoft logo on the back with the name "Lumia" below would look amazing.


Then people would say they Microsoft copied Apple.

Well, that's pretty much how the Surface is, and I've never heard anyone say that that copied Apple.

Hehe, guess you mean Galaxies, the surface doesn't look like an iPad at all

I'd prefer to have just the 4 squares (like the Microsoft Band) :)

In the front it should just be "Lumia" the Microsoft one in the back is fine.

If it were a logo it would have been fine, this looks more like an adverticement board. :-)

@DanielRubino, where did you get one? This would make a great secondary phone to my 1520.

This one is from Microsoft but you can order through Expansys.

Microsoft would be dumb to not give the most popular site for WP news a test device of their latest phone....
........
But. Then again..... I could believe it if they didn't.

It used to be more complicated between Nokia US and Nokia Global, but Microsoft is getting better at it. Plus, our site has been perceived as a "US site" but 2/3 of our audience is actually non-US, which is fascinating.

It is such a quality site with all the information at the right time sometimes way ahead,plus alot of help on here if needed. Just keep up the good work.

Can you make a chart about sites audience? It's very intresting.

A pie chart?... Just imagine a pie chart with only the 520, and the 1520 on it... Ok, that huge green mass would be the 520, and the tiny orange slither would be the 1520...
.........
Now......
520= India
1520= the rest of the universe

Daniel this on WC is the first truly global community i have seen. Readers from all over the world, passionate comments and all of you that have become almost stars. It's Great to be part of it, and you should find a way to monetize it in order to provide more and more services. I see for instance kind of a devlab where you host an international dev contest to launch windows universal apps, branded or "approved by" by WCentral, phones WC special edition with exclusive colors, international contests where you invite a reader from abroad to be part of any microsoft events, local version of of your site in countries where you have a strong presence: Not many Italians are English fluent so there would more and more Italians if you have an Italian versions of you articles (let's talk about it if you. like)... I mean you have so many potentiality! Great!

Hey, don't forget us readers who love to bicker, and fight❗❗❗❗❗❗❗

Yep... Paul doesn't like it though...:-(:-(:-(:-(

"which is fascinating"... except when you're trying to understand what some of them are typing lol

Right ! I read You each day from one of the most
beautiful region of France : Reunion island, near Mauritius, where I am stationed (Officer in French Army). For my nephew Christmas I ordered five Lumia 535 on Amazon.fr as this phone have almost all that we want, except the photo dedicated button.

It's just the best news site on Win(Phone). Even here in Germany, there aren't that many alternatives. Good article by the way.

Daniel, quick question on the ffc. Is it the same as the 730/735 in terms of quality (I know it's the same mp but is everything else the same as well?)

MSFT is now iMSFT rodneyej. They hire Daniel to announce their latest devices. Hey Dan; you should give away free those promotional devices to the Windows Central audience in a contest when you're done playing with them, Just a thought. :-)

Popular request, but I tend to hold onto devices so when we report on OS updates, firmware, problems, etc. we have something to refer to and verify before posting ;) Plus it helps with our photos.

Great. Excellent review by the way on this device. Think about the contest thing. In fact put your signature on it before giving it away. I'm sure WC fans and WP fans would love to show off a device that was first demonstrated on this site.,

lol, will certainly consider it, I think we could afford a few

Excellent. Thank you Dan and your staff for all that you do for MSFT,. WC best MSFT site on the market.

Now you're talking Daniel.

You're a celebrity, Daniel!

You could even sign the screen! ... wait. Nevermind.

I liked that lock screen. Did it come preinstalled or you installed it?

Now, that is a great idea!

These guys will soon become celebrities, yay! Sign my phone!!

The reason why I like to read daily the news from the Windows Central is that here are not only texts published equal to other sites. In general, the news here are accompanied by great photos from The devices, daily tips of new devices, critical analyses (positive or negative, without being fanboy), tips for users and predictions about the future of the platform. It is published daily, with dozens of news everyday. And look: I'm a Brazilian, and there are several websites about Windows, but I always read news from here. The only thing I really don't like is when I see a news title that says: "GREAT DEAL (US ONLY)" lol

This is the proper update to tge 625 albeit without the capacitive buttons and the camera shutter

No, it doesn't record video! Only 480p instead of 1080p recording!

Even the 620 does 720p recording, but that's because the 535 has Adreno 302, and 620/625 have 305. If fhe 535 had a better GPU, then it could be a proper update

Yay!I have a 620. Take that 535!

They could do better, every time it lacks something important...like the front camera on 630 or glance on 730 ...620 is really a good phone, has pretty near everything!

Well, if you want all the bells and whistles, you have to pay the price. It would be nice if the 620 had a bit more powerful CPU or a bigger battery, but the most noticeable is the lack of RAM. If it had 1 GB of RAM, if would be perfect for what it is. As of now I still don't see a worthy successor to the 620

Exactly.620 is one of those all-rounder phones.

Yes but you can't sell a phone with 5", that looks a beast, has two camera of 5 mp, 1 GB of RAM, a QUAD core processor and then? 480p video like phones from 6 years ago? ...c'mon ... I'm not saying that it has to be a premium phone with wireless charging, Hey Cortana, physical buttons, camera button, NFC or 4G ... for me, my ideal phone should be with: 1GB of RAM, good processor, decent front camera, 5MP rear camera, glance, a good screen (like 720p if 5") and 3G. I think that they can do it at a low price :) look at this 535!

Exactly Francesco! Everytime Microsoft/Nokia makes a phone they leave something important out due to which people think twice before buying it.

Don't emphasize quad, that snapdragon 200 is weak, I'm not sure but it might be even weaker than the S4, also, it has Adreno 302, that's why the only 480p, because it's got a low end SoC

Nokia X2 has the Adreno 302 and it's capable of recording 720p videos. So, the Lumia 535 it's software blocked. Maybe it's cause of the 5" screen and the video would lag on a bigger screen (x2 is 4.3") or maybe just M$ wants u to buy a better and a more expensive phone.

Yeah, but with no release planned on the U.S., it's hard to get excited about it here. I would buy un a minute if available

I hope you make a comparison to the 625

I know this might not sit well with others, but can you start throwing in devices from other platforms as well?. I'm thinking MotoG.. ??

Will see. Problem is two-fold (1) I don't have that phone, so would have to purchase one (2) this opens up Pandora's box with everyone wanting me to compare it to every phone out there, which turns into a full-time job ;)

Maybe just compare to the direct competitors? Clearly most people think the Moto G is the 535s best direct competitor so I'd also like to see that.

Lol! You must visit PA...

Daniel, we all have full time jobs... Please make it happen... It's hard being a player, Daniel.. But that's the price you have to pay...
........
And, I would think you could borrow from Android Central,,, but maybe you guys are nearby... IDK..

Rod, I guess what Daniel means is that to write phones comparisons would need a full time writer as there so many phones out there. he is already full time on wcentral but on different articles, windows generals, not only phone comparisons. Am I right Dan?

I know what he means... SMDH..

Point 2 is quite valid. As for Point 1, I think if you reach out to Phil he could hook you up with at least the Moto G. Folks at Android Central drool over Motorola ;P

What do you know about Android, Meego man...

What do you want to know? I have my Z3C in front of me. Ask and I shall ask it ;P

I want to know if they are going to make a Z3 ultra, Symbian boy.. ❓❓❓

Oh I forgot you like 'hem big, Windows Mobile boy... No. But the Z3 Tablet Compact should be good for you. There's a 4G/LTE version so you can make phone calls from it. ;) (btw, I turned on my Nokia 5800 a couple of days ago...I had forgotten how good Symbian actually was. Specially compared with WP7. =P).

Lol! WM boy, good one... I might actually power up my Samsung Blackjack and fiddle with it.. Maybe it has some cool features Windows Phone still doesn't have..

No more budget. I think twenty five budget options is more than enough when we are starting at two flag ship phones that are over a year old.

Well, we have 4 flagship devices... Lol..

I'm afraid you're wrong. As @DanielRubino suggests former 5Xx lacked some dealbreakers. This phone is a real killer and WP must leverage its superior performance in the entry level. That is, I think, the main asset of the OS (letting apart platform integration) and... You know? Low budget products have never been a bad way to be successful in a market.

While I don't think they should slow down on the budget end, because MS needs to speed up everywhere, I do think they need to pick up on the high end... The fact is that if Microsoft is focusing on the low end then that's great.. We don't want to take away from one side, and give to the other.. They need to continue to focus on the low end while also focusing more on the high end.... To say that MS should take resources from one side, and move them to the other, is just short sighted... With WP sitting at less than 5% WW market share we should be hoping they increase resources for WP across the board... IOW, WP has ZERO room to slow down on anything, but they can increase development everywhere.... I'd actually like to see more low end options.
..............
....... More niche low end options, and mid/high end options... We need camera centric, music centric, selfie centric, business centric, fashion centric, and social centric devices for the low, mid and high end... If I were MS I would appeal to all demographics horizontally, and vertically..

They will, come down, they just take the full control. L535 it's a perfect example of what MS has on mind.

Agree! L535 is what Nokia should did a few months ago!

Rod I agree in that. Seen that WP is more than 10% in Italy, feel a wasted xmas shopping xmas to me. Italians love to change phone every year and when I look in shops I don't see anything new special from WP. Not event the HTC one m8 that would sell very well here is not available. 1520 is to big for many (I have it but I cannot push anybody to buy it as it is too much a niche product), 930 is fine but a new 1020 would be useful to gain traction in our markets. Imagine that in Europe any US product cost 30% more and despite so people are buying WP devices. With the right strategy WP could be 25%,in Europe and we are as big as the USA market! Such a waste....

You guys don't have the M8❓ Wow, what a waste of time... That's pathetic.. I hope MS gets things moving whenever they get settled in with the devices business..

More niche low end options, and mid/high end options... We need camera centric, music centric, selfie centric, business centric, fashion centric, and social centric devices for the low, mid and high end... If I were MS I would appeal to all demographics horizontally, and vertically

Really don't agree with this - it's just repeating Nokia's mistakes of old. The most successful WP8 generation dominated with just two phones: the 520 and 920; the mid-range phones have been a morass of poorly differentiated handsets since then. MS needs to rationalise their product lines so they can focus their marketing efforts more effectively; rather than trying to push one as a 'selfie' phone and one as an 'affordable flagship' the midrange should simply cover both. If anything the 535 shows that MS is willing to keep the price of the lower series (530) whilst providing features from the higher series (630). They could easily extend that strategy by consolidating the 730/830 successors into a single handset, and the 930/1020 successors into another.

Good points, but I believe that at this point the most exposure WP can get the better. And, nothing would be better than having a lineup of different devices that target the needs of everyone.... I don't agree with your one size fits all approach... This isn't the iPhone, and MS doesn't command that much respect, so they need to be everywhere to create brand awareness, and awareness for WP as a whole... Nevertheless, repetitive devices are dumb, and I agree with that, but my comment is suggesting the complete opposite..

Good points, but I believe that at this point the most exposure WP can get the better. And, nothing would be better than having a lineup of different devices that target the needs of everyone.

That's generalising things too much. MS could provide an equal amount of exposure via marketing support for fewer handsets, it's just more money for each device. More choice isn't always good - currently there's so many Lumia handsets on the market that carriers (and consumers) have unnecessary choices to make when deciding which handset is for them. It would simply be more cost effective to have a lower number of devices: for scale in manufacturing, to sell to carriers, for the carriers to carry in inventory, and for them to then train their sales staff in. Why waste the money maintaining two separate lines (e.g. selfie phone and affordable flagship) when you can consolidate them into a single device and have both lines of marketing sell the same device - if they develop and price it correctly there's no reason the 740 couldn't be both.

This isn't the iPhone, and MS doesn't command that much respect, so they need to be everywhere to create brand awareness, and awareness for WP as a whole.

MS isn't Samsung either. Hell even Samsung is scaling back the breadth of their product range; the previous king of 'a phone for every size and price' has admitted that as a product strategy it no longer works.

True, true... Well, I guess MS needs to apply a little of both strategies... Nevertheless, we need to see A strategy, vs nothing.

Yeah thats really it. I was really impressed with what they did with the 535 but if it turns out to be the exception instead of their strategy going forward it'll be a waste. And if it is their strategy they need to execute pretty quickly on the follow up mid and high end handsets.

Yeah, I agree.. Im hoping all the delay is just because of the transition.... If they handle Lumia devices like they do Surface then everything would be nice... Surface devices have had very fast model upgrades, and terrific marketing... Seriously, WP needs the Surface treatment...

Nokia was pretty bad in terms of product release cadence, it felt like they just rolled some giant wheel of fortune to decide when to launch devices and the threw darts at a dart board to pick which ones to launch. MS needs to get this under control - a predictable, consistent release schedule would do wonders for the current uncertainty of upgrading a WP device on contract. For me though the Surface Pro is a weird one - it's on an relatively short 8 month release cycle. That's not great for something like smartphones, for which users commonly upgrade on a 2-year cycle. Sony has been doing a 6 month cycle with their Z handsets and their smartphone unit is in dire straits. Such a short refresh cycle can cause inventory issues at carriers/resellers and also has a negative impact on the perceived value of the device when consumers see a replacement on the market so soon. I'm guessing this is behind Sony's rumoured move to a one flagship release per year schedule with the Z4 next year.

Microsoft is going to announce the Lumia 1030 in March. Hopefully, they won't drag the launch date way into June.

Do you think Microsoft will release a 4G lte variant in the states anytime soon?

Some carrier could do that, maybe L 536 538 539 etc

That is certainly plausible should a carrier want to stock this phone. I sure hope someone does that, as it's a stellar device (so far)

Is it just me or do the specs seem mostly the same as the 830 minus wireless charging, Glance, and LTE? And the 830 is $450? Big difference in price for just those features. That said, wish the 830 had this front-facing camera! :(

830 has a 720p screen, a 10 megapixel pureview camera, and a SD400 instead of 200. This does not have a 720p screen, and it only has a 5 megapixel (non-pureview) camera. 830 has a 2200 mAh batter instead of 1905. Plus as you mentioned, the 830 has wireless charging, Glance, and LTE. It's worth its money.

535 uses Qualcomm Snapdragon 200 which doesn't support LTE. Unless MS update it with Qualcomm Snapdragon 210 which supports it. http://www.dailytech.com/Quick+Note+Qualcomm+to+Replace+Snapdragon+200+with+LTECapable+Snapdragon+210/article36533.htm

I dont think the LTE is necessary. I think if you need LTE the 735 is the way to go.

I would agree with you if only the price wasn't such a big factor. The 735 is costs twice as much as the 535.

The 735 is a quality phone. I prefer it to the 830 its the price difference

I think this a perfect back-up phone. One of the features of my current secondary the L635 is LTE however.

Just it? When a full review?

I mean, he just got the phone lol

735 only has a 4.7" screen. The only thing missing is LTE support, that would make it a cracking phone in the UK, and it could then really be considered an upgrade to the 625

The 735 does have LTE support

Windows Ph..-Central LOL.

Eh, it happens. Just glad you watched to the end.

Is equalizer option and double tap to wake up denim feature? Wonder why my Lumia 630 don't have it.

Haha this comment made mw watch the vdo in the first place...now I feel Daniel deliberately did that in the end to keep the viewer hooked :D

One thing I never understood is way Nokia Lumia 520 doesn't have an equalizer.. can someone explain?

Money. Enabling features on the chipset is not "free" for manufacturers. They have to license those and pay to enable them. I get everyone just sees the software and think "Just add the damn app!" but it is also the hardware to enable it which has added costs. Those costs get passed on to the phone's price and if you are trying to reach a certain price-point/profit zone, OEMs have to pick and choose what they want.

That's what I've been saying.. There's a lot more politics, and negotiations, that go on besides just software engineering on MS's part...
..........
This is why I suspect that MS is hesitant to add a data toggle to the action central... For all we know at&t, and others, might not like that..

Joe said that about this toggle.

We have a data toggle. It's called "Airplane Mode".

Yeah, yeah... But that's a bad work around, so why are you being "that guy"?... When people want new features the last thing they want to hear from people like you is a work around. I mean, people know how to use their phones, but they want more convenient ways to do so... So, that makes your comment kind if irrelevant... Sorry.

It reminds me of the old Casio scientific calculators. All the boards were the same, but only the top models got all the funcions. But you could type certain keys in the basic model and it would get the same functions as the top model, but only until you turned it off. Then you're back to normal again.

Yeah, because the function was there just not officially available... So, I guess MS had to go back and pay Qualcomm for Hey Cortana,, if they didn't already do so..

Looks like a decent budget phone. I'm impressed that it isn't much larger than the L735. That Microsoft branding is too brash, though. Perhaps tone it down - same colour, but darker shade than the cover colour would be ideal. Anything that is less 'in yer face.'

Does this work on att? Since it takes sim

Why my Lumia 630 doesn't have equalizer option. And double tap to wake up as well. Is it a part of denim?

I'm not usually superficial, but I wouldn't use this phone due to that logo emblazoned on the back, my 930 does it just right, but this.....well it's simply put - Too much.

Just add the ClearBlack display and it would be absolutely perfect. Much better than 630 if you ask me. And it still suports Microsoft Health!

"Equalizer in Loudspeaker", is this a Lumia Denim feature?? coz i dnt have it in my L620 running on Cyan.

Oops tht means i ran out of it! Wouldnt be getting this feature in Denim?

Awesome! Maybe the 512MB peoples can upgrade now so I don't have to read their complaints on no app support ;) (yeah, inconsiderate, but those comments I strongly feel should be geared to the app developers. Ya know, the ones who can actually fix the issue?)

Exactly, I will hopefully recieve the 535 on friday replacing my 620. When I saw the MyAppFree of today I was annoyed, I couldn't buy it on my 620. Fortunantly I had a 920 for a couple of weeks and it is still visible on my Microsoft account so I could "send" it to that phone. Now I have bought it and I will be installing it when my 535 comes in.

Wish the 735 had a 5" screen. Other than that the 735 is the perfect phone. Posted via the Windows Central App for Android

They cannot give every phone 5", there are also people that want smaller screens.

@DanielRubino u are gorgeous Man, I love windows central

So do I... Shame that I'm married:P

I still don't understand the dumb naming/numbering of all these phones and why we need so many versions of Lumia phones? So basically if you add wireless charging, Glance, and LTE to this you get the 830 with a better front-facing camera. Or, why couldn't they just add the 5MP front-facing camera to the 830 and it would have been almost perfect! Anyway thanks for the review Daniel.

Wouldn't it be enough with 535 + 835 + flagship + MonsterCamera?

I still don't understand the dumb naming/numbering of all these phones and why we need so many versions of Lumia phones?

Agree with you there. I think they should go Moto style and just have low mid and high end phones - the 535 looks the goods for a low end, add the 730's price and 5mp FFC to the 830 for the mid, and roll a 1020 class camera and glance+sd to the 930 for the high end, job done.

Two words: Niche marketing.

Who cares. In the U.S. we want premium phones!!

Really nice features for such a phone. Its a great device for the low budget. Too bad they are releasing this in very limited regions. Considering its a dual sim, it seems this is international only for now. I think the best phone right now is the 830, I know the 1520 is the beast of the tech specs but it is also the beast! I am very happy with the design and size of the 830. Next year's high end should be based on the 830 design and size.

Agreed! I'm seriously considering trying out the 830 on AT&T Next 12 even if my 920 is still in great condition. I'm just getting bored with my 920 and would love the 830's 5" display and it's other cool specs. It could hold me over for 12 months until whatever flagship hopefully released mid 2015 is on sale by holiday season 2015.

I was considering doing the same thing! But I'm hesitant because of the SnapDragon 400 on the L830. If it was a 600 I would've gotten it by now.

I don't mind the processor as it should perform the same if not better than my 920. My main concern is the front buttons like search not responding issue that some are having. Still keeping an eye out for a sale between now and Christmas.

I think the best phone right now is the 830

The 830 is a nice phone but it's simply too expensive. You can't market a phone as an 'affordable flagship' and then price it barely lower than what the actual flagship (930) is selling for.

Hi Daniel is the touch screen sensitivity too bad? Does it work with gloves/nails like previous Lumias? I have already ordered one here in Europe, but haven't received it yet. Thanks Daniel for the good work!

It's REALLY BAD. Touch-sensitive issues is the biggest problem of Lumia 535. It's worse than Lumia 530 and 630. P.S. I compared with my sister's Lumia 630 and my dad's Lumia 530.

I don't understand the big screen sizes on budget phones. It's especially true right now when I'm looking for a phone for my parents, 5" is just way too big. With the rate technology progresses the decent quality 4-4.3" screens from 2011/2012 are probably no more expensive than this 5"? I would rather the 4.3" AMOLED with ClearBlack from the Lumia 900/820 in the 535.

In emerging markets 90% of people want big screens, sometimes even bigger than 5 inches. Happens a lot here in southern europe too. I think 5" is now considered the perfect screen size.

I can understand that in some markets a phone might be the only 'connected' device that someone has, in which case a 5" screen is going to make something like browsing the Internet easier. But do emerging markets even have decent access to the Internet? I would think that calls & texts would be the majority of communication initially, moving on as infrastructure improves. Obviously I'm wrong because all the phones are heading this way, from budget to flagship, and posts and comments like the ones here suggest it's widely accepted as being a wonderful thing. Ah well, I'll just have to wait for the 4" smartwatches to come around before I upgrade.

It is actually a lot easier to put a few cell towers in a town than to connect every home with WIFI. So a cell phone can actually be more useful than a laptop in some cases.

It's the screen size size wars. Bigger is considered better even if the screen is crap or makes the device look comical. 5" is a joke for one handed use.

Is it true that it can record only 480p videos with rear cam?

It's supposed so, and that's a shame because I use to record a lot. If that's true, you should stay with your current phone or get a 730/830/930.

In this video, they take a look at the camera settings and you can see that VGA (640 x 480) and FWVGA (848 x 480) are the only options available https://www.youtube.com/watch?v=vs40buBoYkI

If it records at least at 720p I would have bought it as substitute to my 625 ... But this is not acceptable!! Why not? My lumia 625 records in full HD and has only 512Mb of RAM ...this has 1024, and a quad core processor, for hell sake!

I have a 520 and it records 720p videos, but I don't get why if the 520 and 535 devices have a 5 MP camera, why can't both take 720p quality video?

It has nothing to do with the MP count of the camera but the SoC that is used. The SoC on the 535 has a way worse GPU compared to the GPU of the 520 and is only capable of 480p encoding. And still I'm switching from my 620 to this one.

The GPU on this sucks, that's why. Get a 63X or better if you want 720p video.

The biggest problem I have with the SD200 on windows phones is that the phones can't even play videos which are above 480p resolution. Anything above that drops frames badly, and goes completely out of sync with the audio. So vids aren't going to look great on that big screen... What's odd is that the SD200 in the Moto E can play vids up to 720p resolution without lagging.

Things people complain about

Things people complain about

Without a doubt is an excellent device. I migrated from iOS to Windows Phone and the Lumia 520 used as a test device to meet Microsoft's system. Today, already used to the system thought several times level up and buy a Lumia 930 (available in Brazil), but already knowing the Microsoft strategy, prefer to wait the first smartphones with its powerful brand. But today live in a dilemma, because I know that in the same way that the Redmond giant has launched a low-end with your brand, then she will release new models and more powerful little time. The question is, buy the Lumia 535, or wait the 935?

Buy the 535, it's cheap :)

If you have a 930 device, you better wait for the 935 or maybe the 1030 (hoping it shows off soon), because a downgrade could affect you.

IBT announced today the Lumia 1030 with 50mp camera, 5in screen to be revealed in March.

Wait for next flagship devices.

I'm curious to hear your opinion, Daniel, on how this device performs in normal use tasks (texting, shooting photo, multitasking, video app and so on) and especially how does IE perform on this device. I heard mixed reports that IE is quite slow in rendering some pages.
Let us know what you'll find out.

I feel the screen on the 625 is perfect HD, 4G, its a bloody good phone, equalizer ffc running cyan 8.1.1, would just love this to have 1GB RAM

625 has 800x480 screen not HD,

And, it records video in full HD! This only 480p... Why god? Why?

I hate this phone, I just bought a 520 and now this phone appears and just $30 more expensive here in my location :'(

As Microsoft first Lumia launch it looks to overpass its Nokia Lumia predecesors with good new features. Unfortunately NFC feature isn´t included but it does have the dual SIM option. The other aspect I hope Microsoft to reconsider for its next launch is branding labels on body´s handset. It would be better to place a less visible label at the back of the handset, and I suggest the use of the name Lumia or Microsoft´s Logo Stamp instead, in a light and discrete font. Some similar to Surface labeling

Where is this phone in the US.....would love to get one for my mom and dad, as it is I have everyone and their brother telling them to get iphones

Wow I really want this. Im hopeful there will be a model with better spectrum support by January or ill have to order the one from France...

A little off-topic, but on the 1 GB-RAM note: Will Slideboard (better known as Flipboard) ever optimize their app for 512 MB-devices?!

Good question to ask the app developers. :) (And BTW, they said yes they are. Patience, young grasshopper!)

A true budget phone, definitely getting

That stuttering issue is a little unlike WP...it's also on the 530 which I tried in-store today. WP should run pretty smoothly on it - maybe it's a WP issue with the Snapdragon 200?

I have a 635 and I'd love to swap my phone to 535. What features am I losing?

Only the clear black display. Rest of all it is just gains...

My 620 have Glance and neither the 735 or this 535 have it. It's weird to upgrade to a more recent phone and lose functions.

I dunno why but Microsoft seems not to like glance screen... But I found it a cool feature

If this will be upgraded to Windows 10. I want to buy it however seeing MS 535 have that specs at a low price. I cant wait what they can do with 630 and so on with the prices... So maybe I will wait a little more and keep my Lumia 630 a bit more.

All Lumias will be upgraded to Windows 10

Does it have glance screen?

No. Only the 830 supports glance in the 30\35 series.

Tmobile please please please!!!

I hope that navigation bar thing comes to the 635 on Denim!

Should I "upgrade" from my HTC 8X to this one?

What carrier to do you have? Plus, where do you live?

I have EE and I live in the UK. I would buy it off contract.

Hey, the pic of the 535 in this article; why no start screen background/transparent tiles?

I hope we get this in the us. i like the 635 on t-mobile but i really want a front facing camera.

@DanielRubino what about RAM?
Is this a ddr2 or ddr3?

Does L535 supports HD video playback ? Posted via the Windows Central App for Android

Ready to replace my daughters 520 with the 535. Much better Skype phone with front camera.

everything has now turn into 5". I hate this. the smallest I can get is 4.7"

Microsoft Lumia sounds OK. But I didn't like the LOGO on the back of the cover I mean come on you're not Nokia just change it to Horizontal.

Now that they seem to acknowledge that equalizer is not a high end feature, can we expect a update to 520s, 6xxs to enable it?

Nope.Lumia 535 has latest chipset and that is why we get audio equalizers and also phone has 1GB RAM. Just upgrade your phone to Lumia 535 that's it!

And 625 has equalizer since amber

DAFAQ is this true? Where? I can find this option on my 625

Settings, audio.. You open up to equalizer. Swipe for Dolby sound, flip to silence, and audio levelling settings

Thank you :) those settings page is completely messed up

Exactly... They should atleast group their settings page like its done in ios or android...

I believe Microsoft is going to have to watch the price of the 535 if it hopes to be successfull with it. It is priced pretty close to the Moto G (new model). Both have 5" screens but the G has more resolution. The G has a 8mp camera the 535 only a 5. The G has a SD 400, the 535 only a SD 200. They are pretty close in everything else; but you can see if they are the same price which phone is the better deal. I own several WP phones including a 635 (just bought for 39$) and a Moto G lte. In my opinion if they had put the 535's features into the 635 and called it the 640 it would be a better match up against the Moto G. The price they end up selling the 535 for is going to decide how this battle comes out.

Moto G 2014 is more expensive than Lumia 535, Lumia 730 costs nearly as much as Moto G in India which is a much better phone. In USA, whenever 535 goes official, I am sure price will be usual sub 100 dollars. You are just looking at imported phones prices now.

Yeah but.. If you get the G then you're dealing with Android. I get that the mass market loves 'em, but I wouldn't run that mess if you GAVE me a GS5.

I wanna know the benchmark comparison of LUMIA 730 and LUMIA 535..anyone did?? please upload

It is an awesome phone but no lte/4g it wont come the western countries and perform.

They should put LTE and Snapdragon 400 in that thing and sell it as Microsoft Lumia 636.

Just managed to watch the video, is it me or the colour accuracy is waaaaaay off? The headphones look blue and the box looks light pink in the picture / camera app @ 9:12 lol. All in all looks like a solid device in terms of specs & features for a low end device however the stutter would bother me, however that's just me and it may not bother others.

I think it's just the video camera that he used, or else he would of said something about it.

If it was, then the colour of the headphones and box would have been the same as the camera app (plus the back of the phone as well) through out the video :P. Then again I guess I'm going colour blind since he didn't mention anything about it lol.

Oh man I need one of these for Xmas. Is Expansys a reputable site? I don't usually buy from just anyone, and I'm not too familiar with them. This is the perfect handset for my kid though, gotta have one before the 25th.

Should have been available in the states and 2 months ago. Don't mind 4g at this price point when hspa+ works well enough in populated areas. The value proposition of savvy buyers on a budget made the Lumia 521 a huge hit. The 530 and 630 and 635 are a disaster for all but the least smartphone inclined folks in 2014. They will leave bad tastes in an otherwise uninformed buyer. 730 and 830 are too damn expensive at launch to be widely successful in the prepaid market where Windows phones excel. I just hope their prices drop precipitously for any chance of not loosing market share...

Yah rap*d my 730 totally,and also its 100$ less

Sad! I purchased budget Android device weeks ago and now this beast just came out! It's been months and I already missed Windows Phone superior performance already! :(

I heard in YouTube review Lumia 535 suffer from hangs nd lags.Strange hope MS don't spoil wp name .

Won't buy a Lumia without Nokia name on it

I don't get how MS is segmenting these devices. I feel like this phone should be a 4" device like the 520, reserving the 5" inch size for the 6xx series on the low end. Between the 535 and the 635, the differentiation is a little too wonky for the average person to grasp. Posted via the Windows Phone Central App for Android

Yesterday, I had to get a phone for wife in the same budget range. Since, I am Windows Phone fan, I was pushing for the Lumia 535. My wife, just put forth the comparison chart between Lumia 535 and Asus Zen Fone 5. I was left speechless. At last I had to buy the Asus. Something to think about, Microsoft.


Asus wins easily with l535..however aftersale service is something u'll miss for sure..

Maaaan....dis phone has all the features, which Lumia 520 lacked....impressive phone for the price, I think its gonna be new 520 in WP world...

@Daniel how do you make the phone look top notch on the app ? I'm considering to make a app. Kindly respond.

Definitely have to buy this. I just got my Lumia 635 and this looks like it could be a nice competitor.

Nice specs, but I still prefer the 4.5 inch screen on my Lumia 925, very portable

Oooh...anyone else notice the USB settings option in the settings at 8:25? I don't even have that on my 1020 w/ 8.1.1 DP

@Daniel. thanks for the review. i wanna ask one important thing. does it supports Static IP? and when u clicked picture of headphone, phone showed it in blue colour while its actually green, why so?


Ordered one already, this phone will be a winner!

Does it still come with Nokia ringtones / alert sounds or is Microsoft dropping those?

No Nokia Tunes, No Nokia SMS Tunes. But some of sound that available in older Lumia phones still be in.

Green looks blue on its camera

I always found it weird that the 635 was the 625's successor, but lacks ffc, flash, ambient light sensor, and 1080p recording. The 630/635 is a better 520 replacement.

It looks to be another nice low end device. I guess we don't have enough.

Touch Sensor of Lumia 535 is very bad? Could I have some more explaination/comparison?

Pretty BAD. I compared with Lumia 630 and Lumia 530. The results, Lumia 535 is the worst. Long time to type, not responsible.

Great phone to try Windows system on 5'' display ...people should try Windows phone's before labeling it as useless hmm..

Getting one for Christmas!

So the big question here is, when if ever will we be a ble to get it off contract here in the USA??

Using the Lumia 620 right now. My only issue with the phone is that it needs a better battery but that may be because I use cellular network all the time instead of WiFi which uses less than half the battery.

Did something go, seriously, wrong, on the video, or did the camera actually pick up wthe headphones as being blue?

From the vid you need to have the sim in slot one for 3g.Slot two is GSM bands only.

Hey, Daniel Rubino, you made a mistake in the first line of this article. You hyper-linked the 'Lumia 520' as http://www.windowscentral.com/lumia-5320. That should've been http://www.windowscentral.com/lumia-520 Great article, btw

With the 535 and 635 available the 530 is just about dead unless they drop the price to almost nothing. I look for the 635 to get 1GB of memory, a flash for the back camera, maybe even a 8mp camera and a few other things to make it a step up from the 535. Price it about 25$ more than the 535 and order will be restored to the Lumia line. The 635 will then become a really good direct competitor to the Moto G.

I must know how this works on T-Mobile's network. Don't forget to update us Daniel.

i've seen the actual dummy unit of it at the mall ystrday... vry tempting! hope there's a matte variant though. i think i hv to rearrange my priorities. ths shud be on top. lol!

I must say that 535 is the worst WP devices ever. The touch screen will lag and not function correctly when charging. Not sure if all 535 devices suffer this bug but every device that me or my friends touch is suffering the same problem. And for the record, 535 has the worst screen saturation and sharpness, so much worse than 625 or 520 or 530 itself. The Orange color on 535 screen is almost equal to the Amber color on 620 screen. I dont think I will waste my money on such a phone, ever.

Fact of the matter is the screen is maybe the most important part of a smartphone. Its what you are looking at ALL the time. It has to be perceived as being right for the phone (size, resolution, etc). Its one of the reasons I believe the 520 has been so successful. Not that the 520's screen is great; but its very good for the money you are spending on it. Same with the 635. Just picked up one of those 39$ deals and I am impressed with it for the money spent. If the 635 had 1GB of memory and a flash it would be almost perfect. Haven't seen a 535 yet so I cannot comment on it. But it needs to be at least at the level of the 520 and 635 to be successful. If not all the other stuff won't matter. You still have to look at the screen to use the phone, no matter what else it has to offer.

Expansys (Retailer) quotes tehse specs for the Lumia 535 DS it's selling: Network: SIM 1 - 3G: 900/2100 MHz / GSM: 850/900/1800/1900 MHz / SIM 2 - GSM: 850/900/1800/1900 MHz What performance can I expect on ATT&T or T-Mobile? Edge Only? 3G? Hspa+? Thank you in advance for your response!

I don't get it! Why is it cheaper than Lumia 630?! I just got a 630 and this seems to be better than it!

The lumia 535 is an awesome phone. Perfect for my 14 yr old daughter who ditched her iphone 4 for this phone. Bought in Germany but now available in the UK. I love it.

take this, make it 4-4.5'', add glance nfc and clear black (optional: dolby enhancements, camera button, and things like this) and i'll be the first to buy it..... i really need a serious upgrade for my 620 but one i can still afford...
Windows Central Newsletter
Get the best of Windows Central in in your inbox, every day!
Thank you for signing up to Windows Central. You will receive a verification email shortly.
There was a problem. Please refresh the page and try again.