Microsoft Lumia looking good on the Lotus F1 car at Silverstone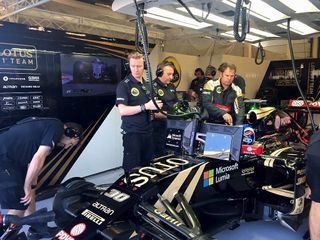 Microsoft has been a partner of the Lotus F1 team for a while now, more specifically Microsoft Dynamics. But, that's changed a little this season with the more familiar Microsoft logo taking pride of place on the car. As the cars have rolled out for the British Grand Prix practice sessions at Silverstone, look what's there this weekend?
Looking good there, Lumia!
OK, it's not the only phone logo on the car, but it's the one that stands out the most. BlackBerry may get itself on the podium more often by virtue of sponsoring the best car on the grid, but with a Mercedes engine in the Lotus, maybe we'll see some Microsoft branding start hitting the higher reaches.
So, who are you shouting for this weekend?!
Thanks WPit for the tip!
Richard Devine is an Editor at Windows Central. A former Project Manager and long-term tech addict, he joined Mobile Nations in 2011 and has been found on Android Central and iMore as well as Windows Central. Currently you'll find him covering all manner of PC hardware and gaming, and you can follow him on Twitter and Instagram.
It will always be Nokia Lumia for me

Sometimes, you have to learn to let go and accept the reality! Go, Microsoft, Go!

Moving on! Let's go Microsoft Lumia!!

Seems not faster. Perhaps next year.

No, no. F1 cars are always fast. And a Lumia ad on it makes it faster.

Only make it seems faster tho, not actually faster.

Only about a second quicker than GP2 cars....and around 6 seconds slower than the cars of the early 2000's!
So yes, they are fast....but as Alonso and others have testified, they aren't so fast as to leave the drivers mentally and physically exhausted at the end of a race.
F1 needs a shake up. Remove the tech...go back to proper gear shifts like in the Senna days.

You think the Mercedes is only a second quicker than a GP2 car? Increased fuel limits soon will see the cars going flat out nearly race long. It'll be much quicker again soon enough.

Perfect choice by Microsoft. A driver like Maldonaldo should be given a Lumia for his reckless driving. Only a Lumia can survive a crash.

Lumia 920's for everyone!

@PBV7:
I would've preferred them going with Mercdes-AMG though. But Blackberry beat them to it.
Although judging by the state of the Lumia line-up (only entry-level devices currently), going with a team that races outside the top 10 is (sadly) quite adequate...

Has anybody checked House low since he last crashed? House safe are our roads? www.hasmaldonadocrashedtoday.com

Oh that's Will Farrell in the picture! It's Talladega Nights all over again lol

With Rickey Bobby on their team, there is no way they can lose. If you ain't first, your last.

Ricky Bobby and El Diablo.

Displace BlackBerry from the Mercs and then we will be talking

Think that deal is up end of this year.

I would prefer to see it on the Ferrari ;)

Lewis for the win this weekend

@The Poppies:
Doesn't look like that after practice 1...

Yeah because practice one is as good as the race...

Isn't it Lewis for a win every weekend now? Rosberg doesn't turn up most of the time, the Ferraris just aren't quick enough and everyone else is awful.

Everyone isn't awful. The Williams is decent too. The main problem is Mercedes are just so damn good!

Lewis. Lewis. Only Lewis Hamilton forever

Microsoft should partner with Williams F1 instead of Lotus.

I don't understand, if MS, according to WPC forum commenters, is selling its phones (used to be all its hardware) division, why investing time and money to promote it ?

That's was made up by the media...

Who will lead Microsoft Mobile Ltd? Or is the plan to dismantle the subsidiary?

You can shut down Microsoft Mobile and still retain the brand. What Microsoft will likely do is shut down MM and the "Microsoft Lumia" brand moves to the same roof as the Surface and Microsoft Bands. A brand for Microsoft reference devices instead of a mobile OEM brand.

Shutting down is pretty expensive. I would suppose they at least try to 'sell' it. Perhaps LG or some Chinese would be interested to take it. One problem is that licenses MS has from Nokia are not transferable.

I LOVE LOTUS...... ILOVE LUMIA FIRST......RACEON

Nice! I'm at Silverstone on Sunday and will be rocking my 930, but unfortunately will be a guest of Mercedes Petronas, so will have to hide the Lumia as it's Blackberry that sponsor them :(

You're lucky to even be there mate Have fun!

Nico has Finnish roots so if you show your Nokia to him that may be ok.

I'm there too but I ain't anyone's guest :( still hoping to see a win from Lewis! #TeamLH

Enjoy yourself but whatever you do, do not hide your Lumia 930! You have to show it off. It looks too good to stay in your pocket the entire time.

Nice too see MS expanding the sponsorship. Last year it was Microsoft dynamics, then in Monaco this year it was Microsoft, now Microsoft Lumia. Awesome

Or rotation of that spot that MS owns.

That spot said Lotus at the last race. This is an extra spot MS has bought.

So much for the death of Windows "Phone" that some of the yahoo tech bloggers have been claiming. Idiots.

Lumia stuck in sand. Red flag!

More viewing time on TV, brilliant!

With Maldonado behind the wheel of one of the Lotus' you can guarantee there will be at least one of the cars in the wars xD

Formula E is Lumia 430 of Formula series.

I agree, formula E is still way too far from being exciting, but who knows, in a few years things may change, for now the roaring of a petrol engine is a lot more staggering

Formula E is crippled by this obscure 2-car, maximum power stuff, just as F1 is crippled by max fuel rate. Next year, manufacturer differentiation instead of spec cars. Woot!

Cheering for Hamilton but would be nice to see a top five finish for Grosjean.

I'm for the underdog; in the last few years my cheer is "ABV" (anyone but Vettel) now it's "ABH' or more precisely "ABM(ercedes)."

If it crashes, I hope it will go through the car or wall it hits and not gain serious damage

Looks promising for Kimi.

If At&T is powering them, they won't get their updates fast enough. Unless they drive in the "inner circle"

So much for the rumour saying Microsoft will ditch Mobile.Muhahaha.

I love F1 racing. I miss Schumacher.

More Lumia promotion for the UK. Windows Phone growing here. Seeing more and more people with them all the time. Ps. Can't wait to go to Silverstone again on Sunday. Should be fun.

It took them long enough!!!! This should have happened about 2 years ago when Lotus was running at the front with Kimi at the wheel. Oh well better late than never.

Sam: 2 years ago, Alonso was at the helm of a Ferrari. Now? Also, 2 years ago, Grosjean's major accomplishment was the incident at T1 at Spa. All the best to Kimi and I hope he beats all the Mercs _and_ Vettel, but in the new-reg era, I think Lotus is doing quite well sans Finnish talent. Now, if we can just get a nice Lotus wallpaper for W10 RTM build...

Yeah and Blackberry get way more exposure than Lumia still.

Go ask BlackBerry how many phones they're selling. You think it's bad for Windows Phone try talking to those guys. They're making an Android phone apparently. Sounds like they gave up.

Lumias crashed with each other on lap 1 ;)

Sad news. Both Lotus cars off on the first lap of the British Grand Prix. Sponosrship derailed. Lotus are having so many problems with fund raising, the sponsorship was probably quite cheap. And Microsoft Lumia did look so good on the Lotus car sides. Perhaps next time sponsor a team that is nearer the front of the grid?

Classic Nadella move: Crash with team mates and advance competition. Perhaps stipulated by partnership deal..

Unbelievable! Didn't even manage to get to second turn unharmed!
Windows Central Newsletter
Thank you for signing up to Windows Central. You will receive a verification email shortly.
There was a problem. Please refresh the page and try again.