Microsoft Lumia's #MakeItHappen campaign helps bridge a language barrier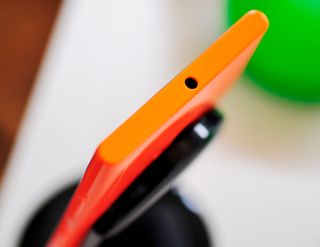 Microsoft's newest effort in its #MakeItHappen campaign for its Lumia smartphones was revealed today, as the company is helping a man bridge a language barrier in order to suprise his future wife.
In a new video, we meet Ed from the UK, who is getting married soon to Mariana, a native of Mexico. The actual ceremony will also take place in Mexico so Ed decided he wanted to learn his future wife's language to impress her family and friends. He contacted Microsoft, who is making one person's resolution come true a day as part of #MakeItHappen.
Microsoft got Ed a Lumia 730 smartphone, along with the recently launched Duolingo language learning app for Windows Phone. Ed even got his own private tutor to give him a crash course in Spanish. Based on the video, it looks like Ed is going to be a big hit at his wedding, thanks to Microsoft's help.
Source: Microsoft Lumia (YouTube)
Get the Windows Central Newsletter
All the latest news, reviews, and guides for Windows and Xbox diehards.
I need Malayalam language

I need me some Asian persuasion!

I hope you are a malyali so am I. Firstly malayalam is spoken by a minority of population in india and has no global significance. I find malyalam to be incapable as compared to more advanced langauges like english. Lets use this app in scools to teach our poor childern english.

I tipped about that..!!!!!

Just give me a nokia 1520... Enough for me :D

I have duolingo and i love it.

Ahhhhh man, give me Surface Pro 3 with i7 and 8GB of RAM and 512GB SSD

And me a Koenigsegg One:1 and a McLaren 650 S

You sir, have a good taste in cars.

When it comes to cars, he's one of the top rank holders in Asphalt 8!

LOL And you are just behind me..!! 2.10

And a SSC Ultimate Aero TT or if not aplicable, just one Lamborghini veneno can satisfy me.

The fastest Hennessy Venom GT would be much better than the SSC and Lamborghini Egoist would replace the Veneno any day..!!

Thank you duolingo :) you have been amazing since day one :)

It looks like an orange Lumia 1020 in the article photo haha

Thought the same; definitely want one.

It would be great if the updated the specs on the 1020 to modernize it but give it and orange and green 930 colors and keep the body shaped and style as it is.

It's a 730 or 735 on a pedestal

Que bueno esta eso!, El se escucha bien hablando español = That was good!, He sounds good speaking spanish.

urdu if its there then sorted for me.

Why do you need Urdu on duolingo?

Indians speak Hindi. Pakistanis speak Urdu.

I love Duolingo. Finally can start all over again with Française

I've been learning French with Duo app :D my third language

Wait wait wait, how is his duolingo accepting speech?

Using duolingo on my Lumia 630 and I love it

Duolingo is Great. But have they forgotten the awesome bing Translator app that translated using camera and audio inputs?

I need the Lumia 735 in USA T-Mobile

This sounded like a great product. I was bummed when I discovered they didn't support Thai <-> English

Seriously, ms bring usb otg, USB tethering & ability to attach documents on WP.

You can attach documents in wp, via share from the office hub, file picker however best solution is metro mail if you are really must send attachments as opposed to secure links via services such as citrix sharefile.

yup! I am learning Romanian on my Lumia 900. I have a nice language learning app there which I can't seem to find on the Win Phone 8.1 store.

I want to learn Japanese but sadly it's not part of Duolingo (as far as I can remember)

In the words of Max Black: "you're the only person I know who seems WHITER speaking Spanish".

Did he got it for free??
If yes, then we all should try.... Lol