Microsoft acquires Groove startup to integrate into their own Groove service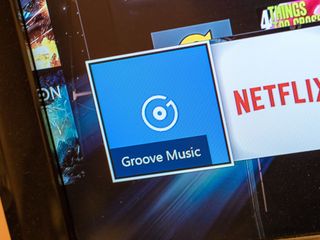 A number of months after Microsoft launched its Groove Music service, the company has officially acquired the small startup also named Groove. Originally known as Zikera, the three-man team from Quebec, Canada, created the Groove: Smart Music Player app for iOS and Windows 8.1.
Groove: Smart Music Player was powered by Last.FM and acted as a virtual front-end DJ for music. The app scanned the music library of its user and created curated playlists based on the user's preferences. In a post on Medium today, the Groove team stated:
The Groove: Smart Music Player app itself will no longer be available for download, but people who have already installed it can continue to use it. No more updates for the apps will be released. Today's post did not reveal the specific financial terms Microsoft made to acquire Groove.
Source: Groove (Medium)
It's raining acquisitions!!!

You have a special relation with "raining" it seems.

So, basically MS didn't own the rights to the name Groove, so in order to avoid a lawsuit MS, and Groove came up with the acquisition...
.....
Looks like a win-win situation for both.

No, actually Microsoft has owned the rights to the name Groove since they acquired Groove Networks and hired Ray Ozzie back in 2005.

@JotaKa, trademarks are product/service market specific, so Ray Ozzie's Groove, which was focused on improving team integration and workflow, would not have been relevant to music playing. That said, it's not entirely clear that groove, which has as one of its meaning dancing to music, can be protected for music anyway. Generally, single English words can't trademarked, especially in areas relating to their meaning. For example, you couldn't open a burger-serving fast food truck and trademark "Hamburger" (even if you were the first to try), but you might be able to for something completely unrelated, like a new kind of phone charging station, the "Hamburger". Note that lack of a protectable trademark isn't necessarily a problem for the brand. Think of Microsoft's Word and Office.

This is Microsoft playing nice. Trying to buy the hearts of developers again.

I kinda see this coming. I have Groove app on my old iPhone 4 and it was a great music player for iOS, well designed and it does the job on making curations. I'm not sure if Groove name of Microsoft for their music app/service is coincidence or maybe it was a plan all along, but this is interesting acquisition. Still I hope that Microsoft will reuse the great ideas and tech from their Zune. It wasn't that bad, it just didn't get traction because of limited market.

Spotify should be on the aquisition wagon.

I hope Microsoft gets Slack soon... That is a great app :)

LOL. Microsoft to buy YouTube from google... J.k.

https://m.youtube.com/watch?v=l5aZJBLAu1E

LOL. Just watched the whole thing.

And I hope they also get snapchat!

O_o This is the first time I've really noticed the line, "I'm gonna allow myself to get absolutely soaking wet"

Wow. I didn't realize that Groove was not MS. They are actually the best app development team at MS, way ahead of others. That App made significant steps forward, unlike, say, that desolate team who is developing Skype.

Groove is Microsoft, they bought another app named Groove, most likely to avoid another SkyDrive-esq renaming fiasco.

Thank you. It wasn't totally clear to me which was which

The fact that John chose the actual Groove Music tile as the article's hero image probably didn't help matters.

Groove is an inhouse team. What they aquired was another product that happens to have the same name.

You got it wrong. The Groove team which MS acquired was a different one. It did not create MS's Groove app. They had their own app. Which now MS will use to bring its features to its own Groove music app, maybe. That's what acquisitions are made for.

Please correct me if I'm wrong, but isn't Groove Music, the app that replaced Xbox Music (and Zune before that) developed by an in-house team? And isn't Groove: Smart Music Player a completely unrelated app that was created by a totally separate, external team?

No f-ing wonder they seemed like they had no idea what is going on with this app.

Ok just finished reading and it's the wrong application. Sorry.

I asked @skype on twitter once if we'd ever live in the century in which Skype has at least 5% parity of features as on the other platforms. They told me "a century is a long time". I've just about lost my hope in Skype for Windows Mobile being good after that.

The present groove app is terrible.

Groove Music on my 1520 is wonderful.

Its working great on my 520!

It's great on my 950xl, not sure why people font like it. Could be improved, but it isn't worse than 8's player

Groove music isn't there yet, but its one of the best music player apps.

Same here. Does what I need it to do.

It's better than BM ever was.

It was at least way better than WP8.1 Xbox Music app. Still a long way to go but most of the features so far is there. I just still dislike its generic looks though, it feels just like old Android stock music player. If it just got pivot navigation for Collections (Artist, Album, Songs, Genre), SmartDJ, Family Plan, Artist Bio (it was there previously), Related Artist, Music Store inside the app (WP Zune/Music+Videos Hub implementation), Heart system, Editable metadata including artist image+info, lockscreen artist (This is W10M limitation though, not really Groove team issue), Social features, and hopefully nicer Now Playing with Zune-ish style. At least if would at least less buggy and glitchy, that would be great.

I need a groove music pass to play my own work.

Lol. Send me link I will listen as well! ;)

You shouldn't. I can listen to my daughter's music by simply adding it to my music folder on OneDrive...

Same. What a ridiculous concept. I am now using VLC instead

The Groove Music app still needs a lot of improvements. There are a lot of features missing from WP8.1

This is unrelated to the Groove Music app.

I know they acquired a third party app from an independent startup because MS has it's own app named "Groove" and they did it to avoid another SkyDrive-OneDrive incident. But MS's own first party app still lacks a lot of simple feature that existed previously. Let alone bringing new features.

I don't agree. Groove Music for Mobile has come a very long way. Very competitive now.

First they start an app with almost no features. Then they add some features after a considerable amount of time. Then the upgrade to W10 has again lost all the features of the last generation (xbox music) and now they are again adding some of these features back in one by one. It's just terrible.

When is the last time you used another music service app? It has the bare minimum to compete.
It has a basic algorithmic radio function, and it can play music, and they managed to make it look like a half-finished ripoff of spotify. It is nowhere near "competitive". Functional and meets your personal needs, perhaps, but comparatively so, not so much.
Even Apple music despite the terrible app is miles better than Groove (family sharing, playlist curation, radio, social).

I find the layout of Grove, both mobile and desktop, to be better than Spotify in every way. If I wanted a radio app, then I would use Pandora. If I want to share music, then I would use Twitter. I want a music app just for listening to music. I don't need any extras.

Well that's fine but for others and among the competition, Groove still needs to be better and its a long way still. Gladly Groove Music is starting to nail the basic music functionalities since the gapless playback. Groove Music for 2016? That is still a question. Even Zune is kinda fits for today's music needs and it even features design that still looks great even in today's standards, heck some new music service is kinda inspired from it (Beats Music for example).

I really hope this acquisition will make Groove Music something special among the other music services and app in the market. The design is generic, the features are there but still needs some work, it seems only good at playing local music but that's about it. Groove Music still feels not that compelling unless you're already invested on Microsoft ecosystem and wants to complete the circle, or already been a subscriber, or wants to take advantage of that OneDrive integration. So far this acquisition is really interesting, I've been using the Groove Smart music player on iOS in the past and I'm glad that their tech is gonna be part of Groove experience.

It's still off-topic. Use the forums.

Maybe we can get the actual Groove app on Xbox one now instead of the Zune player with it renamed to Groove!

Read the article, this has nothing to do with the Groove Music app.

Unfortunately, the 'article' used the same icon as the Groove app. I can understand where the confusion stems from.

Yeah, they should at least show the actual Groove Smart Music Player app.

Lets hope we get proper individual playlists now and they are not standardised but allow us to "refine them" by skipping or disliking songs or liking songs

So how about fixing Skype already? I mean I'm real happy for this and all, but quite honestly their Skype acquisition that has been done ages ago is still like a tacked-on addition to the whole ecosystem.

Seriously I don't know why they discontinued Messenger any more.

Microsoft should bring back Zune with a boom with groove team

The app scanned the music library of its user and created curated playlists based on the user's preferences.

And knowing Microsoft this feature will never make it to their own player.

Lol & apparently mixradio which had a similar idea removed it

I don't understand all the complaining about Groove. I think the app and service is great! I have a collection with about thousand cd's and a music pass. And everything connects perfectly!

So, did you just get in the platform or something? The problem for many is that it is a step back from its predecessors, both in design and features.

Groove has been much better experience than the Xbox Music app for 8.1.

Alot of people do agree that Xbox Music from WP8.1 wasn't that great (maybe in Windows 8.1 too), its only gets into okay state recently. The better comparison would be from Zune, Windows Media Player and even from Windows Phone 8 and 7 Music+Videos Hub. When comparing to those, Groove is still alot of catching in terms of features and services. Even in design aspect (which for many is subjective), technically Zune was a better looking that even now it still looks great. It was praised before with its looks and UX.

Incorrect. Groove > 8.1XBM app

How did you do it? I've purchased music from Microsoft and it won't even play in Groove anymore! Anybody else find this editor buggy in MS Edge?

You need a Groove Music Pass to play music you have created / recorded / mastered yourself and then subsequently stored on your device. That is just plain stupid

We love the name zune and its effects plus the funtionality. Bring it back now

Zune sucked, I'm glad it's dead. Hope it never see's the light of day again.

Get out you're walking home.

Why is it sucked? Elaborate?

When I had the Lumia 710 years ago I was forced to install the Zune desktop software to sync content without which I could not put content on my phone. And I had to give Zune access to my music folder. Zune destroyed my music collection with the wrong metadata for more than 20,000 tracks. Wrong song titles, Album cover, genres, everything. And I had to personally sit correcting all that took me about a year to correct all the info.

This is more confusing than string theory.

This is good news! More enhancements coming to our Groove Music app.

Idk we dont rly know that. Although the author stated it in the title its not confirmed

It is a good news! I really hope the tech will be part of Groove Music very well.

So they basically acquired A MixRadio copycat... the irony

Somebody ask them why the Halo 4 OST was removed from Groove on January 31st.

Soooo they basically just paid to use a feature they already had in Zune. Ok

So some unknown reasons, Microsoft forgets the great things they've done in Zune despites it didn't get much market. They kinda have this mentality that if the brand is been tarnished, they will sweep everything regardless it got several great ideas or not. This is where it feels the feature regression to the successor of that brand. So far Vista survived from the massive regression and its innovations continued to Windows 7. Microsoft just have to look at Zune and looks what's great about it and reimplement. It was a failure in terms of market it even those times, it was praised with its innovations that came with it. Heck family plan that was available to Zune was now a feature in Apple Music now, while Microsoft still forgets about it.

Well if that Groove team can improve my newly acquired Groove Music pass experience, I'm all the happier for it.

I wish they'd just pay some folks to curate music playlists. Music curated by people is always better.

Let them fix the podcast app or just remove the app from the store

I hope this means they can update the crappy Android app. The Windows 10 Mobile app is so much better, I hope the Android app can get the same functionality and interface. Posted via the Windows Central App for Android

FYI: Msft just acquired a music app called Zune. From what I hear it has a great interface.

I miss Zune.. Also the 10 songs a month I would get to claim with the credits..

Me too, Zune was really good. Very nice interface. Still have my 120. Collecting dust. Preferred the name/logo/pc interface. Groove is good but needs a family pass. Now if they could get the old pc interface on the mobile app that would be awesome too. to dream the impossible dream

Me too! It was really great at that time. Too bad it just wasn't available to most market and its kinda late to fight iPod at that time. That was the time that Microsoft can show that they can be a consumer brand aside from Xbox. It wasn't well designed, it's got great design and forward thinking feature-set and wonderful service that it even compares to iTunes that Zune was better on service aspect. Design was praised and even now, it was still great looking one. They almost had a perfect formula, it just needs more market and few more issues to address. We can move-on from the Zune brand but its innovations should be part of Groove Music right now.

That picture you chose for this article is very missleading. Anyway, the only reason i can think for microsoft to buy this startup is not to get screwed with the GROOVE name, especially both being music apps.

25750 Lumia 550 and 93440 Lumia 950

Is this just a way to get Groove onto iOS and Android?

They should reacquire Zune.:D
Windows Central Newsletter
Get the best of Windows Central in in your inbox, every day!
Thank you for signing up to Windows Central. You will receive a verification email shortly.
There was a problem. Please refresh the page and try again.