Microsoft officially announces Windows Phone 8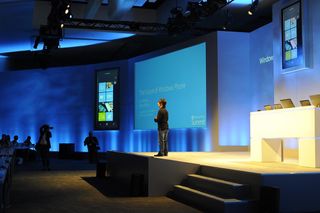 In the smallest kept secret, this morning in San Francisco, CA Microsoft announced details of the upcoming Windows Phone 8 operating system codenamed "Apollo".
Accelerating what was started with Windows Phone 7, Microsoft is continuing down the path of "Mango" and building for the next generation of hardware. As detailed by Joe Belfiore during a keynote speech, Windows Phone 8 is due out "this fall" and will contain many new features both for developers and consumers.
As expected, details on new device resolutions, multi-core CPU support, near-field communications (NFC) and native C++ development were given during the Microsoft sponsored Windows Phone Summit. While the software-development kit (SDK) was not released for developers, one is expected to be delivered by the end of summer where more technical guidance will also be granted.
The big focus for this morning is on the new architecture, the NT kernel, for Windows Phone and what it means for developers, OEMs and IT professionals. With Windows Phone 8 and Windows 8 desktop based on the same core, developers can more easily leverage their apps by sharing overlapping code between the two platforms. Such a move should great enhance app development on Windows Phone as desktop developers will have to only engage in minor coding fixes to port their app to the new mobile OS.
Moreover, applications for Windows Phone 7.x will automatically run on Windows Phone 8 with little or no changes to the code of the app. Apps coded on Windows Phone 8 will conversely run on Windows Phone 7.x as well so long as they don't use native coding (apps coded with native C++ won't run on Windows Phone 7.x since they use different APIs).
While plenty was shown off there is still plenty more that will come later this summer when the Developer SDK is released.
Developing...
Windows Central Newsletter
Get the best of Windows Central in your inbox, every day!
Daniel Rubino is the Editor-in-chief of Windows Central, head reviewer, podcast co-host, and analyst. He has been covering Microsoft since 2007 when this site was called WMExperts (and later Windows Phone Central). His interests include Windows, laptops, next-gen computing, and for some reason, watches. Before all this tech stuff, he worked on a Ph.D. in linguistics, watched people sleep (for medical purposes!), and ran the projectors at movie theaters because it was fun.
Watching... Waiting for some exciting new

Watching right now..so far im not excited.

All I want to know is will it run on my Lumia 900

No it wont. Current WindowsPhone owners will only get the 7.8 update which is generally just UI enhancements.

The big question is if any current WP7 devices will be getting WP8. How its going I think it looks increasingly less likely, what do you think?

Based on this article I really don't see them upgrading WP7 to WP8.

Well I think this is going to be the end for my samsung focus, I am talking aboout no mor upgrades since mango.

I better start saving because I really want to have a dual core with better resolutions.... Tablets, smartphones, ultra books and also PC's are going to be share alot starting this year... THIS IS IT!.

I agree and that's a good thing. We currently have 3 Focii running 7.10.8107 and love them. Show me a dual core hd res 4" phone with microsd and I'm ready. In the mean time 7.8 will do just fine. When do we get it. Oh, and that surface thing? Frickin awesome.

If it turns out that there will be no upgrade path from WP7 to WP8. All the people who got a Lumia 900 are going to be a tad unhappy.

I have an L900 and I'm not going to be upset; especially if better hardware is released. Let face it, we were all calling for dual-quad core and knew in advance that our L900 and Titans were single core; So if were disappointed then we shouldn't have called for dual-quad core, even further, we should have simply waited to buy the new phone until Oct. of this year.

Looks like current WP 7.5 phones are getting WP8 Lite or WP 7.8. Missing some features of WP8 as they require new hardware.
http://arstechnica.com/gadgets/2012/06/no-windows-phone-8-upgrade-for-current-phones/

WILL WE BE ABLE TO UPDTE WITHOUT PLUGGING INTO THE COMPUTER?? IOS AND ANDROID HAVE IT. I HATE PLUGGING IT IN.

Well, guess that's it for me. Just got my Focus Flash in January and its already heading into obsolescence. Moving along......

ATTN:MICROSOFT
WE ARE NOT IMPRESSED
Microsoft needs to explain WHY the software update won't work on my phone. Especially if I bought it last week. Quite frankly it's bullshit. Look at Windows 8, you buy a laptop now and it comes with an upgrade path (even before it's been released) they also tell us that Windows 8 will run on current hardware - hey look I don't even have touch AND IT WILL WORK.
There is NO reason why Windows Phone 8 couldn't be made to work on my current phone; I challenge ANYONE at Nokia and Microsoft to explain.
I have been in the WP7 ecosystem since my Dell Venue Pro, quite frankly I'm sick of this narrow minded screw you attitude the MS Phone people have. Stop sucking up to the carriers and start making product for the CONSUMER.
I'm moving to Android and getting a Galaxy at least there, the community can upgrade software.
And YOU the reader - it's up to you now, stop and make yourself heard we don't have to be bullied like this.


Wow.. Someone got his panties on a brunch...

But Microst if giving all of us with older/existing hardware the update in all the ways that matter to us with 7.8. The other features of 8 involve enabling support for new hardware (NFC, higher-res screens, multi-core CPU, micro-SD, etc.), which obviously doesn't matter to us with the older hardware.
The only software-only feature I've seen described that we won't get is support for the native compiled code apps. However, this will likely be used primarily by game writers, who will also require the higher-res displays and so wouldn't run on our hardware anyway. By forcing this one clean break, it avoids one of the confusing problems plaguing the Android world: confusing fragmentation, or "I don't know which apps will run properly on my phone."
Note that they specifically said that other apps written for Windows Phone 8 that are not based on the new compiler will also run on our phones.

Sadly, nothing reported about full backup and restore capabilities:
http://windowsphone.uservoice.com/forums/101801-feature-suggestions/suggestions/2748349-full-backup-capability-with-restore-transfer-funct
Updating without plugging in seems to be lower priority than being able to upgrade to a new device and still maintain all data from the previous device; or, more importantly, being able bring back all data if a device is damaged or no longer functions properly.

Save us from our phones!


My contract runs out next spring so not getting the full WP8 isn't the worst Windows Phone news I've heard.

Am I crazy to ask this, that Steve Ballmer didn't show up for this? And is Windows Phone now under Stephen Sinofski's wing?