What's coming next - Microsoft officially announces Windows Phone 8 GDR3 OS update
Windows Phone 8 GDR3 to be delivered in the coming weeks, bringing many new features to current and future hardware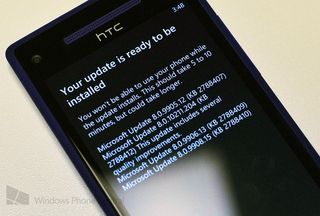 This morning at 8 AM ET, Microsoft officially pulled the veil off of the highly anticipated General Distribution Release 3 (GDR3), the third and final OS update for Windows Phone 8 before next year's 8.1 overhaul. This comes just days after AT&T in the US began to push out GDR2 for current Lumia 820 and 920 users and the nearly complete worldwide launch of that second update.
Microsoft updates their mobile OS through a series of updates, called GDRs, which are akin to the Service Packs of Windows desktop from years ago. In addition to full OS updates, GDRs are meant to add fixes to the OS for bugs, bring new features to current users and enable new hardware options for their hardware partners.
Windows Phone 8 GDR3 8.0.10512, expected to begin delivery to current devices in the coming weeks, will bring many new features to current and future Windows Phones, including:
Support for 1080p display for new devices like the Lumia 1520
Support for new processors including Qualcomm's Snapdragon MSM8974 quad-core CPU
Close apps by tapping on the X on top right in multitasking view. The icon of the app appears below.
Custom tones for text or IM, voicemail, email and reminders
Better storage management: New storage settings make it easier to free up space on your phone and manage temporary files. A new category view shows what's taking up space at a glance.
Screen Rotation lock: When auto-rotate screen is off, your screen will stay in the current orientation when you rotate your phone.
Driving Mode: Turns of all notifications except texts and phone calls when you're driving. You can also turn calls and texts off completely or set Driving Mode to text and automatic reply like "Hey, I am driving right now. I'll reply you later." Driving Mode can start automatically when your phone connects to a Bluetooth device.
Connect to Wi-Fi in OOBE when switching on your new phone for the first time or after you your reset your phone, so you can restore your data even before connecting to a cellular network.
Microsoft detailed the new OS update on their official Windows Phone blog, noting that a lot of the new features were driven by user requests.
History
Back in late 2012 and early 2013, GDR1 (also known as 'Portico') was released. That update brought new texting features, improved Wi-Fi and messaging improvements. Starting later in the summer, Microsoft and their OEM partners delivered GDR2, an update that included fixes for Xbox Music, 'Other Storage' and more.
In addition to the OS updates, Microsoft's partners also deliver accompanying firmware updates that allow the OEM to further customize the OS and improve hardware support. Nokia has prominently lead these updates with their colorfully named firmware including 'Amber' (GDR2) and 'Bittersweet shimmer' (GDR3). Nokia's firmware has enabled new features such as Glance screen, call + SMS blocking, flip to silence, double tap to awake, new camera options and more.
Microsoft expects GDR3 to launch in the "coming weeks" and to continue delivery in the coming months.
Updates today for developers
Microsoft is also announcing a developer preview program, whereby they can get early access to these updates, including GDR3. To qualify, you will need to meet one of these criterion:
Your phone is "developer-unlocked"
You're a registered Windows Phone Store developer OR
You're a registered Windows Phone App Studio developer
Microsoft will give further details on their developer blog later today.
Source: Windows Phone Blog
Daniel Rubino is the Executive Editor of Windows Central, head reviewer, podcast co-host, and analyst. He has been covering Microsoft here since 2007, back when this site was called WMExperts (and later Windows Phone Central). His interests include Windows, Microsoft Surface, laptops, next-gen computing, and arguing with people on the internet.
Departing in the coming weeks. Arriving in the coming months.

Yeah if you have a carrier phone you might have the update by Xmas. Purchase outright it will be a week before 8.1!!

Just pay the $19 developer fee and get early access. I paid it during the summer to publish some apps and now I am rewarded!! :D

Going to try but give me a good place to learn how to make apps and program and learn how to script them/

Well.. Interactive way--> MSFT program for beginner developers Better way (but "boring")--> Books about C#

try the Windows Phone App Studio. as they say, "your app in 4 easy steps" http://apps.windowsstore.com/default.htm

Do developer unlocked phones get all features? Particularly, do you bypass carrier updates like ATT where they stripped out Data Sense?

No. It allows you to install apps not signed by MSFT to the phone. AFIAK, that's it.

Are you sure? I have developer license and never got it early.

But if you update early, won't you lose Nokia-specific updates like amber? So no glance screen? (Only if you have a Nokia, of course).

You won't lose amber silly! Amber is in the device firmware, not the OS and the OS and firmware are completely separate.

This is actually a pretty clever way for Microsoft to not only get the update to developers ahead of time, but to give enthusiasts a relatively safe/simple/cheap (and "official") way to bypass carriers that drag their feet rolling out the updates.

For AT&T....departing in coming months, arriving in coming years.

Has AT&T always been slow to release updates?

The att Nokia Lumia 920 was the first to get the GDR1 update, and a quick fix came immediately after.. But, nobody gives att credit for that... Instead we just complain, complain, complain, complain......

It's because they took this long to REMOVE a feature we could have used, which is Nokia's "Data Sense." And the "myAT&T" app is not the same thing. They did this so that their customers would go over their limit. But if I'm wrong, and they removed that for some other reason, let me know.

Data Sense is something from MS not Nokia.
Data Sense which exists on the phone is only 1/2 of the product. The other half of the product exists on the carrier's network which is supposed to provide data compression and data tracking so that you get more of a real-time knowledge of how much data you are using. My understanding is (and I could well be wrong here) that ATT is planning to support Data Sense at some point (presumably because it means less traffic on their network), but they would need to update a lot of things on their network to make it work. Updating the network takes time and is expensive... and to be honest WP is still far too small of a platform to make such changes for. So while it may well be coming... it is not a priority.
I think that the same could be said about the GDR2 release for non 1020 devices. During that same time frame iOS7 was being tested for implementation. Apple users kind of outnumber MS users (at least for now!), so the priority went to Apple development to get that working correctly on the network for launch day, while GDR2 for existing devices was put on the back burner.
Annoying? Sure. But at the same time it is understandable. If you want better support, they you just have to get more people to buy into the platform you like. Also, I am much happier to have it a month late but without a patch compared to getting it on time but buggy. The GDR2 update went smooth as butter without any major issues as far as I can tell on my device.

Not always but they are slow.

There will be news next week about how delivery of updates is changing! When asked if the Nokia Lumia 520 will be getting GDR3, he said "there's going to be some good news there" and when pressed as to the solution such as custom ROMs if the carrier does not deliver he replied "we don't have as big of a thing around those lines. But that's not going to be an issue going forward. So, we'll talk about that next week. But that won't be a problem."

Great looking update! Sadly, I have ATT. I'm sure I won't be seeing this until 2014. Can't wait for my contract to be done with so I can tell ATT to screw while I switch to Verizon/T-Mobile.

Take it easy I read an article this morning that Microsoft is gonna deliver updates for wp8 and at least for me that means screw you carriers.

I read that too but like I said before "Ms delivering timely updates"? I'll have to see it to believe it

Why are you leaving att? Just curious as I was considering leaving Verizon for better windows phones on att.

because ATT blocks key OS features like data sense and is always the last to release any OS updates if at all, they haven't even release WP7.8 for Samsung Focus something Rodgers in canada did right away.
In other words stay as far away from ATT if you want good WP support.


Other us carriers aren't much better. Tmobile never released 7.8 on any of its windows phones (HTC radar and Nokia 710) at least att gave it to the Lumia 900. Verizon never had any 7.5 phones so they don't really have a track record to compare, but id guess its no better.

I think this is a bit disingenuous towards att. Their 920 updates have been pretty prompt if you exclude GDR2. And frankly, when they jumped in with both feet for GDR1 they got screwed by connection bugs in the update, forcing another update a few weeks later to make phones usable again. So I can see shy they were a bit gun shy this time.
And I think data sense is really the only missing feature... And it's missing on some other carriers too.
I do agree that they took way too long with GDR2, but I think the rest is overreaching a bit.

I agree. Why would they want to rush to patch a phone they already sold to you last year. it's not THEIR update! Microsoft should deliver (and support) these updates themselves. Fortunately, it seems with GDR3 they are starting to get that message and maybe will start doing that for the general user soon as well like Apple does.

By the way I am on ATT and I feel everyones pain on that last update, but its hard to get mad at AT&T

What other features, besides data sense, has att blocked? You make it sound like they block all lot of features all the time..

Use the WiFi trick. You'll have WP7.8 in no time

ATT is slow on updates and they deny us Data Sense. I'm done with them

Dave its very possible that Verizon has a exclusivity period on data sense right now which is why AT&T cannot add it. That could end in another month or two. AT&T does have the better selection of phones from which to pick. Like someone else said, all carriers tend to pick and choose which update is important to them.

Dont think so, my memory, they get it exclusive for at most q1 2013 and it would come to other carriers.

ATT decided to strip this probably because they suck.

Um... Doubtful since T-Mobile's 521 and 925 both include Data Sense.

Yea, my Sprint HTC 8XT also came preloaded with Data Sense.

paul thurrott gives you a way to get it early head over to his site. It seems simple enough.

it most probably means that it's gonna be available on new devices out of the box.. while other devices would get it in the coming months..

Downloaded, and running fine on my L928. Not much to be excited for, arientation lock w/e, no new glance features, but the multiapp view window with x's on open apps is the best and only thing nice about it. Nokias new software is what I'm actually waiting for. Otherwise I guess I can close open apps better now, woot woot.

Speaking of sounds, what about separate volume controls for ringtone and media? That is the main feature I'm waiting for.

Let's be patient and see what Blue offers. It's supposed to be pretty big

Hope Nokia releases this update early.....
One of the most important feature that i still find missing is being able to copy files downloaded to any other mobile.
This is one of the basic feature not implemented yet.

Lol the problem is with carriers not Nokia

I live in India , so the problem of carriers is not there. Nokia took long time to release Amber update in India

The Amber update for Lumia 920 is available for more than a month .. The low, mid range phones took time

Awesome.. I always wanted a developer program for WP!! Its real!!!

Wonder if Verizon is gonna be on board as fast as they were with the Amber update.

I understand your concern. Honestly, Verizon will sometimes just a like a prissy ass about these situations.

What will the Nokia Update bring on top of the GDR3 Update?

Inquiring minds want to know!

I'm sure we'll hear about that at Nokia World!

http://www.wpcentral.com/changelog-gdr3-windows-phone-8-bittersweet-shimmer

Wow,in coming week? That's surprising

no it isn't.. it probably just means that these new phones we're already waiting for are going to come with it out of the box.. while the rest of the lot is going to get it in the coming months..

Where do we find the details if we are developers and have unlocked developer unlocked phones, I know it says developer blog but not sure where I can find that

Lol if you're not a developer than you're not one. Is it that hard to remember if you have developed an app...

Can you read dumb sh** I'm asking where is the developer blog, didn't ask how to be a developer (which I am) so slow down a bit and read the post

You are a developer, just trust yourself. No need to code if you know it in your heart.

Now the big test for ATT begins, are they again going to be a massive failure by releasing GDR3 in November/December or 2014 or are WP owners going to see GDR3 on ATT within the next 2-3 weeks?


Now things are looking interesting :D
I'll finally be able to slap GDR3 in faces of Android fans here XD

Lets hope that GDR3 will include many OS bug fixes and perfomance improvements!

Cannot wait...Usually I get the new updates within a week of release. So fingers crossed for my ATIV S

I'm still waiting for GDR2 on my Ativ S.. Damn.

Screen rotation and custom sound. Lets see what that means.

What about the new tile columns to devices like Lumia 920. Isn't it coming for us? Is it really just for Full HD windows phones? :(

It doesn't look like it. The official update says it's intended for 6-inch devices.

I also read somewhere (might have been on WPC) that it could also be for any WP8 device that has a screen resolution of 720x1280 or more but that would mean that the smallest tile is only going to get smaller unless they scale the whole screen up a little, to make more use of the gutters either side of the tiles. Not sure how practical that would be on 4.x screens.

This is my biggest question as well. We have heard some "rumors" that 92* devices will recieve the additional column but no word from Microsoft themselves. I, for one, would jump at this ability. I feel like the tiles are too big on my screen and i am still wasting tons of space with the "spacers" on the edges of the screen.

Custom tones for text. Is that for all texts or can we give a specific tone to contacts?

You can assign one to contacts :) The official blog says "You can also assign custom ringtones to contacts for text messages, so you'll know who's texting you without even looking."

Fucking sweeeeet. Now to wait 9 months to get it. Thanks AT&T! ;)

This made me happy! Woooooo

Gapless playback support in music would be nice...

Absolutely!!!! Weird no one has mentioned this before.

Won't happen. People begged for it on Zune for 5+ years.

Anyone that wants it should go and vote here:
http://xboxmusic.uservoice.com/forums/209733-xbox-music-suggestion-box/s...
and leave a comment for the MS Admins. It is one of the highest rated topics for Xbox Music now. If they bring it to the Wi8 OS version, hopefully it will filter through to Phone8 too.

These updates are great but, the only thing I want fixed is Bluetooth settings. Just add a switch to turn on/off reading the text messages back. They had a on and off switch on wp7 but they did not bring that feature over to wp8. I love my 928 just wish they would had that feature to the Bluetooth settings.

Go go stettings>speech there is a drop down box for when to read aloud text messages.

I literally just figured out how to turn that off 2 weeks ago. I get a lot of group texts so I would get super annoyed when my Bluetooth was on in my car. Just go to settings then speech to turn it off

So at&t will get it...late next year?

I remember reading somewhere that separate volume controls for ringtones and apps would also be coming with GDR3.
Any news on that?

Looks like that will be coming with the 8.1 update early next year.

Seems like no.
You can see the full spec list above. No reason to go guessing anymore. It's official.

The only things that excite me on GDR3 are attaching directly to an email and a more elegant way to close an app, although I think they implemented it in a very ineloquent way (iOS does this well now in 7). But it is always good to see progress on any level. GDR2 has been great now that I got it. Can't wait to see what else is in the pipeline.

And custom ringtones and text message tones for contacts?! That's some cool stuff right there son

If your phone is not developer unlocked, but you are a registered developer, will your phone still be able to receive the early update?

Where is the Data Sense for all WP8 devices?
HTC's international version WP8 devices do not have that even after the GDR2 update, however it is important for EU users as data availability is not unlimited. (Once over, drop to GPRS speed and wait till next month)

Same for ATT in US, why the hell do you allow the damn carriers to block this key OS feature!!!!???


To get you to use more data.

Will updating through your developer account be like a new install? (wipe data)

How do you know what GDR you are on? I have had a few updates but none of them mention this number.

If you have a Nokia look for Amber in settings extras + info. Amber came with GDR2. If you have another phone Bing the OS number to find out. 8.0.x

As a 720's user who just got his Amber last week, I know I'll receive this by December lol.

So basically anyone can sign up to be a developer, so anyone can get the update early. This is amazing news! Can't wait to install Update 3!

That sounds like its gonna be a good update can't wait.

Seems like the best GDR yet; custom tones (we have been waiting since WP7 launch for this!), screen lock, driving mode, and better multi tasking screen are all changes that we will be able to really notice when we use our phones daily. No mention of the revised start screen? Is GDR3 or 8.1 bringing the new start screen that allows for 3 medium tiles per row? I thought we would see this with GDR3 since the 1520 is coming soon. I really hope this new set up is optional.

3 Medium tiles only available on 6 inch devices.

But is it optional? Was this activated by GDR3?

I think it makes sense for 6inch phones but not everyone will like it.

WPC did a article that's said its coming to all 92X Lumia phones in GDR3

I hope network 3 will be on the ball a bit quicker

Hi Daniel, you said "...to participate you need to meet these conditions..." but in the blog they mentioned you only need to meet one of the three conditions.

i told you everyone here about GDR3 that it will be available before Nokia's event a montyh ago ......and i had right but nobody believed me..hahaha

Coming weeks? So It's coming the last week of the year -.-

The rollout starts in coming weeks, but will go on for months. Said on the press release. So yes.

So so happy to see WiFi before log in!!

Well we whinge and whinge and whinge yet in 1 year MS will have released 3 fairly major updates. i dont know if any other OS has done this, maybe they have, but I think its time we all drank a warm glass of shut the hell up.

you're in my world now grand ma...

So is it downloadable/installable yet?

"Getting Update 3 on your developer phone To update your phone, you'll need to visit the Windows Phone Preview for Developers page. This page, which will go live later today, goes through everything you need to know about the preview program." Nvm

Ok what about notifications? Wasn't t