AT&T Amber and GDR2 updates for the Nokia Lumia 920 and 820 are now live!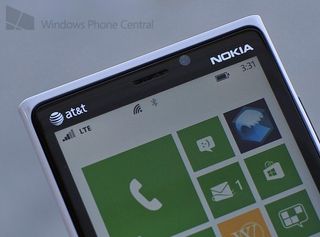 The wait is over.
Yesterday we reported that AT&T was planning on releasing the double punch Amber and Windows Phone 8 GDR2 OS update today. As predicted, the update has begun at 1 PM ET / 11 AM PT and users should now be able to head into their Settings > Phone Update > Check for updates to initiate the process. The update will bump the firmware to 1325 and the OS to version 10327.
Nokia and AT&T have been working on bringing the coveted updated for a few weeks now, coming in near last in terms of the global rollout. Nokia had previously stated that the Amber update should be completed by the end of September and while that was accurate for most users, those on AT&T had to sit by as T-Mobile and Verizon both beat them to the delivery.
Microsoft's GDR2 OS update brings some improved features like better 'Other' storage support, reducing the bloat that many users have experienced, in addition to fixes for Xbox Music, FM Radio, Me Tile image and greater core access for Nokia.
Nokia's accompanying firmware update, dubbed Amber, allows such new features as:
Nokia Pro Camera and Smart Camera
Default camera support
Flip to silence
Lumia Color Profile
Double tap to wake
Improved image processing
Improved Bluetooth technology
All in all, that is a significant amount of "stuff" that Lumia 820 and 920 users will now be able to take advantage of (not to mention today's Glance Background app).
Most of those features will require the user to have the latest updates from the Nokia Collection and you can use an app like SysApp Pusher to check for those (it's free).
Nokia's proprietary 'Glance' screen with an always-on clock
The update will require a Wi-Fi connection and it could take up to 20 minutes to complete, depending on how much data needs to be backed up. You should also have at least a 50% charge or keep the device plugged in to an AC outlet. Users are urged to make some free space on their device if they have less than 2 GB of available storage.
Getting the update? Do you have the update? Sound off in comments.
Important 1:40 PM ET: If you experience the message "The update was downloaded but couldn't be opened. (8018830f)", don't fret. Just try again and re-download the update.
If you have questions, you can head into our Lumia forums to get help from others: forums.wpcentral.com/nokia-lumia-devices/
Daniel Rubino is the Executive Editor of Windows Central, head reviewer, podcast co-host, and analyst. He has been covering Microsoft here since 2007, back when this site was called WMExperts (and later Windows Phone Central). His interests include Windows, Microsoft Surface, laptops, next-gen computing, and arguing with people on the internet.
Where is bloody gdr3... Fn over this!

Lol wut? The 1520 isn't even out yet. Cool your jets.

Kidding, just glad for you all, I've had it for months and im also glad I won't see these posts for awhile.

I know, right?

WTH!!! GDR3 NOW!!!

Imagine how long GDR3 will take after that performance. And att customers STILL got the update before me... Nowhere to be seen like two-three months later. Come on Nokia :(

Congratulations America! I mean it seriously

never thought America will see this day.. :P

Oct 10 is the new July 4 for 'Murica I guess!!

I mean it guys,

Congratulations!!

Verizon has had this since August!

American Tele & Trust is a Truly American Company
The update was tested by National Security Agency
All your phone calls are now tested for security!

It is American Telephone & Telegraph actually, but OK! I am glad the NSA has the time!

National Sailfish Association= no wonder they hate WP.

Thanks, but both Verizon and T-Mobile have had this update for well over a month now. It's just AT&T that was slow... like always... because they have to first remove the great features that their customers want.

Call and SMS blocking are in. Looking for data sense now

AT&T is not America. And it was only Nokia phones, all other AT&T WP8 phones received it a long time ago.

I got so nervous when I saw those dang blasted cog wheels turning but it seems the update is downloading just fine. Hooray!

Me too. The gears took forever to stop spinning... I thought I'd bricked it, lol.


How long did yours take because mine has been going since 6:00PM Central time and it is currently 9:30PM Central time and the cog wheels are still spinning on my screen.


Well....mine took under 20 minutes so at this point I would look for a fix or a thread somewhere in the forums. The holding the volume down and power button tricked worked perfectly fine for me and I did not lose any of my music, pictures, or settings but I would double check before trying that trick.

Gears spinning....hopefully not for long. I don't want to hard reset.

How long did your gears keep spinning. Mine has been going on for about three and a half hours now....


Prolly time to look up some support threads. Sorry you're having troubles mate.

When I rebooted my 920 to give it to my gf it took over three hours to reboot. Thought it bricked a few times

Actually downloading now.

Great news! Of course now we're all hoping for GDR3 next month.
(Yes, customers can never be content!)

On Nokia care suite, maybe. AT&T, not so much.

Yes!! Hallelujah! FINALLY! Hopefully GDR3 isn't like this!

My phone has found the update and the update status now says "An update is ready to download". Wish I just had a WiFi connection to connect to right now so I could download it. :(

Same here. Out and about right now... Argh! Why so long AT&T?

It's not that long, cripes.

They removed DataSense because AT&T wants people to go over their data limit... so they had to test it longer to make sure it didn't break anything.

Congrats to all at&t users

I'm in Nevada, still not available for my AT&T 920.

Have you waited this long ... :D

Thank goodness thats over. What should we complain about in the comments now?

Errors? I just got a "downloaded but couldn't open" error.

Same here, WTF??!! REALLY?!?


Restart your phone and download again....will surely work fine.

Mine worked on the second try.

I thought the error said "Syke!!!!"

hahaha, that would have been funny if I hadn't waited sooooo long. Honestly I was just about to upgrade to a 1020, but when I saw it was available I figured I could a little longer lol.

I just bought the 1020 the day before this was announced :/

Ditto. Got the unexplained 8018830f error, so I'm trying again. It's gotten further this time: "Preparing to install 95%"
UPDATE: Now it seems to be fine.

That's the NSA security agent that makes sure all your phone calls are safe.
If you already have it then it installs right away

that isnt good. only took about 5 minutes total for me to install

Yes. When I leak about it, WP Central will surely report it. So stay tuned. ;)

What about snapchat? I wanna see those snapstories but swapchat can barely hold its own.

Use 6tag, much better than Instagram on iOS and Android, plus it has more features than the 1st party apps. Instagram has made regram an option in their API, but isn't available on their app. 6tag has it!

Yea , I know , I use it all the time.
I was being sarcastic. He was asking what are we going to complain about, now GDR2 for AT&T Lumia is out

And when Rudy makes it, 6Snap.

+1 This particular 3rd party app will be a lot more beautiful than official.

Now the comments will be lagging, worse battery life, "other" not fixed...the usual.
Downloading now...preparing to complain (I kid, I KID!)

You aren't wrong on other storage, mine is already at 1.2gb and I have had it for a while with no massive apps installed or ever downloaded. It will pile up as time goes on. Sucks everything works well though, sadly glance on 920 sucks as it has a cheapper screen than a 1020.

?
1.2GB is normal on every single smartphone on this planet. Should be expecting 2-3GB as normal. Over 5GB is when you start to complain. 1.2 is nth. Unless u meant 12......

GDR2 for Samsung Ativ S Finland, Elisa..

i got 2 updates. first one wasnt gdr2 because none of the new features showed up. press check for updates again if you are experiencing this

Finally! I got it. Now, I can't wait to start complaining about the next lack of update from at&t.

WHAT ABOUT INDIAN 620 ..IT STILL HAS NO AMBER YET!! :'(

Flash it to .002 via NSU,you will get amber ota...

Hi, my 620 is currently updating and booting up just as I am typing this message.

congrats to all AT&T people, god knows you've waited much longer than necessary for this! Hopefully GDR3 will be better

Im in Nevada too, it is downloading for me! YES!!!

Downloading now. Now where is the GDR3 update? ;-)

Missouri, btw.

Florida Is downlaoding..............

And here I thought we wouldn't get this till December.

Looks like Christmas came early for us!

If by early you mean almost 2 months late, then OK.

Yaaaaaaaaaaaaay !!!
I'm so happy for you AT&T users , welcome to the others

downloading now in Atlanta GA 1:31pm

Took about 1:20 mins. Be patient...

ok so here is my logg for the update on the 920: i did this on our works WIFI network; i disabled WIFI on the phone to access the update, check the update button on my lumia and WALA!!! there it was, then i changed over to WIFI so here is the log
started 1:29pm ( it stayed at 100% for a few mins maybe 5 to 7) gears started at 2;21 pm, Almost done ( migrating data) started @ 2:33pm update done at 2:45pm. i turned off my phone and turn it back on just to clear everything.
all together it took around 1hr 20 mins...just be patient..

Downloading right now..California

"Downloaded but couldn't open" What the fuck are you serious??

...then stick it rice, and switch to tmoble like Bill Hader.

Yeee! Finally I'm download my Instag.. Oh sorry I mean Amber update! XD

Dowloading now in California. It's about time, but at least they got there in the end. I just wish they'd been more transparent.


I got an error: "We are currently unable to check for updates. (80072ee2)" But I'll try again

For all of you who are getting error updates....YOU are the next chosen few for the Hunger Games!

I got a different error, 80072f76... which I believe is a connection error It might be because I'm at work and my work wi-fi has a lot of access lockouts.

When I turned off my wi-fi, my phone found the update... but is waiting for me to turn the wi-fi back on. LOL. If I can't do it at work, I'll have to wait until I get home...

Haha yah possibly! I tried again and it worked thankfully! My guess would just wait till you get home to a stable internet connection

Forget GDR2 and 3 Im ready for 8.1! Hurry up Microsoft! lol

Will AT&T phones ever get data sense? Is that in GDR2?

It was supposed to be included with GDR2.

Data Sense is in GDR2 yes.

Correction:
Data Sense is in GDR2 (for every carrier in the world except AT&T)

No data sense in GDR2 for AT&T. I just finished installing.

Well, time to flash, lol.

Correct, no data sense...

I use myAT&T to check data usage. Not as good as Data Sense, but it's okay.

I have decided to make a twitter account just to bug at&t about this. I suggest that we all go and flood their inboxes with messages.

also, does anybody know Ralph de la vega's email address?



So by gauging the timeliness of gdr2 we should get gdr3 as MS is releasing 8.1, sweet!

Getting update now its downloading very fast

Now time to wait for someone to update if it's a striped down Amber update or the full update.

I think AT&T removes Data Sense. It will probably be like the 1020's version of Amber.

That's what I want to know, if not I'll flash a different rom.

Because they don't want people to monitor their data because that decreases the chance of customers going over and that means less money for AT&T.

Had GDR2 and Amber for a while now with my 928 through verizon. Glad the 920 users finally get to experience it.

I WANT TO THANK ATT FOR FINALLY GIVING US THE OPPORTUNITY OF GDR2+AMBER! AND MAKING THIS HAPPEN, THANK FELLOW CARRIERS FOR SUPPORTING OUR LONG ASS WAIT....THANK NOKIA AND MICROSOFT FOR SUCH BEAUTIFUL DEVICES.. BUT... REMEMBER GUYS, WE WILL BE BACK FOR ANOTHER WAITATHON FOR GDR3 ON ATT!. (NOTE THE SARCASM...)

Eff that. I'm just gonna flash for GDR3 when a rom becomes available.

PARTY AT MY HOUSE, LIVE MUSIC, DRANK, AND WOMEN! Lets celebrate!

Brazilian carrier Vivo also released it, last night. It's part of the Telefonica group, but I don't know if the whole of it got it too. Includes Data Sense.

Hahaha, all 3 920 owners in my family are installing now :D

Finally! I'm with EE and got my update a few weeks back but even I was getting frustrated with the delay to AT&T customers!

Downloaded in San Diego without WiFi!

DOWNLOADING AS WE SPEAKKKK! = ) YEAAAAAAAAAAA BEBE! Washington DC @ 1:45PM EST

Enjoy, lol! Unfortunately, it seems you won't get Data Sense, which is a good tool to have.

My battery is too low to update my phone.. :( couldn't wait.. now charging.. .. .. . .. . .. .. . . .

Yes!!!!!!!!!!!!!!! Finally!!!!!!!!!!!!!!!!!!!!!!!!

Downloading to my 920 right now. Finally, my 920 will be on par with my 1020 (minus the camera, of course).

...and RAM and the screen type.

Well, time to join the party, lol.

So now people are out in there cars, honking there horns in roundabouts? Like the great Limp Bizkit song. "Its a party on the back porch"

I'm downloading now. San Diego(Pacific Time)

Pulling down the update now. SWEET!!!

Oh grinding gears, how I've missed you...

gears........ getting impatient...


They are scaring me...be done already.

Downloading now...preparing to install, oh and I'm in Nevada!

If you guys thought this wait is bad, thank goodness you're not an Android user! (save for the Nexus series)

I am an Android user in addition to WP, iOS and Belle FP2....whats worse than not getting OS updates on android devices? Buying an app on your old phone, buying a new more powerful phone that is technically capable of running every app in the Play Store.....going to download your paid app to your new phone....just to get a message that says "This app is not compatible with your device!!!" aaarrrgggggggggggghhhhhhh!!!!!

Thurrott is hinting that GDR3 should come rather quickly to ATT mike7
on Oct 10, 2013 Now we can go ahead and prepare early for complaining about GDR3. :) pthurrott
on Oct 10, 2013 No need for that. Stay tuned.

almost done....2 of 5........hurry up....


Everyone except AT&T. If you want, just flash it.

http://i.imgur.com/FkieAk6.gif

Its the end of the world!!!!!!! :)

I know what I am saying is probably old, one reason I love Windows Phone over Andriod. One can get update when it is availabe.
Now I guess I will be waiting for GDR3 when it becomes available, maybe by then , I will get a new phone.

Downloaded the update, pressed installed, the phone restarded and now I get spinning gears...?
What happened?

give it time, mine took like 20 min on just the gears.


I panicked cuz my mom had Lumia 620. 1 week ago the phone restarted and had spinning gears, no way I could bring it back to life so I had to return it, we bought the phone in may :D

That's normal. It will reboot again in a while and you will have the update. Mine has been on gears for 20 minutes now.

Whooo. I'm freaking out over here after about 15 minutes of the spinning gears. I do have a lot of information to back up though.

23 minutes on gears before progressing. Be patient.

I believe the spinning gears portion varies because of the data backup that happens during that time. Just let it run a while and you should be ok.

It is spinning me for more than 20 minutes, I already soft reset once

finally done after almost 25 minutes. But once my phone goes to "Lock Screen" the screen doesn't recognize my touch, so I cannot unlock my phone and I have to restart every time :-(

same thing happening to my phone also :(

Me too, only min etook 5 hours and many reset to get that far. Nokia Customer Support ran me through the usual suspects of key preses, but to no avail. I used the software Factory Reset and all I got was a night os spinning gears.
Time for a new phone. Good job Nokia!


Follow the steps mentioned in this post to reflash your phone with latest software. I reflahsed my phone yesterday night and it is working fine now.
http://forums.wpcentral.com/nokia-lumia-920/203979-fix-bricked-920s-after-reset-flash-process-defined-inside.html

Even if I am not going to use Data sense often, I want it

WHere do you find the data sense? I don't have it on mine.
Is it because I have tmobile with my att lumia 920?

Data Sense must be carrier supported on the back end or it won't work. AT&T apparently is not supporting it so it isn't in their update.

Not ture, Data sense works by itself. At&t simply doesn't want you to have the limited data access control, this evil company wants you to go over the limit to pay them more.

Well I have tmobile 500mb 4g + unlimited 2g, but still I wanna know when the 500mb is done.
Even though I don't really use 4g that much, or it's not even available...

Pin the my account app to your start screen. It shows how much data you have used.

the "My Account" app from tmobile doesn't let you do that, unless you're talking about another one?
Let me know though.

So what does Data Sense do that the AT&T app doesn't? I can check how much data has been consumed on my plan by me or any of the family members at any time.

Data Sense actually compresses information so your online activity uses less data.

data sense will also turn off background tasks and your data connection when you hit certain thresholds, so you don't go over your data limit.

where would datasense be if its in here?


in your app list under the letter 'D'

AT&T stripped it...but then we all knew they were going to, didn't we?

Am I the only one not seeing glance screen or other new settings?

These are system apps that may need to be downloaded separately from the windows phone store. As the article states you can force a download of these apps by using an app like SysApp Pusher. After installing the GDR2 update they are greyed out on my phone, but I just checked for updates again and it is downloading a second update, hopefully they will be usuable after this second update.

U have to enable from settings bud, should be right down the bottom of settings.

thats correct... its at the very bottom of the settings

All new items or updated items end up at the bottom.

We need the update in Mexico now!!! u.u

It's already in Tucson so I guess it's going through some rigorous security checks at the border, either than that you should be getting the update in Mexico some few minutes from now. Sorry for the delay pal

520 came with the pre - start 3043 with amber ... tbm he will win an upgrade from AT & T for the final version of amber with early 3046?

I updated my phone, but when all was said and done, my phone still did not have Amber/GDR2. It just went back to the previous state. What should I do about this?

Those who were successfull in installing this update, do you see FM radio and DataSense or is it removed by ZT&T (Z since they are last ;) )?

confirmed FM Radio IS in there


What about DataSense?

WPCentral : A complain. This Comments view is a pain in the a**! Can we improve it while ZT&T works on GDR3 ;)

again Confirmed NO DATASENSE....but we expected this.

Yup FM Radio confirmed... DataSense nope... but i'm not worried about it.

Open Xbox music app for fm radio

Finished downloading & installing GDR2, currently installing Amber right now!

HOWS LONG DOES THE GEAR SPIN FOR

mine was pretty quick.. 5-7 mins tops.

My gears finally stopped. Took about 20+ minutes.

whew... mine have been spining for about 7 minutes... so I'm glad others are saying 20. I was starting to worry... lol... and right as I posted this... it stopped and the phone restarted...

Anyone knows what's going on? Just updated but I still have the the old os version and none of the features that are mentioned above? Any experiencing the same thing?


reboot your phone and try again.

I am, but as another reader mentioned, just restart your phone and check again. My phone again says there is an update and I'm currently installing it.

Dude, like, why is your name "the black mamba"? Are you actually a snake? *hiccups*

Bought my unlocked At&t920 in the USA I'm and downloading the update here in the Philippines! Never thought I'd receive this update! Wooohoo

Update: 2:13pm EST, "Checking for updates"... taking up to 5-7 minutes and errors out with code 0x8xxx busy or something, 2nd attempt working.... must be AT&T poor infastructure, kind of like Obamacare websites

At least ten tries with the same errors. I switched wi-fi off. Found it. Switched wif-fi back on to download. Pain in the att.

I guess I'll flash a proper rom

Same here. I wonder if we can flash right after we updated to Amber...

Congratulations!! AT&T guys!!

*Brings champagne bottles and Help all the new amber users to celebrate* lml congratulations :K

Woah. I didn't know Nokia changed their sounds!

Yes they bloody well did! I prefer the original sounds to these new ones

New ones are better. Except the new Nokia tune.

I cant stand the new Nokia message sound. Its like they just lowered the volume and sped it up.

Mine is stuck on Preparing to install 100%

The update is completed on my Lumia 920. However I don't see Glance or any other Amber features.
Is it supposed to be normal? It lets me install and run Pro Camera though

[EDIT] Checking the software update again, it's preparing to install again. Perhaps they uploaded wrong ROM earlier?


so my 820 is stuck cycling on off, nokia screen, and att screen....ahhh anyone have a fix?

Try to make a hard reset: 1. Turn your Lumia 920 off.
2. Press Volume DOWN and keep pressing it while you connect the charger until you see an exclamation mark!.
3. Press - in this order - Volume UP - Volume DOWN - POWER - VOLUME DOWN.
4. Your phone will reset and reboot. Pls be patient during the reset process. ---------------------------------------------------------------------------------------------------------------------

I'm stuck at 100% for "preparing to install updates" and nothing happens...

Mine sat there for a long time before finally prompting me to install it. Probably about 10 min.

On Lumia 920 after update:
my os version is 10328 (not 10327 as reported above)
my firmware is: 1326 (not 1325 as reported above)

This is what I have too, but I'm on the Amber at&t dev rom

gears churning for a while now, after 1st reboot, it's like waiting for the kid to come out ....

Congrats to all the patient waiters!

Wow, that update took a while; I think I had 3 hair cuts during that time, took a vacation.... enjoyed summer, you know...

Great, now give us datasense.

Gears Spinning ... patiently waiting. Wondering about the new sounds mentioned above, is it just a change of the defaults or are the old sounds gone?

tough call: download asap and risk bugs/bricks, or give it a few days?

Is it just me, or are there others to see the gear icons for too long? I am seeing the gear icon for like 45 minutes now!

Mine just rebooted ... I'd say ten minutes?

Yeah.. Mine just rebooted too. But it took awful long. Did you put it on charger while updating? Mine was not on charger!

I started out with it plugged into my Win 8 PC, and thought maybe that was making it slow... dug out my charger and plugged it into that. but yes, was plugged into something the whole time. right now it is migrating data step 2 of 5

Yeah.. well I am seeing comments from other users being stuck for long too! Mine was only connected to charger until the update donwloaded.. after that it was on its own! Still in step 2 @ about 50%. Hopefully it will get done soon!

Give it time, make sure u stay by wifi

I have seen too many phones bricked by this update. I am not risking it on my back up Lumia 920.

Ugh why is my 920 stuck at 100% install....

I just updated it and I didn't get the same OS and Firmware version as it the article (using 920 on AT&T)? Anyone else?

I've had the cog wheels turning for almost an hour now.

i am in the same boat. any luck with your phone


Finally after 2-1/2hrs its rebooted, but now it won't make it passed the ATT Logo screen. It just turns black after that screen.

Hi, Try this:
1. Turn your Lumia 920 off.
2. Press Volume DOWN and keep pressing it while you connect the charger until you see an exclamation mark!.
3. Press - in this order - Volume UP - Volume DOWN - POWER - VOLUME DOWN.
4. Your phone will reset and reboot. Pls be patient during the reset process. ---------------------------------------------------------------------------------------------------------------------

Thanks, that is what Nokia customer service told me to do. Cog wheels are spining again for the past 30min.

What was the end result?..


Shipped it off to Nokia, over +24hrs of spinning cog wheels and battery dying while connected to the charger. Nokia told me I must have a battery issue that caused a problem. So it's shipped off to them and using my L900 for the next week

Probably have a problem. Gears spinning for almost an hour now :(

FYI the gear step ran for almost an hour and a half. But it did end. Don't be tempted to kill it

Well mine gear step ran for about two hours... (and when Portico came it got stuck for 8hrs and never stopped) so I guess I will have to manually flash mine u_u

Its already in Tucson so I guess the it's going through dome rigorous security checks at the border, either than that you should be getting the update in Mexico some few minutes from now. Sorry for the delay pal.

15 mins tops and it was done! Overall this ROM is a bit slow that the one's which are out there sans ATT bloatware...

What "bloatware" are you referring to?

damn i have had the spinning gears of death for almose a hour. I think my phone is dead..

Be patient. In the past, mine has taken up to an hour or more. I am guessing it has to do with how much you have on your phone. Mine is loaded with apps, and it has been at the gears for a long time now. I am sure it will get past it. I worried on the last update when it seemed to go on forever, but it finally finished. I have more apps this time around,so I am just glancing over at it and keeping it plugged into power to make sure there are no issues with power. I would see people say theirs did not take long and worry, but they probably had a lot less installed on he phone.


took a hour and 5 minutes but its back up and running. My wifes 920 took 10 minutes!

Do you have a lot more apps and files on your phone than she does?

Over 2.5 hours now. On and off charger, several re-boots that give the AT&T Splash screen then back to the gears. I'm worried

Good lord, each time there's an update, the white cogs of death stay on wayyy too long and scare the crap out of me. I was just researching whether I should contact ATT or NOKIA if my phone is bricked and it FINALLY rebooted. On to "Migrating your data...."

They should really put a progress indicator on that cogs screen.

Just started the Install. i'm becide myself like a kid in the candy store. will be ripping my wife's L920 out of her hands the moment I see her tonight.

Luckily, my lady has a 925.

Well, I'm just glad the we have the update now. Thank you Nokia. Makes me love being a Nokia consumer even more.

Sweet FINALLY it arrives!! Got a new car today and got my 920 updated. Today is a good day. I sure hope ATT doesn't majorly slack on the bittersweet shimmer update when the time comes.

You didn't even have to use your AK, today was a good day.

even the government shuttdown couldn't stop this update. nice!!!

Gdr 3? Hope they resolve this soon.

Mine has been spinning for about 45 minutes now. I think a point that could be made for future downloaders is: take all the crap off your phone you don't really use. And back all your data up to your computer. It might even be a good idea to just back up the documents/pictures/ringtones/video to your computer and then delete them from your phone... *might* is a big word there, especially if you have XBox Music downloads, as I'm not sure what that would do to your cloud collection.

Mine is DONE

Took about 45 minutes to complete

I'm starting to get concerned. I've been on the gears for an hour now...

PHEW! Finally restarted and on to Migrating Data. Thank god, I was getting worried!

Stop worrying. I think I am almost 2 hours into the update and it is now migrating data. It seems like my gears were spinning for between 1 and 1 1/2 hours. Don't worry that others are upgrading faster. Mine is loaded with apps, so I expected it to take a while. I worried last update, but just was patient this time and did not worry.

Kinda wish i didn't upgrade: wireless charging is kinda wonky now, and I can't stand those terrible green/yellowish tinted photos.

Loving it so far. Glance with Peek rules!

What is Lumia Color Profile adn where I can find it?

You can adjust the color temperature of your screen just like your computer monitor. It is under "display"

After an hour, mine finally finished. Something went terribly wrong as i'm now running iOS7 on my 920. At least now I can run Microsoft's Remote Desktop app!!

I don't care who you are, that was FUNNY RIGHT THERE

HAHAHAHA! Thanks for that!

3 hours of spinning Gears and all I will have to show for it eventually is an iPhone!
Fu#% !
Well at least I got one laugh today - nice post :-)

man, those cog wheels.. thems are purdy....

1 HR on the COGS.. time to transfer the phone to my car charger and drive home.

Anyone else missing glance on their update? Can't find it in my settings anywhere.

Just showed up in my settings.

Where did you find it??? I still can't find glance

I turned my phone off and back on, then it showed up at bottom of settings menu.

Finally showed up thanks!

my is at the bottom right after call+sms fliter

Call+SMS filter is the last thing in my settings still didnt find glance

Daniel: You said... "The update will bump the firmware to 1325 and the OS to version 10327."

My Firmware ends with 1326.003 and my OS ends with 10328.78. Any idea why the difference?

Yea!!!!!!!!!!!!!!!!!!!!!!!
Found it, now just have to get home for WiFi. I guess whining long enough does pay eventually:)

Total time from request download to glance screen present: 42 min. 920 ATT California. Way to go, all concerned! Better late and succesful than never.


Hmmm, double tap to wake doesn't seem to be working for me after the update...

My bad- needed to enable from touch

Glance on "peek" setting shows the time, all the time, it never fades away.


Glance, Color Profile, now I can use the Pro Cam, double tap to wake, flip to silence... and even the Nokia notification tones for texts and email are much better. All very cool.

Woooooo finally the day has come!!! Will wait until I'm home on WiFi though to do it :p

Yay, downloading it now.
So, Did ATT disable DataSense?

Got past gears! Did restart! now just waiting for Data migration.... Takes soooo long. :)

Mine took about 3 hours. Had a full charge when I started but had to plug it in during the data migration in fear that it might die before it was done.

Got it! No problems whatsoever to update. Thankful and grateful.

my att lumia 920 update download completed and after phone restart its stuck in some configuration screen ,anyone else having same issue .. please help

OK....Battery completely drained while plugged in to the charger during the update. Phone is HOT, keep rebooting. Nice...Trip to the store soon.

My screen is not responsive to touch after locking anymore. Anyone else having this issue?

No datasense that I can see. I already got an update to the glance.

Ok how long does it take to finish. Once in the gears on the screen. It's been an hour for me with it plugged in it power.

My total upgrade time was probably 2.5 to 3 hours. My phone has lots of apps installed. Be patient and don't worry.

Ok, just wondering cause a month so back. I some how my original 920. And had to get it replaced.

well now I've got lighting bolt and a gear now. :(

And the gears rolling and Rolling foreva

Perhaps I've just not found it yet, but there doesn't seem to be any way to brighten the glance screen. It's very, very dim even when it's placed on the wireless charger. Anybody figure out how to brighten this? It's not so dim like this on my friends L1020. Also, peek doesn't seem to function any different from Always On, at least not that I can tell. Anybody?

Peek works only when phone not plugged. When plugged its always on.

Thanks for the answer on peek, you are correct! Now if I could figure out how to brighten the display on Glance...

I can't answer that. Maybe an update. Or maybe it set different on AMOLED as it consumes less energy. 925 and 1020 are AMOLED could be why.

1020 is an OLED display where you only use power for the pixels lit up. 920 is LCD, so keeping brightness down limits power usage

You are right! Peek and always on are the same. And the background app released today doesn't seem to be working for me

My peek was always on, and then I got an update for glance, and now the time shows when I wave my hand in front of the camera.

Thanks att I know I was crabby but oh well you still get my money every month

You think AT&T is bad.... what about an AT&T run MVNO?
I wonder how long it'll be until the AIO version of the 620 gets Amber?
I doubt it'll have DataSense either.

My phone is now a 920 beast!

I must say I really don't like glance..

Its corn ball lol.. nothing really special about.. But I shall give it another chance..

there is no DATA SENSE!!! -.-

How do you turn on Glance setting after you download the Amber? I don't have that option?

First, restart your phone. If Glance is installed, it will be the very last entry in your Settings. If it is not installed, use SysApp Pusher to install Glance.

Thanks for the response. I will try to see if it works.

I'm on the road 6 days a week so unless I can find a hotspot that isn't dog ass slow I'll have to wait a few more days.

You're not missing a great deal anyways.

My phone doesnt boot up after the update.
Been waiting for this update for months, and when it finally came, it destroyed my phone.
It was stuck at the gears for more than an hour and then it restarted
It showed the AT&T logo and then, it automatically switched off.

It keeps doing it even though it has enough charge. Anyone else facing this?

Same happened to me..Phone very hot, battery completely drained. I ended up downloading it from Navifirm and do a "dead phone" USB recovery. It's working now. There are instructions in the forums on how to do it. Of course, you'll have to do a resore on first boot as well.

Mine was on the Gears for 4 hours I tried every type of reset etc to get it to move on to no avail. Eventually it reset, but then ran out of juice. I plugged it in and reset it and it is now happily on Step 1 of 4 - Migrating Data. I was charging it through most of that 4 hours, but I'm not sure that it actually charges while the Gears are spinning - charging requires an active OS to manage it. It was full when I started. So might try letting the battery run down and seeing if it helps. I had 3.5Gb of Free Space, so I had a lot of stuff to backup - apparently it takes a LONG TIME

Thanks for that update. Chatting with an ATT agent now. Let me see if he has any solution.

My 1st 2 920s did that, I think it was just because I had them slap full. They eventually come back on after a day or so. But that's also how I got my cyan 920

About an hour. No hiccup. NYC

Finally I can sleep without alcohol.

Cocked, locked, and ready to rock! I'm GTG!

please dont update your phone .. after update on the lock screen the touch doent work so basically you cant unlock your phone and will need to restart the phone to unlock .. also you wont be able to pick any call

nokia support says do a hard reset of your phone and it may resolve this issue (though they are not sure) ...they just lost a fan and a customer with that reply ..

This is happening to me, too (and one other person that I know about). Once the screen goes off, the phone is useless until I soft reset. However, it seems to be fine for all of my other co-workers with 920's. I'm hoping to avoid a hard reset. If I find a solution, I'll let you know. What's your OS and firmware version? On mine and the other guy's, we don't actually have GDR2 or Amber - we're on some version in between. And checking for updates again just says "your phone is up to date."

I think I am also somewhere in between amber and the last version because when I try to use Nokia Pro cam it says "Sorry this wont work on this version of WP" but extra info says Amber and glance is also working and checking for updates says latest version installed ..

So I did as customer support asked me to (reset your phone ) and now my phone is stuck with spinning wheels and I tryied everything soft reset hardware reset drain batterey and charge again .. nothing worked ..
Thanks Nokia

Pretty good update, thanks to Nokia

L920/3gb free space. 1.5 hrs start to finish. Love the new settings. Played with the Nokia Pro Cam app - Very Nice!!! Grabbed my wife's L920 and upgrading now. She has alot less on her phone. Curious to see how long hers takes...

hmm my gears have been spining for over an hour now. Hope it didn't get bricked.

I was hoping this would fix my broken live tiles. No such luck though. Still aren't updating.

Known flaw, unfortunately. You'll have to get the total number of apps listed under "Background tasks" under 21 (not counting the ones under "advanced" - those don't matter). I was over 40 and my tiles weren't working. It was a pain, but I uninstalled the apps I didn't really need to have and my tiles have been fine since. This is clearly crappy, but it's the way to get your live tiles back. Hopefully this will be addressed in the future... maybe with 8.1.

Never heard of the over 21 Background Tasks being the problem thanks for the tip

My live tiles are now "Live" thanks for the tip!

Same with my "Live Tiles" have been dead forever.

My "photo" livetile has reverted to the stock images and won't have a custom image on the front now. :(

Downloaded and pleased. Finally. Now to test the new features. Congrats everyone for being patient. Now lets show off these phones and photos.

If anyone has done a dry run with there 920 updated to use pro cam, what are the deference between it and the 925 now?

Wish I'd never done the update...my phone has had spinning gears for 2 plus hours. I've had a 920 brick less than 2 weeks after I bought it and Microsoft Store replaced it. I doubt they will 6 months after a replacement. What a piece of garbage plastic nonsense. Junk phones with ZERO US support when things go wrong.

Nokia pro cam is a beast on the 920.. Nokia best cams in the business!

Is the current Glance screen supposed to display notifications? I just downloaded the update AND an update for Glance, and I'm not seeing notifications on it.

Notifications are suppose to come to Glance with GDR3. Right now it will only show you clock, vibrate on, battery level when plugged in.

Thanks ATT for finally getting these tested and approved. Please don't f'up and take eternity testing the next update. Meh, I'll be on another phone by then but for all of the others...

Wife's L920/4gb free took about 30 minutes. Cleared 4gb of temp files after now has 9gb free

It cleared some Mb for me too.

Anyone else on Country Variant PR, unlocked, still waiting???

I am in Canada on a business trip and got the upgrade notification today. Question is, did I get it from Rogers because I am using their network right now and should not update just jet, or is it from AT&T and I can go ahead and upgrade while I am connected to Rogers? I would assume it is from AT&T but I want to be rather safe than sorry... Can anyone help?

I just looked at my phone info after doing the update and my Firmware and OS version is different than what is listed in the artical. My OS is 8.0.10328.78 and Frimware is 1326.0003. It's a AT&T L920 but has been unlocked. I wonder if this has anything to do with the different versions.

Double Tap to wake does not work at all... and notifications don't show on the glance screen :(

And Nokia procam and smartcam don't work for me either :(

You have to enable double tap

I did, tried enabling and disabling it, still didn't work.. so I restored my Phone, smh, it's still restorinng as of now.

No notification until GDR3.

Notifications don't work on glance screen mode. Hmmm

No notification until GDR3.

Only thing after the update that puzzles me is that in glance setting my wife's L920 has Clock and notifications on/off toggle along with glance screen choice, night mode start/stop times BUT my L920 of which I updated about two hours before hers, does NOT have the Clock and notifications on/off toggle. I have compared all settings on the phones , I think
.. A true head scratcher........

Do your OS and firmware versions match? I see the clock and notifications on/off toggle and night mode start/stop times, but my phone somehow got stuck in something in between GDR1 and GDR2 and has other problems (touchscreen doesn't respond after the screen times out, so I have to do a soft reset to make it work). Maybe one of you didn't get all of the updates...

Figured it out. I believe Nokia released glance for install a few weeks back even though gdr2 was not released yet. I downloaded it then. My wife did not. So my gdr2/amber update updated glance and took the toggle for Clock and notifications away from my phone. She got the original glance that was packaged with gdr2/amber. I just checked her phone, low and behold, an update for glance.. I want our phones to be the same because, as an IT guy, I know the importance/easiness of settings/features being the same when I have to support our pgones end users.

Notifications for vibrate show if your turn off your ringer. The battery shows up if you are charging your phone.

I thought there were addition of theme color options as reported by wpc?

That's the upcoming firmware update... Shimmering succotash or something silly like that... (bittersweet shimmer)

Could be worse. Kitkat or snickers firmware update or something x(

With the glance screen, why the additional lock screen?

Started download went to supper came back download finished restarted great

Does GDR2 have an orientation lock? Since installing it almost none of my apps work in landscape! Even texting is portrait only. The only app working in landscape for me is Mytube. How do I fix this???

Nevermind, I tried rebooting and landscape works again! That was very weird.

I don't see an option to enable glance only double tap to wake, my display & touch option are separate any help plz

Glance is the last item on Settings. After call+SMS filter.

I have noticed now with Glance turned on, I find myself swiping up trying to open the lock screen before I realize I need to wake the phone first lol. Anyone else doing this too?

Anyone else getting noisy and yellow-blurred pictures after the update?
Tried the stock camera app, both of Nokia's camera apps, Camera 360 and Camera Pro. Pictures look awful now... So disappointed.

I can't download the update. It tells me I have the latest version installed which is GDR1. I am in Los Angeles with unlocked, ATT Lumia 920. Can anyone help please?

Has anyone had issues with WiFi turning off when phone goes to glance? This was fixed last update now its back?

On ur wifi settings>advanced, is there a check on the "Keep wifi on when the screen times out"

Pretty much rendered my phone useless.
Regardless of the Settings for screen timeout, doubletap on or off, glance on or off or any of the various alternatives, if I tap the screen to turn off the display, when I turn it on again the screen is unresponsive.It has to be Reset to get it back to life.
Listeing to a Voicemail now it did the same thing.
After a 5 hour Update process, this is terrible.
Must I say it - the iPhones inthis house have never acted like this. That's bad news.

5h? Something went wrong if you ask me. I just updated 5 phones and the one with the most apps took no more than 1h. All phones work without any problems. Did you try a soft reset yet?

My phone is still not done updating and I started at 1:15PM EST. Nokia Customer Service adviced me to Hard Reset which brought back the Cog Wheels Spining for the last 4hrs and then the phone died completely (while plugged in) and now it has finally booted back up and Cog Wheels are spining again. Guess this one is getting sent back to Nokia for some fixing.

Finally got around to downloading the update tonight for my L920. Only took around 30 minutes total for me. No issues. Only saw the spinning gears for 10 minutes. After the restart I was like ok, did it ever finish? Then I could not find one thing new on the phone. After re-reading this article from Daniel, I decided to update some of my Nokia store updates like Nokia's Extras + Info and Accessories, and after that I am now seeing Glance, call + SMS, and Touch settings. Glance seems really cool so far. I do not see FM Radio anywhere or the new Nokia Camera software. Guess I have to download Nokia Pro Cam and Smart Cam from the Nokia Collection in the store?

Also, Daniel mentions that the update will bump the firmware to 1325 and the OS to version 10327. When I check my phone it lists my firmware as 1326.0003 and the OS version 10328.78. Is this correct?

Yes that is correct. If u noticed in the update process there were 3 OS versions that the phones were updated to.
10322.71....10327.77.....10328.78.

Great thanks! Everything seems to be working so far :)

Have a 920 on Tmobile and still got it. Finally!

I own a 521 w/ 8gigs of .memory, cleared 500 migs to 6.2 and still wasnt able to download amber. Going to try again but it sure bites!

Be patient. Good to walk away. Downloading to my son's 920 in the Lone Star State as we speak. ;)

It shows I'm connected to FM radio and shows the show info, but no audio. Anyone else seeing this? Powered cycled the phone but no FM love. :( Bose headphones.

You have to use headhpones that act as an FM antenna. I keep my headphones from my old Samsung Focus around for just this reason.

No glance notification? I do have it turned on

I love Amber, even if it was stripped of data sense

The new camera app is just sick!!! It's a dream come true camera app for experienced photographers. Should be a great learning tool for beginners as well.

The reports of people experiencing the spinning cog wheel for up to 2hrs are troubling to those of us with OLED screens. What's going to happen when GDR3 rolls out and that cog wheel is stuck on screen for 2 hours? It's going to cause permanent burn in. Nokia and Microsoft better find a less destructive way to inform the user that the system is undergoing an update. Perhaps just those little dots that run across top of the screen every few seconds.

Also add EAS/NWS and AMBER Alerts. Just found it in settings>messaging

I just see the Data Sense missing ? Anthing else is missing from update you can see of ?

congrats everyone
on ATT subscribers cheers!

wow spinning gears took 20 minutes or more....
MS really needs to change thier update screen....

It's here. I like double tap better than glance.

I finally have the update. *Hawaii* I'm having some minor issues but it's a nice update.

Okay, is it just me or the front facing camera of the lumia 920 got even worst after the update? i mean i know its already been bad but i think it got even worst.

Ok whats it mean when your screen has a lighting bolt and a gear?

They updated the tunes as well. You have the newer tunes from 2013 that you probably have on the 1020. Finally got that new message tone. They should really add a small tutorial after the update to show the new features. If you don't follow WP blogs or tech news you wouldnt know all these new features.

Oh CRAP!!!! Please don't tell me I've Bricked this phone somehow. !!!!!! :/

well, the screen would not respond after update so i reset phone, gears are spinning forever. So tjis is my 4th 920 and my last. luckily I have a 1020 thatworks great. crappy ass 920

My L720 in Indonesia is haven't updated yet!

Everything went perfect with the upgrade on my 920! Fast and smooth!
One problem afterwards: Local Scout has disappeared from the App List....Local Scout Live Tile has died.....Local Scout knows exactly where I am, but cannot deliver a single listing in any category either from the Live Tile or from within Bing. Local Scout worked perfectly right up until update installed.

go to system,applications,search,make sure search is on click suggestions box (would you like to get suggestions) to ON.
scroll down to the Facebook box and tap it to connect . Your all done Local Scout is now working :)

You, my friend, are considered a God!
Local Scout now alive and well!
Thank You, Thank You, Thank You!

Did the "other storage" issue get fixed for anyone? I had 6.9 GB before the update and still have that much... Nothing I do is clearing it, and I really don't want the have to reset everything and lose all my app data... I'm think they might have broke the other storage fix while they were stripping out features.

I still don't see that I can update....i have a 920 on att

Just updated a second time and now I'm one version newer than the one in the article

Radio uses the headphone cable as antenna so only works with headphones plugged in. so check headphones, check volume...

The reports of bricked phones and spinning gears for10 hours plus is no joke. This was the death knell for my exposure to Windows Phone and I'm done. This is the 3rd bricked phone in 6 MONTHS. AT and T has no help and there is no Nokia store like the Apple store nearby to help. I love my Surface, but what I'm having to spend on a new phone is essentially what would be a Surface 2 purchase. So I guess there goes that help. Thanks Microsoft and Nokia....you 2 deserve each other.

You know you can go to Nokia's USA website and fill out a warranty repair form and ship the phone to them (free). The L920 hasn't been out for a year yet (Nov.'12 was release date) and in 10 days you'll get a new phone or yours repaired. Sent my mom's L920 back in August for some lines down the screen and they replaced it with a new phone. Nokia's Customer service is the best, and now I have to send mine in since it's pretty much been bricked for the past +12 hours.

same problem here .. and I think its time to moveon from windows phone

I'm curious to know just how many apps installed and storage was used up on everyone's phone that took a long time to update or became bricked? I did not have a lot of apps, photos or anything else on mine and it only took 30 minutes at the most. I guess it helps if you uninstall a bunch of apps and don't have a ton of photos on the phone?

Anyone having a problem that after restarting your phone and you shut the screen off once or it goes off itself... The screen is totally unresponsive and I have to soft reset to use the phone again? Even if all glance and double tap, new amber features aren't even turned on. Just updated last night and it's doing this.

I don't know if its just AT&T, but the call/text block feature is a joke. At least on my Nokia 920, the feature doesn't really block calls/texts, it only redirects them. If a blocked user calls, sure you don't see the call, but the caller isn't notified that their call is blocked and they can still leave a voicemail. If a blocked user texts, sure you don't initially see the text, but the blockee isn't notified that their text is blocked and they can still text away. The texts are simply redirected to another storage location. They can still be retrieved by going to the "blocked SMS" area of the call + SMS filter settings. Whats the point of this? Is this just some AT&T fault?

Do not panic if you see the gears for hours and hours.
This is what happened to me
Intially gears were up for 2:30 hours then I contacted Nokie Care Support they asked me do to soft reset and I did that and again gears were up for long time and then suddenly battery died ( It was on charging). Did a soft reset again couple of times and left it to charge. Suddenly after 20min gears appeared again and from that point I left my phone on gears for more then 10 hours ( 9Pm to 7am )and kept on charging all the time.
When I wake up in the morning I see Lumia with Amber :)
Felt much happier than any "HAPPY ENDING" ( If you know what I mean :-) )

Has anyone noticed a increase in battery life and power management overall after the update?

Any one noticed longer battery life and battery management after the update?

Before the update I was average around 7% discharge rate per hour. After the update and turning on Glance it shot up to 10.5% I turned off glance and now it back to around 8% So after 10 hours of use I should have around a 30% battery life. Maybe they will hash it out in app updates.

Is there any way to make glance not always be on while my 920 is charging?

Why do you....ah never mind.

turn it over or cover the proximity sensor


Been waiting for so long that I am no longer exited to have it
Waiting for GDR3

Is anyone else getting this bug with this update?
Whenever I scroll I get a slight hiccup in the animation. I put my finger on the screen, scroll, lift my finger off, then put my finger down again, and once I start scrolling there is a tiny jump in the content before it starts scrolling. This was happening quite obviously on the home screen, although it it stopped when I turned off the double tap to zoom in on the screen feature, this still happens on menus of text such as scrolling through music or the settings area. Seems to only happen on the menus if I let the scroll bar that appears on the right of the screen completely dissappear, then start scrolling again, it jumps.

The longer this update is on my once-beautifully-performing Lumia 920, the more of a mess it becomes! Most Live Tiles that worked great before, no longer update. Many apps no longer function properly.
For example, 6tag gets stuck on the mapping page looking for photos. That worked perfectly until the update.
Local Scout is bricked!
I wish I had just left my phone as it was! It worked so well before this so-called update! It WAS a joy to use!
Now....pure hassle! How terribly disappointing! Shame on AT&T and Nokia for putting their customers through this garbage!

Uninstalling and reinstalling the app could help.

go to system,applications,search,make sure search is on click suggestions box (would you like to get suggestions) to ON.
scroll down to the Facebook box and tap it to connect . Your all done Local Scout is now working :)

the update bricked my 920. While there hardly anything to be desired about At&T customer service. At least they were able to warranty the phone and over night me a another 920. I'll see here shortly how the update runs on the refurbished phone.

Screw at&t for stripping out data sense

thank goodness nokia 920 geared out on me...been at it since 8am, and now it's 1:30pm. gonna have to go to an at&t center now. smh.


Now my Lumia 920 is like my Nokia N9 going from lockscreen to startscreen. (Except I swipe up rather than left.) There has been an app for the N9 the past two years that functions like Glance

Somehow I'm not seeing good quality pics after the update. More grainy than before. Dammit!

there's no glance settings in settings. am i missing something?


Well after thinking my phone was bricked. It's working fine now.

I don't know why after i update my 920, I got everything except the screen glance...Who can help me ?

Update your Nokia store updates like Nokia's Extras + Info and Accessories, and after that you should see Glance at the bottom of your system settings. At least that worked for me since I had not updated Nokia's Extras + Info in a while. Hope that helps!

LOL This is sad considering GDR3 is right around the corner. Sorry AT&T customers. Verizon is right down the road

Hey guys (and girls) On my Samsung windows phone, data sense did not show up after the gdr2 update until I did a hard reset , I don't know if anyone is willing to try it on their Lumia, but I will try it on my wife's after I get the cogs to stop. its only been 2 days...

That totally sucks that you can only listen to the Radio with headphones. Would've been cool to listen to radio while charging my phone with the JBL power up boom box.


I saw this on one of the WP forums the other day. You still need the headphones to act as an antenna, but if you touch and hold the radio station frequency display, you can toggle switch to speaker/switch to headset. You can also pin the frequency to your start screen.

Thanks at&t for the update.Since the update got out ive being seeing some changes.The camera from the nokia lumia 920 looks fuzzy with the update.People who have the 920 on att with amber update should check that out and see how the camera looks fuzzy they should fix it

after update can't send and receive mms...... can you help me fix it!

Can someone else please let me know if the issue I'm having is not just me? I have a Lumia 920 and first saw that the update failed last week. I only had 1 GB available on my phone, so I freed up 8 GB. Now my Lumia thinks my phone is up to date. I've been on with AT&T tech support twice and now Nokia. Nokia is telling me that the 920 is having issues with AT&T and it may take "weeks"(!!!!!) and it depends on my phone's manufacturing date.
This is insane. I guess I'll manually flash it. Hate taking the risk but this is ridiculous.

someone calls and I answer I can't hang up and the phone will black out needing a soft reset, I can't lock the phone at all, I'm afraid I'm going to get image burn of my home screen. I wish I hadn't updated so much now, no improvements for me, just trouble. ):
Windows Central Newsletter
Get the best of Windows Central in in your inbox, every day!
Thank you for signing up to Windows Central. You will receive a verification email shortly.
There was a problem. Please refresh the page and try again.