AT&T Amber and GDR2 updates for the Nokia Lumia 920 and 820 are now live!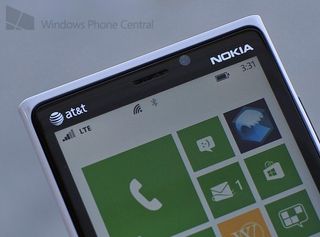 The wait is over.
Yesterday we reported that AT&T was planning on releasing the double punch Amber and Windows Phone 8 GDR2 OS update today. As predicted, the update has begun at 1 PM ET / 11 AM PT and users should now be able to head into their Settings > Phone Update > Check for updates to initiate the process. The update will bump the firmware to 1325 and the OS to version 10327.
Nokia and AT&T have been working on bringing the coveted updated for a few weeks now, coming in near last in terms of the global rollout. Nokia had previously stated that the Amber update should be completed by the end of September and while that was accurate for most users, those on AT&T had to sit by as T-Mobile and Verizon both beat them to the delivery.
Microsoft's GDR2 OS update brings some improved features like better 'Other' storage support, reducing the bloat that many users have experienced, in addition to fixes for Xbox Music, FM Radio, Me Tile image and greater core access for Nokia.
Nokia's accompanying firmware update, dubbed Amber, allows such new features as:
Nokia Pro Camera and Smart Camera
Default camera support
Flip to silence
Lumia Color Profile
Double tap to wake
Improved image processing
Improved Bluetooth technology
All in all, that is a significant amount of "stuff" that Lumia 820 and 920 users will now be able to take advantage of (not to mention today's Glance Background app).
Most of those features will require the user to have the latest updates from the Nokia Collection and you can use an app like SysApp Pusher to check for those (it's free).
Nokia's proprietary 'Glance' screen with an always-on clock
The update will require a Wi-Fi connection and it could take up to 20 minutes to complete, depending on how much data needs to be backed up. You should also have at least a 50% charge or keep the device plugged in to an AC outlet. Users are urged to make some free space on their device if they have less than 2 GB of available storage.
Getting the update? Do you have the update? Sound off in comments.
Important 1:40 PM ET: If you experience the message "The update was downloaded but couldn't be opened. (8018830f)", don't fret. Just try again and re-download the update.
If you have questions, you can head into our Lumia forums to get help from others: forums.wpcentral.com/nokia-lumia-devices/
Daniel Rubino is the Editor-in-chief of Windows Central, head reviewer, podcast co-host, and analyst. He has been here covering Microsoft since 2007 when this site was called WMExperts (and later Windows Phone Central). His interests include Windows, Microsoft Surface, laptops, next-gen computing, and for some reason, watches. Before all this tech stuff, he worked on a Ph.D. in linguistics and ran the projectors at movie theaters, which has done absolutely nothing for his career.
Where is bloody gdr3... Fn over this!

Lol wut? The 1520 isn't even out yet. Cool your jets.

Kidding, just glad for you all, I've had it for months and im also glad I won't see these posts for awhile.

I know, right?

WTH!!! GDR3 NOW!!!

Imagine how long GDR3 will take after that performance. And att customers STILL got the update before me... Nowhere to be seen like two-three months later. Come on Nokia :(

Congratulations America! I mean it seriously

never thought America will see this day.. :P

Oct 10 is the new July 4 for 'Murica I guess!!

I mean it guys,

Congratulations!!

Verizon has had this since August!

American Tele & Trust is a Truly American Company
The update was tested by National Security Agency
All your phone calls are now tested for security!

It is American Telephone & Telegraph actually, but OK! I am glad the NSA has the time!

National Sailfish Association= no wonder they hate WP.

Thanks, but both Verizon and T-Mobile have had this update for well over a month now. It's just AT&T that was slow... like always... because they have to first remove the great features that their customers want.

Call and SMS blocking are in. Looking for data sense now

AT&T is not America. And it was only Nokia phones, all other AT&T WP8 phones received it a long time ago.

I got so nervous when I saw those dang blasted cog wheels turning but it seems the update is downloading just fine. Hooray!

Me too. The gears took forever to stop spinning... I thought I'd bricked it, lol.


How long did yours take because mine has been going since 6:00PM Central time and it is currently 9:30PM Central time and the cog wheels are still spinning on my screen.


Well....mine took under 20 minutes so at this point I would look for a fix or a thread somewhere in the forums. The holding the volume down and power button tricked worked perfectly fine for me and I did not lose any of my music, pictures, or settings but I would double check before trying that trick.

Gears spinning....hopefully not for long. I don't want to hard reset.

How long did your gears keep spinning. Mine has been going on for about three and a half hours now....


Prolly time to look up some support threads. Sorry you're having troubles mate.

When I rebooted my 920 to give it to my gf it took over three hours to reboot. Thought it bricked a few times

Actually downloading now.

Great news! Of course now we're all hoping for GDR3 next month.
(Yes, customers can never be content!)

On Nokia care suite, maybe. AT&T, not so much.

Yes!! Hallelujah! FINALLY! Hopefully GDR3 isn't like this!

My phone has found the update and the update status now says "An update is ready to download". Wish I just had a WiFi connection to connect to right now so I could download it. :(

Same here. Out and about right now... Argh! Why so long AT&T?

It's not that long, cripes.

They removed DataSense because AT&T wants people to go over their data limit... so they had to test it longer to make sure it didn't break anything.

Congrats to all at&t users

I'm in Nevada, still not available for my AT&T 920.

Have you waited this long ... :D

Thank goodness thats over. What should we complain about in the comments now?

Errors? I just got a "downloaded but couldn't open" error.

Same here, WTF??!! REALLY?!?


Restart your phone and download again....will surely work fine.

Mine worked on the second try.

I thought the error said "Syke!!!!"

hahaha, that would have been funny if I hadn't waited sooooo long. Honestly I was just about to upgrade to a 1020, but when I saw it was available I figured I could a little longer lol.

I just bought the 1020 the day before this was announced :/

Ditto. Got the unexplained 8018830f error, so I'm trying again. It's gotten further this time: "Preparing to install 95%"
UPDATE: Now it seems to be fine.

That's the NSA security agent that makes sure all your phone calls are safe.
If you already have it then it installs right away

that isnt good. only took about 5 minutes total for me to install

Yes. When I leak about it, WP Central will surely report it. So stay tuned. ;)

What about snapchat? I wanna see those snapstories but swapchat can barely hold its own.

Use 6tag, much better than Instagram on iOS and Android, plus it has more features than the 1st party apps. Instagram has made regram an option in their API, but isn't available on their app. 6tag has it!

Yea , I know , I use it all the time.
I was being sarcastic. He was asking what are we going to complain about, now GDR2 for AT&T Lumia is out

And when Rudy makes it, 6Snap.

+1 This particular 3rd party app will be a lot more beautiful than official.

Now the comments will be lagging, worse battery life, "other" not fixed...the usual.
Downloading now...preparing to complain (I kid, I KID!)

You aren't wrong on other storage, mine is already at 1.2gb and I have had it for a while with no massive apps installed or ever downloaded. It will pile up as time goes on. Sucks everything works well though, sadly glance on 920 sucks as it has a cheapper screen than a 1020.

?
1.2GB is normal on every single smartphone on this planet. Should be expecting 2-3GB as normal. Over 5GB is when you start to complain. 1.2 is nth. Unless u meant 12......

GDR2 for Samsung Ativ S Finland, Elisa..

i got 2 updates. first one wasnt gdr2 because none of the new features showed up. press check for updates again if you are experiencing this

Finally! I got it. Now, I can't wait to start complaining about the next lack of update from at&t.

WHAT ABOUT INDIAN 620 ..IT STILL HAS NO AMBER YET!! :'(

Flash it to .002 via NSU,you will get amber ota...

Hi, my 620 is currently updating and booting up just as I am typing this message.

congrats to all AT&T people, god knows you've waited much longer than necessary for this! Hopefully GDR3 will be better

Im in Nevada too, it is downloading for me! YES!!!

Downloading now. Now where is the GDR3 update? ;-)

Missouri, btw.

Florida Is downlaoding..............

And here I thought we wouldn't get this till December.

Looks like Christmas came early for us!

If by early you mean almost 2 months late, then OK.

Yaaaaaaaaaaaaay !!!
I'm so happy for you AT&T users , welcome to the others

downloading now in Atlanta GA 1:31pm

Took about 1:20 mins. Be patient...

ok so here is my logg for the update on the 920: i did this on our works WIFI network; i disabled WIFI on the phone to access the update, check the update button on my lumia and WALA!!! there it was, then i changed over to WIFI so here is the log
started 1:29pm ( it stayed at 100% for a few mins maybe 5 to 7) gears started at 2;21 pm, Almost done ( migrating data) started @ 2:33pm update done at 2:45pm. i turned off my phone and turn it back on just to clear everything.
all together it took around 1hr 20 mins...just be patient..

Downloading right now..California

"Downloaded but couldn't open" What the fuck are you serious??

...then stick it rice, and switch to tmoble like Bill Hader.

Yeee! Finally I'm download my Instag.. Oh sorry I mean Amber update! XD

Dowloading now in California. It's about time, but at least they got there in the end. I just wish they'd been more transparent.


I got an error: "We are currently unable to check for updates. (80072ee2)" But I'll try again

For all of you who are getting error updates....YOU are the next chosen few for the Hunger Games!

I got a different error, 80072f76... which I believe is a connection error It might be because I'm at work and my work wi-fi has a lot of access lockouts.

When I turned off my wi-fi, my phone found the update... but is waiting for me to turn the wi-fi back on. LOL. If I can't do it at work, I'll have to wait until I get home...

Haha yah possibly! I tried again and it worked thankfully! My guess would just wait till you get home to a stable internet connection

Forget GDR2 and 3 Im ready for 8.1! Hurry up Microsoft! lol

Will AT&T phones ever get data sense? Is that in GDR2?

It was supposed to be included with GDR2.

Data Sense is in GDR2 yes.

Correction:
Data Sense is in GDR2 (for every carrier in the world except AT&T)

No data sense in GDR2 for AT&T. I just finished installing.

Well, time to flash, lol.

Correct, no data sense...

I use myAT&T to check data usage. Not as good as Data Sense, but it's okay.

I have decided to make a twitter account just to bug at&t about this. I suggest that we all go and flood their inboxes with messages.

also, does anybody know Ralph de la vega's email address?



So by gauging the timeliness of gdr2 we should get gdr3 as MS is releasing 8.1, sweet!

Getting update now its downloading very fast

Now time to wait for someone to update if it's a striped down Amber update or the full update.

I think AT&T removes Data Sense. It will probably be like the 1020's version of Amber.

That's what I want to know, if not I'll flash a different rom.

Because they don't want people to monitor their data because that decreases the chance of customers going over and that means less money for AT&T.

Had GDR2 and Amber for a while now with my 928 through verizon. Glad the 920 users finally get to experience it.

I WANT TO THANK ATT FOR FINALLY GIVING US THE OPPORTUNITY OF GDR2+AMBER! AND MAKING THIS HAPPEN, THANK FELLOW CARRIERS FOR SUPPORTING OUR LONG ASS WAIT....THANK NOKIA AND MICROSOFT FOR SUCH BEAUTIFUL DEVICES.. BUT... REMEMBER GUYS, WE WILL BE BACK FOR ANOTHER WAITATHON FOR GDR3 ON ATT!. (NOTE THE SARCASM...)

Eff that. I'm just gonna flash for GDR3 when a rom becomes available.

PARTY AT MY HOUSE, LIVE MUSIC, DRANK, AND WOMEN! Lets celebrate!

Brazilian carrier Vivo also released it, last night. It's part of the Telefonica group, but I don't know if the whole of it got it too. Includes Data Sense.

Hahaha, all 3 920 owners in my family are installing now :D

Finally! I'm with EE and got my update a few weeks back but even I was getting frustrated with the delay to AT&T customers!

Downloaded in San Diego without WiFi!

DOWNLOADING AS WE SPEAKKKK! = ) YEAAAAAAAAAAA BEBE! Washington DC @ 1:45PM EST

Enjoy, lol! Unfortunately, it seems you won't get Data Sense, which is a good tool to have.

My battery is too low to update my phone.. :( couldn't wait.. now charging.. .. .. . .. . .. .. . . .

Yes!!!!!!!!!!!!!!! Finally!!!!!!!!!!!!!!!!!!!!!!!!

Downloading to my 920 right now. Finally, my 920 will be on par with my 1020 (minus the camera, of course).