Microsoft clarifies what's new with Xbox Music in GDR2: fixed cloud collection and more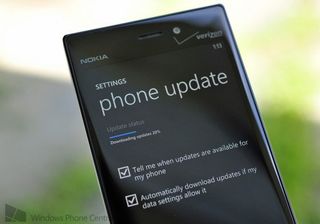 GDR2 is slowly rolling out to Windows Phone 8 handsets around the globe. Some devices, like the Lumia 925 and 1020, already come with GDR2 preinstalled. For everyone else, the updates are slowly coming.
We've always had a pretty good idea of what's new in GDR2, but some items were slightly vague. For example we knew Microsoft made "improvements to Xbox Music", but didn't know exactly what that meant. Thanks to a blog posting by the Windows Phone team, we now know what's changed.
We've lamented the regressed music experience in Windows Phone 8 with Xbox Music compared to Zune on Windows Phone 7 before, so it's nice to see Microsoft improving the experience (although we wish the rate was faster). Here's what's been improved in GDR2 on Windows Phone 8 for your Xbox Music cloud collection:
We fixed a bug that caused duplicate songs to appear on phones when users copied over a song from their PC that also exists in their cloud collection. (To remove existing duplicates on your phone, you'll need to update your PC companion app, then delete and re-sync your music.)
We now sync cloud collection to the Music+Videos Hub more frequently, so tweaks you make on the PC are reflected more quickly on the phone.
We made it easier to select multiple—or all songs—from cloud-based playlists and download them to your phone
The idea behind the cloud collection has always been appealing to us, but it has been a frustrating experience in the past with duplicate songs and a slow sync rate between PC and phone. Microsoft claims the fixes for the cloud collection in GDR2 will result in fewer instances of wrong album art popping up and albums getting split into two.
The team has also made other small improvements and fixes with Xbox Music in GDR2. Here's what else you can look forward to:
Steps taken so artists, song, or album metadata doesn't inadvertently get overwritten. Metadata is now looked up to your music only if synced track is missing key info
Issues fixed that prevented former Zune Pass and current Xbox Music subscribers from playing tracks with DRM on their phone
Transfer playlists made in the Music app on Windows 8 to your Windows Phone. You'll need both the latest updates for the Music and the Windows Phone app on Windows 8. Select a playlist and share with the Share charm to your phone. Currently only on x86-based devices.
Streaming has been improved. Tracks less likely to skip or pause because Xbox Music will start fetching the next track before the current one you're listening to fades out.
All these changes are very welcomed for Windows Phone 8 users who have been frustrated with Xbox Music and its slow progress. However, GDR2 won't support Xbox Video, that won't come until "later this year".
Source: Windows Phone Blog
Still no way to manage the cloud collection on the phone? Can they be slower?

Agree 100%. Even with these fixes, Xbox music still sucks... I find so many little bugs its hard to keep track and report them all. (not all bugs have to deal with the phone... I'm talking Xbox music as a whole.)

He is right, not whining. Deezer and Nokia Music allows to manage things from phone. How can an established player not have two way sync? Its like everyone only listens to new albums they want to buy over PC and not phone!

Ill stick with Nokia music and Spotify :)

The Spotify service is awesome. However the App for WP8 is just plain rubbish.

I just liked the way Zune worked.. If I plugged my phone into my computer, with the Zune software running, any new song I added to my collection on the computer was automatically added to my phone, and any song I downloaded on my phone was automatically synced to my computer... Nice, and simple...

Really agreed I loved the design of Zune and it was very very convenient and powerful Music Player on Windows 7 & great client for phone to easy drag & drop. Not some cheap RT app.

Cheap is right. The app for win 8 (rt or pro) seems like a bunch of kids programmed it... It doesn't even have the basics done!

It is so stupid. MS had Zune and should have started with it and added feature improvements, to be even more advanced, cutting edge, even greater app. Instead, we get a new app that is primitive and years behind other competing platforms and Zune. Ridiculous.

Let's not forget syncing over wifi, or the lovely when your phone is charging launching wifi sync. Oh and podcast support. Zune was actually better since it also handled your video, & pictures... this app is getting better and maybe in a few years will be better than Zune... but man this hellacious beta that we're stuck in sucks. The PC experience is getting better since I'm not getting as many ads for my own music as I was.

I don't want to plug my phone into anything anymore.
Just download the newly added stuff on any device that I added on any other device. Download it as soon as i'm on wifi or in my home network.
That's what the cloud ist good for: Not plugging in anything, not worrying on keeping one device up to date.

Exactly this, why only have Xbox music sync what is on your Windows 8 or RT to your phone and not the other way around. As an Xbox Music subscriber i often Soundhound and download music to my phone on the go and if I want that music on other Windows devices I have to search and add it to my collection again. I don't get this one way cloud sync with the phone. Microsoft ecosystem experiences are often inconsistent and it's usually the basics.

Yes,, exactly❕❕.. I would love for it to do that❕.. But, in the mean time it could at least work like it used to..

Stopped using zune after i ended up with dupes on phone in pictures due to sync issues

+920 been waiting for them to fix music and videos for the longest. I've lost all hope... It's a shame too all they need to do is just make Zune software green and black and call it Xbox music.

To me the whole Xbox music marketplace is my cloud. I just pick a new Album and stream it or hit SmartDJ Mix and I'm good to go.

So, you have an unlimited data plan❔

I do the same and I don't have unlimited data. I actually like to connect to wifi and cache albums for offline playback. Then you don't have to worry about your data.

10GB. Primarily in my car. WiFi at home and at the office.

Damn❕ you have a 10GB plan? Shit,, with who, and where, is that offered?.. And, how much do you pay❔

Mobile Share/Share Everything plans. I have a 10GB Mobile Share plan with AT&T. I split it with four people, but they're almost always around WiFi, so I usually get around 8GB to myself every month anyway.

You have no idea the rage I felt when an AT&T rep told me mobile share existed. It is meant for multiple lines, but you can use it for just one line. I had the old school separate phone calls minutes/messaging/data plan. 450 minutes/5GB data/ unlimited messaging. Just so the people who have my config, you actually save $15 a month going with the 6 GB data mobile share plan with AT&T. It includes unlimited everything and 6 GB of data.

And i actually got the 10 gb for this month. I believe its only $10-15 more a month.

So, how much total a month ate we talking about here❔

Is this so weird in the US? Here in Switzerland I have everything unlimited for 65 chf (should be like 70 dollar).

There in Switzerland you have 5x the population density. Cell companies in the U.S. have to spend a lot more money on towers that will be serving 10 people at a time just to have continuous coverage as they travel from one point to another. People forget about how much higher the infrastructure costs are in this country. (See also: why rail doesn't work in the U.S. like it does in Europe.)
It's also why T-Mo is able to offer cheaper plans than ATT and VZW, because they don't bother with rural coverage. And why I'll never go to T-Mo, because I need it.

What do you mean?!
T-Mobile + its MVNOs have truly unlimited data plans.
Sprint + its MVNOs also have truly unlimited data plans.

TMo reduces speeds once you go over 2 GB. Not cool.

PRIZM is my new cloud music source. It is always available no matter where I go or what device I use. If I could code, I would write a WP8 PRIZM MUZIC App.

Lol❕ right.. Personally they could've just used the Zune color scheme, and just labeled it XBM.. WTF does that green and black have to do with music❔... If it ain't broke then don't fit it❕

The whole Xbox color scheme has always been green, black, and gray. And they're consolidating everything. It's a branding issue. Orange, pink and yellow just don't go with the Xbox brand.

Strangely and ironically enough, I'd never had the duplicate songs bug before, until I updated, via Flash (Sweden variant), to Amber. So I can asure you that at least for the Lumia 620, the bug is still there.

I am facing duplicate file problem the day I bought my Lumia phone and It is quite annoying that make me hate WP some time and Microsoft .
Well, Duplicate file problem is the only reason that I'll update my phone with GDR2.( other new features are nothing more than crap,
I hope this problem is solved in official GDR2 since you are facing this problem after update.

So it looks like MS think these problems are resolved with GDR2, but looking at the forums already they don't seem to be:
http://forums.wpcentral.com/xbox-music/236774-does-gdr2-amber-fix-xbox-m...
How do we get the message back to MS, that this announcement is somewhat premature and MUCH more work is needed?

Even if you manage to get the message to MS, they 'll not listen and even if somehow they listen this problem it won't be solve until GDR3. MS is very slow ,We are facing this problem since the begining and MS claim that they fix this in GDR2.....well lets see.
I think MS still want to retain the Crown of Most Buggiest Platform.


MICROSOFT DOES NOT CARE !!!!!

I never had the duplicate song issue unless the meta data wasn't matching. That's the ironic thing. I could use Windows Media Player or Zune to do album look ups but XBox Music would have different song titles like (album version) or (Edited Version) which would lead to my song duplication. Seeing that stuff "Album Version" is just really annoying.

Does anyone else have a problem when loading songs to their microSD card? Almost half of my collection won't load & I get an error message. It's very frustrating. Most of playlists are incomplete.
I hope they've finally fixed this as well!

Are you sure they are a supported file type?

mine got the same issue, occasionally happened when I immediately played the song from the album.

I was having the same problem. The only solution that worked was to hard reset the phone but don't connect to the Internet, then format the SD card, launch Xbox Music and turn off the Connect to Xbox Music and Xbox music cloud collection options, then sync the songs over. And you can't reconnect any of the cloud options after you go online either. GDR2 does NOT fix this issue.

No 920 USA update yet??:(

And the rest of the world (except India)

Did India got the update first?

For the 920, yeah. Like 5-6 days ago.

"Streaming has been improved. Tracks lest likely to skip or pause because Xbox Music will start fetching the next track before the current one you're listening to fades out."

Glad to see this, that drove me crazy.

My songs always started playing immediately, however, there was always this half-second skip in the last few seonds of every, streaming, song.

Same, that bugged me a lot

Same here on 8x, updated wifes 822 just tonight but she doesn't have subscription, was wondering the same if it did the little skip in last few seconds, messes up my drum finish:-\

Holy hell this is going to be my single favorite "feature" of gdr2. I used to download playlists to my phone for the sole purpose of evading that half-second buzzkiller at the end of every song.

Just FYI, I still have that 1/2 second skip issue on my Lumia 1020, same as before (Lumia 920) :/

Did they speed it up? It was a lot slower than Zune

I think ya boi did mention a few things about some performance boost...

Ok.... That doesn't answer my question I dint have the update. They can say there is a performance boost but I was looking for an answer from somebody who has used it in the update

Sorry... I'll go shoot my brains out now.. I was just trying to help, but instead I'm a worthless piece of doggy doooo.. No problem,, killing myself now.. One less WP fan the world has now... See you in hell sucker.... BBAAAAMM❕❕❕

Don't do it rodneyej! We need your daily comedic contributions here!

This is the ghost of Rodney past... Kill them.. Kill those iDroid bastards nooooww❕❕.. Whooooooooooooooooooo...

Oh, quit drinking out of cups❕

I don't mean to alarm you, but he IS the help!!!

Duplicate song issue fixed?! Thank goodness!

Glad to hear about some of these fixes, particularly wrong album art and albums being split into two... but now I must begrudgingly re-sync my 10,000 songs. Its going to be a long night.

Would be nice to see and try out these improvements. But alas, may be October before that happens!!

This is all good stuff. Glad they fixed the duplication issues and make it easier to download playlist songs.

It's weird that in this day and age, such a critical feature is missing. Seems pretty simple, but what the heck do I know right? I only have gear that's three decades old that still plays gapless album. Who says the LP is dead?

My songs always started playing immediately, however, there was always this half-second skip in the last few seonds of every, streaming, song.

I still experience this issue on my Lumia 1020 unfortunately so I'm not sure this has fully been fixed.

Yeah, I wasn't trying to imply that it's fixed, just that it's annoying. It's still present on my 1020.

Oh okay yeah, well I completely agree that its annoying. I'm glad that they implemented the pre-loading, but wish they would have caught this issue too.

A little unrelated, but will my camera roll photos continue to be duplicated?

Lol, like camera roll on your phone and camera roll on SkyDrive?

What.. You say your camera roll is duplicating pictures❔What kind of device❔

I believe it's a camera phone rodneyej.

The camera roll in the picture hub you racist bastard..

I meant,, which phone does he have.. You Canadian child molester... Lol❕❕❕❕❕

I unsubscribed yesterday after 4 years of Zune/Xbox experience. Got a full refund for my annual subscription, no questions asked because the advisor "did not see it fit to even discuss troubleshooting for an experience that's broke for nearly a year and fix isn't easy to implement even working round the clock". Her words, not mine. Rocking Nokia Music+ (half the price) and Deezer (free) subscriptions instead. Too little, too late Xbox Music.

How do you use Nokia Music Plus at all? 80% of the time the app loads and is unresponsive, 50% of the time it doesn't sign in to my plus sub, and 40% of the time I get an error that it can't connect to the music service. And to boot, NM is not available on W8 in Canada for some reason so 90% of the point of plus is gond. I wish it was better, I really like custom artist mixes.

I use Nokia Music + exclusively. Never had any of the issues you describe. Not once..
I love Nokia Music! I guess since I've never owned an Xbox (always been a PC gamer), I've never seen the need or purpose for "Xbox music". To me, NM is perfect in every way, especially since I subscribed for only $3.99 a month.. Its awesome!

So, now that Nokia devices are being updated they clarify the changes!!!!

Thank goodness they fixed the issue with the tags being overwritten.

I would kill for gapless playback. Honestly. Who do I have to murder...

LOL.. Bull.. As in BS,, as in Bullshiznit,, as in full of shiznit, as in not honest, as in a load of crap, as in fake ass BS, as in George Bush...

HaHa... As in Barack 'I assure you I would tell you the truth if I knew what the truth looked like' Hussein ' ughh, I know nuthin but I did see it on TV ' Obama ' That is not right and I am going to fix it as soon as you send me a grand and vote for me again, I promise and you know I wouldn't lie to your Momma'... You mean...

Its never gonna happen, some people bitched & moaned for years about it on Zune. Just forget about it.

Sadly, gapless support has actually *devolved* over time on MS portable devices.

The original clunky brown 30G Zune 1.0 supported gapless playback on both DRM and non-DRM music. The Zune HD supported gapless on non-DRM (though with an occasional barely-audible click or pop), but not on DRM content. The Windows Phones have never supported gapless playback of any music. (And the Surface, in my experience, frequently skips and stutters during playback - as if, no longer content with gaps BETWEEN songs, they're inserting them INTO songs!)

My guess is that most Microsoft customers just don't care about gapless playback. (Which is just another way to say that most people who care about gapless playback aren't interested in being Microsoft customers.)

I am still having this problem with XBM where after I've been at work I get into my car and try to play music but the volume is seriously attenuated.. The only thing that fixes it is a soft reset... Also, songs have been know to skip to the middle, or near the end, and this is extremely annoying.. But, my biggest complaint is the exclusion of the permanent audio controls on the lock screen.. I loved those controls in 7.5, and I wish they would at least make this a lock screen option in settings.. That's all..

Those controls are still there, never left to my knowledge, at least they r for me. Are you referring to when someone is listening to music in the hub and your screen times out and when u press the unlock button to wake the phone, the controls that represent "track back, pause, track foward" that appear on top of the lock screen? If so, they have always been there for me, both wp7 and wp8. Correct me if you are referring to something different though.

Yes, they are still there when you unlock your phone, or when you press the volume key, but in WP7.5 they are permanently affixed to the lock screen, and do not disappear.. I hate having to press the volume key to drop the controls down.. Now, I understand the reason why MS excluded the affixed controls in WP8,, because of all the new lock screen features added it would get in the way.. But I want the option if configuring my lock screen the way I please,, regardless of how cluttered it is.. I would just like a option under the lock screen settings to permanently affix the controls at the top of the screen.. Or, if they added a little button to the far left of the volume"dialogue" box, that would let me lock the box in the down position, that would work.. Another press of the X and the volume controls would go up and disappear... I wonder what they have planned for WP8.1..

You misspelled less with lest

Jesus cures gay. I chuckles.

How did we get to this subject. 0.o

Oh,,, lets seeee.. NIST likes to drink whiskey at work..

I wonder why it's called Xbox Music + Video hub since there is no Xbox Video :-(

XBV is coming... Look at yesterdays post..

And probably because it's where videos synced to the device are at.

Why no support to manage my entire collection in the cloud like Google Music? Cloud collection in Xbox music is limited at best. Are playlist creation still a mess? What about poor music matching?

There are reasons, one is that it's not Google.

But did they fix their meta-data? I don't care if syncing that stuff is better when the meta data is innacurate and in general just hot garbage.

Just turn it off and fix it yourself, if you don't like how they do it. It can be turned off on all software. On most of them, it's on by default.

The Zune Pass problem is a NIGHTMARE for me and I'm so glad this is getting straightened out. I'm now looking forward to this as much as Pro Camera.

Hated that bug where my albums were all split up,very annoying

Improvements are nice but from the moment I got Xbox Music I've liked it better than Zune.

You like not being able to transfer the movies you purchased/rented over to your phone? Cool.:)

I think he means it looks nicer.

I'm glad you do dude. I think it stands on its own well enough. If you've never heard of Zune and are starting from scratch, XBOX MUSIC is definitely a great service.

Still no proper way of creating a playlist on the phone either. Doesn't seem like Microsoft is interested in making this supposedly important product a success. Half the omissions they made are easy enough to fix but they still haven't gotten down to it (after nearly a year). The fixes they do implement are half-baked and choppy in implementation (FM radio, for example, is at the mercy of my cell phone service provider...where is the logic in that?). They need to pick up pace and strive towards a robust and enjoyable experience instead of dancing around the issues and launching new products everyday. Honestly, that's the least you expect from the world's largest software company.

+920. Because of this (creating a new playlist and editing stuff), I always go out with my iPod just to listen to music even though I've got my L920 in my pocket. Plus, when you are listening and you pull the headphones off, iPods stop the music instantly no sounds leaking. BUT if you do it with Lumia (or on WP8 I'm not sure which one is the problem here) it stops the music but before that, it leaks a little bit the song you were listening to and then stops. There's so many things to mention about playing the music on WP8 uff...



P.S. I've got an iPod touch and I'm glad that I won't be able to get iOS7 update because it sucks when it comes to searching through a lot of albums. Don't know why they changed it that way. Sigh...

Hey guys, I know this doesn't pertain to this article, but does anybody know of a good class schedule app that syncs on both WP8 and Win rt?

The calendar? Or OneNote? I don't know any other. I normally just memorize my schedule, because the calendar app sucks.

Use the Outlook.com Calendar with the native calendars on Windows Phone and Windows RT. That's what I do and it syncs beautifully. Heck, it even syncs perfectly with my iPad (Reminders and all).

I said the same thing in my mind when reading it.

Fix the new atvi s startup bug since gdr2

Super super happy I can simply share a playlist from my surface to windows phone now

I dont but what educational apps do u use on the rt

Never❕❕❕ It's for Rodney only...

I still have problem to download music I buy on my pc...

I'm a paying xbox music subscriber... there is song that I can't download locally on the phone if I don't buy them... I buy a few song on my PC and on my phone... a few day a go, I flash my phone to get GDR2, now I resync my playlist, I can download all my play list from the cloud, except song I buy, he ask to buy them again... I don't want to play double for a song...

This is nice but imo, xbox music on the pc should have as many people as it takes wiorking on it till its fixed. Even if it takes 1000 developers. Sad really, all ms had to do is rename Zune xbox music make it touch friendly and hit the submit button.
issues i still cant believe it has...

Cannot buy multiple tracks off an album at the same time, still have to purchae them one at a fucking slow ass time.
No sorting of music by what i own versus xbox music pass subscription
Big ugly dos style white box pops up when you try to purchase a song
No syncing in music app
No wireless sync
.....These need to be fixed MS, I have all your products but your fucking killing me with this stoopid sheet. Fuck data sense how about common sense???

Transfer playlists to your phone...currently only on x86 devices?? Really?

Does that basically mean only Surface and RT can do it, who the hell has a Windows 8 x86 desktop?
...
Is there no way to get the 32 bit version of the WP app on my 64 bit W8 desktop?

RT devices run on ARM not x86. X86 programs do mostly run on x64 systems (the reverse isn't TRUE though), so in theory you should be ok.

xbox music is sh!t on WP. bout time they fix tht duplicate thing, when play all songs i see an entire album twice. and listen to this....
has anyone else have one song title change completely to another song title you've never even heard of but still plays the song you originally downloaded?

SO um about how long does it take the gears to go away??? the gears on my phone has been turning for like an hour

that's what im trying to figure out

If you're referring to the Lumia 920, you might have to hold down the power button and press the lower volume side at the same time to "wake up" the phone again. Worked for me.

DO NOT DO A SOFT RESET as suggested above.
If you have a lot of stuff on your phone & SD card it could take 2 hours to update, just let it be.
That's how mine and several others were. I also updated a 822 with very little on the phone & no SD card, that took 30-45 minutes altogether.

For that last time Microsoft, bring back the live tiles that doesn't suck. I want it on the top of my homescreen, but the tile is dreadful. If I could listen to music 24/7 I would, but I can't (and that's the only way to keep that tile active (and attractive)).

I agree. I don't need the damned Xbox logo for my music player.

I'm not bent out of shape about it, I keep the music tile small... but I agr