T-Mobile pushing out Amber and GDR2 for Nokia Lumia 521 and 810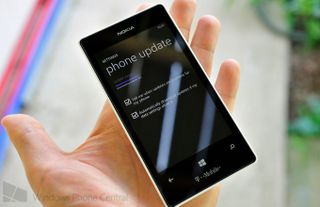 Verizon isn't the only US carrier pushing out the dual Nokia Amber and GDR2 updates today, as T-Mobile has begun giving users that coveted new OS and firmware.
On the discontinued but popular Lumia 810 and the budget-conscious Lumia 521, users seeing the update when they check under Settings > Phone Update > Check for Upates.
The update is a two-step process (at least) that involves Nokia's new firmware, which brings two-tap to wake, flip to silence and other improvements and enhancements. Likewise, Microsoft's OS update (GDR2, build 10327/8) adds FM radio and numerous bug fixes including one for the Other storage problem. Both updates will come over-the-air via Wi-Fi and users can now force-check that the update is available via their Setting menu.
We haven't verified ourselves if the Lumia 810 is getting the update (OS build 1326), although Nokia's support page (opens in new tab) does list it as does T-Mobile's support page (opens in new tab). It also verifies our earlier report that T-Mobile was indeed testing the update for that phone.
Currently there is no word on when AT&T will being pushing out their updates, though we assume it's not too far off.
Thanks, Tiberah and Ashraf H., for the tips
Windows Central Newsletter
Get the best of Windows Central in in your inbox, every day!
Daniel Rubino is the Editor-in-chief of Windows Central, head reviewer, podcast co-host, and analyst. He has been covering Microsoft since 2007 when this site was called WMExperts (and later Windows Phone Central). His interests include Windows, laptops, next-gen computing, and for some reason, watches. Before all this tech stuff, he worked on a Ph.D. in linguistics, watched people sleep (for medical purposes!), and ran the projectors at movie theaters because it was fun.
Awesome.. Lumia 521 FTW!!


Just a heads up for everybody, I needed ~750MB to download the update.

Anybody else see their Luma 810 screen saturation / brightness reduced after the update? My screen looks significantly toned down after the GDR2/Amber update, almost like an LCD screen! Tinkering with the new Lumia Color Profile didn't help either. Not really bad, but I like the saturated amoled better :)
btw, my NL 810 is faster now!

Try settings > brightness > high.

I'm going to have a screaming fit soon... So many people getting GDR2+Amber. Not even hope in sight for Lumia 820 users. It says "Coming Soon" on Nokia's site, and they say that some could take until the end of September!!! Ahhhhrrrgggh!!! D:

be happy that it is coming..

This is no longer the age of "just be hapy that..." because we have the technology and resourses not to dissapoint customers... I'll be on the edge of my seat till I get this update and I don't feel like that's very fair. Nokia is creating a hype on their facebook page about Amber and some won't even get it till end of September?.. Just cruel.. I'm sure they could have gotten every model ready for update, quitely, and then been like SURPRISE, EVERYONE GETS AMBER.

You get an amber update, you get an amber update, everyone gets the amber update! Except AT&T! Firstworldproblems

Installing now on my 521!!

Come on HTC/T-Mobile, you were supposed to get GDR2 a while ago.

What about updates from Microsoft for t mobile HTC 8x.....

That released on July 22!

........oh wait .........

Is this the update that will fix some of the other storage issues

If you have the 925, Pro Cam is also available to download. Today is a good day!

Verizon 8X please. It's not my fault the 928 wasn't announced when I got my phone. I would have waited...

What about the 8X T-mobile? The July 22nd date has passed almost a month ago.. I wish I would have waited to get a Lumia 925

Verizon Lumia 822 please!

Where's the Lumia 1020 amber update? No... I'm jk. =P

My Lumia 810 is indeed being updated

Where's the 720 Amber update for unlocked+unbranded? Come on Nokia!!!

Let's go 8X, need that other storage cleared up.

It's a miracle!!! 810 updating now. So glad we're getting GDR2 and Amber in a timely fashion since we never got 1308/1314 with storage check.

Installed! And, for the first time in months, I have less than 4.8 GB occupied by other storage! My phone is finally useable again!

Glad 810 users are still getting. Probably the best out of the 8xx series due to having gorilla glass.

Update is pushed out to Lumia 810. Phone is updating right now.

Just checked for update and there it was. nokia 810 t-mobile.

Does it get WiFi calling finally?

Had gdr2/amber installed on 521 for about a week now,manual flashed. Great to see that it is ota now.

MY 810 IS UPDATING RIGHT NOW. HOLY FUCK. HILT FUCK.

Your sister loves my jizz all over her face

What size of this updates show mb...??

Well, my 810 is telling me I need to make 485MB of storage available before I can download the update.

I'm not sure if that's 485MB additional, or total, though. I do know the download stalled out at 4% before that message popped up, and I was showing 64MB free at that time.

Addendum.

I had about 580MB free after deleting some games (that I had finished but left installed just so I could keep that space reserved) and deleting IE history. Download completed and the installer got to 82% before it popped up and said it needed 280MB.

Deleted SkyDrive and a couple other apps and am now running Shrink Storage to see if I can reclaim enough space.

For anyone following this thrilling saga, the above didn't work. Shrink Storage didn't give me anything back at all. Deleted a few more apps and a couple email accounts, and managed to get about 960MB free.

"Preparing to install" got to about 96% when the "Low storage space" message popped up, but it still managed to get all the way to 100%, and the phone was reporting 161.5MB free.

Hopefully that's good enough (it's been sitting on "Preparing to install 100%" for several minutes now), because I'm running out of stuff to delete. [edit: just got "Your update is ready to be installed", so yay.]

I had to do that too. Deleted a ton of stuff just to get it on. U can add it back after the update tho. Then you'll have storage check and will have much more space

I'm using my 920 as my phone now, but I just turned on my 810 and am about to check for the update... I'm guessing there IS something there because it's taking a lot longer to find updates, whereas it told me in seconds that there was none when I checked a couple of hours ago. And whoa, it's finally updating!!! :D

Good for T-Mobile ..now at&t, get your ass in gear & roll out this update!

Can anyone confirm whether it brings DataSense or not? I could just find out when I update my wifes 521, but I'm impatient.

Yes Datasense for 521 see

http://forums.wpcentral.com/nokia-lumia-521/225895-new-firmware-updates-released-521-a.html

Yup got data sense on my 810.

Meanwhile, at T-Mobile's world headquarters - Deutsche Telekom - the damn update is still "waiting for approval".

My 810 did get the update! However fun story. The update requires at least 579MB of free space. I only have 40MB of free space because, "other" takes over 4GB, system takes 1.9GB, and apps take 1GB. So the only way to get some space is uninstalling apps.

More than that, apparently. I had that much free when I was able to do the download, but the installer got to 82% and then came back and told me I needed to free 280MB.

Be sure to go into Settings -> Applications -> Internet Explorer and click on "Delete History" too. That will free up considerable space.

I am on T-Mobile.
I have 3 phone models: Lumia 920, RM-820_nam_att_100, originally for AT&T, unlocked. Lumia 820, RM-825_apac_hong_kong_210, international edition, factory never locked Lumia 620, RM-846_apac_hong_kong_220, international edition, factory never locked
Will I ever receive the GDR2 and Amber from T-Mobile?
I already called T-Mobile support and asked that question.
The support personnel had no clue how to answer.

you should be getting updates when it is being released for the region for the unlocked ones.. the ATT 920 will be updated when ATT releases 920 update.

Your Lumia 820 has received the update?? mine don't and is the same model

So I guess that to AT&T exclusivity means being the first to get the phones and last ones to update them. Yeah, they're looking real good right now. Ha ha. 521 goes amber before the 920. Almost too funny. Good thing I love the 521, otherwise I'd be pretty sad right now.

New Nokia ringtones with the update! My 521 is gonna get me so much poontang.

Why is doubletap to wake up not working in 521.. is that not available?

is double tap to wake up a feature for 521?

No, 520 and 521 did not get glance because of a hardware limitation according to Nokia. Double tap to wake is a part of Glance iirc.

:( that is disappointing.. but i will get by.. anyway i will upgrade once 625 or 825 comes in.

I dont think that is completely accurate becasue I bought my girlfriend a 520 on att and it has GDR2 preinstalled and the option to double tap to wake is in the settings however I cannot get it to work. But I watched an unboxing video of a guy getting the same lumia 520 in the same go phone packaging and he displayed that it had the update and showed off the double tap to wake feature. i dont know why it isnt working on her phone though. It can be seen at the 1:52 mark. It posted by WMExperts and the title is " AT&T Nokia Lumia 520 with GDR2 and Amber, unboxing and tour "

But you are right about not getting glance.

For all those who were crying when T-mobile EOL'ed Lumia 810... Please rejoice n smile!!

I bought my son a NL520. It has Amber on it, much to my surprise.

My phone is in the middle of the update right now..

I just received my update for the Lumia 810 .

anyone else having trouble updating on the 810? I already did a hard reset and it keeps saying that my phone is up to date...

I have yet to receive Portico! My phone: the Nokia 810. Carrier: Tmobile. Since purchasing this phone I have not seen automatic update. I have attempted to manually check for an update and persistently replies that the phone is up to date. This is false. The remains on firmware 2001. I've contacted and spent hours on the phone with Tmobile, Nokia, and Microsoft with no resolution except wait. Bought phone in February...still waiting. Spoke with Tmobile representative last night who told me to wait, again. My fiancée has same phone and she has received her updates by manually connecting server. I still continue to wait. Anyone experiencing this? Anyone have a solution?

I was on the same boat as you! I never received the portico update either and I was about to give up on the phone. After doing some research I found out that the phone I have has a demo rom mode that has different product code from the regular retail rom and that's the reason why I had not been able to do OTA updates. Luckyly I was finally able to update to Amber but the process was not easy at all! I can help you out on how to update it but the first step would be to check the product code for your 810. Regular retail rom 810's should have product code 059Q1J12, while Demo rom 810's have product code 059R380. You can download Nokia care suite 5.0 to find out what the product code for your phone is, once you have that information just get back to me.

Thanks for reaching out. I keep running into no answers with NOKIA, TMO< and micROSOFT Where can I find Nokia Care Suite 5.0? Sorry, I found it and installed it. Would you mind providing me with instructions on using it to find the product code

Found that same demo code 059r380k. What do I need to do to proceed to amber?

Check your PM. I was not able to reply here because it won't let me post links and my post was marked as spam.


Use Nokia care suite software & download the Firmware files for your fiancee product code & Flash your phone with it...it will work for sure.....

Is the radio back with the new update for n 810?

Will someone with an updated 810 please let me know if you see the FM Radio as an option under the Music + Videos app?
I updated just a few days again to the unofficial Amber update and was disappointed to see that the FM Radio option wasn't activated in software. As far as I know the 810 has the FM chip in the hardware.


Wondering the same thing. I just updated, but I don't see it in the music video hub.

Thanks Jate1569...I guess we are out of luck. Do you think it's worth an email to Nokia asking for clarification?

I think it would. I thought I remember reading that most of the Lumia phone were capable of adding radio(excluding a few) L-810 was one of the phone that had a fm receiver.

I asked Nokia (at least first level tech support) and they thought that FM Radio should have been included for the 810. They asked me to reset the phone and check again; of course that didn't work and they are escalating to a higher department. If I hear anything official from Nokia I will let you know.
If anyone gets FM Radio with the 810, please let us know!

Woot woot woot woot woot Woot woot woot woot woot + 800 Nokia Lumia times! :D. Loving my 810 tank @_@

cant update. "update has downloaded, but couldnt open"

got it to install after deleting apps and rebooting the phone.

My 810 finished a few moments ago, no problems....everything is there except the FM radio, but not too worried about that....data sense and storage check are there....before the update, I had 3.10GB of free space, and now I have 3.56GB free....cool....the whole update took roughly 45min to complete....even took pics! how geek is that, eh? always loved this phone, love it even more now! it does worry me though, that some of you may have problems....the one thing I've been doing for the last several months is to HARD RESET once a month....i don't have to do that now....believe me, its not as hard as you might think, as long as you BACKUP regularly....and lucktr, you are correct, this thing is a TANK!

Indeed, mate...the industrial looks go hand in hand with durability. For example, I was replacing a starter yesterday, and it turned out to be harder then I thought...my 810 streamed music for me all day (had to swap the battery which is another strength), handled couple calls to Jaguar repair shop friend (turned oily, grimy), collected all kind of dust in the driveway, and finally took a short rain shower on top of it. She looked really bad before sundown lol. All it took to get her subtle beauty back was an alcohol wipe, computer duster with cover off, and she was back to HOT ;)

I never thought I'd see the day! Question: what is build 1326?

For phones that are not connected to a carrier, is it possible to get the update for them officially (ie- not Navifirm)?
I have 2 521s that are connected over WiFi and used and everything but phones by my kids.

Just updated. Everything seems fine. Camera works fine. No Fm radio. Also the "Nokia Apps" heading in the store is gone... is this the same for everyone else???

Phone is in process of updating as I type so I can't confirm this will happen to me. However, after i did a hard reset a few months back, the same thing happened to me. I contacted WP support and they said this is normal, just give it a chance to update and sure enough, within a few days, it was back.

Let the phone sync everything. Go to Office and SkyDrive inside. Go to Games and update your data by swiping through the pages. Check the internal Facebook etc. Just use the functions to let it sync. It should take more then 1 hour to get it back. Restart after syncing, connect and reconnect to WiFi. Its all about getting the phone to know who he is.

My 521 has the FM radio under MUSIC+VIDEO/RADIO. You'll need to use a headphone because there is no built-in FM antenna (use the wire in the headset).

Installed, but I don't see the option to move maps on my 810 to my SD card...?

Was that supposed to be a feat? That would be fantastic @_@

I thought that was supposed to be a feature of the new storage app.

Thats storage check beta, which was already available. Nokia stated that SD Card maps were faulty and many beta users experienced problems (a failed download corrupted my entire sd card once, so :P), so the feature was removed from the updated official version.

Sadly that is not a feature in the "built in" app that you find under "Settings" But since you now have the newer firmware you can go to Nokia Beta Labs and download the "Beta" version. That app will appear under your apps list and will have the option to move the maps to the sd card.

Thanks for that information. I have it now.

Beta Labs cites some instability issues that prevented them from putting it in the main app. Hope whatever issues they're having, they get them solved, if nothing else then so I don't have to have two apps doing the same thing.

T-Mobile Lumia 810 = Done! :)

Anyone having issues with glance? I thought it was to show notifications also (text, email, etc). Only shows time and charging symbol.

I keep hanging at preparing to install 97%, get the low storage error, then i get "The update downloaded, but could not be opened (800710fe)"

try deleting your maps and have at least 1gb of free memory. worked for me


i had to have 1.2gb, and my maps are on the sd, not memory. i uninstalled 3 games, 2 apps, and it works.

Updated! Getting some love from Microsoft and Nokia.

guys any feedback on the cam? i flashed my phone from the leak. and somehow as i was reading in the forum its the as the official update. for those who got it via OTA, is the live view on the cam has lot of noise?how the photo quality? thanks

Prior to todays update, I deleted all text messages & email with media attached to them, as well as deleted internet history from settings. This released a considerable amount of 'other storage'. I also deleted any apps that had to do with social media, especially Facebook & I noticed other storage wouldn't fill up as fast. After deleting a few unused apps & games, other storage fell to just under 2gb but would daily use moves it around 2.2gb & I can't seem to get it below 2gb anymore. Anyhoo, I updated this afternoon without a hitch, but other storage remains unchanged. I feel cheated to say the least but maybe gdr2 is meant to only moderate other storage, hopefully. I haven't checked FM radio, never had desire to use before anyway.

Update: after a little more exploring in settings I found 'Storage check'. It actually has a clear button under other storage. I now have only 1.58gb in other storage. Data Sense was installed as well.

Does this update enable WiFi calling?
I know the other phones people needed a SIM card that supports it, have the feature enabled and reset the phone. Has anyone had any success?

My 521 wouldn't connect to WiFi calling even after changing SIM card and various WiFi hot spots. This amber update fixed the connectivity issue. Just set to WiFi Preferred in the menu. Connection takes about 5 seconds.

I have a Lumia 521, got the update earlier today and there's nothing new under storage check for me...

Well there was supposedly going to by a fix for other storage.

I still wonder why SmartCam is unavailable on my 521. It says i "may need an update", even though i have amber.

Add me to the list of successful updates. No FM radio, other storage shrunk by 0.09 GB.
I was skeptical, but it's here in my hands. Double-tap, glance, flip to silence, and best of all, call filter.

My phone is sooooooo much zippier now. It just flies. It was always fluid, but not necessarily fast. Now it really flies. Plus now I have over a gig free!! I'm kinda mad it took gdr2 to get here, but it is awesome

any feedback about camera? is there too much noise in the live cam view? how about the actual photo? thanks

Don't know if this is the placebo effect or what, but everything feels faster. Like everything from unlocking, to pulling up Lols on weave, to taking pics. Could be from having more free storage but I think gdr2/amber is a big deal

I was just thinking the same exact thing. Feels justa hair faster...

I love you, Nokia, for having this preinstalled on my 925. And I love you, TMo, for being one of the first to roll this out, even to the EOLed 810. (Feel bad for 8X owners, for HTC lagging behind.)

Everything there but FM radio. I am more happy than not to be honest. A good solid update with features. I for one will never be expecting or looking forward to a notification center. I get enough of that with my live tiles.

Friend, i know little english.. I just want to know, what diferent nokia lumia 521 with 520? N lumia 520 get amber update or not?

I have yet to receive Portico! My phone: the Nokia 810. Carrier: Tmobile. Since purchasing this phone I have not seen automatic update. I have attempted to manually check for an update and persistently replies that the phone is up to date. This is false. The remains on firmware 2001. I've contacted and spent hours on the phone with Tmobile, Nokia, and Microsoft with no resolution except wait. Bought phone in February...still waiting. Spoke with Tmobile representative last night who told me to wait, again. My fiancée has same phone and she has received her updates by manually connecting server. I still continue to wait. Anyone experiencing this? Anyone have a solution?


If you got your phone in February chances are it came with Portico. Eitherway... I'm going to say you didn't miss much with Portico. And with GDR2 you should get any fixes from Portico. All it did for me was break my auto brightness in exchange for faster boot times.

So glad I just switched to a 521 and T-Mobile just this month. This after two years with an HTC Arrive and not getting a single update from Sprint.

Oh my GOSH I thought this would never come for my 810!!! I can breathe again!

SO glad I switched to W8...HTC never updated the Radar to WP7.8 and I felt left out...LOL...I love WP8

You had to force update to 7.8. I wonder if you can still force update using a tool for wp8 8x

Darn lucky Nokia users -8x user

Did anyone ever hear back from T-Mobile on why FM Radio and Wifi Calling was excluded from the GDR2/Amber update? Not that I am unhappy - they both just seemed a bit to easy too drop in.

I am sure a lot of other subscribers feel the same about their respective phones and carriers, but in my mind T-Mobile took a totally solid and capable phone (the 810) and demasculated it. But I am very grateful to get the update - and Nokia and Microsoft are both pushing out some really great apps (although I have yet to understand why I must find the Holy Grail of micro SD cards to find one that works. Now that definitely isn't rocket science at this point!)

Stuck at 94% before erroring out. It looks like it ran out of space, so I started deleting all but my most basic apps. This "other " storage issue is a real problem.


Regarding the FM Radio not being present on the 810, I received this response from Nokia:

We would like to inform you that FM Radio is not available for Lumia 620, 810 or 928 even if it has the Amber update.

The three phones does not have the hardware component for FM Radio.

Hey folks...

Got one of the 521s on sale from HSN. Does NOT have amber and still showing 8.0.10211.204 OS Ver and 1030.6409.1316.0016 firmware - all attempts to update - say phone is up to date.

Noticed on TMO site - it says the 3046.0000.1328.2024 update has been temporarily halted...

Anyone else experiencing this issue ? Anyway to force the update ?

thx


Windows Central Newsletter
Thank you for signing up to Windows Central. You will receive a verification email shortly.
There was a problem. Please refresh the page and try again.