Review: T-Mobile Nokia Lumia 521
By George Ponder last updated
Windows Phone Central's review of the budget-conscious Nokia Lumia 521, exclusively on T-Mobile US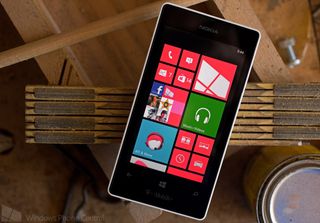 While Nokia has been busy unleashing the Lumia 520 Windows Phone to various global markets, T-Mobile has landed an exclusive variation, the Lumia 521. It's a compact, budget oriented Windows Phone that reminds me of the Lumia 710. Maybe a little more refined that the older Lumia.
The scaled back Lumia 521 lacks a front facing camera, camera light and isn't that bountiful on RAM or storage space. While the Lumia 521 may not be a "high end" Windows Phone it fills a niche. In combining the low-cost of about $150 and T-Mobile's "no contract" plans, the Lumia 521 is a good choice for the first time Windows Phone owner, parents looking for a reliable Windows Phone for their teenager, or anyone else just looking to save a few dollars.
After spending a little time with the Lumia 521, we've found it to be a rather solid addition to the Windows Phone family.



---

The Good? Build quality, fit and feel, the 5MP camera, the pricing, the battery life, Wi-Fi calling and more.



---

The Bad? It may be obvious. Low on-board storage, low RAM, no light, no front facing camera. But with what's on board, there really isn't any one feature that sinks the Lumia 521. Maybe the white color?



---

The Lumia 521 isn't for everyone. It is missing features we've come to know and appreciate on other Windows Phones but you've got to remember it's a budget oriented Windows Phone. There had to be some sacrifices to maintain the sub-$150 pricing point. What we get is a well built, solid performing Windows Phone. Nokia did a good job of scaling back the Lumia 521 to keep its price low while not driving a stake through the phone's performance.
The Design
The Nokia Lumia 521 departs from the uni-body design of the Lumia 92x phones with a removable battery cover. The phone does have a "plastic" feel to it but not a cheap plastic feel that would confuse the phone with a children's toy. Measuring 4.8x2.5x.4 inches and weighing only 4.39 ounces, the Lumia 521 is fairly compact and with the curved sides, fits rather comfortably in the hand. It's compact size also makes it a very comfortable pocket carry phone.
Working around the device you'll find the volume rocker, power button and camera button along the right side; down below is the micro-USB port, the left side of the phone is bare; and up top you'll find the headphone jack. To the rear is a 5MP camera and the phones speakers.
Underneath the battery cover you'll find a 1430 mAh battery, your SIM card slot, and microSD expansion card slot.
The button layout is fairly typical of Nokia's Windows Phones. The buttons are raised ever so slightly to give them definition and functioned in suitable fashion. No stickiness, softness, or other unpleasantries to report.
What's missing? The Lumia 521 lacks a camera light/flash, NFC, wireless charging and a front-facing camera. Personally, I've never had much use for the camera light beyond using it as a flashlight and don't video chat much. I've used NFC maybe once on the Lumia 920 but have grown addicted to wireless charging. For the most part, what's missing isn't that much of a loss for me but others may see it differently.
Again, the Lumia 521 does have a "plastic" feel to it but a solid "plastic" feel. The plastic battery cover has a little bit of texture to provide a decent grip and snaps firmly in place. I'm not particularly a fan of the white color but was impressed how it held up to dust and dirt. The Lumia 521 did get a little dusty hanging around the wood shop but wiped clean rather nicely.
Overall, the Lumia 521 doesn't step out on the wild side with regards to design and is a well built offering from Nokia.
Under The Hood
Here is where some will shy away from the Nokia Lumia 521. Under the hood the Lumia 521 has a dual-core 1GHz Snapdragon CPU, microSD card expansion, and Windows Phone 8. Pretty good so far, right?
What will make many pause is that the Lumia 521 only has 512MB of RAM and 8GB of storage (only 4.61GB free out of the box). There's no NFC but the Lumia 521 does have Wi-Fi and Bluetooth. While 1GB of RAM would be nicer, the 512MB performs quite well. As Dan noted in his first impressions post, there is a delay here and there but not enough to be frustrating.
The 8GB of storage may seem paltry but you do have microSD expansion and cloud storage to help handle your storage needs. You may have to manage your apps, games and music files a little more carefully but 8GB of storage is doable.
The 4" screen is an IPS 800x480 Super-sensitive Touch display. It lacks the Clearblack screen polarizer, PureMotion technology and Gorilla Glass but for all that is missing, the Lumia 521's screen performs rather nicely. Colors are sharp, brightness levels good and in most lighting conditions the screen has a bit of pop to it. The Super-sensitive touch gives the screen fantastic touch responsiveness. The Achilles heel for the Lumia 521's screen is what hinders most screens, bright sunny days. The screen just gets overwhelmed by bright sun more easily. The Lumia 521 does have the "Sunlight Readability" setting that does help with things but you'll still find yourself hunting for shade on those cloudless, sunny summer days.
Another downside to the screen is that it can be a fingerprint magnet. At first I thought it was the jelly doughnuts I ate earlier in the day (ran out of pie at the house) but even with freshly washed hands, you'll see fingerprints a little more that usual. Nothing a few shirt swipes won't clear though.
Everything is powered by a 1430mAH battery that is rated for 400 hours of standby time, 9 hours of talk time and 45 hours of playback time. Not sure we can dispute those numbers but in using the Lumia 521 modestly during the day (a few calls, a few games, a few web searches, and email) the Windows Phone made it through a full day with about 25% battery life still on the ticker.
It's hard to say Nokia skimped under the Lumia 521's hood because the phone performed rather nicely. To keep the pricing point low, Nokia had to make some concessions. Sure, there was some give and take but in the end, Nokia found a way to scale back the specs and maintain modest performance.
CAMERA
The Lumia 521 has a bit of an odd camera layout. The Windows Phone has a 5MP rear camera, no front facing camera and no light, and a scaled back settings menu. The camera does capture both video and still images.
The rear lens has a focal length of 28mm and has a fixed aperture of f2.4. It lacks the Carl Zeiss lens and BSI sensor to keep costs down. Images captured at 16:9 are 3.77MP while the 4:3 Ratio captures 5MP images. The camera also has a 4x digital zoom.
Nokia Lumia 521 28mm view
Nokia Lumia 521 at 4x Zoom
While I'm still skeptical off digital zooms, the Lumia 521 does a decent job of things with only a hint of distortion at four times zoom. Nothing earth shattering but much better than what we've seen in the past.
Menu Settings for the still camera cover:
Scenes: Auto, Close-up, Night, Sports, and Backlight
ISO: 100, 200, 400, 800
Exposure Value (Compensation): +2 to -2 stops
White Balance: Auto, Cloudy, Daylight, Fluorescent, Incandescent
Aspect Ratio: 16:9 and 4:3
While scaled back, the Lumia 521's camera menu does cover the bare boned basics. The menu does feel like something was left out with no creative filters but you do have Nokia's Creative Studio in the Lens section that makes up for the loss. Still on-board filters can be rather convenient.
Nokia Lumia 521 Indoor Photo Sample
As scaled back as the camera is on the Lumia 521, it performs rather nicely under a humble range of lighting conditions. It doesn't have the low light punch of the Lumia 920 but did a decent job of things indoors under moderate lighting. Images were sharp but I did see a bit of color cast and low color saturation with the Lumia 521. Then again, the weather wasn't exactly cooperative with overcast skies and rain in the area.
Nokia Lumia 521 Outdoor Photo Samples
The Lumia 521 has a Close-up Scenes setting that pulls the camera to within six inches from your subject and performs rather dandy.
Nokia Lumia 521 Close-up Photo Samples
Night or low-light images are the cameras weak point. With ISO maxing out at 800, the camera relies on slower shutter speeds which in turn results in blurry photos due to camera movement. Then there's the fact that you lack a light on the Lumia 521 so you won't have the benefit of any lighting to assist with focusing. You can take "okay" photos at night but a rock steady hand (better yet a tripod) and a little luck is a must.
Nokia Lumia 521 (left) and Nokia Lumia 920 Night Photo Comparison
It may not be a fair fight but the left image was taken with the Lumia 521 and the right with the Lumia 920. The lighting was a single street lamp well after sunset. It took four tries before I could hold the 521's camera still enough to eliminate the camera blur while the Lumia 920 only took one try. The tale of the tape? The Lumia 521 shot this at 1/8th shutter speed at ISO 800. The Lumia 920 was set at 1/6th shutter speed at ISO 640.
Nokia Lumia 521 Photo Sample
Taking everything into consideration with regards to still images, the Lumia 521's camera isn't too shabby for a scaled back 5MP shooter. The camera does needs a little fine tuning with the saturation levels and white balance but neither are so bad a little post-processing can't fix.
Nokia Lumia 521 Photo Sample
Video quality was rather impressive. Footage was sharp, the microphone picked up on things nicely, but without optical stabilization you get a lot of bounce.
With the Lumia 521's video settings, you have options for:
White Balance: Auto, Cloudy, Daylight, Fluorescent, Incandescent
Continuous Focus: On or Off
Video Mode: High Quality (720p) or Standard Quality (WVGA)
I think if you can control the bounce, the video quality on the Lumia 521 will please most.
Again, I've never been a fan of the light/flash on our Windows Phone cameras so its absence on the Lumia 521 isn't missed. And while I rarely use a front facing camera, I can see where some will miss this feature. Are either a deal breaker? Just not seeing it.
In looking at the big picture, the Lumia 521 has a rather peachy camera. While the camera may lack optical stabilization, a higher pixel count, a light, and a few menu features other Windows Phone cameras may have it performs rather well. Whatever tinkering Nokia did under the hood of the camera was done exceptionally well in most areas of performance.
The Software
The Lumia 521 runs Windows Phone 8 and does come with a handful of pre-loaded apps. You have the Weather Channel, Slacker Radio, along with apps from the Nokia Collection such as the HERE Suite (Drive, Maps, Transit), Nokia Music, Cinemagraph, and Creative Studio.
You also have preloaded T-Mobile software such as 411 & More, My Account, T-Mobile TV, and CallerTunes. 411 & More is an odd sort of app that gives you a direct dialing link for 411 Directory Assistance, the current weather, a horoscope line and a sports report line. The directory assistance link will cost you up to $1.99 per call with the other calls being free.
I'm suspecting CallerTunes is a ringtone app and T-Mobile TV streams your favorite television shows. I kept getting a "network not available" error in launching either app so I can't say if they are worth keeping or not. The My Account app taps into your T-Mobile account where you can review your account status, any notifications and get device support.
Settings are fairly standard for a Windows Phone 8 device. You're likely going to need to update the Lumia 521 out of the box to OS version 8.0.10211.204. You won't have firmware features such as Storage Check, but you can always pick up the Beta version.
While the pre-loaded software isn't too shabby, the Lumia 521 only has 4.61GB of free storage out of the box. In the end, if you aren't going to use these apps, deleting them will free up some space. Also, keep in mind with the Nokia HERE maps, you can save them to your microSD Card to free up on-board storage as well.
The Phone
We often overlook or seldom mention the phone part of our Windows Phone. It's easy to have the phone aspects overshadowed by stunning camera performance or jaw dropping graphics.
With respect to the Lumia 521 as a phone, it performed rather agreeably. Nothing over the top but par for the course as Windows Phones are concerned. Earpiece volume was good, the microphone picked up my voice with no issues, and the rear speaker did a decent job of things.
In addition to the traditional wireless calling, the Lumia 521 also has Wifi Calling. It's a new feature that comes along with the latest firmware update and allows for calls to be made over Wi-Fi. It's a nifty feature when you're in an area with weak network coverage but have access to a Wi-Fi network. Think of it as a mobile microcell for your Windows Phone.
Just remember you'll need to hard reset your Lumia 521 after updating for the Wi-Fi Calling app to appear. Remember to back up things before hand.
The only issue I had with phone service was reception. The Lumia 521 barely made it past three bars but I can't necessarily blame that on the phone. T-Mobile doesn't have the best coverage in my neck of the woods and it could easily be a network issue. It was nice that Wi-Fi Calling is available for the Lumia 521.
The Overall Impression
After tinkering with the Nokia Lumia 521 for a few days we find it to be a well built, budget friendly, solid performing Windows Phone.
The Lumia 521 is a scaled back phone with no camera light, no NFC, no front-facing camera, 512MB of RAM and 8GB. Sacrifices likely to keep the Lumia 521 at a very amicable pricing point. Fortunately, we didn't find any of this detrimental to the Lumia 521's overall performance. The screen has a little pop, the camera is a good shooter, call quality won't leave you asking "Can you hear me now?", and battery life is respectable.
The Lumia 521 is what it is. It's not intended to compete with the Lumia 92x series but instead it offers a budget oriented option for those who want to save a little or just want to dip their big toe into the Windows Phone swimming pool. I can also see the Lumia 521 as a good option for the younger Windows Phone user who doesn't need the larger sized alternatives. My teenage son actually found the compact size of the Lumia 521 a little more appealing than the larger Lumia 920.
The Lumia 521 is offered exclusively through T-Mobile and can be found at your local T-Mobile Store and various retailers such as Wal-Mart and the Home Shopping Network. Pricing for the Lumia 521 ranges from about $130 to $150, depending on the retailer.
George is the Reviews Editor at Windows Central, concentrating on Windows 10 PC and Mobile apps. He's been a supporter of the platform since the days of Windows CE and uses his current Windows 10 Mobile phone daily to keep up with life and enjoy a game during down time.
You made one fatal flaw in this review. Low on board storage. It has the same amount of storage as most of the other Lumia's of 8 gig

It may have the same amount as other Lumia Windows Phones but it is considered low by many and often a bone of contention. Personally, I think 16GB should be standard and even then some may see that as skimping. With cloud storage being more accessible and with devices having expansion card slots, maybe 8GB of storage is no longer an issue.

Is that really a 5MP camera? Nokia is amazing with this stuff.

It's a $150 no-contract phone. You're not going to get 41mp Pure View at that price point. And yes, Nokia IS amazing with this stuff. You don't see any really good competition to this phone at that price point.

Pretty sure sepatown meant that as a compliment to the quality of the pictures taken with the phone. Like he was amazed that those really came from a 5MP camera.

This first review was just first impression, this is actual review of phone itself.

I'm actually using the 521 right now as an between device. Its rather fantastic..
Its amazing how optimized windows phone is...theres no lag on this thing. I'm waiting for the 925 to come out also and hopefully Tmobile picks up the new EOS

I think one possible target market for this phone is infrequent, budget-conscious buyers. That's pretty obvious, right? So what needs tested is the durability of the phone, and especially the screen. Will this thing hold up for 2, 3, 4 years, even if you drop it from time to time? That was something you could expect from old Nokias. I know that the big screens of modern smartphones make that kind of durability harder to achieve, but I believe it's a big concern for the budget shoppers.

I was lucky enough to snag the phone from walmart for $130. While I can't speak to the durability just yet, Walmart did offer a 2 year accident protection warranty for $15. Since this phone is for my father in law, who is pretty reckless with his hardware, I wen't ahead and added it. I guess the point of my story is that the phone is cheap enough that you can probably get a good price on a warranty if you are worried about the durability.

Also similar to the 520 the screen has no gorilla glass but it is pretty hard glass.

I've been using the Lumia 521 for about a month now. I must say, it's been a delight to use. It's been solid in the areas I use the most, wifi, messaging, e-mail, music and others. For the $150 I paid for it, it's hard to imagine a device that offers more and runs as smooth as this one. This is my first Windows Phone and because of my positive experience with it, I'll be much more likely to choose a higher end Windows Device when the time comes to get a new phone

Glad you liked it. When I saw the price of the 521 I thought to myself "Why the heck would anyone ever want to get a higher end Lumia when this can run WP8 just the same?". I got the 521 for my father in law so I had a chance to compare it to my 920. The 521 is indeed a great phone for the price. But comparing it to the 920 does expose the cheapness. Especially when it comes to the screen. I think for my wife I'll get the 925 if T-Mobile offers it for a good price (praying for $400).

There is a reason why it's $150 and not $400+. So you can't really compare it to a 920 in any way. It's like comparing a myTouch with a Galaxy 4 It does not do justice to what the 521 features and is capable of at it's price-point when a person attempts to compare it to a high end device because the 521 is clearly not designed for those people who desire or need the features that a higher end, higher priced device offers.

One thing I noticed is that nobody here is talking about the upgrade to Windows 8.1 with Cortana. That was the first thing I did right out of the box. I have noticed it runs smoothly and very,very fast. Plus with my Motorola BT stereo earphones all I have to do is tap one button to kill the music, then tap another to sa text Mom Mobile. "Okay text Mom Mobile, what would you like to say?" Coming home for the holidays. "Okay texting, Coming home for the Holdiays. Would yoou lke to send, edit," Send. "Okay your text to Mom Mobile has been sent." Totally awesome. The panoramic camera shot is great to. Also I picked up filters the phone didn't come with.. My experience with the 521? A+++

My Dad wanted to get into the smartphone arena after years of holdout. Since he's a T-Miserable customer, I recommended the 521. It's a perfect phone for the smartphone noob and it's delightful to use. Basic yes but so is the price.

One gripe with this is that it doesn't have the letters in the alphabet seperating the apps in the app list. That means no quick jump to Y if you're at the top of the list. You have to scroll multiple times to get to the bottom of the list.

Unless I'm mistaken, the letters only appear when you have enough apps installed. Not sure what that number is exactly.

Alphabetical list appears only after installing 45 apps.

Like the 520 review, too many comparisons with the 920 and high end devices. And why the focus suddenly on the 512mb of ram? You guys were going nuts about how good the 620 and 720 are and they've only got 512mb too. It's a sub $150 phone and for the price you can't get anything better. I had a play with a 520 and I was very impressed with it. On many occasions it was quicker than my 920. And my phone cost 4.5x as much.

Maybe I just missed it, but one thing I would have liked to see in the article is an explination of what is different with the 521 from the 520 (other than WiFi calling, which is a T-Mobile feature). I'm just curious if its different at all.

I bought a 521 for $125. It is my 2nd Win8 device and I like the form factor much better than my previous Lumia 810. I am not a proponent of "bigger is better". Since I usually have a tablet nearby, I prefer having the smaller phone. (I know that makes me weird in the era of people who use their iPads to take pictures)
Having taken a "step down" from the 810, I don't miss a single thing. The phone has the same functionality I need without sacraficing performance.
I couldn't be happier with my 521 and I'm not a Win8 nood.
(My all time favorite phone was the Palm Pre. Compact size, all the features and had a slide out keyboard). I want a phone that has the features that fits in my skinny jeans without looking perverted. lol

You switched from an 810 to a 521? Was it just because of the size? I thought the 810 was supposed to be a moderate size.

My wife's Android broke so I gave her my 810 since I could get a 521 for cheap. I never looked back. I like smaller phones that fit comfortably in my pocket (given that I don't have to give up features that matter to me).
The phone buldge looks silly to me. But not as silly as the phone belt clip.
Keep your phone in your pants ...and the rest of us don't need to know it's there. ;)

Glad you like the 521 but it clearly is a downgrade from the 810 in so many ways. And its smaller than the 810 so it looks like your "tool" is smaller LOL no offense. I am considering on purchasing this 521 as a gift now but I love my 810, especially with the cyan wireless charging back.

I guess the operative part to my statement is "to me". The 521 IS a downgrade but the parts that are downgraded do matter ...<drum roll> ...to me. Since you do wireless charging the 521 wouldn't work for you. That is irrelevant to me. I value the smaller size more than wireless charging. To each his own, huh?
But since you got a dig on me about the smaller "tool", I find it funny that you are gonna buy one anyway. But as a "gift". Mmmkay. I'm not judging you.

I think i'll have my mom get this phone. She doesn't want to spend a lot on a handset and liked the Trophy on VZ. The 521 sounds like it'll do exactly what she needs.

I got my mom one of these for Mother's Day. It came in yesterday and I was actually really surprised how much I liked it and she learned how to use it in 10 minutes. This is her first smartphone and she loves it! I may even pick one up myself.

Can this phone be unlocked?...would love to be able to put my at&t straight talk sim in it.

I convinced my fiance to get it after her old low end Android phone started to go to crap. She was hesitant but it was the cheapest phone T-Mobile had so she got it. I think so far she is content with it. She enjoys the speed and responsivness of the OS. I think she will get used to the interface over time. Instagram was a major factor for her so luckily Instance is around. I am hoping I can get her to stick with WP but who knows.

a lot of new apps that people are geting used to on other phones are offically or unoffically being released onto windows phone lately! Yay for us!

Im currently still using an unlocked lumia 710 with straight talk at&t sim installed..hate that i can't update to 7.8

Great review! Well presented! Even though this is a device I would not personally buy; the reviews presentation was terrific. Great job George Ponder! I'm still waiting for Sprint to bring a WP8 to the market. My beard is getting long and grey waiting, but I still like typing on my HTC Arrive keyboard better than ANY non-keybaord device I have seen.

Ive had my 521 for a couple of weeks and have had no problems with it. I did notice my battery was draining a little quick, but that's because there was a bunch of programs being ran as background tasks. I disabled all of them, because I don't pin them on my start screen and my battery is able to last ALL day. Unless Im playing a game for a long time then it drains a little faster. I don't miss a front screen camera. Don't really care about nfc. Never really used the flash on my HTC HD7. After installing a tons of apps and games I have 2.3gbs left. I installed my maps, songs, and pics on my 2 gb sd card. The only thing I wish this thing had was that wireless charging. And the white back shell gets dirty very easily. The pics come out decent enough too! You can't compare apples to oranges, but for $150 its a really good phone.

Anyone know if you can get it sim unlocked?

you can provided you meet a few requirements with tmobile ( account in good standing, add at least 50 bucks in refills to the phone etc) Mine was unlocked yesterday. Third party people who claim to be able to unlock it are hit or miss and since the phone is so new, its going to be expensive ( some people report 40 bucks to unlock).

Will the 521 be able to play fm radio, like the 710?

Hey George, get the Auburn crap outta here, no one want to see an Auburn Gnome. Where is your Bama one? Roll Tide!

Also, nice video of the fountain and the colonade. You go eat at Taziki's?

Note to self: Add more Auburn crap in my test shots....

George, one criticism of this review. You were too dismissive of the missing camera flash. Shoppers need more information to decide if the lack of a LED flash should be a deal breaker for them or not. You note that it's not important to you, which is your perogative, but for others flashes might be important. Would have really liked to see some side-by-side photo comparisons where a flash would have been beneficial. Particularly indoor, bar, shaded close up shots.

If the purpose of a review is to inform the buyer, then allowing your biases to dictate what to test/cover is counterproductive. Clearly on this phone the lack of a flash is a BIG point of distinction since it's standard on just above every smart phone available, I would have appreciated it if you'd given it more attention.

Even if Nokia found a way to put a light on the 521, I have found these lights lack the power to project enough light to be useful and often create color casts. It's not a bias, just an opinion based on experiences. I've still got the loaner 521 for a few more days. I don't frequent many bars these days but let me see what I can work up to show how the 521 matches up with a similar camera that has a light.

This phone may be acceptable to some, but I think this review may be disserving it with the repetitive apologies for it. I think most people will get that for $150 this phone will cut some corners. Better to consistently highlight its strengths after mentioning it weaknesses ONCE, but otherwise a decent review.

It sounds like the only bad things about it are due to the price, which kind of sounde like slamming a Ford Fiesta for not having Ferrari performance!

Impressive camera for that price range. Wow. What else there is to say.

Had the Wal-mart phone for a week now - the charging port on my Lumia 710 went bad (second time for this) and I sent it in for replacement. Don't miss it at all. The only thing that the 710 had that the 521 doesn't is the flash, and I used it exactly once with mixed results. Never use a front facing camera on any phone, so I don't miss it. Battery life is great - haven't gone below 50% in one day yet.
All in all, a great buy for the price. Gives me all of the advantages of th Windows 8 system without a high price. Don't know about the FM (too bad they won't offer FM-HD like my Zune HD mp3 player), but I have seen references to the 520 having this, so one can only hope.
If this fits your needs, and you can find one (Wal-mart is once again sold out as I write this), get iot. You won't look back.

The 521 play fm radio, like the 710 fett verbrennungs ofen

T-Mobile Nokia Lumia 521 is a great device , I always wish to find great and new mobile phone devices, it's my hobby guys, are you people love T-Mobile Nokia Lumia 521? I visited http://www.safeunlockcode.com/ for unlocking phones. What service you prefer, please share with me great sites of unlocking and mobile devices. I am eager to listen from you. SEMISH.

What about the audio quality
music with headphones and all

Thank you for the great review. Just got mine through HSN with flexpay and free shipping. Love the phone but cant figure out how to zoom with the camera. Thanks for your help.
Windows Central Newsletter
Get the best of Windows Central in in your inbox, every day!
Thank you for signing up to Windows Central. You will receive a verification email shortly.
There was a problem. Please refresh the page and try again.