Nokia Lumia 521: T-Mobile's Wi-Fi calling demoed on the latest low-cost Windows Phone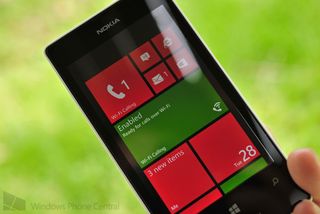 We've seen Wi-Fi calling in the past from carriers and it usually involves having a separate router-like device that you need to "rent" from your operator. The problem with that system, besides the extra cost, is it's not mobile so it only works at home (as opposed to a friend's house or your local Starbucks).
T-Mobile has a new Wi-Fi calling initiative and the low-cost Nokia Lumia 521 is the first Windows Phone to have the feature (the T-Mobile Lumia 925 will have it too at launch, and perhaps the Lumia 810 may get it with its Amber update later this summer).
So how is it? It's actually one of the coolest things we've used that has improved mobile connectivity. Sure, it making calls this way still counts towards your minutes, but it goes a long way in improving reception in certain cellular dead-zones.
By allowing you to make/receive phone calls and send text messages all over your existing data connection, T-Mobile has really upped the ante for competition. Since the service is on-board the phone, it also means wherever you have a Wi-Fi connection, you can make a call—home, your parent's place, a hotel, Starbucks—it doesn't matter.
Call quality is fantastic and the connection has no discernable delay. Over the weekend, we used the phone at a location with literally zero bars on T-Mobile resulting in a "no signal" status on the Phone tile. By utilizing the Wi-Fi calling feature, we all of a sudden had a fully functional cell phone again.
Users have three options, including Wi-Fi Preferred (makes calls over Wi-Fi, falls back to cellular), Cellular Preferred (makes calls over cellular, falls back to Wi-Fi) and the most interesting: Wi-Fi only. That last option means the device will only connect via Wi-Fi for phone calls and never via cellular.
We're very excited about using this feature on our Lumia 521 and we're even more thrilled with it coming to T-Mobile's Lumia 925 later this summer. It's a game changer for us in how we use our phone as it costs $0 to use or add to your plan (though you may need T-Mobile to configure your SIM).
Unfortunately, this feature is 100% dependent on carriers, meaning no, this won't roll out to other Lumias and it is not a Nokia feature per se. In other words, free Wi-Fi calling may be a new area for carrier competition and something to consider for your next purchase.
You can read more about T-Mobile's Wi-Fi calling here (opens in new tab) and make sure you watch our demo video of the service in action above. To enable Wi-Fi calling, users must have the latest firmware on their Lumia 521 and must do a hard-reset to install the necessary software.
Windows Central Newsletter
Get the best of Windows Central in your inbox, every day!
Daniel Rubino is the Editor-in-chief of Windows Central, head reviewer, podcast co-host, and analyst. He has been covering Microsoft since 2007 when this site was called WMExperts (and later Windows Phone Central). His interests include Windows, laptops, next-gen computing, and for some reason, watches. Before all this tech stuff, he worked on a Ph.D. in linguistics, watched people sleep (for medical purposes!), and ran the projectors at movie theaters because it was fun.
Cool feature that will definitely come handy.

Wouldn't mind using WiFi only option. Would save shitload of cash on minutes.

How much is a "shitload"? Lol

Around $30 at tmobile last I checked. In a year you'd save quite a bit of money, assuming you keep using your 521.


I think it still counts towards minutes, if I am not mistaken

Correct. It "only" improves reception. I may have not conveyed that enough in the article.

this is what is says on the page about wi fi calling --
There is no additional monthly charge to use the Wi-Fi Calling feature on your handset. Wi-Fi Calling uses monthly plan minutes for the following: Calls made from the US to international numbers (subject to international rates) Calls made from outside the US to US numbers (not charged roaming) Calls made from outside the US to international numbers (subject to international rates, but not charged roaming)
Note: You must disable Data Roaming when traveling internationally to avoid incurring data roaming charges. this would suggest that it does not use your plan minutes for US to US calling. by the way, I am not with T mo , so I don't have any personal experience.

Specoli says "alright dude"

nope it doesn't. Call customer service and if it is counting against your minutes tell them to modify that.

they recently changed WiFi calling along with their "Uncarrier" strategy. It USED to not count towards minutes, but it does now.

Their new uncarrier strategy includes unlimited minutes. So unlimited wi-fi calling doesn't make a lot of sense in that scenario anyway.

The plan is unlimited calling, text and data......so why does it matter?


If you have that plan it wouldn't matter, but the 521 is sold at Walmart with the $30 unlimited text/data and 100 minutes. So if you have the $30 plan and WiFi calling does count against your minutes then it would matter. I'm still not 100% sure if it does or doesn't count against your minutes. The way I remember it, if you were on a standard contract plan it didn't count against minutes, but if you were on pre-pay it did. But that was a while ago, and I didn't have a phone that could do wifi calling, so I never confirmed anything with T-Mobile.

The best solution for this is to use skype's voip service and phone #. It costs $60 a year, so that's $5 a month, which I think is a good price. It's easy to change caller id for outgoing calls. Since skype runs in background for wp8 any incoming calls will also come through. The main disadvantages are that calling contacts and dialing numbers must be made from the app and there is no way to dial directly from the people hub.

Great feature but I have unlimited talk/text/data plan here in US, however it will help to fill in spotty coverage of TMo's existing network. I plan to get the 925 when it comes out to upgrade my 3 yr old HD7...

+1 I've been stranded on the HD7 as well

That's very cool. It's a shame Verizon would never bring that feature to their phones... It would be very handy when outside the country for instance...

On the flip side I'll say Tmo will never give me data sense( even though Tmo my account app is broke on W8) and Verizon does offer data sense.

I saw a hands-on video of the 925 the other day, and when the guy scrolled through the app list Data Sense was there.

A firmware update was released to a handful of T-Mobile 8x users a couple of months ago that enabled wi-fi calling upon hard reset, but someone (not sure if it was T-Mobile, HTC, or MS) pulled the plug on it for whatever reason. I wasn't lucky enough to get the update, but I'm really hoping that they start pushing it out again because I'd love to be able to take advantage of the feature. The firmware revision number of the update was 1532.20.200010.531 (or something along those lines).

that's the one I was waiting on. dam, now I know.

Ugh, I hope they push that back out. I wasn't able to get it before. But I really want WiFi calling on my 8X.

Why do they push it then pull it off? Seems pretty idiotic. I do hope they push it out, but they also might not since they don't even sell WP 8x anymore. I'm sitting here with an 8x with other storage growing day by day, out of date firmware, I'm not sure if t-mobile is going to support their device.

I think it does. Just uses WiFi to help increase signal strength.

If I am on WiFi in another country any idea how the charge for a call back to the US will be computed? Is that international or domestic? Since it travels over the internet back to t-mobile servers it would seem to me that it could be domestic, but there may be some other rules in play on this.

Nope it's all free, both incoming and outgoing calls. Just use phone as normal.. Just ensure you set the WiFi calling feature to WiFi only so the phone won't try and look for a signal. I've used this feature in both Canada and China before with no charges at all.

Mystictrust,

When you used this feature in Canada and China, were you using the Tmobile SIM card or a card from a local service provider ?

Yes I was using my T-Mobile sim card. It wouldn't have been Wi-Fi calling if I wasn't. I was able to send and receive calls & texts as if my phone was still in the US with no extra charges.

I just did the chat with tmobile for this. The wifi calling saves you roaming but if you are in canada and call a local canadian number, I was told that this is viewed as an international call. So the no roaming savings is somewhat offset by the international calls. Having the international talk and text add on does not transfer for wifi calling
after speaking to the t mobile rep the wifi calling is most advantageous when calling back to the states when travelling abroad and not so good for what would be local calling in a foreign land.

Well yea, this was never billed as a way to make local international calls, just to make calls within the US (for weak reception). But of course it can also be used to send/receive calls and texts to/from the US. All Wi-Fi calling is doing is connecting to Wi-Fi and then popping up the signal on the closest T-Mobile tower - even if the closest tower is halfway around the world. Your phone is basically always in the US (or at least, T-Mobile will see it as such, since it is not roaming on any other carriers).
Google Voice has the cheapest international calling I know of, so you could actually call a Canadian number from within Canada using a google voice call using Wi-Fi calling and then it would still be cheap. Hmm, scratch that, calls to Canada are free using google voice (note: google voice is NOT voip). Either way, the same methods you may use to make cheap calls to other countries from within the US, also apply when outside the US.

Of course, Skype also has a feature that gives you a local number for the country you're in, so you can make cheap calls... but that's completely off the topic of Wi-Fi calling now. Because you'd be making those local calls using a local sim OR a local payphone. That and I don't know if it's cheaper than google voice.

I just wanted to point out the savings is not as great as I initially expected. Also the description of it " using your plan minutes" and the WiFi calling essentially tricking the network to think the call is originating in the US, if you had the international talk and text plan you don't pay. So if I call from Detroit to Toronto no long distance ( if I have ITT), if I call from Windsor to Toronto on WiFi there's no roaming but it is long distance. If the network thinks the call is coming from the Detroit ttower, I thought it would be covered by ITT but the answer is no.
I was planning on getting a data only canada Sim ( similicious) using my 4g mobile hotspot and two WiFi calling phones in order to keep our cell number so people in the US can call us and people in canada and we would only have to carry one phone. But it looks like we are going to go burner Sims in Canada as it will definitely be cheaper.
I still like the 521 and WiFi calling is a huge asset inside buildings where cell reception can be spotty.

Might be interesting to test with a carrier unlocked phone in another country, using a local cellphone provider's SIM card. Wonder if it still count against minutes on the local service provider's plan.

It'll only work with a T-MO SIM.
The only "free" calls are those that you'd normally make to US numbers from the US. Basically, WiFi calling while traveling internationally tricks your phone into thinking it's in the US. So use it like you would in the US. Calls from your phone via WiFi calling to a number in the country you're currently in will be billed just like you were in the US calling that number. It's great for saving on international roaming while making calls back to the US. It won't save you a dime on making calls to local numbers in the country you're visiting.

Is this availible on the 920 on EE in the uk? EE supposedly support wifi calling but never heard anything more about it.

Wish I had that right now. Been overseas for the last two months and my AT&T 920 is useless.

My mom purchased a new 521 at Walmart yesterday and I was surprised to find WiFi calling already installed. It's her first ever smartphone and she's loving it. She fits the demographic of this phone to a tee, which is awesome.

Just one thing that bothered me about this article: WiFi calling on T-Mobile has been around for over 3 years, it's just been confined to Android devices only (and Blackberry (plus one old Nokia device), though using the slightly different UMA tech for WiFi calls). I used WiFi calling for a trip to China in summer 2010 and made calls as if I was in the US.
Brand new to Windows Phone though, and it's about time!

U have to pay for minutes better off using Skype

Right. How about talk 100 min, unlimited data to 5g and 4.99 Skype to call anywhere using ur number. 35bucks plus tax with this device under that promo

Skype isa a completely different beast. Read the article. This is about using your phone as normal (incoming/outgoing calls, texts) when in low/no reception areas, as well as overseas, when connected to WiFi. With Skype, you're using the app on the phone, not the phone itself, and if your calling party doesn't have Skype then you have to pay Skype Out minutes anyway


"That's handy if you're on a limited plan, in another country or just don't want to use your minutes."
Not entirely true, if you have a limited plan like prepaid, Wi-Fi calls will deduct minutes. The "Free" is only for providing the Wi-Fi calling service (no monthly fee for using Wi-Fi calling feature). The minutes are deducted as if you call on their cellular network. It will only help if your cellular signal is too low to place or receive a call.


Just to clarify, since the article did made an error, this is what the FAQ on the T-Mobile website said:
There is no additional monthly charge to use the Wi-Fi Calling feature on your handset. Wi-Fi Calling uses monthly plan minutes for the following: Calls made from the US to international numbers (subject to international rates) Calls made from outside the US to US numbers (not charged roaming) Calls made from outside the US to international numbers (subject to international rates, but not charged roaming) It never said that minutes will be used for US to US calls

Does anyone know what happens if you're on a call over WiFi and then leave the house? Will the call automatically switch to cellular without dropping?

It does not switch to cellular and will drop. Only phones with UMA, an older hardware based solution, which was only available on phones such as the blackberry Curve and the old Nokia E73 Mode. Since then, they've implemented a less costly solution, and it doesn't pass off between WiFi and cellular like the old one.

I had to use this T-Mobile functionality on Android a while back when I couldn't get service at my house. Unless they've changed it recently, the call will drop when you leave Wi-fi service.

Yes I am curious of this as well.

BlackBerry and Android have enjoyed this feature for long enough. Finally, it's officially on Windows phone. I wonder if T-Mobile will eventually adopt SRVCC.....

It seems like that is their plan... but first, they'd need to upgrade their entire network footprint to have fast enough, and reliable enough data connection to route voice calls over cell data via IMS. Until that's the standard cellular voice path, SRVCC and call continuity cross data links won't happen.

I'm hoping they go that route, I mean it's probably a little ways off because they need to overhaul their network quite a bit in some areas but I feel as though that could potentially be a great way to differentiate themselves from the competition. Guess we'll have to find out the old fashioned way!

WiFi calling does not use minutes (which doesn't matter anymore as all postpaid plans are unlimited). However, the prepaid plans do not support it (at least currently last time I checked, as its a free feature that has to be added to postpaid accounts). Also works while roaming internationally at no cost.

Can anyone else confirm that Wifi calling doesn't work prepaid? It doesn't make sense, at least now, since T-mobile has moved heavily into pre-paid as part of their un-carrier scheme.

I have a 521 on a prepaid plan with no data and the wifi calling works great! I pay by the minute just as if I'm using cellular which is fine with me. I'm new to Windows phone and tmobile and right now very pleased with both.

What happens when you walk out of Wifi range while you are on a Wifi based call? There times I'm rushing to get somewhere and while I'm heading to my car outside I'm on the phone getting directions/info etc. Will it drop? Even if it did, I can see it being a great benefit to folks who have lousy signal indoors.

Your call will drop if you walk out of range. Great for stationary places though (WiFi hotspots at businesses, home, etc. in lousy signal areas). Also great if you are outside the country and want to use your phone without paying any extra. It's basically like having a home phone when you get back to wherever you're staying in whatever country you're in :)

There is an account option, or maybe used to be, that provides for unlimited wi-fi calling. Not sure on the availablitiy as it only shows up on a few of my lines:
Free Wi-Fi Calling
T-Mobile Free Wi-Fi Calling gives you unlimited Wi-Fi minutes, unlimited high speed data and when travelling internationally free calls back to the USA – all at no additional cost.
I can verify that it doesn't use minutes.

Same feature is available in UK through O2 ...TUGo .....but this is only available on Android and iOS not available on WPs yet.

I have a unlocked Rogers 920 on Tmo. I could really use this feature. I hope it comes.

It won't come to the 920 as T-Mobile never offered that phone. It would require some sort of firmware update and they've only ever sent an update to a phone not sold by them for the almighty iPhone (the massive network of unlocked iPhones). Yes, they sell them now, but they still sent out updates to all other iPhones on the network that didn't buy them directly from T-Mobile.
Only way it would come is if SOMEHOW Microsoft sent out an update to ALL Windows Phones with the bits necessary to make this happen. Seeing as how it's T-Mobile only, that soundss extremely unlikely.

Thanks for the article, Daniel. The 521 sounds like a very solid device.

Note that the WiFi Calling feature should have outstanding voice quality, as the device features AMR-WB support, which expands the frequency range over which the voice codec operates. Typically phones use wideband (WB) over WiFi, but the more efficient (lower quality) narrowband (NB) over the wide area cellular network.

Let me clear up a couple other misperceptions. Contrary to what was stated, WiFi Calling on T-Mobile never required a "separate router-like device;" rather, it simply required a supported device, a T-Mobile subscription with WiFi Calling enabled, and a WiFi router to which the device can authenticate. Very simple, and seamless.

Also, there is no "free WiFi calling plan." In order to use WiFi Calling, you need a T-Mobile subscription with WiFi Calling enabled, and a supported device such as the Lumia 521. The reason is that the call is routed from the WiFi router over the Internet to a gateway to the T-Mobile network. Therefore: no T-Mobile subscription = no WiFi Calling. But WiFi Calling is a free add-on to smartphone plans at 2GB or above.

Lastly, there is no handoff between WiFi-carried calls and cellular-carried calls. Switching between these networks will drop the call.

I believe Daniel was referring to AT&T's Microcell with the "separate router-like device" reference in the article.

Also, I never had any kind of WiFi add-on to my plan and I've used WiFi calling on Android just fine. Unless you need one specifically for Windows Phone or something... which would suck, since I'm on an old plan which doesn't offer that option (at least at my.tmobile.com it doesn't)

Planning on taking my unlocked Lumia 920 to Tmo soon, wonder if this will work on that device.

Note to people: The older, PRE-Uncarrier plans had free WiFi calling which did not affect minutes, and was unavailable to Prepaid. POST-Uncarrier plans now dedcut minutes with WiFi calling, and Wifi calling is supported upon Prepay plans. You dont need an added monthly fee for Wifi calling, as always, but it now uses plan minutes and texts.

Depending on how the carrier handles the backend handoff from WiFi operator network, this could be a neat feature to have if a natural disaster knocks out several cell towers in your area.

What about the 8X any love for the few of us who have this phone?

As if WiFi calling was a new feature.... T-Mobile has offered WiFi calling for half a decade. Microsoft was one of the first to support the capabilitiy...with Windows Mobile. When Windows Phone simply gets a feature that it's predecessor had for years...is that really progress?
Don't get me wrong, WiFi calling was the one missing feature that almost prevented me from getting a WP8 phone, so I'm very glad to see it restored. BTW, although WiFi calling is nice for houses with low signal strength, it's also a huge thing for international travellers. Instead of paying $3 / minute for international roaming, WiFi calling lets you use your minutes without roaming...that's what the WiFi only calling mode is for...so you don't accidentilly roam internationally.

+1 Had it on my G2x and switched it to "WiFi prefered" when I was on the road. You can roll into a cafe or truck stop and save some bucks.

Can it come to the 8x already like some lucky people got? It's been two months since the firmware update began rolling out and I still haven't gotten it. I'm tired of b*tching at their customer service reps online and over the phone who don't seem to know anything.

So does this keep wifi on all the time? If not how do you receive a call if the wifi is sleeping?

I'd like to know this as well.

Do you prefer WiFi prefered or cellular prefered?

Just wondering what happens when you go off wifi range while on call?

Do you mind enlightening us as to what exactly this is rather than being somewhat vague? The link adds nothing to your article than what we generically already know about wifi calling. Is it or is it not T-Mobile Wi-Fi calling or something altogether new?

I guess it's me but Wi-Fi Calling requires an internet connection solely independent of T-Mobile service, yes? So, I'm paying for two services for the use of one? The other benefits by me using not their bandwidth; kewl (not)!.

Word of caution: i put a SIM card that I bought on amazon (regular size SIM that has to be cut into a micro SIM) into my Lumia 521 and it didn't work. Not sure what the issue is - regular size = micro should work the same way. It did have an expiration date of July 2013, which means it probably came out a year or two ago; but like some said, wifi calling has been around for quite some time, so don't know if that has anything to do with it either. called the T-Mobile helpline, they suggested trying another SIM; i put in a new micro SIM and it worked after that.

screw this... give me a decent google voice app (that doesnt use cell minutes...ie..works like it should.) or full sip/gv integration and ill call who i want in the usa for free using wifi....even when out of the country.
international calls...tell your friends to use skype or some voip app...leaves the number of other international calls even smaller.



I am confused by this article. I have T-Mobile's prepaid plan. I started using my Nokia Lumia 521 on Feb. 25, 2014. I started making free WiFi calls son after. It was great; no minutes deducted. Near the beginning of May I started having trouble. I could no longer make WiFi calls at all. The app informed me, "No service available," despite being in the middle of a university campus with WiFi galore. For a week I tried changing settings, re-installing the WiFi app, and eventually resetting the phone. Still no WiFi service. After the second week I got WiFi calling back. I celebrated by talking to my brother for 126 minutes on May 16. After hanging up I looked at my account balance and found that I had $12.60 deducted. I called T-Mobile and after talking to a service rep, a technical rep, and then another service rep I was informed that T-Mobile was now CHARGING for WiFi calls for prepaid plans. I asked when was this charge initiated. I was told that it was always this way. I said, not from Feb. 25th to May 1st. The rep said, "Oh, the policy was changed on May 15." I asked why I, and presumably all other prepaid customers, had not been notified. The person said, "I do not know." This is hardly transparency. I asked for an adjustment for the $12.60 adjustment. The rep immediately did so. So I am not jumping for joy when reading this story. Less is not more.