T-Mobile Nokia Lumia 521 – Unboxing and First Impressions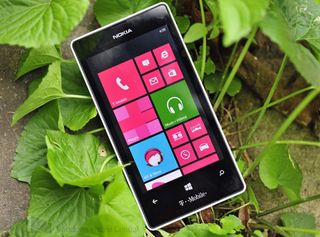 Another week, another unboxing and first impressions! If this didn't take so much work, we could get used to this many devices coming out (mostly from Nokia).
This week is the low-cost but high-value Lumia 521, T-Mobile svelte variant of the Lumia 520. The phone ranges from just $30 on T-Mo's "uncontract" to a still super cheap $150 with no strings attached. Do we really need to point out how crazy low that is for a brand spanking new Windows Phone 8 device in 2013?
Head past the break for some luscious shots of the 521 (if I can brag about my camera work) and our unboxing/hands on with the device, along with my initial thoughts.
At $150 flat, the Lumia 521 obviously has to cut some corners, which it does. But it does it in a "smart" way and still delivers a great user experience.
The specifications are:
Dual-core 1GHz Snapdragon CPU
4" IPS 800x480 Super-Sensitive Touch display
512MB of RAM
8GB of storage (4.61GB free)
microSD expansion
5MP rear camera
OS: Windows Phone 8, Build 10211
So what's missing? There's no NFC, no ClearBlack screen polarizer, the camera is not Carl Zeiss, there's no flash and no front facing camera.
You do still get the Super Sensitive Touch feature, allowing you to wear gloves and still operate the phone and let's not kid ourselves, a really nicely designed phone that you wouldn't be embarrassed to be seen with.
Performance is quite solid, even at 1GHz. Actually, we feel almost like Nokia has tweaked the responsiveness a bit compared to our Lumia 520 as it performs quite well. Sure there's a tad delay here and there, but it never gets frustrating.
Check for that update!
Recently we reported that there is a firmware update for the Lumia 521, bumping it to 1030.6409.1316. That update enabled the coveted Wi-Fi calling feature, which you can see in our video tour towards the end.
The thing is, in order to get Wi-Fi calling to show up you need to hard-reset the phone after the firmware update (something that is not explained to the end user). So the first thing you'll want to do after setting up this phone for the first time, is to install the firmware update, hard-reset and re-set it up.
It's unfortunate that one has to do that but we imagine future devices coming off of the assembly line will have this pre-installed.
Full review coming up
Our review's editor George Ponder also has a Lumia 521, which he'll review early next week (I need to focus on that Lumia 928 and 720 review). For now, you can ask any questions in comments and we'll try to answer. You can also head to our Lumia 521 forum for further discussion!
Windows Central Newsletter
Get the best of Windows Central in your inbox, every day!
Daniel Rubino is the Editor-in-chief of Windows Central, head reviewer, podcast co-host, and analyst. He has been covering Microsoft since 2007 when this site was called WMExperts (and later Windows Phone Central). His interests include Windows, laptops, next-gen computing, and for some reason, watches. Before all this tech stuff, he worked on a Ph.D. in linguistics, watched people sleep (for medical purposes!), and ran the projectors at movie theaters because it was fun.
I love my Lumia 521. Im trying out Tmo for a couple months and wanted to see what WP8 was like. I've enjoyed it so much I switched this week from Mac to Windows 8 and will get a high end WP8 device on Tmo or Sprint, who I currently have.
I believe this phone is doing what it set out to do, allow people to try WP8.

How much money you save after 2 years with this phone compared to high end phone? Can you get cheaper plan with this phone? Yeah, I'm not American. Just curious.

a $50 plan will cost you $1,200 over the course of 2 years. A high end phone will cost you anywhere from twice that to three times that. A savings of 50% ($2,400 for a premium phone) is a fair average. Pretty significant as long as you have signal.

welcome to the Windows family :) Hope you are enjoying it. I am now as deep as I can be in the Microsoft ecosystems (surface pro, Windows 8 pc, lumia 920 and xbox 360) and i'm loving it.

wery intresting how mutch pieces is sold this model ?

Fuck I wish they had this for att I want a small phone

Our store sold out yesterday. We got 30 on Wednesday.

Same here; we got around a hundred though (Nebraska furnature mart. I work here on the week ends helping move boxes and taking inventory).

I would like Nokia to include WiFi calling feature to all Lumia line.

I'm pretty sure it's not their decision but rather, you know, the carrier's ;)

Here in Belgium the carriers have nothing to say, i think it would be possible here ...

Greetzz.

I believe the only place on Earth where carriers have something to say are the United States. Aparently, there carriers have the first and last word on everything since mobile comunications are really messed up in United States.
Here in Portugal, carriers have nothing to say either. They don't even print their logo in the phones anymore (like that T-Mobile logo in the front of the 521) and sell almost every phone in the original brand box. It's like buying a unlocked phone but there is a carrier 4G Micro-SIM (we have LTE for almost two years :D) and carrier quick-guide inside the box, the barcode in the box has the carrier and brand name (instead of brand only) and the phone is carrier locked (exept in some cases when they don't even bother to lock the phone to the network).
Almost everyone here have pre-paid plans so carriers have to compete very hard. I believe we have some of the best plans in the world. For example 7.5€/month = Unlimited SMS to all carriers + 0.22€/minute calls to all carriers + Unlimited calls for numbers with the same plan + 150Mb data (option: +10€/month = +1Gb data).
No contract plans mean there are no free or 99$ phones for everyone like in United States and that is why Nokia and Windows Phone have chance here. We are the oposite of the United States.

Wow i did not know there was already 4G in Portugal, here in belgium, the carrier Proximus is since a month ago rolling out the first 4G network in Belgium, to bad my carrier is Base... here my montly plan is called Base Check, 15 euro per month (on contract but i can stop whenever i want) and i have 120 minutes to everybody, 1 GB data and unlimited messages.
Here in Belgium it don't excist to buy a phone only for one carrier, all phones here are unlocked, i have a Lumia 920 Cyan, buyed from amazon.de becouse the phone is not available in the Cyan color here in Belgium, i'm so excited that the phone is 4G ready, so whenever Base (my carrier) starts to rollout 4G due to competition somewhere this year, i will be able to surf the web at 4G speeds.
I am happy that the situation here in Belgium is not like the United States, i would never buy a phone with a carrier branded logo ... it makes the phone ugly in my opinion.

Greetzz.

First, we've had LTE for 3 years, and 4G of some kind for 5 years. Secondly, the phones without carrier lock are about $450 - $700. For AT&T and Verizon, the plan rate does not change whether you are on contract or not....that is only T-Mobile. So, in this case, you are going to pay the same either way...but we get our phones for $100 bucks.
In addition, Portugal is about 1/30th the size of the US. It's a little easier and to have things like nationwide HSR, 4G network implementation, and the like.
Finally, if I had a data cap (both my plans are grandfathered in for unlimited data from AT&T), the cap is 2-3GB, not 1, with the same cost for overage. The 3GB plan from AT&T is US$25. they still nail you with the texting and voice servcies, but let's get it right, please.
Whoever said a premium phone goes for $2400 by the way is insane. The newest S GIV is $700 unlocked.

I believe it's reliant on the carrier.

Darn! Daniel beat me by 13 seconds. :P

That said it has been confirmed for the 925 on tmo

Will this do anything without a sim? Can you try using Nokia turn by turn navigation without a sim?

That works without a SIM.

As long as you have the maps downloaded it should work.

I expect it'll work fine without a SIM, so long as you've already downloaded the maps via WiFi for offline use. You'll just get a warning when you boot up the phone about there not being a SIM present.

Sold out at Walmart and Microsoft Store. This may be a hit! Thankfully I got one ordered for my father in law and just waiting on Walmart ship to store.

I just picked up a 521 two days ago and I'm loving it. This phone with the $30/month T-mobile plan is such an amazing value compared to most other smartphone/plan bundles. If you have friends/family with good TMO coverage who haven't made the smartphone leap yet because of expense this is perfect for them... go... tell them now. I'll wait.

Wife got hers yesterday, put it on the charger for a few hours, won't turn on now. Guess its going back to Walmart.

Did you pull the battery?

Yea I tried it all, reset tricks, battery pull, etc. We're going to exchange it as its a really nice phone for the money.

Phone is not available.. .sold out... you can only return.

Some stores have them in stock, theres about 15 stores in my area, worst case we return and they ship a new one.

Do they ship it directly to your house?

Nah, here's what happened, Walmart took it back in store, and said they wouldn't exchange it, just return it, then said that they are unable to refund the $15 insurance plan she bought for the phone. So we took the money and booked it out of there in disgust, she still has her Blackberry for now, we're just going to goto Tmobile when the time is right.

So they wouldn't even do you the favor of just shipping you a new unit once they had more in stock? I would have done the same!
Still waiting on the 925 to get to T-Mobile though. Though that 521 is pretty enticing!

I believe this has been asked somewhere, but I didn't see mention of it here - What AT&T data speeds can you get if you buy this unlocked? I'm debating trying to get a device like this for my dad and see what kind of MVNO deals I can find for him. (I'd love to Straight Talk it and get one of those $220 for 6 month cards off Amazon but it sure is tough to find an AT&T friendly ST sim these days....)

We'll follow up on that in the review but I'm not sure you can buy the 521 unlocked. You can get a 520, in which case you'll get Edge and HSPA speeds, but that's about it.

Daniel, If i get 520, will I get 3G in Tmobile?

No, Edge. Maybe HSPA once in awhile.

Actually, T-Mobile's reform, depending on where you are, should see you get at least 3G speeds. AT&T IPhone 4 and 4s both see 3G on Tmo as do many other AT&T devices.

T-Mobile will unlock it for you after 7 days if you buy it for full retail price or 7 days after you finish paying the phone off.

I had a Lumia 521 for a couple of weeks and ended up returning it. Its a great low cost device, but in the short time I had it it consistently locked up and required a battery pull.
I had purchased it to unlock it and use it on AT&T. Tmo will not unlock it until you purchase $50.01 in refills in that device and are a customer for sixty days. For me, the cost wasn't a value then. $140 (with taxes) + $60 in refills + my time (60 days before it could be unlocked, and I was better off buying a used Lumia 920 off Craigslist. Only cost $225 for one in EXCELLENT condition.




Same situation for me. I liked the 521 while I was using it on WiFi, but if you're on AT&T there's nothing here for you. Good deals on 920's to be had on Craigslist. I ended up with like-new phone for $185.

No flash? I think i'd honestly want a flash over super sensitive touch....

Headed to a local TMo store first thing 05/22/13. They had 3 in stock, 1 was faulty so I bought out 1 of the 2 working ones (half of their sellable inventory!!). The store clerk told me $149.99 is only if I signed up for a TMo plan right there. I planned to order an activation kit off Amazon and then get the $30 Wal-Mart plan, so I didn't want to sign up. He said without a plan he had to sell the phone to me for $179.99 completely no strings attached. Not happy, but what the heck, if the $30 Wal-Mart plan worked then I'll save that money back in a month and half. I haven't had time to turn the phone on yet, and my activation SIM from Amazon hasn't arrived yet.

Would the 521 work on other US networks (Verizon, AT&T, etc)?

I was reading reviews on the nokia 521 and I was quite impressed. I found one, yes only one, available at my local walmart. I went in and purchased it for $129.99, $140 after taxes. I went to switch my sim out of my HTC HD7 when I realized that the new phones use a micro sim. I went to tmobile and they switched everything over for me for free. I was worried about only having 8gigs of space available, but I was able to download all my apps and games I used in windows phone 7.8 over to windows phone 8. I was worried Id lose a lot of games because of the 512mb ram, but I only lost one game which is SId Meir's Pirates. It says the version isn't available for my phone. Everytthing seems pretty quick and zippy. And the fact I was used to to windows phone already made me feel at home real quick. Going from a 4.3" to a 4" sucked a little. The keyboard is a little bit smaller on the screen, but the games and even netflix look great on the screen. Setting the screen brightness on auto makes the screen hard to see especially if you're outside. I recommend running on medium. It uses a little more power, but its easier to see outside. The speaker is EXTREMELY loud. A lot of games I have to set the volume pretty low. but I'm cool about that. All the buttons are on the right side. They buttons do seem a little cheaply made, and sometimes you have to grip the phone just right to get the buttons to work. Considering that I used my camera lot on my HTC HD7 without the on, I didn't miss that. It does take good pictures though. The only thing I don't like is the white plastic outter shell. Considering how new the phone is I couldn't find a case for it. I work in the tire industry so my white case has gotten dirty VERY fast. :p It's a downgrade/upgrade from my HTC HD7, I needed a new phone right away and wanted to stay with tmobile. So I got a really good phone for $140 and the best part is I didn't have to sign a new contract! So in September when my contract is up I'm going to go for the Nokia 925!

Congratz with your new phone ! Enjoy Windows Phone 8! As you say that you are gonna buy the 925, i have the 920, EU version, you are gonna love it! you can see a speed difference for sure! not that mutch but i'ts nice. Overall, best of luck with ya new phone! Greetzz.

There are a couple of cases for it on the T-Mobile website.

BTW, the Lumia 521 is slightly taller than the 520.. I bought the yellow back cover for the 520, and it didn't fit the 521.. lol

Thanks for the heads up, I was planning on getting cyan and the yellow 520 back covers to match my Lumia 920 yellow and 900 cyan. I can't overemphasize how freaking awesome this phone is. I had been using my HTC Radar and Lumia 710 as a hotspot devices to my 920 and the best data speed I ever got was 6mb/s but the 521 is getting me an average of 14mb/s in that same vicinity(Eastside Columbus, OH).

Love my 521! Really solid phone for a great price, highly recommended!

DANIEL WE ARE ALL WAITING FOR THE LUMIA 928 REVIEW THAT YOU SAID YOU WOULD POST ON WEDNESDAY "AT THE LATEST" WTF HAPPENED!!!!!!!!!!?

OMG I HAVE TO RUN A WHOLE SITE AND DO OTHER THINGS LIKE FIRST IMPRESSION VIDEOS. Relax.

That made me laugh. Thanks.

Ha sorry for the exaggerated style, I just wanted to make sure it was still in the works and that I was not crazy lol. Gahd I love your sassy response style. Keep up the good work :)

Take a number. 928 comes after 720. Maybe...hopefully.

Other than dimensions, are there any spec differences between the 520 and 521?

I am so glad they made their TMO branding subtle. Jeebus Crust! Really not the best location for it either. I have a feeling my 925 will be just as bad.
Other than that, not too bad really for an entry level phone at that price point.

This phone would have been perfect for my techphobic g/f. The lack of camera flash however is probably a deal breaker. I think that may have been a short sighted decision by Nokia, I think cameras are going to be a priority for the types of customers this would likely be targeted at.

Most camera flashes on lower price phones suck. I don't miss it at all. With a little editing and enhancement, my lower light shots look as good as most cell phone shots using the built in flash coming from similar priced devices. And I respectively disagree with your last statement. I don't believe cameras are at all the priority for peolple wanting or buying this device. The ability to use less expensive non contract/pre-paid type plans with this device is probably a little more important.

I picked up this device when it was first offered on HSN so I've had a chance to tool around with it for a couple of weeks. I've found it to be a fun and capable device. Yeah, it's not a high-end device and yeah it has limitations and yeah it's lacking a few features. But at the price it is selling for, it's very hard to beat. Power users and phone snobs will no doubt turn their noses up at the 521 as well they should. It's probably not the device for them. But for others like me, and there's more than a few of us out there who don't sleep with their phone, give it it's own pillow, tell it bedtime stories and more importantly do not want or need to shell out $500+ dollars for a phone, the Lumia 521 represents fantastic value for the money spent on it. It's got alot of good stuff packed under it's $150 hood!


I have a question. I see this phone costing $220 on Amazon. Is it Sim unlocked? I live in Peru and want to buy a budget WP8 device to user there and around Europe.

The Lumia 521 is TMobile restricted, sold with no contract but tied to their service. For $220 on Amazon, the price is inflated -- the most I've seen the Lumia 521 is $150. But because it is a TMobile exclusive, it is locked. Because I'm in the US, and on a GSM carrier (AT&T), I bought on on eBay for $150 and plan to pay $5-$10 to have it unlocked via a 3rd party service (since I'm not a TMobile customer). That is a possibility for you, but I'd suggest getting the international version, the 520, which is unlocked -- $220 on eBay and elsewhere. You could also opt for the 620, also $220 on eBay. Really, the 620 looks like a better deal at the $200+ pricepoint. And being international, it'll be unlocked and GSM so you shouldn't have any problems abroad.

Thank you very much for the extensive reply. It helped me make a better decision.

I got two of these on Wednesday. Moved the numbers from StraightTalk to T-Mobile. Both already had the wifi calling instaleld. The packaging was not the "retail" pack but more like the boxed phones you get from ATT. These replaced the original samsung focus and so far the wife and kid love them. I have one more phone to move from StraightTalk and I definatly will be buying another one of these. My final phone I plan to move is my 900 from ATT but I will just move it over without buying until the 925 appears on their network. With T-Mobile's 80+30+10+10 plan I will be saving about 100 a month over what I had at ATT.

Those are fantastic savings, and if you have a good T-Mobile network in your area that seals the deal. Congrats, as a small Nokia shareholder and big Nokia supporter I am happy to hear.

Still waiting for the 720 review Dan :(

What is the expiration date for the Nokia Lumia 521 special with the Bing/Google Survey?

I have a window phone 8 an believe me I'm trying to get another phone cause even the games are wacked an it won't accept other appbs that are good

Okay, so I am planning on switching from Android to Windows, within the next few weeks, with the 521 as a sample. A welcoming, if you prefer. And I know what most lumia's are capable of, including different colored back housings. Unfortunately, no back housings for the 521. I know that they are available for the 520, so whould I be able to use one for a 521? If not, does anybody know when they will be available for the 521?

I went to Microsoft store in Mission Viejo and was informed that although the NOKIA 521 is "Non Contract" phone for $150 or about, it has one limitation - It CAN NOT BE UNLOCKED. Thus, we are at mercy at T Mobile whether they will "Unlock the phone even if it is bought on No Contact basis". I have bought earlier T Mobile SAMSUNG T249 phone without any contract by fully paying $29.90 cost. Since I travel a lot overseas, I wanted to have it "unlocked" by T Mobile. I sent an email providing complete information. T MOBILE simply does not reply. My Phone even after full cost paid for is still "UNLOCKED". I was told by MICROSOFT staff, that if we really want NOKIA Truly Unlocked and No Contact phone, we should opt for NOKIA 520 which is sold online and reportedly priced at Euro 129 (almost same as US price of $150 sold by Microsoft. BEWARE OF SUCH STUNTS BY T MOBILE. It is said that "BUYERS BEWARE"

Can the Nokia Lumia 521 work outside of the USA if the sim card is changed?