Microsoft overhauls its Image Composite Editor for Windows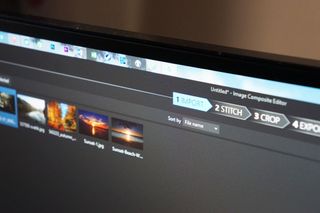 The Image Composite Editor (ICE) is Microsoft Research's advanced panoramic image stitcher for Windows, which has been overhauled to version 2.0. Importing a number of overlapping photographs from a single scene will enable the app to create a seamless high-resolution panorama. Think of this as a suite to create similar magic as the Windows Phone panoramic feature.
What's more is the app also supports videos too, creating a panorama from a panning video. Once completed, the end results can be shared and viewed in 3D on the Photosynth website. A variety of image formats are supported for added compatibility peace of mind.
Note that you'll need to use photos from the same scene. The app simply will not work with images taken from different scenes (as highlighted in the above photo). The first handful of images selected on our screen are identical and could produce a sweet panorama.
Some of the features we've covered are part of the version 2.0 overhaul, which introduced a new automatic image completion feature, filling in the missing pixels when creating a panorama.
Head to Microsoft's website (linked below) for more details and to download.
Source: Microsoft (opens in new tab); thanks, Sarang D., for the tip!
Rich Edmonds is Senior Editor of PC hardware at Windows Central, covering everything related to PC components and NAS. He's been involved in technology for more than a decade and knows a thing or two about the magic inside a PC chassis. You can follow him over on Twitter at @RichEdmonds.
I love this software a loooot,, i used some other softwares with same functionality some of them were paid. but nothing is close to it.. happy to see an update

Sometimes i using AutoPano Pro and sometimes - MS ICE. Don't know yet, what they did in 2.0 version, but previous 2-3 years old version were better than professional tool in half of cases

Seriously though, anyone else notice that taskbar at the too there? I hate it like that.. Plehh!

And this is a Windows app?

Yes, not a Windows Phone app, but a Windows app.

It's a windows desktop app

I had this program on windows 7

Wish they make it an app. Could use it to stitch shots from my camera right on my surface rt.

Get used to it. Times are changing.

Most everyday programs like Office and browsers have their buttons is in the top, why should I go across the screen for the taskbar? Taskbar in the bottom is so Windows 95.

You can move the taskbar to whatever you want it to be

So, can I move horizontally through the scene, example crab walking down the sidewalk, or do I have to pivot like all the apps on the phone?

Awesome news! I've used this program numerous times to stitch together photos. Really nice about giving you different preview options and settings to change to get the best panoramas.

Why not improve the Photosynth application that is already there. One of the best stitching application to 3D being neglected

Actually this program was already there before, photosynth.

how 'bout an update to lumia panorama? app is too difficult to use.

Or simply rebrand photosynth to Lumia Panorama

That will make it exclusive for Lumias.
Lumia panorama looks simple, I think it needs a better algorithms

Might have included for PHOTOSYNTH

I.c.e is an amazing program if you haven't already tried it out. Interested in seeing the changes

I use ICE a lot. Microsoft does not show it in their list of Export options screen capture but I assume it still has the ablity to export to a local file?

played with this before, but this version seems AMAZING! testing now!

ran it with some images tht i used with the previous version. Output is SOOOOOO much better. Auto complete seems a bit hit and miss (it got most of my image right, until the power lines), but overall, I like it! The ONLY issue i have is that on my SP2, if i keep the windows start bar on the bottom, i cannot get to the "upload to photosynth" button. so i have to either move it OR rotate the screen and slide the app over.

I've been using ICE for years. Will check this out.

If I open a video (just about a minute length) nothing happens. If I try to close the app it asks me if I want to save the changes. But I can't click any button. Need to close it with the task manager. :(

I have used ICE Before it's a nice app for make panoramic images

I use the older version all the time, as it was much quicker than using Photoshop. Now it just got more awesome sauce!

Have been using ICE over the last year a lot. This version is a lot faster and I like the interface better. What I miss is that it is not inserting Gpano properties for upload to Google Maps Views. But, my soon to receive 360Cam will. :-)

I.C.E. is a better panorama application than anything we see on our phones. This is a top notch utility. Been wanting an update to this for years.

Would be nice to see those algorithms come to a WP panorama feature in the camera app, including the ability to just pan across a scene without needing to take multiple shots.

Very nice! I've been using this to make very large panoramas together with my 1020.

This progrom is even better than auto-mode in PS.

This is amazing software, leagues ahead of most commercial competitors, and it's free! Incredible.
Windows Central Newsletter
Get the best of Windows Central in in your inbox, every day!
Thank you for signing up to Windows Central. You will receive a verification email shortly.
There was a problem. Please refresh the page and try again.