Microsoft partners with Realmadrid foundation to bring youths closer to technology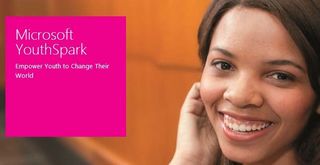 Earlier today, Microsoft and the Realmadrid Foundation commenced an endeavor for social projects in Latin America and the Caribbean by way of pen and paper. The recently signed agreement focuses on bringing software and cash donations to Argentina, Brazil, Colombia, Ecuador, and Mexico. In addition, Microsoft will provide hundreds of millions of young people with their YouthSpark program's resources.
YouthSpark is an initiate to create opportunities for youth around the world. The program partners with governments, nonprofits, and businesses to "empower youth to imagine and realize their full potential by connecting them with greater education, employment, and entrepreneurship opportunities." Some of the program's most well-known projects include Imagine Cup, a student technology competition, and DreamSpark, a program that grants students access to Microsoft Software and Development tools free of charge.
Microsoft's efforts with the Realmadrid Foundation will bring young people into closer contact with technology and will attempt to help them complete their current education while opening opportunities for employment in the future. The foundation itself has more than 110 schools in which Microsoft will offer their software and content. Over the last ten years, more than 20,000 children have been educated through sports including soccer and basketball.
Orlando Ayala, chairman of Emerging Markets at Microsoft, stated that Microsoft is:
The unemployment rate in Latin American and the surrounding area is close to 200 million people under the age of 30. Microsoft's YouthSpark program has already donated over $1.5 million in cash to non-profit organizations in the area and today's commitment signals that Microsoft isn't backing out on helping any time soon.
What are your thoughts on large corporations helping those in need?
Source: Microsoft News Center (opens in new tab)
Windows Central Newsletter
Get the best of Windows Central in your inbox, every day!
This is the most WP less news day ever! Lol!.. I guess everyone needs a day off from time to time.. I'm sure tomorrow it's gonna be back to business as usual!!

Some people here do not get it. This is about people and all this guy cares about with it is WP news or not, You are educated welll done, there are lots of people out there who are not. Well done Microsoft is what you should be saying.
Keep on topic guys, i am sure there are forums to speak about Internet explorers.

But M$ is the bad guy. I don't understand. IE sucks.

Have you even used it lately? It runs pretty damn good now, better than firefox, close to chrome.


Yeah, IE 10 actually out runs Firefox more than 400 points, and Firefox's memory usage is crazy!

Just for the lolz keep calm haha I use IE10 as my main browser. It wasn't supposed to look serious haha

I thought it was Real Madrid FC lol

The RealMadrid Foundation is part of the FC

I think the bigger the corporation the bigger its duty towards society. It's good Microsoft does this (though I think it's more due to Bill Gates influence than because their CEOs truly want).
But there you have it. Microsoft helps people in need...Apple avoids taxes and Google pays visits to North Korea.

Microsoft has always been a big charitable donor, both money and tools. Google and Apple are not even in the same league. It is one of the many reasons I support them over the other two.

Same here, love the stuff the Bill & Melinda Gates Foundation does, and what Microsoft as acompanu does in these regards as well

So...nothing to do with the football team? *moves on*

Hi everyone! Need HELP! The uploaded photos DON'T receive ANY likes only from friends, but the tags are written. Have anyone dealed with such issue??? How can I fix it? There is no support email at the app, only feedback.

Any Microsoft youth program in India (Assam)

BEST Football Club in the world partners with BEST software company in the world
Real Madrid CF & Microsoft

Just one litlle thing, the country is Colombia, no Columbia, Columbia is the university. :)

+1000000000000000 people always confuse them :/

Youths! What is Youth then?

Youths in plural means young people. Youth means either a single young person or the abstract idea of young age.

oh great! so im receiving stuff from microsoft and realmadrid foundation! coudnt be more happier :D