Microsoft pauses PAC contributions to political causes following Capitol Hill attacks
Microsoft employees criticized the companies political donations, and now the company is pausing contributions.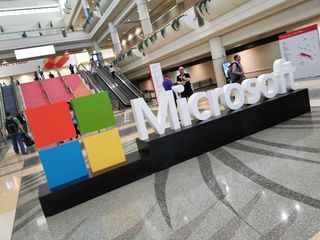 (Image credit: Daniel Rubino / Windows Central)
What you need to know
Microsoft will pause political contributions from its MSPAC following the siege on the U.S. Capitol.
Microsoft's contributions came under fire from Microsoft employees recently.
Microsoft President Brad Smith recently spoke about the peaceful transition of power on Twitter.
Microsoft donated to several politicians that opposed the certification of President-elect Joe Biden.
Microsoft will pause political contributions from its Microsoft Political Action Committee (MSPAC). The pause is in response to the recent Capitol Hill attacks that occurred while the U.S. Congress was certifying the Electoral College results of the 2020 presidential election (via CNBC).
The MSPAC came under fire from some Microsoft employees recently. After Microsoft president Brad Smith discussed the peaceful transition of power on Twitter, Jake Friedman and other Microsoft employees highlighted that the MSPAC has donated to politicians that voted against the certification of the recent presidential election.
Not good enough. Let's ensure we're not supporting any of the groups that would attempt to overthrow the lawful government. Time for MSPAC to go. Time to promise we will not do business with these individuals or their campaigns, as well.Not good enough. Let's ensure we're not supporting any of the groups that would attempt to overthrow the lawful government. Time for MSPAC to go. Time to promise we will not do business with these individuals or their campaigns, as well.— Matt Snider (@MattSnider) January 11, 2021January 11, 2021
As highlighted by CNBC, data from the Federal Election Commission shows that the MSPAC donated to the elections of Sen. Ted Cruz in 2018 and Sen. Josh Hawley of Missouri in 2016. Both of those politicians opposed certifying the Electoral College votes of President-elect Joe Biden.
Microsoft normally pauses contributions during the first quarter of a new U.S. Congress, but this particular pause is also related to recent events.
Windows Central Newsletter
Get the best of Windows Central in your inbox, every day!
News Writer and apps editor
Sean Endicott brings nearly a decade of experience covering Microsoft and Windows news to Windows Central. He joined our team in 2017 as an app reviewer and now heads up our day-to-day news coverage. If you have a news tip or an app to review, hit him up at sean.endicott@futurenet.com (opens in new tab).
So will they also stop donations to the ones that challenged the results back in 2016? Or the ones that challenged back in 2004?

They're stopping all donations period.

The ones in 2004 and 2016 didn't attack the Capitol and 5 people didn't die. Also, the losing candidates those years weren't the ones egging them on and - imagine this - actually conceded, and quickly, like in a functioning democracy.

The falsehood that it is a democracy.... 🙄 Instead, they supported people who burned down cities. I'd say what happened last week was party favor vs the dynamite that has been used and encouraged by the left for nearly the past year. Hypocrites, every one of you.

Folks, make no mistake: Every instance of this both-sides, false equivalence, whataboutism is a lazy, but often effective effort to deflect responsibility, not an intellectually honest position. Dig just a few millimeters deep and you'll discover: (1) Zero cities burned down, (2) the almost infinitesimal fraction of 1% out of millions of protesters who committed acts of vandalism were acting spontaneously and alone or in tiny groups that had neither the support nor foreknowledge of even their neighbors, let alone local, state or national politicians, and (3) the purposely vague and mythical "they" evaporates into delusional smoke when you discover (by directly asking people, surveys and observing their actions) the so-called "left" (citizens and politicians) are virtually universal in their opposition to vandalism and other forms of violence as a solution to our problems.

Cries of "whataboutism" are the frustrated reactions of people being held to the unfair standards they impose on others. Sure, let's compare a single-day, single location "riot" to *six months* of multi-city looting, rioting, burning, and murder. Hmmm… You're right. They really aren't equivalent. Just because CNN doesn't report it doesn't mean that many lives weren't ruined in those immensely destructive riots. They were, and no one on the left cares either out of ignorance or fear of being called a heretic. (Ha ha, jk, they'd be called "racist".) All of this because George Floyd's drug overdose was deliberately inflamed by the same media wringing their hands over an "armed insurrection" comprised of people with no weapons and that left it's "occupied" territory simply because they were asked to. Now the virtue-signaling corporate censors are in full force, destroying companies like Parler and feeling oh so righteous about it. I think they call themselves Smart Tech Acting for a Safe Internet, or STASI for short.

The 2016 losing candidate Hilary Clinton conceded the election, B Sanders supporters (4 of them) attempted said shenanigan. It failed woefully with democrats ratifying Trump's win without swaying or threatening Joe Biden (Who presided that count), deaths and bunning the Capital down.
So, do a good comparison and not bad equivalency.
"https://www.politico.com/story/2016/11/democrats-electoral-college-faith...

Please, capital hill attacks, the police practically escorted people into the building.

Based on video evidence, you are correct.

Yea, that was a large scale failure.

True, but on the other hand, many Capitol Police risked their lives to protect life, maintain order and uphold the law. Those who aided and abetted the insurrection are now being rooted out, will be removed (in some cases have already resigned) and hopefully prosecuted.

Finally, big tech are siding with sanity and sense. It is a shame it had to cost lives, and not only the symbolism of an attack against the democratic legislative branch by coercion from the executive branch, for people to see the madness that has been enabled during these past 4 years. Now everyone is ashamed and abhorred. Did someone expect something different than what happened? It is time for fanatics to stop and see the big picture. It is time from true American patriots to say "this is not right and we took it to the extreme, too far". The world is watching and there will be consequences!

I wonder if they will stop donations to those who supported the storming of the U.S. Supreme Court and the Senate during and after the Justice Kavanaugh confirmation. It should have been a peaceful transition of power for the judiciary.

Sounds like you don't know the difference between peaceful, lawful protest and an armed, violent incursion. I suspect your ignorance is highly selective.

See my post below. It appears your ignorance rises to a higher level.

I must have missed the news that armed leftists stormed the Supreme Court, took control of the building, desecrated it, and stalked it's halls hunting for justices to kill. News cycle must have had too much going on that day.........

You just have to search the internet. CNN has a video of protesters trying to break down the door to the U.S. Supreme Court. The police successfully was able to push back the protesters. Your ignorance does not mean that the event did not occur.

So weak! MSFT should cease donating to Republicans, since they're the party of insurrectionists and traitors. Democrats didn't do anything wrong. More false equivalency. Really shameful.