Microsoft's paying more than $100 million for the Sunrise calendar app for iOS and Android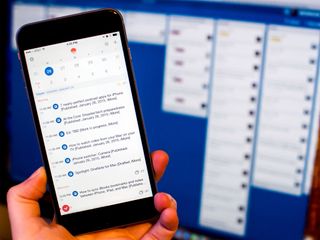 Sunrise calendar is getting snapped up by Microsoft for "at least $100 million." The calendar app, which integrates sources diverse as Google Calendar and Trello project management and is available on Android, iOS, OS X, and the web, has carved out a niche for itself on the devices of many users.
According to TechCrunch, Microsoft's plans for Sunrise are varied:
Acompli recently relaunched as Outlook on iOS and Android, offering a fully-functional email client that stands toe-to-toe with Apple's and Google's. It might not even be a long time before we see what Microsoft has in store for Sunrise — they bought Acompli just back in December 2014.
Here's a quick look at what Sunrise does — though we have no word if Microsoft plans to bring the app or any of its features to Windows or Windows Phone:
Source: TechCrunch
Derek Kessler is Special Projects Manager for Mobile Nations. He's been writing about tech since 2009, has far more phones than is considered humane, still carries a torch for Palm, and got a Tesla because it was the biggest gadget he could find. You can follow him on Twitter at @derekakessler.
Why...why dont we have that Outlook app?

Because we'll have even better in Windows 10.

yeah, one year from now. how comforting...

There's no explanation as to why we don't get the outlook app. We should've had it before ios android. We just have the basic built-in app. There's a whole entire year until w10 for phones arrives. That's too much time in the smartphone business.

because it comes with W10 and i suspect it needs W10 to work properly on WP. Its a universal app for us. Get insider program and you wont have to wait a year.

technical preview is not a solution, I have it in my Surface Pro, and if the phone one is half as buggy it's still unusable as a main device. with the flexibility of the PC I can get by, but on my only phone there's no way I'm installing it right away

I'm not having any issues with windows 10 on my sp3, it's working just fine

I agree with you, it runs on my secondary stationary PC, interesting but absolutely not usable in the early version these days.

I've been running it for about a month now on my only (desktop) computer and the only significant bug (taskbar and start menu gradually broke down over 2-3 days from boot until they were totally unusable) was fixed in the update couple of weeks ago. I've actually been surprised how well it's working. I bet it wasn't like that when it first launched. As for the phone, I'm going to wait a day or two to see what others are experiencing with it before jumping aboard.

Sounds like your having a pebkac error ​

Because the emailing and messaging "app" wasn't an app at that time. It still isn't. That's a huge change being made in Windows 10. All these little "apps" will actually be apps. And not baked into the OS requiring a whole OS update to fix a messaging issue, or add a new feature. Everything can be updated on its own, resulting in much quicker development and better quality

I know, but couldn't there be a parallel app in the site while we wait? funny how Nokia could update "system" apps in the settings via store.

You said it all. "Nokia". Well, Nokia is no longer in charge of their ex-Lumia phones. So...thank Microsoft Mobile for everything ;)

They bought the IOS and Android apps, so they're available now. Since the companion WP / Win8 app did not exist, we need to wait until it's made and perfected. What is so complicated about that?

I just checked those out. None of the manufacturer settings open instantly as compared to the OS apps. Which leads me to believe that they are apps just like any other app that happen to live in settings.

And this is the downfall of windows phone.

You know, I remember something similar being said when we transitioned from WP7 to WP8... And you just know that this app is going to get Microsoft's infusion and then updated on iOS and Android, only at some later date making its way to WP itself. I really hate to contribute to the whine-fest, but I quite literally have been strung along with glimplses of the promise land since WP7. I don't know anymore. Perhaps I should realize that loyalty isn't a trait Microsoft values, but rather takes for granted. Please know that I am not whining for the sake of it, nor am I taking all that Microsoft provides for granted. I'm still a huge user of their products, but I just feel like we're all in a cult getting brainwashed just because we want it to work.

Penny_1 described exactly how I have felt since being a WP user since 7.

The built-in calendar is a standalone app. It was updated recently, to bring an agenda view and show week numbers. iOS needs complete OS update, WP does not. Just like you get Extras Info updated without a full OS download. It is part of settings, would normally not be possible to update if it was part of one big 5 GB download file.

We haven't got these apps like the accompli because these apps are already on iOS and Android. Lets let the developers have some time to create a port before hysteria sets in.

Not sure why this advise isn't common knowledge.

Or, you know, make your own customers feel like they matter, and hold back the update until we have something at least comparable instead of always feeling like we have to wait for the cool features that iOS and Android get before us.

The explanation couldn't be simpler. Microsoft bought a company with existing iOS and Android products. These are essentially just rebrandings of something that already existed. Short of time travel, Microsoft can't make them have something they didn't have. All Microsoft can do is make sure Windows devices are on their future roadmap.

I just think people shouldn't claim Windows 10 will save the day, it won't. Microsoft has to convey a message: that their services are and always will be better in their own platforms. they're not even trying.

Well we did see the Outlook app. So in that case, Windows 10 will save the day.

It was an Android/iOS app already, they just rebranded it as Outlook. Since they only bought it in December, there's no way they could have released it for WP first. Also, since they already have their Outlook for Windows 10 in development, it makes no sense for them to port Accomply over to Windows/Windows Phone. I do expect them to bring over some of the features (like returning emails to the priority inbox after a few hours and swiping for triage) into the already in developement for a while Outlook for W10

That app was developed for iOS and android. Microsoft bought it and renamed it Outlook. The end! How did you expect to have it fro WP at this point when all that has happend is a name change. Did the code magically have to change on its own as a result of the acquisition?

There would make very little sense to launch outlook first for WP 8.1 only to then have to launch it again as a windows 10 universal app. Yes it sucks for us that we have to wait buy the way will be worth it

If only I had $10 for every time I read that "it's gonna be worth it" sentence in here I would be a millionaire. And if I had another $10 every time I read the trademark "coming soon" I could pay off my Portugal and Greece national debt.

Why dont you guys do your own homework then? If your convinced that MS is doing 'nothing', then that should be easy to confirm. I see people say this all the time, making fun of MS or users that claim something is coming soon or the next version of something will correct some issues. Guess what, all platforms have the same situations. MS does use the term soon, just as Apple and Google do. Users of Google, Apple, and MS products will cliam that the next version will fix some issue people have with the current version. If you want to be informed, then seek out the truth. Don't just attack a company for something you read in a comment section or forum. Don't just jump on the bandwagon of some argument becuase its cool. MS has indeed improved its phone platfrom from WP7 to 8 and now 8.1. 10 is going to improve things even further. In the case of this article, you have to find out the truth if your going to argue that this is another example of MS disrespecting WP becuase there is no Outlook app. The truth is that MS bought a company with an iOS/Android app and rebranded it. They did not build an app and then not build one for WP. WP is getting Win10, which brings with it a brand new mail app, something MS is building, not something aquired from a 3rd party. That app was shown off during the Win 10 event for anyone that missed it.

Just another reminder that we're third class citizens to Microsoft.

I'm starting to believe the Google didn't deserve the scroogle, but people like you f deserve to be called scrooges your alway negative.

Did they announce that somewhere? I always here that things will "be on Windows 10" or it'll be "better on Windows 10" but there is absolutely no word from MS about it. Just WP fans saying it or assuming it. All I see is that all of MS's apps seem to be supported better on Android and iPhone. All their NEW apps aren't even available on WP. My support for WP is starting to waver because of these points. The native Calendar app on WP is basic at best. WP certainly could use this Sunrise Calendar app. For now, I use True Calendar 8, which is several leagues better than the native calendar. I realize that MS wants to be a software and service company, but from where I'm sitting, they seem to only want to service and release software for Android and iPhone. Why would anyone switch to WP or even stay? I'm beginning to wonder.

Go watch the windows 10 event. They show most of this stuff in the first 30 min. They are all universal apps and function the same on desktop, tablet, and phones. They even showed outlook for phones in the demo.

Honestly, probably not. Office on iOS was much better than on WP before Windows 10, now it is on par with it.

We will. Just watch and see.

Windows 10 will be our version and even better hopefully.

Because it comes with Windows 10 on the phone.

I just got an email to try out new Outlook app for phones and tablets running IOS and Android. God damn it, I want it for Windows! Why are we always getting OUR stuff last?

Haha yes. I got that same email a little while ago and almost got excited its available for WP8.1..wrong. Just ios or android. Maybe next time I should go with one of those phones to get the newest Microsoft apps.

Windows 10 will change that. One huge platform where all MS apps can be released and updated universally.

I know one thing for sure, if Windows 10 doesn't blow me away, I'm gone. I don't mean that as a threat or anything.. I love WP & would honestly stick by them even with a lesser quality system if they were trying & making progress but when they produce better quality apps for other platforms, it's nothing less than a slap in the face!

Maybe because it was already built for iOS and Android when Microsoft bought it?

Hey that makes sense, that has no business in all this faux rage.

Yea people should stop bringing up facts in the comment section

I really do not understand how people cannot use logic that the dang apps were available ALREADY on IOS and Android. Its kinda hard to write the same damn app for our platform in what 8 hours since the announcement?

Because "our" stuff is so new. Droid and ios... They're old. Lol. Guess well never know though. Marketing could play a role.

Bata 'Kurci ga' Bole, poco si ko ovi indijanci samo da kukas i narices za stvarima koje ti nisu potrebne. Lepo mi objasni sta ce ti ta autluk aplikacija kad vec imas jednu integrisanu?


Microsoft-ova Outlook aplikacija je stvar koja nije potrebna na Windows platformi? Tebi je to Zajebant baš pravo ime. Ne kaže se počo nego počeo, prvo nauči pravopis i kulturu izražavanja pa mi onda komentariši. Ako nisi primetio, integrisanoj Outlook aplikaciji fale mnoge opcije koje Web verzija ima a nalaze se u novoj aplikaciji. Pošto si Zajebant sumnjam da uopšte koristiš mejl servis i Office paket kako na računaru tako i na ostalim uređajima, inače bi primetio funkcije koje su potrebne a fale našem ekosistemu i odavno se nalaze na ostalim platformama. Tako da ne razumem kakva to pitanja postavljaš? Ako si novi u Windows svetu uredu je što ne znaš, ali ako si već duže vreme tu i opet ne znaš savetujem te da naučiš neke stvari. Verovatno si gejmer tip i tip društvenih mreža. Napiši mi šta je to tebi "potrebno" u Windows sistemu?

Sta se lozis jebote? Nego, ono sto je meni potrebno wp vec ima, stabilnost, performanse, i brzinu. Jebe mi se za igre i ostala nepotrebna sranja. Integrisana aplikacija takodje ima ono sto meni(a i mnogima treba), i odlicna je za dopisivanje, verifikaciju i slicne kurce. Ti bi trebo da skontas da ms bole patka da stvara monopol i drzi neki ogroman procenat u mobilnom i tablet svetu, njima je sasvim dovoljno i ovih 10%, te ce softver prvo izbacivati na platforme sa najvecim procentom pa tek onda na ostale, ukljucucjuci i svoju.

Because we're the customers they care least about. We're already in the ecosystem, and they take it for granted that we will stay.

We'll be feeding the while neighborhood before we feed or own family.

The while neighborhood needs to eat too.

Because it doesn't EXIST! Apps don't fall out the sky you know. They changed the name of Acompli on iOS and Android. They cant change the name of the WP app because there is NO WP app.

Actually it is not as good as it seems, I have OnePlus One and Lumia 930 and still prefer Lumia for everything except some local missing apps. Current WP mail app might lack some features, but at least it is easy and comfortable to use it.

Have you seen the new Outlook app for iPhone? It really is amazing.

Why, why do you WANT an outlook app? WP integrates directly with exchange.

Because I want to be able to do a basic task called Creating Folders?

Because of the look and feel and the cool swipe functionality.

I hope Windows 10 turns out to be all as we expected. Seems to be a fix for many ongoing issues. I saw someone post that their screen cracked and someone replied and said "Windows 10 will fix that" lol.

Well considering that Accompli didn't have an app for WP previously and Microsoft only purchased it two months ago, well after they already started developing outlook for Windows 10, it probably wouldn't make sense for them to change course. Nor could they fully dev an app like this in that short time period over a holiday break.

The current mail experience in windows phone is baked into the OS. So they likely do not want to have a separate app plus the baked in version. I'm more than happy to wait until windows 10.
I'm also ok with Microsoft supporting the other platforms, even if that means my windows phone doesn't get shiny things as fast as the iPhone. Windows 10 may or may not live up to all Microsoft's promises, but I'm not going to complain about what it is or isn't until it is actually available. And not the insider previews. I mean RTM release.

Are you the rebranded Accomplii app? WP doesn't have it because Microsoft just bought Accompli and just changed the name. Accompli didn't make a WP app. Do you really expect an app to be created within a few weeks after an aquisition? It will take some time. Hopefully, not as long as it took for Microsoft to integrate Skype.

If MS won't put its own customers first....why would anyone else bother?

Maybe because its phone division is like a "hobby" for Microsoft, their real mobile business is on iOS and Android.

BTW, I LOVE that outlook app on my iPhone 6. Works well with both of my email accounts (hotmail and gmail), and the gestures are awesome :)

Lets be realistic folks. The world and Microsoft have chosen ios and android as their favorite os. I wonder a lot while I m still sticking with the OS that gets all the good things last. I guess I must have something masochistic in me ;)

Windows 10 isnt magically being released sometime soon. Its coming in about maybe less than a year...love how everyone on windows loves playing the waiting game. We should have had an outlook app already. Instead everything feels lesser than IOS and android. Windows 10 may bring a better music app, email app and among other things but it doesn't change the fact that windows phone must wait for an entire OS update to get these things. When will it stop? Im excited for Windows 10 on the phone but im holding my breath.
Ideal scenario is that the OS will provide better apps. Thats what everyone is saying. Well I hope so I guess.

Too lazy to read the article.. Explain to me please

Lemme know when you got pizza

It said you are too lazy and too crazy

Long story short, just imagine a soldier feeding the enemy before feeding his own babies during war.

Microsoft Corporation had purchased an app (short form for application) called Accompli some couple of months ago and after tinkering with it a little and slapping the Outlook brand name on it, released it as an Outlook app for ios and Android.

It seems Microsoft is tired of waiting for developers to build apps for Windows, now they are buying the whole development team instead :D


Luckily it doesn't cost that much...

I wanted to say the same :) instead of planing, developing, testing, developing. Now cash out, Microsoft brand on it and here we go Acompli got Outlook in just 1 1/2 months and to build this what acompli has would take much more time. Maybe a smart move to speed things up

Apple, Google, Facebook and many others acquire companies, apps and start ups all the time so it's good to see MS joining in on this. It's smarter to simply buy the best than to start from nothing and then add to it. Sure, MS has acquired their fair share over the years but a lot of that is behind the scenes while Sunrise and Acompli are two very highly rated apps that people are using right now. I just hope going forward we see MS handle this better than what happened with Skype. Skype should've been FaceTime, Whatsapp and Snapchat but it sort of exists as this relic of a messaging platform that no one enjoys using. I used to speak with people all the time on MSN but no one I know uses Skype, we get by using SMS, Facebook or Whatsapp.

Ok, Microsoft I'm waiting for your offer to buy all my apps, just 1% of $100M is fine by me. Lol

Are your apps on and for Android and iOS? If the answer is "no" then that's why Microsoft won't buy them =P

I need to learn Xamarin quick!

Come on MS, do something already. I would really like a revamp of most of the apps. Like what you did with Outlook (and People, I guess).

Wouldn't this be classified as Microsoft 'doing something'? MS obviously wouldn't have paid this much if they knew they were getting something better out of the deal. My guess is this is shortcut of sorts; a way for them to get something better that already works on two established platforms. Much like Accompli in that regard.

This is quite a development. This app is going to be integrated into windows universal architecture

So perhaps the native calendar will see a worthwhile and needed replacement. Not to mention show more than one event on the wide tile. Ugh.

They should buy bank of America

And chase while they're at it. They make up all they money with interest they charge their credit card members. Posted via the Windows Phone Central App for Android

And, we still continue to use the term "Windows Phone" because it's just necessary...

That's because you're trying too hard to fit in... Lol❗❗❗.... Once the reality sets in that we are still going to have to have a differentiator you will say WP10... Just give yourself some time.

Wtf... What's this supposed to mean?

Just referencing the WP remark made at the end of the article..

Windows phone is what people are using today so referring to it seems logical

Of course it seems logical...
And, it's the only logical way to refer to it in the future.

Because it is called Windows Phone?

Microsoft being crazy ¬_¬

Off topic, but you look like the YouTuber Gonth lol

My OnePLus is happy to support all of Microsoft's apps.

I have that. Got an 830 though and now use it primarily.

My Note 3 as well. I prefer the Outlook app on Windows Phone better than Outlook preview at the moment though. Picturesque on the other hand is a gift from Heav...Microsoft! It makes using Android hella easier coming from Windows Phone. It's literally the app I had been hoping for and searching for the last few days. So, I appreciate Microsoft's support on that end. At least they're making the switch a bit easier.

My Micromax Canvas is pleased at this outburst of love for Android by Microsoft although the reciprocation of love from Google will not come.
Still I admire Microsoft for their benevolence and generosity on delivering this app to our platform albeit under a different brand name and albeit it already existed earlier under a different name.

Microsoft is planning for future I guess, like a long term future.

Glad you threw that long term future part in... I was thinking they might be planning for a short time future for a minute..

Why waste that much money on a calendar app? The one in WP8.1 works great! That money should have gone toward getting big name apps onto WP and bringing apps with not much support like Instagram up to date.

They can't just keep throwing money at devs. That plan is short term while MS are restructing themselves for the long. While journalists like to go on about how dead WP is a platform, we need to consider the future. What will we be using 5, 10, 20 years from now? Sunrise is considered one of the best calender apps on iOS and Android while I personally think the one built into 8.1 is terrible. Sunrise can connect to a bunch of different services and MS probably bought them to leverage this on iOS and Android and have tighter ingeration of Outlook outside of Windows.

This. Everyone hates on out because it isn't popular right now. I'd like everyone of those people to come see me in the future when they still have their same phone 4 years from now. Neck in 2006, if I told them they'd give up their Windows Mobile, Blackberry and PalmOS devices for something called an iPhone they would have laughed me out of the room.

Works great❓❓❓ ..... No❗ It resumes to long, and it freezes up.. It's low on the features as well..

I wish they spent that much on their own XBox Music, MS store or even improve the abandoned Here Drive Apps....heck, can we at least get a printing function from the software giant for their own OS????

What a waste of money ( investment?!?!?) on a calendar app?

My guess is that it is not about a calendar feature or format as much as it might be about possible patents that might come with it. If this App is deeply embedded in both IOS and Android ecosystems, then you can rest assure MS will get their money back and then some. It is just frustrating for Win Users who are still sticking around waiting for MS to really invest on their own mobile systems. Like I mentioned above, we can't even print from our "integrated office" apps. How sad is that? Don't even get me started in the XBox music sabotage against win phones, cause really, in my view it wasn't less than that. Heck, it was probably MS trying to get rid of us so they could more easily dump the whole idea about win phones.

Buy Bank of America support.

If it improves the aesthetics I'm all for it. WP has the worst looking calendar. But the functionality is great!!

Microsoft wishes there mobile OS was as good as Google's and Apples. They know where to invest

Irresponsible use of money? I'd like to think that Microsoft could develop and code the same app for far less than 100 million dollars.

Possibly but why spend the man-power, time and energy to recreate a calender app that's been developed over 2 years just to save a few bucks? MS have the money and $100 million isn't that much when you consider Facebook bought a messaging app for $19 billion.

By buying this company they're also buying their users.

That calendar have gold a? Smt why not make windows app better.

I simply can't wait with Windows 10 overall has to offer :)

Seems like they are buying users and technology from these developers to better integrate into businesses. If Windows 10 integrates this stuff they will win enterprises over.

I don't know why every body is crying, Windows ecosystem already has the best office suite, best calendar and email clients, they are only expanding to other ecosystems, instead of hiring a crew of hundreds of developers for bunch of months or years to develop new clients to IOs or Android that will cost them almost the same, they just buy existing apps. I am a Windows phone user but I do have a Ipad, because its still better than Windows on tablets, but my Ipad is all Microsoft, the only account I have on the iPad is the apple account for the appstore, everything else is in Microsoft services, Word, Excel, Power Point, OneDrive, Skype, OneNote, Remote Desktop Client, Outlook (Acompli), and now Sunrise Calendar, my Ipad is looking better and better each day

What does the iPad do better as a tablet over a Windows Tablet?

Windows RT/FULL you mean, right? 'Cause Office and email for WP is a joke.

I mean Windows is still not 100% touch friendly, office and email apps are not perfect but they work just fine for me, and I find them much better than Android stock counterparts

It's most likely being bought for patents.

Why not some good apps? Snap chat? Instagram? Infinity Blade? Monster Hunter? Why??!

Hmmm...because those costs too much? Instagram belongs to Facebook for a start...

And MSFT have some stock of Facebook.

It's cheaper for you to buy an iPhone or and Android :-)

Why is the source link about the purchase of Acompli?

Hey guess what? Microsoft is a SOFTWARE company... Thier software is everywhere...

Someone needs to slap the shit out of people at MS. I don't understand why there not making WP better than the actually can. Sometimes I think they want to fail.

It looks just like cal for windows phone..

Willing to wait and, unlike so many, I understand why we, as Windows Phone users, have to wait. I don't always like it but understand it. Windows Phone still represents the best overall experience for me.

Yep. Waiting right along side you

I personally like WP email. Simple and works great.

Man you guys moaning are so dumb. M$ are developing w10 experiences now why would they waste money and delay w10 longer by making them for 8.1 and essentially throwing all that effort straight in the trash within a few months? Seriously some of you are so dumb. Think about it

This. Our much improved OS is just cooking a little longer is all... I have a feeling it'll be worth the wait. Can't wait though.

Is there something wrong with our outlook? My 1020 connects flawlessly to my work accounts and I have no complaints. I see all of this complaining, but didn't they basically rebrand a existing app? Maybe im missing something here?

The outlook app on WP works flawlessly. I never had any issues. People keep saying Microsoft 'supports' other platforms like android is better and now that I use an android phone for work, I don't really see that much of improvement. Skype app is slightly better but that's about it. I still would take a WP over android personally even with all its flaws. Android has more apps but it also has a good amount of viruses, something I don't remember worrying about on WP. Pros and cons is all it is. Posted via the Windows Central App for Android

The calendar does work quite well, but it's user interface is ugly and rubbish, thus limiting in functionality

I've used Android for over 4 years. Always had a Lumia on the side. Never got a virus on Android. Never got a virus on my Lumia. Common sense and avoiding dodgy websites and torrents goes a long way my friend. Android has better apps. Don't be a truth denier. People like you make the OS worse. Stay on WP8 then when the rest of us move to WP10.

You never got one but they exist. Like my PC, everyone says Windows is riddled with viruses... And yet I haven't seen one recently.