Microsoft picks up James Corden, Gwen Stefani, Jay-Z to market Windows Phone 8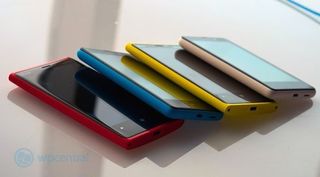 Microsoft is set to spend an incredible amount of money marketing both Windows 8 and Windows Phone 8. The former is the next version of the company's desktop OS, while Windows Phone 8 is the new release that is hoped to help bring Microsoft into the mobile market with a respectable share of the pie. The Sun has reported that Microsoft has snapped up multiple big names to help push the mobile platform.
James Corden, Jay-Z and Gwen Stefani have each signed up to Microsoft to help promote Windows Phone. We've already seen how Jessica Alba is enjoying the Windows Phone experience and how she even took part in the platform's launch. A source said the following about Corden, who plays Gavin & Stacey character Smithy, and his previous encounters with Microsoft:
The advertisement that Corden will star in will hit TV screens in the UK from Monday, and will run for six months in primetime ad slots. We'll likely be seeing promotion from other big names in the future. Microsoft has already fired up campaigns starring both Hollie Willoughby and Will Arnet - it's definitely a stronger force than what we've previously witnessed.
How consumers will react to the new advertising push is another question, but we're still yet to see Nokia's input post-release for its Lumia hardware, though we're likely to witness such investment once the Lumia 820 joins the Lumia 920 in a number of markets. Then - of course - we have HTC with its renewed partnership with Microsoft, not to mention Samsung. Here's hoping for a Windows Phone packed holiday season.
Source: The Sun
Windows Central Newsletter
Get the best of Windows Central in in your inbox, every day!
Rich Edmonds was formerly a Senior Editor of PC hardware at Windows Central, covering everything related to PC components and NAS. He's been involved in technology for more than a decade and knows a thing or two about the magic inside a PC chassis. You can follow him on Twitter at @RichEdmonds.
Why dont they add mp3 ringtones, custom sms sounds and a thousand of basic smartphone stuff to their OS. It'll be better advertising and far more cheaper. Still waiting for 7.8 BTW...That will be good publicity too

Mp3 ringtones have been in since mango. I'm also unsure what 1000 other features are missing.

He maybe miss some specific stuff like iphones facetime :) thats this kind of people, they want everything they had already before... The same apps, the same functions, the same look. Why they choose wp then? :)

Actually setting volume for ringtone and other sounds separately, smart dialing (which is a very conveniet way of finding contacts - better than anything else), profiles (meeting, in car, etc.) being able to attach custom file types to emails and maybe, MAYBE a system-wide file explorer with bluetooth file transfer capability and such stuff would be pretty basic.
The reason being that my current feature phone, Sony Erricson J20 "Hazel" can do many of those. My Sony Ericsson W700 that I had before this one and was released in 2005 could do many of those things as well.
I argued before that such basic stuff is part of the reason why Android users think WP is a closed system. I mean the file explorer thing is NOTHING. I could write it in one day and add bluetooth in the next 2, but somehow Microsoft doesn't want to do it.

I'm so sick of these arguments. the "why doesn't my smartphone have my feature phone features" nonesense. We sat thru 3 years of the iPhone before before it got MMS and people were just fine. It's ridiculous. If you like your flip phone, fine. But don't complain that a Windows Phone device doesn't out-feature phone a feature phone. It's so annoying now. Build yourself a bridge and get over it.

for what it's worth, search on the people hub makes more sense the way on the OS is structured.

To be fair, thats pretty rude expectafight, although going by your name thats prolly what you like being.

I am the biggest supporter of Windows Phone, I love it.
But having separate volumes should be there. Profiles, should be there.
Do not disturb (present on iOS, and a similar emergency ignore profile on Blackberry exists)
These are basics. I want to set my own tone for new emails, SMS. (Not just ringtone)
I agree, file explorer might be raw for most users (soccer mom) but Android users do want to fiddle, not sure which side of the debate I fall on with that one, but I do understand it.
I think they spent 2 years re-cooking Windows Phone on the new core, and feature matched Win7 with a couple of new features. I know they needed to do it, and it will help with the apps situation (ie we might get parity with Android and iPhone as RT -> WP8 will be easy) but they did not refine some of the basic flexability that is a given in this modern age. Don't hate on this guy for having an opinion.

It has custom ringtone support have to make em yourself but its there. Custom text tones no. It needs a color wheel also for tiles and a option to custom color each tile! But besides those MINOR complaints, I LOVE my 920! :D

I also loved my L800 the first 3 weeks, then I understood the huge mistake I made...
Some others, taken from a windows phone 7 lacking features list, some of them fix, most of them not. System font size cannot be changed. Images and photos cannot be renamed in the phone. Windows Live ID account cannot change country once set. No centralized notification page. Alarm clock cannot work when phone is turned off. All Nokia Symbian and Meego phones can do this. Only photos allowed as email attachments, documents not allowed. Very limited customization option. http://www.thinkdigit.com/forum/mobiles-tablets/156824-101-reasons-not-b...
If you can return it, follow my humble advice. I have my L800 on a drawer, using my old e72 and saving for a nexus 4.

I can't think of any modern SmartPhone that can use the alarm while off... Those are very specialized complaints, imo.... other than the No Notification Center one.

Yet in your previous message you claimed you were waiting for 7.8. Obviously you don't even have a Windows Phone if you don't know that the alarm works when the phone is off.

https://dl.dropbox.com/u/7873828/IMG_8262.JPG
Check the picture bro. As you see it doesnt have any sim card, is on my e72. People, be aware of this kind of fans who draw people to this crappy ecosystem. I'm a real user who finds more useful a three year old device than a 6 month old one that can't even do whatsapp properly. Beware european customers, you know you need whatsapp...still saving for the nexus.

If its so crappy why you in here trolling, can't you find an e72 forum?

Eh? He is correct though. About the alarm function.
And WhatsApp works fine on my Windows phone.
What point IS IT that you are trying to make?

which windowsphone does this?
My Mozart doesn't.

Actually you CAN change the font size in the acess part of settings dumb ass, go suck on an apple or some shit, ur complains are just dumb bro,

Insulting people is not nice. I have a windows phone device and I have the right to say what I think, even if my beliefs are contrary to yours. People need to know some stuff and only the good things are showed on this kind of sites and the people come here for advice. MS and nokia plan to release new hardware with, what I think it is, a bad OS e.g. Lumia 510. People deserve better.

To be honest, I wish I can afford an iPhone 5, but I can't, I guess you get what you pay for. :(

And yes I come to this site everyday and complain from time to time, even when I get a new phone from another platform, my beautiful L800 will be in that drawer and I'll remember I was left in the cold and I will come back and complain again. Hope it doesn't happen the same to all those beautiful and shiny L920, HTC 8X and Samsung Ativ s. Good night sir.

I see you're back again with your whining.

I feel your pain.Also saving for a N4.

....if ya got phone problems I feel bad for you son, I got 99 problems but a WP8 aint one...hit me!


" you get what you pay for" how about you go and screw yourself and get your boring as hell iPhone 5 that is much more limited than wp8. As people have shown most of your complaints are bogus so do some research about wp8 before you start typing nonsense

Because... iPhone can do everything you are lacking with Lumia..? I don't think so. Of course you can say what you think, but it seems some of the things you say are lies.

What a very ridiculous compilation. Most of those are false and have been resolved in WP8. Why say this on this article, don't be a damn killjoy.

If you would like to get rid of such inefficient device, please let me know. I'd be glad to help you in your predicament.

The reason you can't do most of what you say is because the designers at MS have developed a clean, elegant and modern design language they feel should be saved from the utterly tasteless, childish and fugly skinning attempts by some taste-agnostic children. If you do not like it - pick a different OS. Apple did it - and rightly so. Finally MS is doing it - and applaud them for it. Good things take time and so far the WP team has executed flawlessly - ESPECIALLY by taking their time to implement things properly.

@migueltoro...Sounds as though you are disappointed with WP...since your Lumia 800 is just 'in a drawer' and you are using Symbian now, why not sell your Lumia 800 for whatever amount you can get for it, and use that money to purchase the Nexus 4 a lot sooner. You could then start visiting Android Central. Just a thought...

That would require logic and, apparently, he doesn't have any. He'd much rather continue coming to a site dedicated to something that doesn't fit him personally and complain as though everyone should have the same preferences as him since he apparently has nothing better to do. It's sad.

How are any of those "deal-breakers"?? Very minor issues when the rest of the phone works so well

So you complain about missing features, then say you are saving for a Nexus 4, which lacks basic things like LTE and SD support, while coming with, what, 8 GB of storage?

I can change the font size on my Lumia 920.
I cannot change a picture's name, but I also don't care to.
You CAN change your Windows Live ID's country. I just went to Bing, searched for "Windows Live ID," went to the site, and found the option (it's under Edit personal info).
Microsoft siad they are considering a notification system, but that they were out of time (I think that's what they said). At least I KNOW that my Lumia 920 will get updates, while I only got one in the 2 years I had my HTC Droid Incredible. Oh, and you KNOW that all Windows Phone 7 devices (including devices from 2010, like my unsupported Incredible is) will get Mango, Tango, and 7.8.
Umm...why would anyone want (or care) about that?
I have no documents on my phone to test that (I'm in class).
Elaborate. I like the lock screen pages MUCH more than having my wallpaper covered by icons on Android.

You talk about wanting your Nexus 4 all you want. I'll take the amazing interface, LTE capability (when my city gets it, allegedly in early-2013), phenomenal camera (just wowed someone in my class with it today), 32 GB of storage, free wireless charger (arriving in the mail tomorrow), and $100 price tag.

I wish you had complaints that were accurate and/or important features. As everyone has mentioned the majority of your complaints are simply not true. Perhaps you should have someone show you how to use it? Also, you mention wanting an iPhone than mention a nexus?! Make up your mind. Those phones are very opposite in many arenas. Also, I find it strange you lumia sits in a drawers because you cannot figure out ringtones or cannot rename a picture. This is just silly.
Bravo for trolling everyone though

I wish you had complaints that were accurate and/or important features. As everyone has mentioned the majority of your complaints are simply not true. Perhaps you should have someone show you how to use it? Also, you mention wanting an iPhone than mention a nexus?! Make up your mind. Those phones are very opposite in many arenas. Also, I find it strange you lumia sits in a drawers because you cannot figure out ringtones or cannot rename a picture. This is just silly.
Bravo for trolling everyone though

I can't wait to see this.

Jayz making a video about the 920...damnnnn desperation..yeah that's right it always pays off in the end..

Ever heard of marketing desgraciado?

iPod and U2. Nuff said. ;)

Pretty sure Jay-Z will be rocking a HTC and some overpriced Beats headphones

The James Corden ad was on Channel 4 tonight between 9-10PM. Showing of the Blue 8X and Xbox Games.
We just need the advertising to convert more users to the platform....heres hoping.

I also spotted it. Couldn't help but quietly geek out. :D

I wanna see a commercial with Jay-Z and Beyoncé showing the Kid´s Corner, with Blue Ivy playing Cut The Rope. Will be EPIC!!! :)

Im looking past 920 already!! Too similar to my 900 but men everytime I read and see something about my hands are itchy and shit...hahah that yellow one is sexy!! Have you guys seen a yellow phone before??

Do they know some good tips to extend battery life?

This needs to be fixed on 920 ASAP!

I would just keep battery saver on and data connection off at ALL times whenever you don't need it. My phone lasts a long, long time when I do this.

Why, I hear the Lumai 920 has great battery life. Explain pls?

James Corden? *vomits*
They are lucky I already bought WP8 device...

Extend battery life? How many days do you think your pocket computer should be able to run for? Mine makes it through a full day with room to spare. I haven't met a pocket computer yet that can be used daily and not need nightly charging. Look at the apps that you allowed background access to. Turn them off if you don't need them actually running in the background. This phone can't defy the law of background apps NOT chewing up the battery.

The custom-made Pandora charges other devices...

I love Gwen. I'm thinking she'll rock the white or yellow Lumia 920.

Bad thing about WP advertising is that they do it for awhile and then nothing. They need to have a presence with commercials YEAR ROUND, not just when a new OS, phone, or update is available.

Enough showing white. It is making me regret buying the yellow, even though I know I'll love it.

LOL, I know how you feel, I bought red now wondering if I should have bought yellow.

They're way too short, but here are a couple Gwen ads: http://www.youtube.com/watch?v=J1DbAIAOeYA
http://www.youtube.com/watch?v=EyvC5Xnrwdk

She's also not showing off any of the features but for her that's 15 seconds too much.

You can change your Country in the live id account. Its not straight forward but there was a post not too long ago here showing how to do it. You can attach documents not just pictures. There is no need for notification center especially in windows 8 and 7.8 where you can pin small live tiles on your screen. Your other complaints are so trivial they won't affect the great majority of people

Add Holly Willoughby (UK) to that list. :)

The Corden ad has been on my Xbox start screen all day.

I wish they did this with Zune and Zune HD. Sigh sigh. Although I don't get why they chose some of these people as there are people who will be more beneficial to choose. For example never heard of that James guy. I like Jay-Z but does he reach a large enough of an audience? Gwen is good I guess since I see her on every commercial even though I don't care for her.

DOES JAY-Z REACH A LARGE ENOUGH AUDIENCE?!?!

WHAT'S WITH ALL THIS SHOUTING??!? ;)

Obviously this dude don't know much, asking a stupid question like that... Jay-Z, this dude owns a NBA team, clothing line, NBA 2K's etc.....is he serious! Smh!

He only owns like .5% of the team, if that much
Windows Central Newsletter
Thank you for signing up to Windows Central. You will receive a verification email shortly.
There was a problem. Please refresh the page and try again.