Microsoft plans to launch ID@Xbox on Windows 10, mobile phones and HoloLens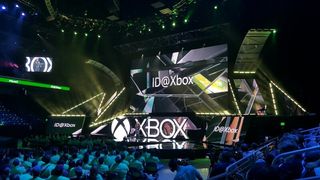 Microsoft is looking at ways to expand its ID@Xbox program to other platforms now that the company is closely reaching its universal OS goal. The program itself has enabled smaller indie developers and game studios to launch an original title on the console without going through a large publishing arm. According to VRFocus, Microsoft plans to bring ID@Xbox to Windows 10, Windows 10 Mobile and HoloLens.
The three platforms mentioned each share a library of APIs as part of the Universal Windows platform, and VRFocus reports that HoloLens will follow suit. It will enable developers to take advantage of all available Microsoft platforms with only minimal effort required to get everything working. With Windows 10 being adopted by millions of consumers already, Microsoft hopes it will be able to court developers in releasing their work on mobile and VR.
Windows Phone (now Windows 10 Mobile) has also continuously been slammed for the lack of apps when compared to competing platforms. We'll be sure to update you should we learn anything else about Microsoft's ID@Xbox plans.
Source: VRFocus
Windows Central Newsletter
Get the best of Windows Central in in your inbox, every day!
Rich Edmonds was formerly a Senior Editor of PC hardware at Windows Central, covering everything related to PC components and NAS. He's been involved in technology for more than a decade and knows a thing or two about the magic inside a PC chassis. You can follow him on Twitter at @RichEdmonds.
Excellent! This will give windows mobile a great selling point!

So u think its games that would sell win10M more?

Having high profile indies exclusively on the platform, would surely give it a boost :)

What makes you think the games will be exclusive?
How does it make it easier than it currently is to get games on win mobile?
I don't think it's a bad idea at all, just wondering why you think this will make a huge difference?

It's because there is not a huge xbox market on windows mobile. Yes there are xbox titles, but not huge support.

Well, with the Talkman and Cityman on the way, why not? Also, they have dreamn't before of the Xbox phone, so why not make the phone all in one?

Why not what?
Phone all in one, do you think its going to have gaming controls? I doubt they will, and we've not heard of peripherals/addons. But you're right, maybe they will do that.
All smart phones, including current win8 ones can play games though. So you could say there already all in ones.
Still curious how this would bring exclusives and give big boost to games though. What does it do that is not already possible. As I said, not saying I don't think its worth doing.

Not if they one day offer the ID@Xbox program on iOS and Android :)


Hopefully this also means that Windows and Windows Mobile games will have access to 1000GS instead of them being treated like arcade games that max at 200GS.

Is it me or does the mobile side of windows 10 this far feel disconnected from the desktop platform. Not feeling the whole universal thing. Maybe an Xbox user can chime in as well.

You should knoe Windows Mobile is just not ready. Even that you can feel the store sharing similarities with the desktop version. Just chilax, the time is coming.

I hope so, I'd love to have seen some great syncing abilities with WP 10 to the desktop version of windows 10. And there are still some mobile only apps in the new shared store.

It's not ready. Just like it's not on the Xbox yet. Because it's not ready.

Windows 10 Mobile is not launched yet , so at least wait for it then see if it will fit on the universal windows 10 thing

"Is it me or does the mobile side of windows 10 this far feel disconnected from the desktop platform." It's getting worse. I often visit sites like WC on the PC and learn about new WP apps. In the past, I could install the apps on my phone from the desktop. Now you get a page telling you to get the app on the device which may not even be in the same room. And even if its right there, one mouse click on the PC has become: grab the phone, turn it on or double tap, swipe the locks screen, fire up the Store app, TYPE the app name in, etc. Seriously. MS?

Yeah. Annoying. But supposedly that functionality is coming back. It is a great feature. They have to incorporate it into the new store. Hopefully soon.

Super, faboulous, exciting, Awesome, Great news...just WOW!

What MS should do is kill windows phone. Then produce a hololens "light" for consumers that's specifically for mobile apps and phone function. Then have a very thin slate that is specially designed to pair with hololens for people who still wants to do "touch", where the tiles would be projected, contains the camera, and which holds extra battery for the hololens. This will surely erase iPhone and androids combined.

I don't think you should be the one that tells Microsoft what they should do.

Why should they? A phone is a natural extension of the platform even still Microsoft has quite a number of partners willing to build wp. If they don't build a phone then everyone would want a wp and wonder what took them so long. In general, Microsoft's major problem was coming to grasp with the principles of the mobile sector which is progressive in nature and constant forward moving. Conservative principles has a place but it can be struggle when placing it as a lead role in this sector. For example; Microsoft build in a continuum low spec devices which is fine but to compete and even play upgrade these devices hampered developers who are developing software for higher ended devices of Android but to port them to wp would have to strip their efforts to make it work for wp making it not worth the effort. This is where I think the managers at Microsoft missed the boat for they refuse to refresh at least the 1520 and cancelled McLaren. These low ended devices Microsoft is finding out is hampering their own efforts of upgrading them. A refresh of the 1520 would have given the developers a high end spec phone comparable to the hardware of Android therefore making a port to wp far less than having to strip or other modification to make work on a much lower ended device.

I think you've been watching too much "Star trek"

I think this article needs this, to quote Chamillionaire "they see me rolling, they hating". Roll on Ms, bring on Gamescon.

Awesome news should it work out.

My Win10 HTPC is waiting for this :). But, when I think about it, I'm not sure why developers need this. Isn't windows store already "indy" ready and universal? Maybe this is a way to tell them that windows store is way to go...

So for 2056 ?
I bought the day 1 edition of the xb1 cause Ms said I could have developed app (not games) for it.... One year and a half after I m still waiting... :S
I use it to see skyonline :)

Plans. What about giving release date for W10 Mobile first? That could also help a bit on app front.

Xbox one Kinect games to be found. Kinect is dead?

Is someone facing a constant sign in error om Xbox app in Windows 10 (0x3gb) hmm?
Windows Central Newsletter
Thank you for signing up to Windows Central. You will receive a verification email shortly.
There was a problem. Please refresh the page and try again.