Microsoft to push Windows Embedded 8 Handheld into the realm of retail and beyond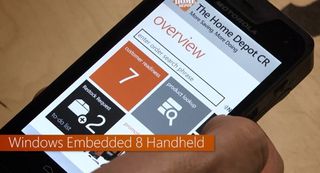 Microsoft aims to showcase a range of technologies that will enable retailers to sort through and better make uses of data to drive strategic insights and fuel business decisions. Such technology will be on show at the National Retail Federation Annual Convention & EXPO (mouthful alert) this week. The company aims to provide the necessary tools and information to employees in the retail industry to create a better experience for the customer.
So just what is Windows Embedded? Microsoft will utilise its platform to enable companies and organisations to use Windows on specialised hardware. From digital advertising and promotion signs to handheld devices, Windows Embedded 8 and Windows Embedded 8 Handheld (www.microsoft.com/windowsembedded (opens in new tab)) is the option that Microsoft aims to push forward.
The company is working with Motorola Solutions, Intermec, Honeywell, Ingenico and Bluebird on a new generation of devices powered by Windows Embedded 8 Handheld, the next generation of the Windows Embedded Handheld platform built on Windows Phone 8. Because the handheld version of Embedded is built on Windows Phone 8, we can surely expect some great experiences when using the software.
Kevin Dallas, general manager of Windows Embedded at Microsoft had the following to add to the announcement:
An example of this technology being pushed forward is a team of Windows Embedded engineers working closely with Motorola Solutions. The two teams are working on devices that offer the latest technology support, including intuitive touch usability, support for mobile point-of-service (POS) scenarios such as line-busting, and new application interfaces that make it easy to build line-of-business applications for taking advantage of peripherals (such as barcode scanners, magnetic stripe readers and receipt printers).
Girish Rishi, senior vice president of Enterprise Solutions for Motorola Solutions noted the following on the partnership:
At the end of the day, Microsoft is further using tiles and the familiar interface. It's becoming the face of Windows, and one that should help Windows Phone in the New Year with more companies making use and implementing Windows Embedded 8 Handheld.
The Home Depot
The American company (the US equivalent of B&Q here in the UK) has stepped forward to be one of the first companies to benefit from the deep collaboration. The retailer has made it a top strategic priority to ensure its 300,000 associates spend more time serving customers than on back-end tasks to improve customer satisfaction and the overall shopping experience.
The Home Depot (www.thehomedepot.com (opens in new tab)) has already deployed Motorola Solutions devices running Windows Embedded Handheld 6.5, but now the retailer is working closely with both Microsoft and Motorola to define the next generation of the popular device, which speeds up checkout, enables quick communication between staff and puts information at the fingertips. The new hardware will build on the strong foundations from 6.5 with voice search and easy-to-use, touch-enabled business apps. This all sounds pretty neat.
Such hardware will be on display at the convention mentioned above, which will reportedly enable attendees to see how customers can purchase an item on The Home Depot website and schedule it for pickup at his or her local store. The associate at the designated local store will be able to use the device to locate purchased merchandise and identify opportunities to aid the customer with related needs. This reportedly helps to create a complete experience for the customer.
We're not limited to handheld solutions too as Motorola Solutions devices are part of a larger solution, which includes in-store Windows PCs where retail employees can gather more information about promotions, provide project estimations and schedule home installation appointments. Microsoft aims to further improve the service offered by The Home Depot by upgrading the back-end to ensure associates spend less time using the technology, but receive the same level of (or more) information.
To wrap-up, Microsoft is also demonstrating how a retail store manager can monitor store operations through incorporation within an intelligent system. Managers use a touch-enabled Store Management dashboard to gain quick access to operational analytics, POS data, building maintenance controls and the ability to control in-store digital signage.
Developing for Embedded
So what's in it for developers when it comes to Windows Embedded 8? With the support of Visual Studio 2012, enterprise application developers can begin developing apps already by hitting up the Windows Phone 8 SDK - this shows just how connected each platform is under the Windows umbrella of products.
Microsoft will also be delivering new APIs for peripherals such as magnetic stripe readers, card payment readers, receipt printers and bar code scanners and imagers, making it easier for developers to create line-of-business applications that are supported across all Windows Embedded 8 Handheld devices with listed peripherals. It'll work on all devices using the same app.
We can look to see Microsoft release the Windows Embedded 8 Handheld SDK, which will provide additional APIs for the industry peripherals. Windows Embedded 8 already supports business and productivity apps from Microsoft, including Lync, Office 365 and Dynamics for Retail.
As mentioned above, the company is pushing towards unity between its platforms, and we can look forward to better times with Windows Phone.
Rich Edmonds is Senior Editor of PC hardware at Windows Central, covering everything related to PC components and NAS. He's been involved in technology for more than a decade and knows a thing or two about the magic inside a PC chassis. You can follow him over on Twitter at @RichEdmonds.
wait that Motorola looks like an Android phone??

That's what I thought as well... This rather looks like a simple android app and not like a whole system based on wp8

In other news: Google and MSFT announce collaboration to take down AAPL but Google still says F U MSFT to HD access on YouTube.

This is Motorola Solutions, not Motorola Mobility.

Of course home depot would be first. Without that software they would spend hours receiving merchandise

Makes more sense to have customized hardware/software specifically design for handling such tasks instead of giving everyone an iPad. Good move by Microsoft.

Motorola Windows Phone coming soon? hmmmm.

Not with Google owning Motorola Mobility

Motorola and Motorola mobility are different. Google has nothing to do with any of this.

I work for the Home Depot and always found it funny that all of our FIRST phones are Motorola's running a beefed up version of Windows Mobile 6.5. Now I know to call it Windows Embedded 6.5 haha. I snicker when people predict Apple becoming the norm for business' and their employees. I mean, its 2013 and Windows Mobile, not Phone, is still being used by one of America's largest companies. It'll probably be 2014 before this makes its way into the hands of Home Depot employees, which is fine by me as I still use a Dash 3G as my phone.

The Windows Embedded team is a great bunch of people, worked with them for a lot of years on a lot of products and a finer organization in tech I have yet to find.

Hopefully these new APIs in Windows Embedded 8 Handheld will be extended to Windows Phone 8 in the coming update! I'm sick of seeing "Compatible with Android" and "Made for iPhone" on all sorts of mobile payment solutions without a mention of "Compatible with Windows Phone!" Heck, maybe we'll even see integrated mobile printing one of these days, not just using receipt printers.

The closest we'll ever get to seeing WP8 on Motorola hardware. Too strange.

It's Motorola Solutions, not Motorola Mobility. So it's different.

Great post, well done. I like seeing how computers in general and Win 8 in particular can help business get things done. Enough of this Instagram crap.

Agreed. I like both, but it's good to see this platform actually put it's hands in the future.
Windows Central Newsletter
Thank you for signing up to Windows Central. You will receive a verification email shortly.
There was a problem. Please refresh the page and try again.