Windows Phone 8 SDK now available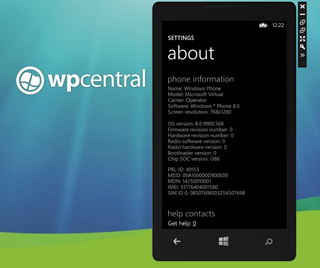 Microsoft has made the Windows Phone 8 SDK available for download, which can be obtained from its website. The SDK provides developers withe the tools to develop apps for both Windows Phone 7.x and 8. The company unveiled the next version of its mobile platform yesterday in San Francisco.
Developers have long awaited for the company to make the tools available, and have been voicing concerns that not enough time has been provided for familiarisation with everything that's presently possible with Windows Phone 8. We expect the company to announce SDK availability today at its BUILD conference at Redmond.
Alas, the SDK is good to go, and we can start to expect some top quality apps making their way to the Windows Phone Store in due course. A stand-alone Visual Studio Express 2012 edition for Windows Phone is included, but the SDK also works as an add-in to Visual Studio 2012 Professional, Premium or Ultimate editions.
Requirements:
Hardware:

4 GB of free hard disk space
4 GB RAM
64-bit (x64) CPU

Windows Phone 8 Emulator:

Windows 8 Pro edition or greater
Requires a processor that supports Second Level Address Translation (SLAT)
Be sure to read up on the details over on the download page.
Source: Microsoft (opens in new tab)
Rich Edmonds is Senior Editor of PC hardware at Windows Central, covering everything related to PC components and NAS. He's been involved in technology for more than a decade and knows a thing or two about the magic inside a PC chassis. You can follow him over on Twitter at @RichEdmonds.
Requires Windows 8 x64 to install! That's rather annoying! Since they just made media center available for WIndows 8, I now I can upgrade. But now I'm being forced to install 8 this week? Growing pains, oww! WOuld be nice if it was backwars compatible.

+1
I didn't really want to install 8 on my desktop. Very annoying requirement.

That not the biggest issue, this new SDK and visual studio 2012 for windows phone dont work on Windows 8 Enterprise!

i dont know why but i tried it and no succes. i tried it also on a windows 8 pro pc and the visual studio ISO, it says "can not install it because it must be installed on windows 8 or greater or a 64-bit newer machine."

Nice i started learning just a few months ago on previous version good thing i got Windows 8 now..

Damn now I have to actually sort out the new components for my dev machine... Annoying SLAT virtualisation requirement

Oh man, I was waiting for the SDK, but since I'm on a work trip and my laptop has Win7 on, I can't use the new SDK.

This is really annoying. Come on MS, why u no support Win7???

Why not give a refund to devs who create and submit an app for WP8 for the amount of their Windows 8 upgrade? Just a thought...

So much for running the emulator :/ I can't afford new PC components right now to run it, either (motherboard + CPU).
This could make things a little interesting...

Just where are you guys finding the sdk. I go to the 'Get SDk' page and all I see is the 7.1 & 7.1.1 downloads ???
Is this the right page?

https://dev.windowsphone.com/en-us/downloadsdk


I see the download for SDK 8.0 on that link you posted. But I just followed the link provided in this article: http://www.microsoft.com/en-us/download/details.aspx?id=35471

I wonder how difficult it is to develop win phone apps? I was never as good a code monkey as my friends but I'd like a simple app to track dragon timers and maybe tie into the wiki for GuildWars2.

Anyone have any luck running the emulator?
I have hyper V installed, but I get this error when I try to launch a sample app:
The Windows Phone Emulator wasn't able to create the virtual machine. Something happened while creating a switch: Xde couldn't find an IPv4 address for the host machine.
Any thoughts?

IMHO, his ideas (well, I am afraid, he has not many of them) are a complete BS. Windows 8 is really great both on desktop (using it extensively for more than two months now), and on tablets (used them not that much, but what I have used so far, was really superb and kicked Android tablets' asses big time; I know what I talk about, as I own an ASUS Transformer, so I can easily compare these). Guy should go and rather fix his "beautiful" and "functional" (sick) web site before criticizing something he has no clue about.

Just can't wait to get my hands on it! Downloading... :)

This was weird. After it enabled Hyper-V as part of the install it rebooted the computer but my mouse and keyboard were not working, even if I hit the power button to shutdown and restart. I had to plugin a spare touchpad and select Restart which does the slower restart where it loads the drivers again to get it working.

I've tried to install the sdk twice now and both times it hangs on boot after visual studio asks to restart.
I have a quad-core i7 3.2(?)ghz with 16gb's of mem so I don't think I'm not meeting the requirements. oh and windows 8 pro.
I also tried it with win 8 enterprise first and did the same thing.
Am I missing a step? do I need to enable hyper-v first? I wouldn't think so because VS2012 (Ultimate) says it's doing it and that's why it needs to restart.
Anyone else having this issue?
thanks

Windows Central Newsletter
Thank you for signing up to Windows Central. You will receive a verification email shortly.
There was a problem. Please refresh the page and try again.