Microsoft releases Windows Phone 8.1 SDK Development Tools RC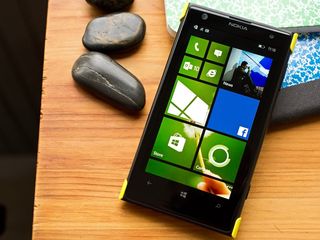 Hot on the heels of Microsoft officially announcing Windows Phone 8.1, the SDK Development Tools are now available for download. The Windows Phone emulator has also been updated to handle Windows Phone 8.1. All which in preparation for the eventual release of the Windows Phone 8.1 SDK.
The Windows Phone 8.1 development tools are included with Visual Studio 2013. If you already have Visual Studio 2013 installed, you'll need to install Visual Studio 2013 Update 2 RC. Otherwise, you'll need to install the Update 2 version from scratch.
The Windows Phone 8.1 emulator package will also get a bump by adding six emulator images to the existing installation of Visual Studio. This update will allow developers to test how apps run on Windows Phones running the 8.1 update.
You can find all the download information here at the Windows Phone SDK website.
Thanks, sraj, for the tip!
Windows Central Newsletter
Get the best of Windows Central in your inbox, every day!
George is the Reviews Editor at Windows Central, concentrating on Windows 10 PC and Mobile apps. He's been a supporter of the platform since the days of Windows CE and uses his current Windows 10 Mobile phone daily to keep up with life and enjoy a game during down time.
Do note that in order to use the tools you will need to be running Windows 8.1 on your PC, have a 1.6 GHz or faster processor, 1GB or more of RAM, at least 4GB of disk space, and a DirectX9-capable video card. For the Windows Phone emulators, Windows 8.1 (x64) Professional edition or higher is required, as is a processor that supports Client Hyper-V and Second Level Address Translation SLAT). Got a question? do you happen to know if we can use push notifications for side loaded Enterprise apps now on Windows? Originally we couldn't and I haven't heard about any changes to that policy. Abigail Scott
http://www.agileinfoways.com/technical-expertise/mobile-applications-development/windows-mobile/

Now only dev update for the devices :(

And the preview for developers on the wp8 , when will be available?

The million dollar question.

Early April, they said earlier today on the Microsoft Blog

Will the developer preview include cortana???

Yes, Cortana is included and fully working :D.

Thursday the 10th, is the current expected date.

"in the first part of April." - source: Ms blog : If you want to try out Windows Phone 8.1 and you are a registered developer, you can update your phone as part of the Developer Preview Program in the first part of April.

good sign for soon release Preview WP8.1

Too bad I dont have windows 8. pro :( I have 64 bit and i7 I can handle it! I want to test apps on the computer, not on my phone

A serious developer would make that investment.

What about win7, you can run vs 2013

I have win8 pro, but i haven't got 64 bit, i have only 3gb ram..
Has anyone tested it on a 32 bit pc ? Their site says that it wont work on 32 bit, but would install.,
Or else, can anyone advise me if I'd be able to get 64bit working properly on my 3gb ram laptop ? Would i face any problems ?

No problems running 64 Bit OS on less than 4Gb of Ram, though memory is cheap so I'd add it to the upgrade wishlist

I have a laptop. Memory isn't cheap for it, especially if you're just a student right now, about to go to college in a few months, and when you have to buy new 4gb ram and dispose off your old 3gbs (ram chipsets ought to be same to avoid bugs), and then have to transfer your win8 licence too. Sorry i wont do all that ! :) (unless i find a nice deal ;) )
But thanks for the reply, i can switch to 64bit with peace of mind now. :)

The Amount of RAM on your machine as well as the Bit architecture of your machine are two different pair of shoes. One is not linked to each other but WHEN you want to address 4gb of ram you NEED 64bit. You can also have a 64bit system with just 1,2 or 3 gb ram. Rightclick your "computer" and select properties in order to see what your system supports.. 32 or 64 bit

I know that very well, and if I'm wanting to develop apps, i would obviously know that. 32bit only addresses up to 3.2gb ram. But my main concern was that 64gb allocates double the ram for tasks than 32bit would. That's why i was a bit concerned on whether i would see a drop in performance of some games etc.
P.s. I have a x64 CPU too, the main worry was performance, which doesn't seem to be a big issue.

I'm a mobile developer, and I have to say that you absolutely * do not * want to limit your testing/debugging to only "on your computer". The emulator is good for things like making sure binding data works and that pages appear as expected. You have to go the step beyond that and test on the hardware itself as specific nuances only appear there. Also true GPS, Wallet, In-App Purchase and other scenarios don't work on the emulator; they can only be mocked, and that's NOT something you want to trust your production user experience to. #ijs #ihth

Whoever in (south)east Asia is gonna go crazy when they wake up lol

I'm in SE Asia, I when through whole night watching the build event

Mee Too, but I m in Italy ;)

Information I was able to get out of the emulator which I have not found anywhere else yet: The 4 inch 512mb emulator can run more tiles. There is a "UpdatePack.exe" which is described as "Windows Phone Developer Tools Update Pack" which seems to install a dev app on your phone. I cant test it because it requires 8.1 on the phone and FINALLY: You can search your local music. If you have more then 2000 tracks on your phone you have to have such a feature

yep I guessed this about tiles... Joe didnt mention any limit for tiles...

FYI to everyone, Cortana does exist in this build of the emulator... I haven't been able to get voice searches to work in it yet though.

THERE IS ! have just tried it..

me too couldn't get it to work. are you in the US? I'm not and maybe that's the reason

I can't find the offline installer :-/

Wow, we're flooded with news in the last couple of hours.

Ok developers start digging and give us some more information on 8.1 please.

I guess the VS Express for Windows Phone is now redundant and we just use VS Express for Windows now it supports both Windows 8.1 and Windows Phone 8.0 & 8.1

Will the developer preview include cortana???

Hey ,i check the update is available....!!!

Anything different from the leaked sdk?

Just to clear the air.... Will the carrier update be available after downloading the developers preview of windows phone 8.1 ???

Yes it will be available when nokia releases cyan update.

I think yes. I've downloaded the dev preview of gdr3 on my phone and got the black update later.

Well this update sucks :/ not completely, but they have changed the Photos menu into side-flick menu style. Old one was way better. No Facebook in people hub.
I liked the On-screen button settings (navigation buttons) can change the color of it. Xbox gets a good update. They should add Equalizer option for 520 devices.

Check update..its available

Seems faster... Seriously though, going to be fun to start Development for 8.1 later today :)

Hope they can enabled emulator for non-pro windows, i don't think if it is possible...

Why no offline installer , cause when i the wp sdk is in trouble i can easily uninstall and reinstall.. No need to download from web that needs 1 week to finish installing.

It is RC not the Final SDK. Some emulators not working. Bugs in working emulators. Also something was changed in WP8.1 Sopcket implementation which brokes a few things in my apps, like FTP Server, HTTP server. I really hope that this is just a bug in emulator, not the real bug of Windows Phone 8.1!

With this update you have the leaked SDK we see a couple of weeks ago?

I love what windows phone 8.1 brings to the table, but I believe Microsoft should have added an optional feature on the start screen to fade out the translucent tiles all together leaving the icon appearing as if they're floating on whatever nice background you've chosen (sorta like an update win mobile 6.0)....when this mode is chosen, all messages that would normally appear on a wide tile would go into toast mode. You would then be reliant on toast notification & message center. This would give windows phone a familiar look when sitting on store shelves so users would purchase it instead of relying on salespeople.

This is not pissible. Information on live tiles are often images.

But I have to keep the 8.0 sdk installed - otherwise the new emulator does not available

hi I downloaded & installed Visual Studio 2013 Update 2 RC. Can I still use Windows Phone 8 SDK after installing this update with SDK 8.1?