Microsoft Remote Desktop Preview now lets you add desktops to custom groups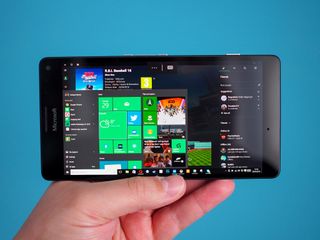 Microsoft's Remote Desktop Preview app for Windows 10 has nabbed a fresh update, adding in a couple of new handy features and fixes. The most notable addition in this latest update is the ability to add desktops to custom groups. Of course, there's more to like here as well, including support for copying and pasting images and objects.
Here's the official look at what's new in Microsoft Remote Desktop Preview version 10.1.922.0:
Support for adding desktops to custom groups
Feed items are now in the proper folder defined by the admin
Copy/Paste of images and objects is now supported
Bug fixes
While a modest update, there's plenty here to like for anyone testing out the app. If you'd like to check out all that's new, you can grab the latest update at the Windows Store now.
Download Microsoft Remote Desktop Preview from the Windows Store (opens in new tab)
Windows Central Newsletter
Get the best of Windows Central in your inbox, every day!
Dan Thorp-Lancaster is the former Editor-in-Chief of Windows Central. He began working with Windows Central, Android Central, and iMore as a news writer in 2014 and is obsessed with tech of all sorts. You can follow Dan on Twitter @DthorpL and Instagram @heyitsdtl.
YES. Excellent, especially copy and paste.

But I still can't copy-paste files like the desktop RDP client...

https://windowscentral.com/commenting-guidelines

Can I be in two server at the same time and switch back and forth? This was possible in the old Windows 8 app, but they dropped that when they started over for Win10. That has made this a non starter for me.

Yes, multi-session support was added recently to the preview app and should make it's way soon to the non-preview one. David Belanger [MSFT]

My thought on seeing the screenshot - someone put Windows 10 on Mobile. Then came to senses :P

At least it should be on tablet mode haha

At least it should be on tablet mode haha

Remote desktop is how I see Continuum make sense. The performance of Continuum on my 950XL is pretty bad, but if all it was just a remote session to my environments, I imagine it probably performs much better

General performance? Or just continuum?

General performance of the phone is good, just with Continuum and wireless display.

Oh ok. Was just wondering because I'm saving for a 950 XL.

A lot of the issues over wireless is that Miracast generally sucks, bring on the next gen asap. With more expensive dongles/receivers it can work well for a time but it wigs out a lot - Wired is MUCH better but still not perfect.

Continuum does need to go beyond just an RDP session eventually because otherwise there really isn't anything that unique about it - Any device which can output to an external display and run an RDP Client can do it - Say an iPad for example. Not sure at what resolution an iPhone can output at to an Apple TV or if the RDP app is supported but if Apple allow it to use a full 1080p resolution on the external screen then Microsofts Remote Desktop iOS app could make use of it. As UWP become more and more prominent I think Continuum will turn into what Windows RT should have been. They will get there, just need to make sure they do it before other companies catch up or pass them by.

They are going the right way with Windowed apps coming in RS2 (Hope we see something of this in the next 8 weeks otherwise I worry whether it will make it in in time. If we don't see it in Insider builds soon it might be getting pushed back to RS3)

RDP on W10M is as fast as any other client. As fast as the RDS server is.

Continuum performance is awesome with the dock but with wireless it's not the best. MS would be better off creating a proprietary wifi standard with an accessory dongle. This would be the optimum way to do wireless but it would still support standard miracast.

I guess to a point, wired will always be slightly better than wireless as there's no interruption with the connection between the devices etc. its like how a Wired Ethernet connection is always faster than a wireless WiFi connection :P (I'm not saying MS can't/shouldn't improve the performance a bit more though haha)

I can't delete one comment :-(

Still waiting for Microsoft to fix the arrow keys on the remote desktop touch keyboard, where it send 8 for up, 4 for left, 6 for right, and 2 for down (like if numlock is turned off and using the number pad on a keyboard, instead of the actual keys).

I need to set this up for my laptop.

I have 3 machines on Windows 10 and not a single one has the option to turn this on, so I just gave up...

I've tried MS support and all, they spent hours in it and couldn't get it to work.

First, I'd recommend making sure you have Windows 10 Pro or Enterprise on your machine. Remote Desktop is not supported on Home edition. Second, if you still need help configuring the host PC check out the useful Remote Desktop Assistant at aka.ms/rdassistant. David Belanger [MSFT]

I thought home now supports it? Everyone of my machine updated to 10 home, really sucks I lost that functionality.

I thought home now supports it? Everyone of my machine updated to 10 home, really sucks I lost that functionality.

I thought home now supports it? Everyone of my machine updated to 10 home, really sucks I lost that functionality.

It's not really useful for me,coz most have connected the phone and the pc in the same wifi not like TeamViewer.

How does it match up compared to Teamviewer

I love it, just got my connected. using my phone to post this comment though my pc connected remotely. this is great

What device is that in the picture?

Can we control pc games with our phone?

What can be accomplished with this?