Microsoft reportedly closing Nokia deal within a month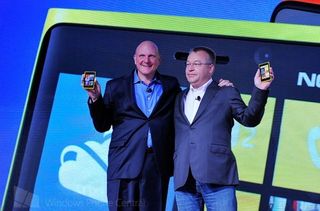 Microsoft announced plans to purchase Nokia last year and the deal has gone through numerous checks, but reports now state we could be looking at just a month wait for the two companies to finalize everything. The deal will see Microsoft absorb Nokia's hardware division. Essentially, Microsoft will be taking over development of Lumia Windows Phones with the same teams that make the devices we enjoy using today.
Hurdles have been put in place over in China, India and Korea, but these roadblocks appear to be clearing up. Indian newspaper Business Standard reports that issues in China have been settled and the purchase is set to go through within 20 days. While Nokia remains caught up in a legal dispute in India regarding tax issues, it's not believed to have a negative impact on the Microsoft deal in terms of delays.
Once the deal eventually goes through, the tedious process of adding Nokia X, 30,000 employees and other parts of the division Microsoft is purchasing will kick off. Stephen Elop will also be making the move to Redmond, taking an executive VP and senior leadership role. It'll be interesting to see how Microsoft comes out in late 2014, early 2015 with battle strategies to take on Google and other competitors.
via: LiveSide
Rich Edmonds is Senior Editor of PC hardware at Windows Central, covering everything related to PC components and NAS. He's been involved in technology for more than a decade and knows a thing or two about the magic inside a PC chassis. You can follow him over on Twitter at @RichEdmonds.
The news don't match.... Why don't they just say what's happening exactly?

Another wp8.1 feature, lol

http://m.youtube.com/channel/UCCXnLGMpG6E44pjK_mMxaFQ All sdk video wp 8.1

The strategy will indeed be the most interesting part of this deal. I think they got it covered. Still not sure about that whole Nokia X thing though. But WP8.1 and Windows 8 will continue to gain more market share, I'm sure.

I think that too, wp momentum is only beggining, if microkia makes The right moves, I actually think they can take a big part on smartphones role.. Glad to see that Nokia deal is also a part of wp8.1 features, lol

Great, I'm excited about all the things that will happen in the next months to good old Nokia and Microsoft!

Lol please write "finalize", I thought for one second that the deal was broken... :P

"closing" sounds more business like.

Or even better, "Finalised" ;)

Can't wait to see what a MS Lumia looks like! My next Lumia is from MS. Happy L920 user.

Me too! I'm excited to see what the new devices will be.

I hope that each Lumia 5" and above comes with a kickstand.

Ah, you also had a HTC HD7, I assume? :) I also had one and that kickstand was awesome!

I had one as well. Loved the kickstand.

Next Lumia may be a Surface Phone?

E quase a tempo para Build 2014!

Lol the title is misleading :p for a moment I thought the deal was not gonna happen .__.

It's not misleading. In business, they always use "closing".

ANOTHER month! They said they would do it by end of March. I was expecting the gala announcements and hype on April 2nd :(

Nokia x - strategy of morons. Already passed 1 million preorders in china, that's 1 million sales that are not Nokia Lumias. Strategy should have been to subsidize the Lumia 520 so it can be sold cheaper, all those sales would be WP sales, directly affecting WP marketshare instead of the "we'll gamble they like MS services" approach, more incentive for developers. Good luck getting them back with the magical MS services.

Yep and surely when they upgrade, they'll want another iteration of a Nokia X, not WP.

Prior to Nokia X than another Android. I think that's their idea. That 1 million of people, these are people who have not bought a Lumia (520 or any WP).

And what are the chances of them buying one now or after using an android phone for a period of time? Or are they still going to rely on them being ignorant of the fact that they can get the same apps and services from an android phone from someone like htc or samsung?

100% agree that Nokia X strategy is rubbish.
If you want to tackle low end market: improve 520 first (see Moto G spec), then subsidies sales.

I'd argue that the Nokia X strategy is proving that the WP-only strategy was rubish. Hate Samsung all you want but they have the most sound strategy to hedge mobile OS risk. They will produce both Android and Windows tablets and phones, and if needed they can mass produce Tizen on a whim. Thats what Nokia should have done, they had the resources to support multiple OS before they nose dived and the writting was on the wall that if they couldn't rescue Symbian, Android would be the next big thing.

The India factory will likely not move to Microsoft and end up being closed down. The Indian government seems more interested in extorting the money out of Nokia than saving 8000 jobs. And we haven't heard news from Korea. I wouldn't put my faith on the "20 days" deadline. But who knows. I just want this damn thing to be done for good to move on and start the countdown until 2016. In the meantime, the Nokia X has seen 1 million devices pre-ordered in China alone. Perhaps not only the idiots at Nokia who allowed the deal should think about it, but Microsoft should also think about it before deciding to axe the X platform.

Microsoft will pay it off if that's all it takes to take over Nokia's phones.

Microsoft shareholders will not accept to pay another 7 billion just to get a factory in India.

Who says it's gonna cost 7 billion?

That's what the Indian government was claiming that Nokia owed them in taxes.

Negotiations are generally a middle ground.

I remember reading it was about 500 million dollars or so (RS 3000+ crore) and not up to 7 billion

Read latest: http://in.reuters.com/article/2014/03/14/nokia-india-court-idINDEEA2D08J... Nothing is settled, Nokia could lose one of their biggest manufacturing plants if they don't pay.

*At BUILD, end of presentations* Ladies and Gentleman, one last news. Microsoft fully acquired Nokia as of, now. *Bombshell* That's what they gonna do.

"fully acquired Nokia" Never gonna happen. They can announce the closing of the D&S sale deal. But "full acquisition" of Nokia would demand another deal and a new round of regulatory approvals ;)

Ah yes, whatever part of Nokia MSFT is acquiring. Just 'fill it in'.

The Lumia Surface Phone. Just do it!!!!!!⬆❕❕❕❕

Sure! Let me just grab some Legos.

So when are you finally leaving and moving away? Go buy the Nokia X and be done then be gone!

Whats gonna happen to the Pureview technology used to make the Lumia cameras? Will it still be around and will it be improved on? How about the relationship with Carl Zeiss lenses? Id love to see another Lumia 1020 in the future.

PureView technology remains in the hands of Nokia as well as all the patents and the research & development division that created all that. It is likely that Microsoft will acquire a license from Nokia to keep using PureView on Microsoft devices. However, the technology will no longer be exclusive, which means that other OEMs will be able to license PureView from Nokia. And that means that, thanks to the deal, you can end up seeing a Samsung Galaxy with Nokia PureView on it. The relationship with Carl Zeiss lenses no one knows. Carl Zeiss will surely keep suplying lenses but Carl Zeiss lenses ARE expensive. What remains to be seen is if Microsoft will want to keep licensing such expensive lenses or if they will instead be switching to other kinds of lenses (for example, Sony's G lens, which are apparently already supplied for the iPhone 5S albeit no visible branding). As for another 1020...don't expect it that soon. The 1020 is a niche device. Niche devices don't get substituted that often. With the end of Nokia phones, it will depend on Microsoft to decide if they'll want to keep betting that heavily on photography. Currently, I think Microsoft isn't that inclined to worry about a successor to the 1020. It's not phones like the 1020 that might allow WP to grow. It's phones like the 520. So Microsoft will probably stop putting so much emphasis on the imaging capabilities of the phones (specially when all the tech behind it will stop being exclusive to them) and bet more on low end devices for third world countries and "emerging" markets.

Your are spot on about the ziess lense, but the Sony's are better despite the hoopla about ziess.

Microsoft should have bought pureview patents from nokia which was the selling point of nokia

Nokia wasn't willing to sell any patents and rightly so. They have a business to run that lives on pass Microsoft. If they sold the patents, Microsoft might as well have bought them entirely.

2015 is Nokia's 150th anniversary! :)

Microsoft probably has the Pureview patent.

That is completely false. Microsoft also acquired a significant number of patents related to the devices division. Hardware technology like Pureview are in Microsoft hands now. Software technology like HERE maps are still at Nokia.
Your comments are bad, and you should feel bad.

No they have not. Microsoft acquired licenses for patents, such as PureView, to be used in the construction of hardware. Meaning they've licensed all the patents that are needed to build the phones. Acquiring licenses isn't the same as buying patents. There's no transmission of property in a licensing deal. You should have read the deal itself, perhaps. Your reading skills are bad, and you should feel bad.

http://readwrite.com/2013/09/03/what-microsoft-did-and-didnt-buy-with-it...
"Microsoft is specifically buying 8,500 of Nokia's design patents" I'm done.

Once again, go read the deal itself. And learn the difference between licensing of property and transmition of property. Or just abstain from commenting on legal matters to which you clearly have no instruction ;)

Dude, I'm a lawyer. I'm pretty sure I have a hell of a lot more knowledge about legal matters than you. This isn't a "I win, you lose" debate. It's facts.
But hey, if you want to believe in unicorns, I won't prevent you.

http://www.wpcentral.com/samsung-google-complain-about-microsofts-nokia-...
Lawyer or not, you're still wrong. "According to a Bloomberg report, the two parties, alongside Chinese counterparts, are concerned Microsoft will gain the upper hand in the smartphone market and will abuse ACQUIRED PATENTS." Dude you lost. It's done. Admit it.

You're a lawyer? No wonder you're such a douce bag! Lawyer's are usually low-life. Unemployed too, no doubt.

http://m.cnet.com/news/microsoft-bolsters-its-patent-access-with-nokia-d... It clearly says that Microsoft got 8.500 of Nokia patents and is "licensing" the rest of the 30.000.

Perhaps you should read the deal instead of CNET... Licensing patents isn't the same as acquiring patents. The deal includes the licensing of all the patents needed to the production of smartphones. But that doesn't mean the property of the licenses moves to Microsoft. It means that Microsoft got the licenses already as part of the deal price instead of having to license them after it at the same price other OEMs will have to pay.

So what your saying is Nokia can reuse these patents and make phones again in a couple of years?

They could. But the question is will they? I doubt it. They sold all of their Hardware division and their factories. They'd have to start from scratch again. And it's going to cost them a lot of time and money. If they ever release another phone it will be 2020 at its earliest. Definitely not 2016. As that jackass is trying to make you believe.

Hardware division isn't for sale, I can understand wanting to keep a high salary job for family and other expences but some people out of passion joined Newkia. The thing is for years Nokia has been customizing their software, look at beta labs for example with the nokia N8 they made the glance lockscreen long ago and it took years to get it onto windows phone after microsoft allowed the modifications.

What do you mean the hardware division isn't for sale? That was the whole point of the deal. They got the whole hardware division including the factories. 33.000 employees are moving to Microsoft.
I don't see "Newkia" building anything close to a real Nokia phone, Microsoft has all the design patents.

Sorry by hardware division I thought you meant employees

I wonder how willing Nokia will be to license such things after they are able to make and sell phones again in, what, 2016? Microsoft should have tried to buy the whole company.

They're not going to be making phones for a long time, trust me. They have to start from complete scratch again. They don't even have factories. Everything related to making phones is not at Microsoft. There is no way that they're going to be ready to make phones again in 2016. 2020 is much more like it.

I want either the 930 or Goldfinger! :D

930 is the only phone that has me interested. If the rumor bares it out that is.

Nope.avi
they are still there!

Elop does not seem very happy in this picture.

Who cares if he looks happy or not? It might be because he knows once he gets transferred, his employment might be short lived.

Yeah, he knows his head may be cut off in any moment now

Have faith in MS. Negative isn't going to make it any better.

Surface phone, my money is waiting

Just wishing for them not to kill the production of either Asha or X.

Why would they continue the Asha line? Or even the X line? Which one is selling better out of the two?

because people just keep blaming Nokia for the Nokia X production? Haha kidding. Unless X was made to replace the Asha line, I'll say it better to keep Asha till Nokia (or later will be Microsoft) doesn't get much profit from it.

In this (developing) country I lived, I could found Asha users a tiny bit easier than as I could find a WP user, because I often meet and interact with people on the society level of which is the target market of Asha line. But from the news, where X has been pre-ordered for 1 million for only 4 days, I think it's gonna be a big hit in the developing countries and would beat Asha in no time.

Seems faster... Than everyone expected it to happen.

Awesome! Build in early April and the deal sealed about a week or so later!

Really sounds like they split the partnership....terrible Title

Great because I'm excited about it all! Can't wait to see what's in store.. I just hope that the plans are already in place,and are ready for immediate commencement. Down with Apple and Google,and all others who oppose!! :)

This will totally suck if they're not able to keep using pureview camera technology. All my friends are super jealous when they see how good my lumia 920 takes pictures compared to there iphones or androids. Whenever we go out at night they always ask that i take the pictures since they know how good the quality is. I would hate for that to change. Whenever they ask what kind of phone i make sure to tell them its a Windows phone that uses PUREVIEW camera and Carl Zeiss lense. They're always in awee about it. I would hate for that to change or for Nokia to license there patents out to Apple or Samsung or any other OEM. The camera is the game changer that lets me proudly boast having the best camera phone to date. (Lumia Series WP) I dont wanna see hear my Iphone friends throwing it in my face how they invented PUREVIEW if Nokia does indeed decide to license out there patents.

Hmmmm.....I've searched everywhere, googled it, binged it and cannot find one single official press release from Microsoft or Nokia that shows or has announced Microsoft's reported intentions to purchase Nokia. Can somebody help me out??? I have found however, press releases where Microsoft plans to purchase Nokia's Devices and Services division....

I hope this deal turns out to be a good deal for WP users and Microsoft, but as it's said the Devil is in the detail. We'll have to wait and see how this turns out, I really hope for the best, but usually in these type of deals, the big thing is cutting cost and increasing the bottom line.

Hope next Phone is NOKIA branded. I'm fan of Nokia not Microsoft OS. I'm a Sad fan.

Dude if you purchase phones for the name, you sick! Meego, Maemo, and Asha are sh*t compared to wp. I will try a phone made by a particular manufacturer, but also know what OS runs on it. I will personally never own another Samsung unless they support there hardware properly

So long Nokia. I will miss you, and I shall buy your last flagship to remind me of you for the many years to come.

I'm glad it seems like Nokia will still be able to continue innovating for us. I love microsoft hardware, but the Lumias just stand out. Even if the brands change, I don't care as long as I get to use a phone engineered by the same people who have already made some of the best phones ever made. Things are looking up for WP, with this deal, and WP 8.1, and everything else!
Windows Central Newsletter
Get the best of Windows Central in in your inbox, every day!
Thank you for signing up to Windows Central. You will receive a verification email shortly.
There was a problem. Please refresh the page and try again.