Microsoft reportedly interested in establishing 'closer ties' to HERE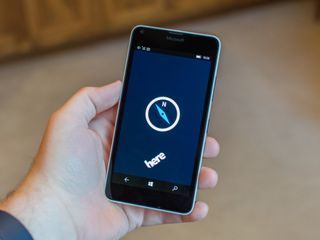 Microsoft may be trying to establish new partnerships with HERE, the online mapping company fomerly owned by Nokia and currently owned by a consortium of BMW, Audi and Mercedes.
According to Reuters, HERE is currently in talks with both Microsoft and Amazon for cloud-based computing services. The story quotes an unnamed source as saying that Amazon might buy a stake in HERE and added, "Microsoft is also interested in closer ties to HERE."
While HERE was under Nokia's wing, it developed the HERE maps apps for Windows Phone and Windows platforms before they were released for iOS and Android. In 2015, Nokia sold HERE to the consortium. A couple of weeks ago, HERE announced it was removing those apps from the Windows Store and they would cease to work on Windows devices after June 30. Microsoft says it will continue to use data from HERE for its own Windows 10 and Windows 10 Mobile map apps.
Ehh...it's more biz for Azure which is good, but as an app on WP it wasn't all that reliable - at least for navigating the northeast US.

The problem, though, is that there are no better alternatives on WP, which is why Microsoft should've obtained HERE too when they bought Nokia's mobile division, as a mobile platform cannot survive without adequate mapping / navigation services, and Microsoft needed to obtain HERE to prevent exactly what is now happening: HERE, the only viable mapping / navigation service on WP is leaving.

I have been using Maps for half a year maybe and I don't have big complains with it. Sometimes address are plainly wrong and Google has them almost right; Here has them somewhat right. I don't know why that happens since Maps and Here supposedly use the same data. About the Nokia Devices deal, they weren't willing to sell Here back then.

They were willing to sell HERE on the cheap when they sold it to the abovementioned consortium. If Microsoft cared about Windows Phone at all they would've snatched it up.

A year ago, I would have agreed with you. However, the Windows Maps app in Windows 10 is MUCH better than it used to be. The same map data that Here Maps provided is used (and has been used by) Windows Maps for a long time.

I should also state that my perspective is US and UK.

I've used Windows 10's maps and it's no replacement for HERE Transit.

Try moovit...
It's not available in the whole world, but it services lots of major cities (and near zones)... I'm in Italy, near Milan, and it covers bus lines that with transit didn't exist (or, in my case, Transit used data that were so old that the bus company which was indicated was failed 5 years before)

I agree to a point. I used both while I visited London, and did like HERE Transit to be a bit better. However, I would seriously take another look at MS Maps, especially if you are on the Redstone version (14295) for Win 10 Mobile. It is getting so much better IMO.

"The problem, though, is that there are no better alternatives on WP" - That's because WP is pretty much dead while MS kills of the Lumia line breathes new life into mobile under the "Surface" moniker. I (hopefully only temporary) stopped using WP earlier this year and while the WM OS is nice and more intuitive, it's app gap gets wider and wider which isn't helping the overall situation.

Your last sentence is false. Plenty of apps that were missing have been announced just this week. There were a few more promised from banks as well. It's looking better and better

Fair to say the entire $7 billion Nokia deal was poorly conceived and executed.

Really? I live in MA and it's the only one that has my street, which has been around for 7-8 years now.

In NJ/NY it will get you where you're going, but not in the most efficient way possible. While I don't care for Google, their navigation is far more accurate.

here drive and here maps was exellent in the uk, id actually say it was more reliable and functioning than my tom tom from the iphone days. Still theres a drive mode in microsoft maps, havnt properly used it yet but im optermistic. Shame though here maps was great.

Lol their transit app has same problems as my transit authoritys app sometimes it pulls the wrong schedule eg. Fall/winter schedule in spring/summer vise versa

Good! I use those maps all the time! Posted from Windows Central for Windows 10 Mobile

me to i prefer using here maps than microsoft own maps app...

You do realize they are the same maps don't you? Posted from Windows Central for Windows 10

I prefer here maps because of the better ui and better drive app

And also in finland here maps has maps of market/store

It would be a wise choice considering how much Microsoft has invested in integrating HERE with its own mobile platform (WP8.1 and windows 10).

The here apps immediately became redundant when you realised that the maps app in windows 10 does it all, with exception of the 3d view thing, which was always a bit hit and miss anyhow :)

People who say this seemingly have never used HERE Transit. That app is unparalleled.

That function isn't available in my country but I have seen the option in Maps too.

+1 about Here Transit, but remember there are places where there is no transit and therefore no use for the application.

Agreed. However, the MS Maps team stated they are improving that experience. The MS Maps app is light years better than it was over a year ago. I have used both, and did like Here Transit a bit better when I was in the UK recently.

@Coip, people who say "unparalled" clearly haven't tried Moovit.

I tried Moovit; it asked me to traverse an unpaved canyon trail (and scale a steep hillside) to reach my "nearest" bus stop!

Actuakly there is a 3d view feature in win 10 maps too or i this something special?

3D was never hit and miss. It was more useful in urban areas and virtually non-existenent in farm country.

So...hit (urban) and miss (rural).

The MS Maps UI for navigation is unusable compared to HERE - try in reality and you see - it is not same on your sofa...Additionally Transit in HERE and MS are two absolutly different worlds for example try to change trip start time in MS Maps - it is not planner - if you can't !!!

Universal HERE apps maybe?

Nope, Microsoft already has their maps on their platform they wouldn't push for another Unviersal maps app based on the same data.Wouldn't make sense. I think this deal is more about the automitve market.

Seems like an April Fool's joke

Like when I fired up Here maps for directions last week. The splash screen said 'HERE - maps for life' and the note underneath read: 'This service will be unavailable from June 2016'. The irony was palpable.

Life of Windows mobile. I suppose that's the official funeral day.

How about if MS starts by restoring the ties they used to have so we can use Here Maps with the original UI? I admit the latest update vastly improved the UI but it is still not what it used to be. Anyway, I bit the bullet and bought a Sygic license. I revert to MS Maps when I am in a country that has no Sygic/TomTom navigation. There are only a few such countries but, story of my life, I have been unlucky enough to find myself in more than one of them in recent months.

I find the MS Maps much better and more reliable for drive, and decent for transit. I keep Here Transit installed because it is more consistent than MS Maps. I often get error message when using the transit feature in MS Maps, and I only use the local bus maybe once per month. Where Here excels (at least for me) is that it provides much better search results.

Seems like a dumb move from MS, to let Here go. It's the only good and free mapping and navigation solution for WM10.

Here had nav voice in my language and Maps doesn't.

Here Drive was countless times better than Maps. I could have coped with them not updating Drive, but removing it was heartbreak appified.

What exactly is the nature of these "close ties"?

Too late. I am on to Sygic, and I sm pleased with it.

I'm pretty sure that HERE and MS will find a way to continue collaborating together.

Indeed if this is a hoax it would be a loose for windows phone as here would remain on other platforms. The Here Transit is birliant and the Maps app made my separate navigators redundant long ago. MS Maps is ok, but nowhere close to Here as yet. I have used Here in Finland, Europe and Asia and have been happy with it.

The here apps were a string in the bow of windows phone so Ms should try to maintain a decent relationship with them

I actually prefer to use win10 map now, it is faster than HERE, and aso intergrated into cortana with choice of transportation way, Cortana can tell me when I need to leave to catch the bus for my appointments.

This could also signal a move into car systems. The high end car buyers in the consortium are also the target market for the upcoming HP and Acer Continuum focused devices. Posted from Windows Central for Windows 10

Hey Here Use Azure... it is Amazing!!!!!!!!!!!! best Cloud Platform Ever!

Here Drive was the only thing i cared about, Here using AWS or Azure is none of my concern now unless i buy into another platform and get to use Here apps again.

windows maps still can't rotate its content according to compass direction. here maps could do that. it's a very important feature as a map. when will Microsoft implement it into windows maps?

First develop closer relation with windows mobile fans.

Microsoft, just but HERE for Pete's sake!!!!

no active compass on Maps application by MS, Map doesn't rotate accordingly (North, South, east or west) when you turn in order to find true direction of the location you are searching!

Gonna miss the cross platform mapping between my Surface Pro 2 and OnePlus One. Wish there was a way to sync my HERE account favorites with my Microsoft Account.

So Microsoft realized HERE was something they couldn't take for granted and now see that mapping is a huge arm of mobile that they're going to miss out on--need not look further than all the investment Google pours into its maps offerings, along with Waze.
Windows Central Newsletter
Get the best of Windows Central in in your inbox, every day!
Thank you for signing up to Windows Central. You will receive a verification email shortly.
There was a problem. Please refresh the page and try again.