Microsoft in talks to extend PlayerUnknown's Battlegrounds Xbox One exclusivity
By Matt Brown published
Microsoft is reportedly looking to extend its PlayerUnknown's Battlegrounds deal, in an attempt to stay tied to the Xbox One family.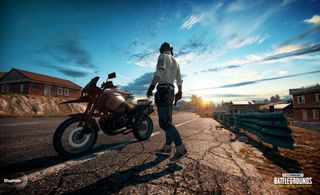 PlayerUnknown's Battlegrounds has been the surprise hit of 2017, racking up over 10 million sales and counting since its March debut on Steam's Early Access program. While a simple concept, the "Battle Royale" shooter has garnered a passionate following during its brief time on the market and current sits among the most played games on PC.
Back in June at E3 2017, Microsoft announced a partnership with the game's developer, Bluehole, which would see PlayerUnknown's Battlegrounds hitting Xbox One ahead of other consoles. Since, Microsoft Studios has stepped onboard as the publisher on the platform, with a seemingly close relationship between the two firms in preparing a console debut. Now, according to a new report from Bloomberg, Microsoft and Bluehole are in talks to extend this exclusivity agreement, preventing expansions to further platforms over a longer period.
According to Bloomberg, Bluehole met an agreement with Microsoft to produce the game first on Xbox One in 2017, however, talks are now underway to extend this period further into next year. Although Bloomberg expanded little on the deal and how long exclusivity may last, the report stated these types of deals typically last "for about three months," prior to an extension. With Microsoft yet to clarify its agreement for PlayerUnknown's Battlegrounds outside of "launch exclusivity," it's still hard to gauge an idea of how long such a deal may last.
As always, take this news with a pinch of salt until we have official word, although such an extension wouldn't be surprising. Being the hottest game of the year by far, it's in the best interests of Sony and Tecent to see this deal end as soon as possible. In previous interviews, the game's creator has reportedly been in talks with Sony about a PlayStation 4 release, though official details are yet to emerge.
Matt Brown is Windows Central's Senior Games Editor, Xbox & PC, at Future. Following over seven years of professional consumer technology and gaming coverage, he's focused on the world of Microsoft's gaming efforts. You can follow him on Twitter @mattjbrown.
Another console exclusive, and here I was believing that free market principals were supposed to be about markets being lead by demand, rather than vested interests.

Neither one of those things are the free market system. The free market system is about prices being set by companies that are in cometition of each other, not what gets released where.

Great if true. since playstation does not offer any kind of early access for game development, i do not see why MS shouldn't do this. A better console version starting on xbox also means that PlayStation gets a good version in the end. Besides that, playstation claimed Fortnite battle royale "as our own".

Back in the day we called this a demo or a beta, and you got it free on the front of a magazine. Now they expect you to pay for it like early access is some kind if premium product?

it's called "early access" so you feel special cos you get it early and don't realize you're paying them to be a beta tester.....

did any of the ''back in the day'' demo's or beta's include active development and monitoring in the process while people are playing it? I don't think so. early access is meant to have people play your game while the developers are actively building the game on feedback at the same time, so it becomes a better final product. demos and beta's did not do that and still often came with bugs in the final product where feedback easily could have helped prevent some of that. games these days become bigger and bigger and more difficult plus more expensive to make., so having early access and people pay to support your game helps.. and it makes sense.

Back in the day you also had to pay for Shareware, "demos of a product". With EA, you get a game in development and fund something, while paying a reduced price for it. You don't have to buy it if you don't want to, you can pay more for it later all you want.

Yeah, i agree. I was thinking about buy the game on Steam, but if Xbox Play Anywhere and/or UWP is involved, i prefer the MS ecosystem.

To many nightmare stories with steam, no thank you.

only if the Window Store version has cross play with Steam. Otherwise not worth it. Steam will have a larger player base vs WinStore.

When they have an exclusivity that can replace the missing ones, they should not let it escape. (should appear on Xbox pc too.)

Just buy the exclusive rights to keep it on Xbox and be done. They should stop blowing Millions on just a few months exclusivity

All you do is "PlayStation you want one of the hottest games out right now on your console? Then get with the program and allow crossplay" Then everyone gets what they want.

Another advantage of paying for "Early Access" is when the game is made official and comes out as a finished product, you don't pay anymore. If you pay the lower Early Access price, that's it. Anyone who wants to jump on board when the game is 100% done and polished, wil pay full price.

yep. I got We Happy Few in game preview for $30. Now it's expected to release at $60.

I don't think MS should do this. This will only get people mad at them.

it's the damn if you do and damn if you don't. When Sony does these deals, people complain MS doesn't put up a fight for their own exclusives. When MS does do an exclusive deal like this, then people get mad a MS.
Windows Central Newsletter
Get the best of Windows Central in in your inbox, every day!
Thank you for signing up to Windows Central. You will receive a verification email shortly.
There was a problem. Please refresh the page and try again.