What to expect from PlayerUnknown's Battlegrounds (PUBG) for Xbox One
PlayerUnknown's Battlegrounds is already one of the biggest hits of 2017, Here's everything you can expect from its Xbox One release this fall.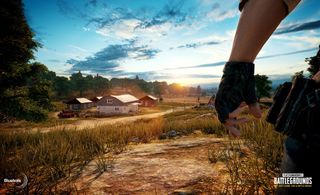 PlayerUnknown's Battlegrounds was an overnight hit, taking the PC gaming community by storm with its survival-shooter gameplay. After millions of copies sold, the game is now on its way to Microsoft's gaming ecosystem, with an exclusive Xbox One launch set for December 12. With the new 4K-ready Xbox One X now on store shelves, the game is shaping up to be a major blockbuster for 2017.
But what is PlayerUnknown's Battlegrounds? And why should you care? Here's everything you can expect from the game's Xbox One release.
5 tips and tricks for staying alive in PlayerUnknown's Battlegrounds for PC
What is PlayerUnknown's Battlegrounds?
PlayerUnknown's Battlegrounds (often shortened to Battlegrounds, or PUBG) is a "last-man-standing" multiplayer shooter, pitting up to 100 players against one another in an expansive open world. Taking strong influence from "Battle Royale" and arena survival games, players must gather supplies, converge upon a single location and fend off hostile players.
After being dropped in from a cargo plane via parachute, players land in Battlegrounds' world with no equipment. From there, it's key to quickly search for weapons, ammunition, attachments and more, while watching out for enemies in the vicinity.
Over time, the playable area will begin to shrink, forcing players to move to increasingly smaller pieces of the map. Ultimately, players will be forced into combat, leading to only a single player remaining at the end of the round.
Variations on this core concept are also available, with support for larger teams of players.
Why is PlayerUnknown's Battlegrounds so popular?
After its release on PC earlier this year, PlayerUnknown's Battlegrounds managed to gain an unprecedented wave of traction. Attracting millions of players since launch, and with thousands still jumping on daily, the game's growth doesn't look to be slowing anytime soon.
So, what exactly sparked its popularity? While it's impossible to pin success on just a single factor, the game's appeal mostly comes from the overall cohesion of the package. With previous work on similar titles, Creative Director at Bluehole, Brendan Greene, has applied his experience with the survival genre to deliver an unmatched level of balancing and depth.
While previous survival games offered the same appealing premise, the popularity of the title continues to draw more people. For many, this is their first time experiencing the genre, and the underlying hardcore mechanics are an interesting change of pace from your average multiplayer shooter. At this point, the franchise name alone is able to drive sales, which should also extend to the upcoming Xbox One release.
Will there be differences between the Xbox One and PC versions?
With significantly less flexibility in terms of raw processing power, many have understandably expressed concerns about how the game's scale will translate to console. However, since the announcement for Xbox One, the studio behind PlayerUnknown's Battlegrounds has been keen to stress that gameplay should be similar, if not identical on the console.
Anticto, a small developer based out of Girona, Spain, is currently handling the Xbox One port. Bluehole is still established as the team behind core game development and PC updates, while progress on the Xbox One release is outsourced almost entirely to the Spanish developer. Although having an entirely separate studio raises some concerns, it's now common in the industry to have multiple teams contributing to a single project.
Greene has also discussed his intentions to maintain periodic patches on Xbox One, as seen on PC. It appears the regular monthly updates should be present, with close to feature parity between the two platforms. Although it's safe to assume PC will get many updates early, it's encouraging to see the developer already commit to consistent console support.
When the game officially launches, outside of Xbox Game Preview, PlayerUnknown's Battlegrounds will also take advantage of the Xbox ecosystem. Xbox achievements, Xbox Live multiplayer integration, and the platform's social elements should all make an appearance in the final product – as expected from any ID@Xbox title. Mention of integration for Microsoft's Mixer live streaming platform has also been discussed, although no further details have been provided.
How does PlayerUnknown's Battlegrounds play with a controller?
One of the biggest challenges when transitioning over to console from PC can be creating a control scheme, with two vastly different input methods used on the platforms. As discussed during an interview between Greene and GameSpot, Microsoft's ID@Xbox program is lending a hand in porting process to ensure the best layout for an Xbox One controller.
We managed to spend some time with an Xbox build of PlayerUnknown's Battlegrounds at Gamescom 2017, providing a chance to see how the game translates to controllers. The gamepad has fewer buttons, making for a condensed controller layout but in many ways, the original feel of the PC experience shines through.
A look at PlayerUnknown's Battlegrounds (PUBG) Xbox One controls
Will PlayerUnknown's Battlegrounds offer cross-platform multiplayer?
With various gaming ecosystems becoming more integrated than ever, the idea of cross-platform multiplayer doesn't seem too crazy. Especially on Xbox One and Windows 10, where Microsoft is heavily pushing its "Play Anywhere" program, blurring the lines between platforms isn't entirely out of the question.
Speaking to VG247, the game's Executive Producer Chang Han Kim expressed the studio's interest in such a feature, provided it's implemented correctly:
However, being a hugely competitive title, a stigma still surrounds cross-play and the variation between input methods. Using a mouse provides more precise aiming than a console joystick, and while a handicap can be put in place, this opens a whole new dilemma to consider. While we can't expect such functionality at launch, the developers are still showing interest in implementing cross-play at a later date.
How will PlayerUnknown's Battlegrounds perform on Xbox One?
Up until this point, a majority of PlayerUnknown's Battlegrounds' console marketing has focused on the Xbox One X version of the game. Offering a significant bump in available hardware resources, the game is being upgraded for the console in several ways, though the benefits are set to scale up after release.
PlayerUnknown's Battlegrounds is set to release as an "Xbox One X Enhanced" title, though for now, only HDR support is among the confirmed features at launch. As discussed at E3 2017, the game is on track to be a 4K title too, but the resolution bump is being saved for a later date, via a dedicated patch.
The Xbox One version is designed to run at 30 frames per second (FPS) across all Xbox One consoles, including the Xbox One X. Despite previous reports, Greene has clarified that all versions will output at the same frame rate, maintaining an even playing field for all players. The team is "exploring options to increase FPS," assumedly via further optimization, though 30 FPS will be the limit imposed upon release.
When will PlayerUnknown's Battlegrounds be available on Xbox One?
Right now, PlayerUnknown's Battlegrounds is available exclusively on PC, via Steam's Early Access program. The Xbox One version of the game is on track for a December 12 release as a "console launch exclusive," meaning the game will be tied to the platform for its initial debut.
When the game releases for Xbox One, players will first be able to purchase a version via "Xbox Game Preview," which provides an in-progress package, close to the final product. As with all games debuted through this program, a free trial will also be available.
For those looking to play the full release with additional features and polish, you can expect to wait until sometime in 2018, for the official release.
Updated December 1, 2017: Added details on PUBG's Xbox One release date and launch performance.
Get the Windows Central Newsletter
All the latest news, reviews, and guides for Windows and Xbox diehards.
Matt Brown was formerly a Windows Central's Senior Editor, Xbox & PC, at Future. Following over seven years of professional consumer technology and gaming coverage, he's focused on the world of Microsoft's gaming efforts. You can follow him on Twitter @mattjbrown.
I can't wait to try this! Is it a 1st or 3rd person shooter?

Hey Yoshi! This is actually a third and first person shooter, and you can toggle on the fly! While there are some servers that force perspective, the game is designed to allow you to leverage both, depending on the situation (:

Sorry for the double post but I can't edit on my phone for some reason. I forogot to also ask about how long match times are, and if there is more than 1 map currently?

Oh, and as for the matches - matches can kinda vary, depending on how long it takes people to be killed off. Most matches can last around 30 minutes, but that's only if you manage to survive in the end. If you die ten minutes in, you can exit and instantly hop into another match. And there's only one map currently, but a desert map is just around the corner. Honestly, the lack of maps at the moment isn't a problem personally, due to the sheer size. More maps are in the pipeline though, so will be interesting to see what's on the way!