Microsoft reportedly rolling out 7740 OS update for Windows Phone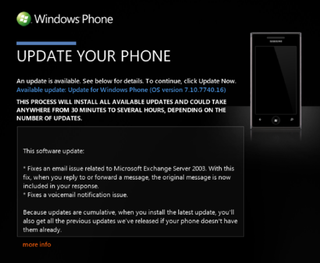 According to Neowin, Microsoft has begun pushing out Windows Phone 7740. Current "Mango" release is of course 7720 making this a minor but still interesting update to the OS. Not to mention a completely unexpected and unannounced OS update. According to the changelog, it fixes two issues
Of course the one everyone wants is a fix for the disappearing keyboard issue, but alas that seems to have escaped this update.
The big question though is who is getting this and when? Neowin does not mention which device or devices are slated to get this and the Windows Phone Blog is quiet on the matter. We just checked our HTC Titan, Radar and Samsung Focus S and have not noticed any updates. Commenters at Neowin are also not received this.
So until we get some confirmation, we're going to hesitantly put this under rumor, even though it seems like a legit and reasonable update.
Update: Kane Gao letus know that a fellow LG Optimus user in China is running 7740. Anyone else?
Thanks, Tim S., for the tip!
Windows Central Newsletter
Get the best of Windows Central in in your inbox, every day!
Daniel Rubino is the Editor-in-chief of Windows Central, head reviewer, podcast co-host, and analyst. He has been covering Microsoft since 2007 when this site was called WMExperts (and later Windows Phone Central). His interests include Windows, laptops, next-gen computing, and for some reason, watches. Before all this tech stuff, he worked on a Ph.D. in linguistics, watched people sleep (for medical purposes!), and ran the projectors at movie theaters because it was fun.
I got the notification on my HTC Titan

A Windows Phone S.O. update is on the air.
My phone is a HTC Mozart, Orange Spain
New version: 7.10.7740.16
A bug regarding Exchange servers and visual voice mail has been fixed.

My HTC Trophy got 7740 update followed by another update which enabled internet sharing.

What about the disappearing keyboard bug? It drives me nuts!

Never noticed it on Trophy but only occasionally on Omnia 7. Not a worry.

It's a freaking PITA for me, especially on Whatsapp which is daaaarn slow to react :/

If you haven't tried disabling the background tasts, then enabling them again, you may want to try. I've done this and the keyboard issue has stopped.

I'm not sure whether it's my illusion or not, but my feeling is that keyboard only disappears under bright sunlight.

mexico update??? wheeeeen?? :(
Lg optimus 7
7.10.7720.68.... no tethering (internet sharing) and keyboard bug

Ι think that MS mostly does business with HTC and Samsung (they are always the first who get the updates). Also, if you have an open market phone like mine don't set your hopes to high...I think they have abandoned open market phones by telling to manufacturers to do whatever they want with device specific updates... I still wait for tethering and hidden networks and every branded LG has got the update... :(

LG Optimus user here. Never had the keyboard bug.
Have tethering and hidden WiFi.
LG have been really good at customer service.
I've had Samsung phones before and their Mic quality was awful.
I wish to try HTC and Nokia next. But LG have been so good with me, that I am worried about changing.




- What about the Keyboard bug? (keyboard disappearing)
- What about the Zune bug? (Zune freezing the device)
- What about the Alarm bug? (alarm messes up the sound volume).
What is Microsoft waiting for??? This is unbelievable.

They are addressing these issues, stop being so sensational

I don't have any of these problems. Maybe they're not MS's bugs to fix?

What about the panorama shot function?
this function will be in first generation phones?
Htc trophy


I think panorama function is HTC thing on new devices. It's on my HTC radar and is awesome.


So it begins, the frequent random updates typical of windows.

Go away troll. Nothing random about WP7 updates.

Frequently random updates are fine in my book...I don't see anything wrong here. I would worry if we had no updates for a long time.

Becuase frequent updates are bad? Who are you trolling?

Hmm. Sounds like an Android person who feels updates aren't necessary because their devices 'never need to be updated'. Though, more appropriately never GET updated correctly.
I, like others, welcome updates. Even if I'm not experiencing the issues being fixed, seeing that 'your phone has an update' message is encouraging.

This is hilarious. On my Windows 7 machine, the software needed the most frequent update is iTune, which I used like once a year and could never noticed any changes until I finally unistalled it. Or perhaps this is in contrast with Android that you never get an update?

While these updates are rolling out I'm beginning to wonder about the various messages from Omnia 7 users. What I concluded sofar is that certain countries with certain providers have gotten tethering enabled in the latest update.
I also had the latest update (new firmware) and was not enabled for tethering.
I have an open market Omnia 7 phone and live in the Netherlands.

I just had 2 updates for my open-market Omnia on Swisscom (CH): The first updated the firmware from 2424.11.8.5 to 2424.11.8.9 The second updated the firmware from that to 2424.11.9.2, the radio from 2424.11.7.2 to 2424.11.9.1, and the bootloader from 5.8.1.9 to 5.9.0.6. No sign of tethering, though... and the OS version remained the same at 7.10.7720.68.

Update received (7.10.7740.16).
LG Optimus 7, Vodafone, Romania.

Updating right now. Sweeeeeet! HTC HD7

Has anyone gotten the update for a Focus yet?


Has anyone in the USA gotten it yet?

I fall under both categories, and I haven't gotten it yet. I'm trying to decipher the rollout order, or what cirteria are getting priority. Just out of pure curiosity, no sour feelings for not having it yet at all. I can't wait to get it though, the email error fix will save me a ton of headaches.

I have an unlocked HTC Titan that I won from the Windows Phone events and I live in the US, however, it's the UK Titan (came unlocked and had a euro plug in the box =P)

Update flagged when I plugged into Zune this morning; Samsung Omnia 7, Orange UK.
Haven't applied it yet though. Would like to see a fix for my 3G locking out - Orange told me it was down to work they were doing locally, but this should have finished weeks ago and I'm still having to restart the phone to connect mid use.

I'm having exactly the same problem as you. I've also got an Omnia 7 on Orange in the UK and sometime around the mango update (not sure if this had anything to do with it!) I found that my 3G connection would not work without a soft reset to the phone. Even when I perform this action it only seems to last for so long :(

Got both the microsoft and samsung updates, no tethering. Not that i need it really.

I got it for my LG Optimus 7! :) I'm in the Netherlands.

I'm wondering if the HTC Arrive will be included in this update. Unfortunately Sprint has asked HTC for very little for Front Facing Cameras on the phones for their phones. Hopefully if the HTC Arrive is included in this Update, there will be something that would make it really worth the time for getting and installing this Update.

Not yet for my HTC Arrive on Sprint in Florida. Just connected to the pc, no update available.

Nothing here... No firmware update nor 7740... Omnia 7 TMN Portugal..

My family has 3 Focuses. 2 of which are the "Red Headed Step-child" v1.4. They don't even have Mango yet.
:'(

i got an update it gave me internet sharing but the stupid visual voicemail still wont freaking work its just driving me insane not that i need vvm but just because something doesnt work on my phone irks me the wrong way a bit....

I feel the same way regarding my Dell Venue Pro. The update Dell released over the summer won't work for whichever reason. Gives me some weird error where it won't backup my phone on the second to last step. I have mango, but this update was supposed to allow me to use wifi (without having the DVP freeze up). That along with the crack on the screen I got over halloween weekend, has me wanting to move onto my next phone prematurely. Going for the HTC Titan when it releases this weekend.

For those with HTC Trophy, what wireless provider do you have? VZW?
For the person commenting on updates, Great! Keep 'em coming, at least then we know issues/updates/improvements are being worked on. I had a BB and updates were scarce.

I've got an HTC Trophy on Verizon and haven't seen the upate yet. I wonder if I can use the same trick we used for forcing the Mango update. I was really looking forward to the Exchange 2003 fix since this is holding us back from deploying some 20+ new Windows Phones.

Rather than wait for the Exchange 2003 fix you should upgrade to Exchange 2010...it's much better! :)

Easy to say but difficult to do. When you are responsible for 5k mailboxes over 3 continents upgrades like that aren't just pop in a DVD and click install. We are in the process of planning 2010 for next year but won't being moving end users for another 6+ months.

I wonder how much say the carriers get over these mini-updates. I never recieved the security update earlier this year, for example. I can only assume that AT&T did not choose to roll it out.

Update received (7.10.7720.68) Singapore
HD7 got internet sharing!!!
ill check if there is more updates later.


Wich carrier? Or unlocked? Me from India, did not get any message.

I received an update on my HTC HD7 that enabled internet sharing. But the OS remains 7720. I have T Mobile service. Any new news? I tried this morning. Still no OS update.

"HTC Update for Windows Phone" has showed up for my Titan. downloading now~
edit: Nevermind, this is the update mentioned in the other article.

No update yet on my unbranded HTC HD7. I live in Holland. Anyone from Holland got the update yet?

Still no update here. Att Focus v1.3

for Singapore M1, yeah i recieved an update... OS version didnt change still on 7720.. but i got internet sharing feature... been craving for it,.... thanks MS,,, cheers

No update here on TMOUS unbranded HD7.

I'm confused...is this a Microsoft rollout or a carrier rollout? Are all handsets getting this update then?

Tmo us here got an update with internet sharing so far...7720 still


I have an HTC hd7 ,and I updated it but I am facing a problem of marketplace freezing my question is do you have the same ?

I am also on Orange UK with an Omnia 7 and I have not received any update ! whats going on ?

Just got my update! Tethering now available! :-D
Phone is HTC 7 pro/Arrive. Carrier is o2 Germany

Damn you ATT. Why are you the only one with awsome phones :((.

Nothing yet for us Bell Mobility Folks in Canada using HD7.......

I have received 7.10.7740.16 yesterday night from Bell Mobility for my HD7. No Internet Sharing though... :-(

No love for my verizon trophy, I have exchange 2003...and need to upgrade to 2010 but, I need a new server....

Hey,I got my HTC Hd7 updated and am facing a problem of phone freezing on the marketplace! Anybody got the same as mine??

No internet sharing for unbranded LG E900 in Portugal so far... CIC-LG Portugal assured me that they have no confirmation of any release in Pt... if so, it's my first and last LG.

P.S. LG E900 is Optimus 7, Maximo 7 in Portugal

Notified today on Trophy (Vodafone). However, 2 attempts both failed with backup freezing at 88% and then a reboot - error 8018009B :-(
... and things had been going so well up to now.

Mark Enderby

My LG Optimus 7 doesn't have any 7740 update yet.. From Singapore :)

Using Samsung Omnia 7, German T-Mobile ROM. Finally got a notification about 7740 update availability. However update failed on some restore steps (backup seemsed to succeed, though also freezes for sometime at 96%) with error 8018009B twice .... any ideas what is this or what can be done ? Did not find any reference at MS sites so far. MICROSOFT, HELP NEEDED - WHAT TO DO WITH 8018009B !!!
This update is crusial for any business user on Exchange 2003 ...

As of today, still no update on my HTC Arrive on Sprint. I even tried forcing its hand with the Zune trick that I used to update to Mango and still nothing.

I am just getting this update now in canada on my HTC Surround...

Windows Central Newsletter
Thank you for signing up to Windows Central. You will receive a verification email shortly.
There was a problem. Please refresh the page and try again.