Microsoft rumored to be investing in Google Android rival Cyanogen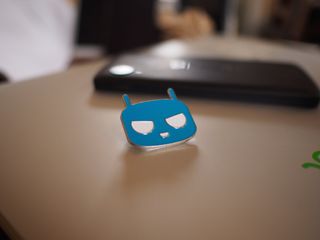 Update: Bloomberg Business is now corroborating the earlier WSJ story, adding that the two companies are in talks to create "a version of the Android mobile-operating system that's more friendly to Microsoft services".
Original Story: According to the WSJ, Microsoft may be one of a handful of companies investing in Cyanogen. Cyanogen started off as a customized version of the Android operating system named CyanogenMod back in 2009 but has grown to a business of 80 people named Cyanogen, Inc. starting in 2013. The company co-launched their version of the Android OS on the OnePlus One smartphone in 2014.
Now, Cyanogen is looking for money, and Microsoft is reportedly putting cash into the company as a minority investor.
Microsoft's intent of such an investment, if accurate, would be to de-stabilize Android by loosening Google's grip on the OS. In recent years, Google has increasingly put more and more of their services into the OS as a single package, forcing manufacturers to release phones as all-or-nothing Google devices. Manufacturers who veered from this path risked being ostracized to the Android Open-Source Project.
Indeed, Kirt McMaster, Cyanogen's chief executive, recently said this in an interview:
Such a strategy by Microsoft could be a win-win. As the old saying goes 'The enemy of my enemy is my friend'. Besides helping Cyanogen 'take Android away from Google', Microsoft could angle to get their services preloaded onto future builds of the OS, including Bing, Nokia's HERE Maps, Outlook, Office, and more. Cyanogen also desperately need a proper store for their apps, since they cannot use the one on Google Play. Perhaps Microsoft could also provide some assistance there as well.
Regardless, for now this is still filed as a rumor. Microsoft and Cyanogen both declined to comment to the WSJ on the report. However, we would not put it past Microsoft to go for such a plan of attack.
Source: WSJ Online
Windows Central Newsletter
Get the best of Windows Central in in your inbox, every day!
Daniel Rubino is the Editor-in-chief of Windows Central, head reviewer, podcast co-host, and analyst. He has been covering Microsoft since 2007 when this site was called WMExperts (and later Windows Phone Central). His interests include Windows, laptops, next-gen computing, and for some reason, watches. Before all this tech stuff, he worked on a Ph.D. in linguistics, watched people sleep (for medical purposes!), and ran the projectors at movie theaters because it was fun.
That's what I have installed on my nexus 6 cm 12, service is excellent with them.

Hahahaha,everything will go the Google route soon....

I understand it is a high end mod that instead of deleting, all high end companies want to buy it. Whatever Microsoft's method is for use of this, has to be good, hope to not be ticked...

Sooooo, what Daniel is saying is Microsoft's new strategy is to help increase Android's marketshare and hope that it would disrupt Google's plan? Hahhahahhhahahahahahahahahahahahahah ROTFL That is the most laughable thing I have read in a while. If you actually believe that, you DO NOT know anything about Cyanogen. NO, they are not Google's rivals. They offend manufacturers because they release an Android version that is closer to stock than Samsung or HTC. YES. They ALWAYS include Google Play store. So, Google loves them. No issue there at all. YES. Their Android version is only popular because it is so customizable. If Microsoft releases a version that does not include Google Play Store it will fail badly. Or people will install it immediately. YES. Any of the phones sold under this union will further increase Google's Android's marketshare. All these excitement simply because of how Daniel worded the title. Remove the word, "rival" from it and you will get a clearer picture. LOL.

Hate to say it, but I think you are right.

You just proved to the entire planet that you have no idea what you are talking about.
Google does its best to force Android manufacturers to use Google services. Cyanogen is trying to get away from that.

Except you can easily flash GAAPS so that's irrelevant in the world of rooting. Posted via the Windows Central App for Android

No. It isn't. You can do the same with a Kindle Fire but not many people do it. I'm pretty technical and haven't done it with my tablet. A lot of people don't root their phone. The ones that do are a small minority. Most people get their phone and never root it. Microsoft's idea here is simply to get their services onto more devices. It's really no different than Amazon's implementation of android (though hopefully with a better interface).

Manufacturers are free to use open source Android, and have zero Google apps. They don't though because without the Play Store, Google Maps, etc they wouldn't do well in the U.S. & Europe. The plain and simple fact is that most people WANT Google apps, and OEM's need to play by Google's rules to get them. Google has a business to run after all.

The plain and simple fact is, according to WSJ, the non-Google Android is now up to 37% of all Android shipped worldwide in the 3rd quarter of 2014. That's a big chunk of smartphone users who are not on Google services.

I'm also laughing hard like you, but I'm laughing at you. The WSJ says that as of 3rd quarter of 2014, 37% of Androids shipped worldwide does not have Google services. Yes it's Android but it's of the AOSP kind and uses some other services other than Google. This is where Microsoft is interested in. They're hoping to get inserted in the 37% that does not use Google. As to Google loving Cyanogen, its chief executive has just said they are going to "take away" Android from Google by putting out a version without Google services. So, Google may love Cyanogen, but it seems Cyanogen does not return back Google's love. And when Cyanogen's plan happens, that vaunted Google love is going to turn to hate quickly.

"its chief executive has just said they are going to "take away" Android from Google by putting out a version without Google services" Well, if he said it, I guess that means Google is in trouble. They are going to lose Android now. I mean, Amazon couldn't do it, Nokia X couldn't do it. I guess a group of 80 is going to do what Amazon couldn't do. I know you people hate Google and are anxious to believe anything you read here but surely, you guys cannot be this dense. It is like saying West Coast Customs (they customize cars) is going to take Honda away from Honda because they do such a good job customizing Hondas. Laughable. And oh, you said over 30% of Android phones ship without Google services. LOL. Go check the number of those phones that get Google Play Store installed on them the minute they are turned on!

I think you missed something in the article. No where Daniel mentioned that Microsoft "help" Cyanogen to grow marketshare. Instead he mentioned something like investing a very little in Cyanogen so that they will have Microsoft's services installed by default rather than Google's. To expand devices where Microsoft's services running. Microsoft calls themselves as "Devices and Services" company for some time. Microsoft can make profits from devices that can never have Windows OS through installing their services in them. And yes. Cyanogen is "Google Android" rival. Google is going though the path of Android One and Cyanogen is definitely a rival there. By "helping get an app store" sentence, I think Daniel is trying to say that Microsoft gives resources such as money, developers, etc, to help Cyanogen get a decent app store. Again a rival of Google's play store. If Cyanogen is to replace the Google's servics with Microsoft's definitely they cannot have play store access and hence this private offering, like Amazon's, is required by them. It might increase Android's market share. Yes. But definitely reduces "Google Android's" market share.

@ spazinvader. Ah... finally, a thoughtful smart response. No. Cyanogen is not Google's rival. Microsoft and Apple are Google's rivals. Cyanogen has a long way to go to become a legitimate rival of Google. I think a better wording would have been, "Microsoft is investing in Cyanogen in hopes of making the group a competitor of Google". Right now, they are not even a competition. Forget rival. I get what you're saying with the Microsoft services on Android devices. My question would be, why? It makes no sense to me. Right now, Microsoft services are already installed on Android devices and work very well on them. People that are looking for a tighter integration of Microsoft services have Windows Phones for that. Why buy an Android phone with no Google just to get Microsoft services? I can get a WP device for that. I am afraid that Microsoft is losing focus again. Bill Gates came out strongly against Microsoft losing focus on its core strengths. Since Satya came along, I have been impressed with the direction Microsoft have been heading. It streamlined its devices and became more of a software and services company. Its introduction of Windows 10 has been the most excited I have been of Microsoft in years. I saw a company that was bringing together an ecosystem that could rival Apple's in every aspect and even beat it in scope. This new foray gives out a picture of desperation and confusion. What is the message? Are you abandoning Windows Phone? Why are you so fixated on Google? it is not about getting your services on those devices because users can download ALL your services now. So, why? Won't you be better served investing all that time and money into making your own Windows Phone platform better? Maybe, I am ranting because I own Microsoft stocks. And information like this does not send a good vibe. It is what a fanboy would do. And that is not good.

@jbestman I am not sure about Apple being Google's rival. Both actually fight at different segments(one for hardware and one for services) of the market. Which leaves Microsoft to be the Google's main rival. Both in OS as well as services. And Google's partners(to be honest, they are same as that of Microsoft's partners) are supportive of Android because they have already invested a lot in Android. Cyanogen mod (if) can pull a few local OEMs(those in china or India or wherever) by giving them an OS with lots of customizations AND free from Gapps, that will make lot more users for Microsoft services. Eventually, those users will move to Windows phone as they will have everything in Microsoft domains and hence cannot migrate to Android with that kind of integration. Even if cyanogen mod cannot pull such a huge work, still having Microsoft services at the core will be huge. Cyanogen mod is one of the top preferred when it comes to rooting. So rooted devices will be force fed with Microsoft. They are customers that are already lost for Microsoft OS. But will be at an arm's length for Microsoft services. Definitely a benefit for Microsoft.
Android does have most of the Microsoft services. Yes. They are good too. Yes. For tighter integration, users will be with Windows OS. Definitely. But With cyanogen mod, even Microsoft itself can sell devices that are dirt cheap(like Amazon) and keep Lumia away from hitting the bottom of the price barrel. Devices that are cheap, with freedom to do whatever you want, yet make the users invested into Microsoft. An Android version that yields returns for Microsoft. If such a thing happen, Microsoft can easily pull Sony(not likely), Samsung(better possibility than current scenario), LG, Lenovo and others. They (literally) could carry over their Android experience to Microsoft without much investment again. Does it help Windows phone? A big NO there. But Microsoft? I think so ;-)
That would actually no way closer to reality for now. But possible. More like Nokia X series reborn. But with Microsoft outsourced the Android work to cyanogen mod.
The point I am trying to make is, a partnership with Cyanogen mod opens windows(pun intended) of opportunities for Microsoft.

While I agree with most of what you're saying, imo there are some fundamental flaws with your argument. The main one is that you're implying this to be an all or nothing for MS (that probably isn't your intention, but that's how it reads to me). MS will always give incentives for companies utilizing their services as default. Heck they even had to do it with their own software (windows 8 with Bing) because OEMs were changing defaults away from MS. A little investment into this project means nothing and really shouldn't be sending any mixed messages to anyone; remember MS is huge and can do multiple things as they invest in all kinds of random stuff for the future. Cyanogen probably just needed more resources (money) in an attempt to take on google and MS was there to pay them to have their services on there by default. MS won't be releasing anything (cyanogen will) and this is just like any other business deal MS makes to spread their services out. I don't think Cyanogen has much of a chance without the play store either, but that doesn't matter to MS; heck I'm sure they could write it off on their marketing budget. And to answer one of your questions, just because services are available for an OS doesn't mean they will get used. Having something on by default helps because many people never change it. Well that's my 2 cents anyway.

@ Daffau. I agree with everything you stated. I know Microsoft has to invest in small companies that may yield some beneficial results. They would be stupid not to. I just find it comical that commenters are hailing this move as something that would destroy Google. That is ridiculous. Could it? Of course. Chances of that really happening....... a trillion to one.

@jbestman Destroy Google? With "little" investment? Chances of destroying a billion dollar company, let alone some one who is a monopoly, by encouraging a smaller company is none. If that was the case, some one could have "destroyed" Microsoft years ago. Whether any one like it or not, Google and Apple are in for a long haul.

Microsoft doesn't pay any store fees to Google if it offers their services on Cyanogen through a Microsoft Store. At that point people who prefer the Android OS and don't like google apps, or Google in general, wouldn't have to use them and could actually use the platform with no affiliation to Google. They would be using all Microsoft services and Apps. Microsoft doesn't care which phone you buy unless it's a Lumia (their own brand) Because Microsoft has adopted the same phone services platform as Google. Both Android and Windows 10 for phone are both completely free. In fact Microsoft gets paid royalties off of any Android sold device, so Microsoft actually makes more money for the sale of any Android phone then it does off another manufacturers Windows Phone.....

I don't think MS has to pay anything to put their free apps in the Google play store either,


@Duffau My intention is to say that Microsoft can get lot more benefits from cyanogen with little investment. But I can see how my comment could be read that way too. My point is that the investment made by Microsoft in cyanogen is something like the investment they made on Facebook at it's early stages. Something with less investment and stronger returns :-)

I'm agree with you @jbestman. I think Microsoft is as strong that doesnt need to focus in google. I think that Microsoft has to see google as a competitor. Because Google is so ambicious and wont think in Microsoft ever. As you sayied make the best mobile OS better than android would break the rules of the game. Honestly I think Microsoft needs to follow his own way as they done in the past years. This in my point of view. I really love what Microsoft is doing theese days. They just need become stronger than they alredy are.

Some please explain how to unsubscribe from a post! Im seriously sick of getting emails about this, its stupid! Cyanogen mod is stupid...

@zackthe never In the same email, click on the last link that is preceded by the text "You can stop receiving emails when someone replies to this post, by going to " :-) problem solved :-D

Thanks man!! Way much appreciated :)

Stop being such a MicroSheep. I use Bing instead of Google because I prefer it, but that doesn't mean that everyone on this site should all hate Google. I'm sick and tired of this.

Google makes it VERY hard to support their company if you use their services. No official Google services are availble on Windows Phone, removing Exchange Active Sync from Gmail and Google Calendars, refusing to allow Microsoft to use YouTube's APIs when WP was first launched, then after MS created a YouTube app conforming to Google's demands, Google then blocked it and required Microsoft to create a new app using methods not required by Apple/iPhone. Yes, MS created the Scroogled campaign but they have never, for example, blocked Chrome browser from Windows or altered Google's apps to Google Drive, etc. Google acts more is like a 5 year old child than a billion dollar company

Yes, I know this, as I used to use WP and dealt with this. But doesn't mean you need to keep bashing everyone who likes Google.

Any android device I touch, I cannot use if it's without Cyanogen. It's my second choice after Windows Phone

Do you know how I can install this on my note 4 for att model? Posted via the Windows Phone Central App for Android

Here maps belong to nokia not ms. Here maps is already on android

Well Here Maps and Nav is great and I like it a lot on my Ativ SE.

I would like to see Cynogen Mod on phone rather than WP ... just tired of this OS ... and losing apps support. Overall apps quality

I use the OS I like best, which is WP, so I'm happy.

So much for the Microsoft guy...

I'm almost sure you can buy an Android phone right now and change your user ID to gglguy.

well my primary phone is Android running Lollipop. I do use lot of microsoft products such as surface 3, xbox, Dell venue pro etc. Most of Microsoft's stuffs are awesome and some are not ... such as Windows Vista, IE (all versions) and Windows Phone.

Yeah, they lost 2 Apps and gained 20. 2 subtract 20 is -18. Anyway this seems to be the formula for some commenters here.

2 main banking apps dude ... you will understand if you do banking :P well be happy with other 20 apps which are good for nothing. still no official app from FB, instagram is horrible.

6tag is perfect. Just because they're not official doesn't mean they're going to be worse on WP...

Yeah the loss of Chase & BofA is a huge one. Its not going to sink the ship but she's definitely listing hard to port right now in my book. I love WP but the next gain of apps doesn't outweigh two daily necessities

Why people still nag for an official Facebook app? The app is currently published under the name of Microsoft, but in fact, it's the official one, is it not?

The Facebook app is the official app. Doesn't matter than Microsoft made it.

Both are regional apps. In my region(India), all banks other than Citibank India that has an app in Android have apps in Windows Phone as well. So, 20 good for nothing apps are a gain in my POV. But I agree that banks leaving Windows Phone is bad. May be they might come Windows 10 ready later?

Two "main" banking apps that some of us here in Europe don't give an eff about. Pretty sure a bunch of other people around the globe on WP don't either. So yea, no, the loss of those apps doesn't mean a thing to the majority of WP users as most of us are not in the US.
The FB app is official, albeit made by MS, but that's the way it's gonna be for quite a while. I personally didn't have any issues with instagram either, save for the fact that it's still called beta. Then again I don't use it that much, so maybe I just didn't notice it.

Well, here in Europe we surely don't care about BoA or Chase, but it's not that we have many apps from European banks either... As for instagram, it works well enough for me too, but I do get that many people are fed up with always getting beta apps that lack features compared to what you get on iOS or Android. Add to that the fact that you can have every Ms service on the competitors' phones and you realize that the only reason to stick with WP is the "I like live tiles" argument.

Tell Joe Belfiore, not us.... He's supposed to be the move and shaker her he and his team are not doing anything to ensure the faithful here keep their banking apps. Honestly,I don't care if Microsoft x had to pay those banks to stay on WP, they should do whatever it takes to keep us happy. But crying in here isn't helping, we need to express our frustrations on their Facebook's, twitter, or any other sites they have, otherwise w might have to pull a "Fergurson" : )

Pull a Ferguson, you mean act like a bunch of small minded violent criminals? I'll pass thanks.

They are going to get Android. Android support confirmed.

WHAT does this comment mean? "Android support confirmed"..By whom? For what platform?

I'm guessing it was a joke. Don't die.

3 questions. 3x1=3. Half life 3 confirmed.

Thanks, that clear things up.

BTW, the Nspire CX CAS is better than that calculator you have for your avatar. :)

How is Microsoft going to provide a store for Cyanogen? It's not that their own store is such a succes :D

Just like amazon do for their devices... All they are interested in is reducing the amount of money google make from android. Even now half of all devices running android do not make money for Google as they do not use the play store. No money means there's no point in continuing development. It could be a big win for Microsoft whatever the outcome :)

Maybe Microsoft wants them to replace the Nokia x line using CM.

By providing servers and bandwidth to be able to run a store.

Microsoft already has all of their Apps on Android, and thanks to the Nokia X project, they have an Android app store as well. We are probably going to see some Microsoft phones being built that run CyanogenMod, with Microsoft apps and all. I would rather see them stay focused on Windows, rather than put it on the back burner.

They're shutting down the Nokia X project though. Although that backend could probably be useful to CM.

Yes, it could. They probably don't see much use in wasting it.

I highly doubt that. I can see this as a long game strategy. I think they truly believe in the Windows OS and the universal app plan. And I'm sure it will bear fruit. But we'll see. It's all conjecture after all.

They absolutely do, but there's nothing wrong with destabilising your competitor at the same time.

I think it's simple. Just under cut the fees Google charges. I believe Google takes 30% of the app price, the same as Apple. Tell developers you will charge 15%. Microsoft has the resources to build out an android app store quickly. Some said they already have one for the Nokia android line. Cyanogen probably doesn't have the resources to build and curate an app store. It would take little effort for developers. Just submit your existing apps to the store. The only thing missing is the google services and people can sideload those if they want to.

Could be a interesting development of it turns out to be true.

Wow, fun is getting started :D this is interesting

If Microsoft starts focusing on CyanogenMod, which is Android really, you guys won't be happy.

If it adversely affects Google, don't bet on it.

Everyone seems pretty happy about this rumor, so idk what you're talking about.

If Microsoft makes more phones that run Android, which is what CyanogenMod really is, then people here will not be happy. Were they happy about Nokia X? hell no they weren't, and this will be the same damn thing. The people here who are happy are the ones who don't really understand what's going on. They think this will somehow "cause Google to crumble" or other nonsense. People here like their phones running Windows, and they will hate everything else regardless.

Then I misunderstood you then. By "focusing on CM", I assumed you meant in assisting their development, not making phones running the software. I agree with your point then.

No I think you are reading too much negative into it... would I prefer people who use android to be on CM. sure if they use more MS services then there is an indirect benefit to me. mapping bing maybe even cortana. If they host the store it would most likely be on a revenue sharing basis. For Devs it would give a single portal for WP and CM store and Dev platform. Again better for me. I think its MS expanding its footprint rather that anything purely spiteful or base.

Shhhh. Don't say that too loud. People here are ecstatic simply because of how Daniel worded the title. "Google's rival". LOL. Only people that have not been following Android from the beginning would buy that line. CyanogenMod is one of the biggest reasons Android is so successful. Google loves them!! They do not annoy Google at all. They people they antagonize are phone manufacturers like HTC and Samsung. But, as long as Daniel calls them, Google's rivals, the people here would love them. When at the end of the day, they would simply add to Android's marketshare. Period.

If Cyanogen can manage to see its plan to fruition, then they will indeed become a Google rival. Cyanogen wants to build an OS ecosystem free of the shackles of Google, but to them I say good luck with that. 99% of the people who install CyanogenMod flash Google apps within minutes of flashing their ROM. Only in Asia do we see non-Google Android phones become successful.

Only if it will benefit windows phone at the long run, why not...

Windows 10, not Windows Phone.

Thanks for the correction there, for a moment I was still living in the past. Lol

Google don't make money from forked devices, as they don't use the play store... Less money might force them to cease development or charge a license fee. Microsoft might also use cyanogen to poke fun at the poor security of android, etc.... All of which could really boost windows phone adoption!

Microsoft wont hurt any OS. they may criticize services but not the OS again. every OS have somewhat loopholes. that's not the approach of nadella then whars the difference between him and Ballmer although we users know how bad droid os is.

Well one thing we know is that Google actively undermines Microsoft any chance they can and it is obviously working and helping to destroy the platform for the rest of us who want Windows phones to stick around. Microsoft's policy to support Android with software while Google deprives Microsoft users of the same consideration, I think, hurts their own platform, ultimately.

So the 1+ CyanogenMod phone didn't have the Google Play Store?...are you sure?

It absolutely does have the Google Play store.

Which means Google makes money from forked devices. The first thing everyone does that installs CyanogenMod is install Google apps.

you can choose wether or not to have it included

It has the Google Play Store. I own one.

I have a OnePlus One and the play store was installed by default.

I would have a oneplus if it worked on VZW lol.

I would love to see a OnePlus with Windows 10.

good answer. have a cookie.

And not Windows 10 for phones. Real windows 10. But OnePlus is a different company.

I would still love to actually see a One Plus in the wild. Man that company screwed up big time with that phone and dumb invite system.

Two of us have it where I work.

And my workmate has one. Besides, OnePlus have actually stated that they are considering Windows phones.

Looks like it was updated after I read it: http://www.windowscentral.com/oneplus-reportedly-considering-windows-pho... And you could try asking nicely next time.

Ha! Saying please is not asking nicely? You're a sensitive bloke.

If ever I was forced into buying an Android, I would instantly install Cyanogen, before even having used Google's Android.

If I were ever forced into buying an Android, I'd simply run it over with my car.

Nokia X running Cyanogen!! Just kidding :P that would be cool

I'm surprised that Microsoft would be a minor investor. Why not put more into it. Like stated, "It's win-win".

Q: Why not withdraw all the money in your bank account, go to the roulette table at Caesar's Palace and put it all on black? A: Beause it's only a "win-win" if it actually wins. Otherwise, it's a massive waste of money.

But that's what Microsoft is all about. Overpaying for services. Ahem...Skype.

I like the OS Cyanogen...It is beautiful

It looks exactly like Android. So you're really saying that you love the look of Android.

well, i do like the looks of android, but i like the looks of wp more

We can all admit Lollipop took a big bite out of the modern design language from Microsoft. There is absolutely no problem with that, they borrowed and made it better for THEM. My opinion anyway, but lollipop has a very pleasing look. And i think all the android fans proved that because when the design first leaked many of them hates it lol saying it looked like iOS and WP.

Lollipop looks nothing like WP.

Dude lollipop has flat written all over it. The modern design language is the definition of flat lol Googles take on it just has colors and no pivots of course

whats the benefit to our ecosystem. lets get all things right
if Microsofts compete android they gonna lose money on patents where they earn nearly 2 billion.
windows phone is worldwide doesn't have a great market share but doing very well in developing countries.
so about windows phone and to attract devs what Microsoft needs?
a good flagship so that android doesn't get affected and finally they dont get affected earning a bit less thru patents. moving as a mobile first cloud first world Microsoft is on the correct path of its mantra.

That Windows Store comment got me thinking. Maybe Microsoft's strategy is not to get Andriod apps to run on Windows Phone but instead maybe they are going to make it so Windows apps can run on iOS and Android (like with an emulator). That way developers could write apps once for Windows and have them run on all platforms.

I like the way you think :P

Google and Apple would shut this down in a matter of seconds.

Google can't do anything, they dont own androids, its own source and anyone can run what they want on it, apple though, yeah not gonna happen

Except there is a tool for Visual Studio (the development platform for Microsoft software) called Xamarin which already allows you to code in C# and then design interfaces for each device and take that one set of code to create individual apps for each platform.

That still requires them to code for each platform. These developers are just too dang lazy. An emulator would allow the app to run as is. Though it may look out of place for not following the design guideline of each platform, at least it would run. For whatever reason a lot of developers won't even just flip the compiler switch for ARM. It is just a dropdown box and a button. That just shows you how lazy they are. ;)

With a matter of rooting or at the worst case taking your phone off their grid then recoding it you could just give them the finger and do it anyways

No emulation needed. WinRT compiles to CLI, which is a portable runtime environment. Mono is the runtime for CLI on Linux and it works on Android. That is to say, many Windows Phone apps could probably run unaltered on Android today, if anyone bothered to port them. What I would advocate for is also the reverse: MS should work on a Java/Dalvik to CLI compiler so that Android apps can run natively on Windows 10.

I disagree with that notion (Android on Win 10) because it would create 0 incentive for anyone to develop for Windows. They would just write for Android first. Doing what I suggest makes the reverse (write for Windows, run on Android) to be the better option. The reason it would be the better option is because writing in .NET using Visual Studio is FAR better (and easier) than programming in Java and Objective-C.

Except we are talking about Windows 10, apps run on all devices. Yes, there are alot of Android phones, but all the android phones ever sold wont be anywhere near the install base of every desktop/laptop - all the tablets running Windows, all the XBoxes combined running 10. Yes, they could develop in Android and just port over to windows, but when someone tries to run that app on a computer or TV via XBox - it's gonna look like shit. However if they develop in windows with variants for diffrent machine types, they can just port over their phone type to Android.

If true I think this is a good move from Microsoft

Oh it's genius, they really had me worried after all these "abandon ship" app news stories but if thats legit there mad geniuses

Makes sense given this article was up on GSMArena site the other day http://www.gsmarena.com/cyanogen_looking_to_break_dependence_from_google-news-10903.php

Let them do a WP variant with access to the Windows Store and I'd jump right in. I think if MS really wants WP to take off they need to loosen the reigns and give it the same freedom Android and closer to home desktop Windows enjoys. Anything outside of that and they're asking for distant third place.

yep Microsoft is everywhere

my colg friends like Microsoft apps specially OneDrive

Well there is the mission of taking Android away from from Google. On the flipside, consumers may react negatively by taking Google away from Android. They want the play store there.

that's y google is working on a messenger app to compete WhatsApp. here in india WhatsApp is the main app ppl buy a smartphone let it be any damn expensive flagship. Microsoft here have to play a major role to more switch users to skype asap.

i see what you mean, i wished it was Microsoft who purchased whatsapp instead of FB, but now that's done with, gotta better Skype

Skype will be integrated into messaging in windows 10

Can windows run IOS apps?

No, as the apps are coded differently.

Android with purely Microsoft services on it is something I could support.

This would be much better than with Google services. :)

Ditto bro:) that could be awesome, but they gotta get cod for Xbox

Microsoft already HAS all of their services on Android. You can ditch Google's shit and use Microsoft's right now.

Exactly. With Windows you'll get things like Cortana though.

So I can use an MS account to set up my Android login now? Last time I tried that, a couple of months ago with a Samsung Galaxy Tab, it was not possible that I could see.

The logon you're speaking of is actually a Google account. And no, you can't use a Microsoft account to log in with Android/Google(except Nokia X)

I just ordered a 1+1, and that's exactly what I plan to do. I got tired of losing apps on WP and look forward to Microsoft's superior apps on Android.

Windows phone 10 will rock ...with universal apps..let s see

I can say most of us believe WP 10 universal apps will increase market share..and rock the platform...but at the same time we have a competing fear..what if it happens the opposite..i cant even think of abandoning my 1520...Ms the future of Os and our faith remains in u don't let us down,..be wise..

If Cyanogen releases an Android version that has absolutely zero dependencies on any Google services and in which nothing from Google is included they might just tempt me to buy a OnePlus phone.

Didn't even know plus one was a thing

Yeah.. then it's not Android.. It's like if you found a Windows Phone without Windows on it.. it ain't a Windows phone...

Actually, there are lots of Android devices with no Google on them. Amazon Fire devices, for one.

That is not even close to being the same thing. There have been already iterations of Android with no Google crap.

Cyanogen ALREADY comes stripped of Google apps and services. Google apps have to be installed separately.

Maybe they'll use cyanogen to further personalise windows

GOD I HOPE SO!!!!!!!!!!!!!!!!!!

They are not "hiring" Cyanogen. They investing. Kind of different.

I'm sorry. How is CM a competitor of Google exactly? They use Android and build on top of it.. like TouchWiz, Sence UI and all the others... Google still makes money on the Play Store on CM devices...

The default Cyanogenmod does not need to come with Play. You can add it, our use a different store (like Amazon's) if you want.

That's how ALL Android phones are. I have 3 different app stores on my Android phone, and one of them is the Amazon app store.

I think it comes down to the default apps. If I understand it correctly, Cyanogenmod comes stock and you add whatever apps and app store you want. You can go all Amazon, all Microsoft, all Google, or any combination, whereas other versions come loaded with the Google ecosystem as default. Google only makes money on Android services and advertising, so your phone doesn't steer you in that direction, Google doesn't make any money.

Good, Google is a bit stuffy with their angle on android... There ruining it with there bs. They did make it what it is but they also made it what it is ya no?

Actually, they didn't make it from the beginning, they bought the company that did.

Yea i know that, and when they did they drastically changed it, prob for the worst

Universal apps takes on a new meaning.

Woah..thats freaky, i read that too...wow Microsoft, there gonna menopalize the entire market O.O ...sorry i cant spell lol sound it out

Give me a Lumia with a Microsoft build of Cyanogen.

Did anyone see theres an app called root tool on wp store?

I dl'd it..dunno how to use it but i no i need it

No one knows how to use it? Haha

WP7 days :)
But I'm wondering how it makes to the store with such deep level modification.
In the absence of registry explorer, it is not much useful.

I thought the Oppo N1 was the first CyanogenMod phone. http://www.zdnet.com/article/oppo-n1-the-first-cyanogenmod-android-smart...

OnePlus is owned by Cyanogen Inc.
Means the first phone produced by the company itself.

No, 1+ is NOT owned by CyanogenMod. http://en.m.wikipedia.org/wiki/OnePlus

How about they make a customization of Cyanogen to do most things WP can do and the things that Cyanogen can do and also have the Windows Store. Call it Cyanogen Windows.

Wish this investment could translate into native Google app support for Windows Phone.

Not sure what the point of this all is. Make an OS that makes people say,"Wow! I want that!"

the point is "Invest in something successful so we can make more money and benefit in the long run by putting our services everywhere"

Right. This is Microsoft acknowledging that they are not making any progress in market share and hedging their bets. After all, Windows Phone is only profitable because it steers customers towards their services.

microsoft is on a roll. nutella has a plan

If you can't beat em...buy influence... Marvelous capitalism.

I dont see how CM is google competitor since CM is based on Android, therefore they more depend on Google for both OS and Google Store for apps then being their competition.

Android is open source and not owned by Google. However, Google Store is owned by Google. As Amazon run their own store on Android so can anyone else.

Android is ABSOLUTELY owned by Google, but they release it as open source through the Android Open Source Project(AOSP)

I installed Cyanogenmod on my sister's phone becuase it was shutting down and rebooting, she bought a battery and told her to reset it, but the problem kept happening and then I was like "why don't we install a mod? it's popular and it seems to be good and easy to install" she ignored me for weeks until I tried it, now her phone is like new again, a S3, so yeah, this is good. and android was causing the problem. also the version I installed it's 4.4.4? or something, while her phone only got 4.1.2 which was buggy and I read it on xda as a possible cause for the freezing and reboting every 3 seconds.

Random, I have never heard this saying the 'enemy of my enemy is my friend', and now I've heard it twice in two days. It was on a recent episode of Sleepy Hollow I watched on DVR last night. Weird how that happens. I like it though.

And...The enemy of my enemy is my friend... (:

You reported this a few weeks back about a meeting between those guys at Cyanogen and Microsoft. This is where Windows X gets farken good! Damn, I'm excited as hell for this union.

This guys are the best in android business. A very light OS and plenty of features. Though you have to root your phone to install one of the custom made stuff. Good work MS should fund them

You do not have to root your phone, you have to unlock the boot loader. These are not the same things.

No do you know how to read. Microsoft is investing in cyanogenmod a company that creates custom Android software aside from google. The comments here suggest that cyanogen mod will take Android away from google and perhaps run Microsoft's services.

Die Google die muhahahahaha

When did HERE maps become part of Microsoft service? Been in my cave for a few days and things change rapidly! The play, that is my plan is to dual boot. You are welcome.

Microsoft and Nokia have an extended deal on maps. HERE is still a separate company (Nokia), but they help power Bing and vice versa. If this were to happen, Microsoft would certainly angle to get HERE Maps as Google Maps would not be an option.

I don"t think this will do anything to google or android. Cyanogen is small potatoes compared to google even with Microsoft. As far as not using the play store,sure there are other android app stores and amazon but they suck compared to google play. The amazon fire Phone was a huge failure. It only sold something like 35,000 units lol. They cant even give it away.

I actually don't use the play store unless I have to. I use Amazon app store. I agree the phone was a failure, but it's mostly due to their UI and Amazon trying to sell you stuff, IMHO. That's why I returned mine. But I would have never paid 600+ for it, that's for sure.

The reason the fire phone failed is because it was a shitty Phone. Doesn't have much to do with the software. Even MKBHD called it DOA.

A soon customized version of windows phone OS ? Yeah why not, MS is too busy perfecting the win10 for PC and hololens.

Just read another article about this... Seems interesting

Android with Windows interface. Done.

It won't be as smooth and fluid as a real WP.

and then people will want the real deal

Oh yeah it's official...Microsoft will stand out even more now....icrap and androp get ready to level off the battlefield.

Well, it would be a good idea I guess. It may give Android OEMs more of a choice and a chance to get away from Google. Microsoft could beat Google in its own home.

They couldn't go toe to toe with Android evidently so instead Microsoft is attacking Android at its source

Microsoft can beat Google in its own home? You're acting as though Microsoft now owns Cyanogen. They don't.

So what does this mean for Windows Phone?

"a version of the Android mobile-operating system that's more friendly to Microsoft services" Microsoft services run quite well on 4.4. KitKat. Actually, they run better on it than they do on Windows Phone. Another way to read this, however, is "After the obvious flop of Windows Phone, Microsoft is looking for an AOSP version of Android that's better than the X platform and able to make Microsoft ditch Windows Phone in favour of an Android-based OS that can get the apps while keeping the WP design".

I sure hope not. Although it would be contradicting putting Windows 10 on phones

So they spent all this time and money on the "Windows 10 on all" project just to be looking for a bail out option even before it goes commercial?

Well. Microsoft is extending their Universal apps platform to IOS and Android. So techically the MS android OS is techically just an open source version of WP but running on Linux

"Microsoft services run better on [KitKat]" Absolutely untrue. The bug that exists in 4.4 which idk if Google fixed it in 5.0 (because apparently you're suppose to fix bugs by releasing a new version. You know, like how Microsoft doesn't update any fixes in Windows 7 because Windows 8 exists), that makes it so you can't listen offline music makes it so I can't switch to Android. For all the talk about lack of app quality on WP, my music collection is unusable on Android. "After the obvious flop by Windows Phone"
Facts say otherwise. Microsoft is selling more Lumias than ever and is growing faster than the smartphone market. Like... Dude... I know you can do better than that.

Android plays offline music just fine, its never had any problems with that. As far as Windows being the fastest growing phone OS, i'm not so sure that's the case anymore. They actually LOST market share in 2014. That's the opposite of growing.

I experience ZERO of those problems on Android. Also...by "offline music" I'm assuming you're talking about the Xbox Music app? Because the WP one is wonderful, right? I won't judge the Xbox Music app anywhere. Mainly because I don't subscribe to it and ever since they ended the free streaming I simply don't use it at all. But judging by the complaints about the WP app, and judging by all the other apps Microsoft has on Android, I'm ready to bet that it's not worse on Android. At any rate, I can listen to music offline on my Z3C just fine. WP is growing faster? Really? By falling to bellow 4% worldwide? Microsoft can double the phone sales to 5 million to 10 million from Q2 to Q3...but that doesn't mean it's a sustained growth (Holidays and bundles of Lumia phones with the Xbox One sure helped a lot those numbers) and it's also not synonym of marketshare growth, when Android and Apple sell 5 times more.

You should know that market share doesn't indicate growth.

Not going to happen. Take your extreme pessimistic babble somewhere else.

WP isn't flop. Not yet at least. And what you're basically saying is, this is their Plan B, while keeping in mind, Windows 10 is still on hold for phones.
But, wasn't the ability of WP to run android apps on WP already their backup plan which would be in total contradiction to what you looked on differently?

It could be. Note that AOSP is just a Linux based OS. Microsoft can use it without Google, build Windows upon a Linux foundation anyway and that way, the "Android apps on WP" could mean simply that WP would become a Linux-based OS. By building WP over AOSP, Microsoft would be making sure all Android apps would work on WP without any additional twitches of coding. Of course, Windows (Phone) 10 is still the primary plan. But Microsoft probably has or is preparing backup plans. To many people at Microsoft - and I know WP fans don't like to read this - WP was declared a flop the moment Ballmer had to buy Nokia's D&S to avoid their deflection to Android and the crumble of the OS.

So where according to you does it stand on rumor-o-meter, Daniel?
And I'm curious to know how Microsoft can assist them on their app store issue.

Since Microsoft now seems to be focusing on services rather than the OS, this isn't a bad idea. It could take some market share from Google and bring more into Microsoft ecosystem.

I wonder if cyganmod could some how be integrated into windows providing apps and somehow unique features

Sure, integrate Android into Windows, that sounds like a great idea. Not really.

if you mean, AOSP apps running on Windows Phone, then yea.

And yet MS is pushing microsoft apps in the playstore instead of building/developing for the microsoftstore

Microsoft has a business to run, ya know?

I wonder if this is where the rumors of android apps running on WP came from. Can we expect super-universal apps that can be run on Win, WP, and CM?

It was confirmed at Build 2014 that they are looking for ways to get Universal apps on Android and IOS Posted via the Windows Central App for Android

I this to be true so bad. That's a huge middle finger for Google, and can't wait to see what they will do to try and stop it.

How exactly will it be a big middle finger to Google? Microsoft already made an Android phone that ran Microsoft apps, and it flopped.

Maybe google will stop posting security flaws in windows now

I think this a good thing

This certainly provides an interesting possibility for MSFT. I will have to look into this OS a bit more I think.

So this is just Nokia X all over again...? On another note, I wonder if they could use the Amazon Appstore for apps. Interesting.

If Microsoft starts building phones with CyanogenMod(Android) yes it will be just like Nokia X all over again.

I only know one thing, if Windows 10 disappoints.. I'm getting my self a Nokia 3310 and I'ma stick to it!! LOL

Sorry but what a deluded bunch of posts..... Cyanogen have 80 employees and not all of them would be coders. The best they can do is what they do now and thats supply Android without Google Play services on it. To use it as more than a dumb phone you need apps, So you either side load stuff without a clue what you are doing to your secrity etc or you use an app store like Amazon. As for Microsoft stuff, um its on iOS and Android already and there is no way MS will take it off Android and give it to a company to have as a unique selling point when that company make even MS look like a massive phone supplier. Cyanogen is still a niche product for people who are tech heads and not Jo public who have never heard of it. Its as bad an idea as the Facebook phone was.

Forgive my ignorance, I don't have a great deal of knowledge surrounding Android politics, but what would happen if Google pulled the plug on AOSP? Could this even happen? Would it be likely? What would the implications be?

There is a large group of device vendors who submit code, and work to improve AOSP. This isn't something Google can casually pull the plug on. It will never happen.

Thanks for the info! Wasn't sure if MS could potentially be investing in something that Google could pull if they decided to throw their toys out the pram. Which I'm pretty sure they would if they actually could.

That's the ruthless Microsoft I know and love.

Does anyone know if I can load cyanogenmod on the note 4 for att? I can't find instructions for this specific version. Posted via the Windows Phone Central App for Android

Go to XDA Developers and find the Note 4 forums. They would be glad to help.

It's payback time, beaches! :D

Won't it be a shame when google no longer holds android with an iron fist. I'm looking forward to that day, Windows Phone for life

Except they don't. Android is open source and anyone can built from that. It's good Google is taking an iron fist, with OEM's and Carriers releasing crap android devices that never get updated and are horrid. Posted via the Windows Central App for Android

I honestly don't see this hurting Google at all. All I see is ignorant F Google comments and down with Google. Cyanogenmod is Android utilizing AOSP. You can easily side load Google services if you desire including just loading mini GAAPS with basically Google Play Store if you like without any other Google application. Right now you can get Cyanogenmod if your device is either rooted and supported or if you own the OPO and the Micromax CM device announced for India with come loaded with Google Services if you must no. Who has the best Android services, you got it, Google. I enjoy CM but it's not the best ROM out there. So Microsoft invest yahoo! It doesn't matter to Google, and it won't harm Google. Such idiocy here. Posted via the Windows Central App for Android

There are a ton of excellent Roms out there, and CyanogenMod isn't half as popular in the Android community as they used to be.

One plus is a good phone wish they had WP version.

Microsoft! just focus on Windows phone!!

I'm gonna say it again. This will do absolutely nothing to hurt Google. All you people who keep saying stick it to google have no clue. Cyanogen have 80 freaking employees lol. Also,what's with ppl saying wp is selling better? Better than what lol. Last quarter they sold 10 million phones and apple sold 74 million! Yeah they're getting real close lmao. Bottom line, this will not affect Google. The amazon app store is nowhere near as good as google play store just saying.

This is a move to have Android apps on Windows Phone/ Tablets.

lol dear google is in trouble, Microsoft will offer this android version to OEMs without the licensing fees they have to pay ms for using google's version, they will avoid google and its ads in the process and save a lot of money, and I don't really see what can google do to avoid this

People use Android because they want Google's apps and ecosystem. Giving away a free version of Android without Google's stuff is a waste of time.

May be for supporting Android apps in windows phone?

Meanwhile, Windows (Phone) is still all about waiting and "Coming Soon".

I have been investigating some accounts it seems a same person with different names on windows forums trying to talk shit about Microsoft and windows phone, F....k u u will never change any one mind , we know ur android fun boy.

Saw somewhere that, it will be called Oxygen OS (apparently with the help of MS) and Oneplus will reveal it on 12th Feb

The Oxygen OS is simply an Android rom that 1Plus is releasing.(no more CyanogenMod) It has absolutely NOTHING to do with Microsoft. This thread has been a huge mess of misinformation.

Will not be like taking away from Google and putting it in the hands of Microsoft?

Sure, that's exactly what's happening. Microsoft will be in complete control of Android soon. smdh

Actually, I think if Microsoft can bring some very good value adds to the Cynogen Mod, such that MANY Android users would want to load Cynogen instead of stock ROM (and I know Cynogen usually keeps its OS as close to Stock as possible), then THAT would be good for MS and for Cyanogen as well - and maybe a little bit of a finger in Google's eye as well (THAT is not the main objetive of MS I am sure). If Cyanogen users could have Cortana ported on it on the OS level (not an app), then THAT would be a great value add. I think this is MS Plan B - if Windows 10 on Phones fails, then at least they have their services working on Android and with a close partner where they can bolt essential services at the OS level - and not just as apps. They need to have the close OS level functionality and API support - which Google will never provide them. Hence Cyanogen as a partner.

This seems like a double down - sort of a......just in case WP's marketshare doesnt take off after W10 is released, they can maybe get a piece of the Android pie as well. All that being said, ive used CM, and I like WP better. Sure there are customization up the wazzoo on CM........but its a pain in the arse to manage it all (the settings menus are insanely complicated, and if your not a power user, good luck), and without the right hardware, your performance will suffer. WP seems to run amazin on all levels of hardware, not that I dont carry a Lumia Icon (the " ,"un" flagship that is no longer supported by Verizon)......I just got tired of

So what does this mean for my current Lumia?

I think this is a longterm the backup plan for Windows Mobility--If could have a Windows phone that could run Android also with all the non Google apps, that is their backup plan. I do not think they will abandon Windows Phone and hopefully they will not as I am a WP user. But MS is about software and services. And to get them onto as many devices as they can is now their goal. MS competes directly with Google on services such as Office vs Google Docs, Bing vs Google Search, Azure vs Google whatever, Outlook mail vs gMail. For example from what I understand the new Outlook app for iOS and android is great. Understand I am not an android person, never even had one of their phones, but it is obvious from an app standpoint that the ecosystem is much better for lots of things. 35% of Android phones do not have Google services. That is a huge chunk and probably 1000 times more than all Windows Phones (I am sure someone will do the math). If an android build that installed by default MS services instead of Google with a broad store, not sure what downside is. MS has the wherewithal to help out on that front. I mean some of best apps on android are MS apps (Outlook, Skype, Office). It is not like the softies cannot write to Android or iOS. Bing search, although a distant second increased ad revenue this past quarter and that is 90% of all Google profits. Not to mention the fact that practically all OEMs in world that mfg android phones pay patent royalties to MS. So MS really is invested deeply in Android. This makes complete sense to me. I mean Google wanted to buy cyanogen from what I gather. They must have seen value (or a threat) in them.

This is not Nokia X all over again as the goal is to get other non-Nokia OEMs to use cyanogen instead of alternatives (Google) and get those 34% of non Google Android devices running cyanogen. It would seem that the Nokia x store would be an good beginning point for a major cyanogen store. And it is owned by MS with an emphasis of getting MS services to Android community. Maybe part of the investment would be the ceding of that resource to cyanogen or some kind of long term deal??? To build a viable store, it would seem, would take enormous resoruces in backend development. And although MS own store really sucked at first, it has gotten better and better with each iteration. By the time Windows 10 comes along, I think it will be very good. That same development investment and expertise could be used to make an Android store for cyanogen that would be heavy on MS services. Hell it could run on Azure. Or am I missing something?. MS itself would not neccessarily build Android phones if the cyanogen fork is good enough to capture the non-GoogleAndroid market.

I think MS should push the windows store to CM it could attract more developers

This isn't that much of a shock. Microsoft has invested in Apple, Facebook, etc. Smart move on their part.

Where does Windows Phone fit in all this?
Windows Central Newsletter
Thank you for signing up to Windows Central. You will receive a verification email shortly.
There was a problem. Please refresh the page and try again.