Microsoft and Sega exploring strategic alliance for Azure, next-gen game development
Exploring what future collaboration can achieve.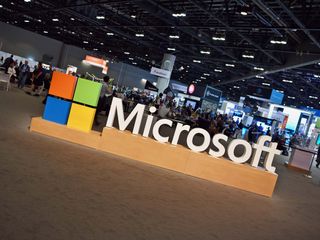 (Image credit: Windows Central)
What you need to know
Microsoft and Sega announced a strategic alliance on Sunday.
This strategic alliance will explore game development for Sega using Microsoft Azure.
This will also aid in the development of Sega's "Super Game" project that is years out.
Microsoft and Sega announced a strategic alliance on Sunday. In a press release, Sega confirmed that the partnership will allow both companies to start exploring game development using the Microsoft Azure cloud infrastructure. This partnership will also aid in the development of Sega's previously-announced "Super Game" project, which is currently years away from launch.
"SEGA has played such an iconic role in the gaming industry and has been a tremendous partner over the years," said Sarah Bond, corporate vice president at Microsoft. "We look forward to working together as they explore new ways to create unique gaming experiences for the future using Microsoft cloud technologies."
Sega's "Super Game" is focused on a few key pillars such as "Global", "Online", "Community" and "IP utilization," per the press release. While this partnership is in the early stages, Sega plans to use this partnership to explore future collaboration, including network infrastructure and communication.
"By considering a strategic partnership with Microsoft, we seek to further advance our game development so that our titles can be enjoyed by fans all over the world; in this regard, we aim to build an alliance that utilizes both SEGA's powerful game development capabilities and Microsoft's cutting-edge technology and development environment," stated Yukio Sugino, president and COO of Sega.
Little else is known right now, but whatever else these games end up being, Xbox Series X and Xbox Series S players can look forward to playing them, given Microsoft's involvement in creating this game development environment.
Windows Central Newsletter
Get the best of Windows Central in in your inbox, every day!
Samuel Tolbert is a freelance writer covering gaming news, previews, reviews, interviews and different aspects of the gaming industry, specifically focusing on Xbox and PC gaming on Windows Central. You can find him on Twitter @SamuelTolbert.
Sounds a lot like the arrangement Sony made with Microsoft pertaining Azure. And this doesn't seem like it'll impact where Sega's future games will be playable.

As long as it is just technology and infrasinfrastructure and Microsoft has no say in Sega's actual game content, this sounds nice.

Do you mean.. PSO2NGS ? cause I've heard of that.

I think PSO2NGS runs on Azure already.

Correct, this is entirely new.

Lots of platitudes in there but "IP licensing" may have meat. It might mean just more cartoons and movies, but it may also mean SEGA games coming from non-SEGA studios, possibly even exclusives, timed and otherwise. (Ala LUCASFILM.)
Nothing imminent, regardless.

Sega and Microsoft have always had an interesting relationship, right from Windows CE on the Dreamcast. I always regarded the Xbox as the proper successor to the DC, what with it launching with JSRF and Panzer Dragoon and fairly similar controllers. I'm amazed at this point Microsoft havn't just brought Sega Sammy's gaming division alongside all their IP. Gamepass fattened out with every 8 and 16bit game Sega ever made would be quite the feat and it might mean we finally get to see Skies of Arcadia again in some form. Streaming retro titles would be easy because most of them are so small they could just temporarily live in the RAM of your console, negating any lag.

I agree. I owned a Dream cast and when I upgraded to the Xbox, you could see how the style of the system had DC flavor.

Yeah, pretty much. The Dreamcast always did feel like a predecessor to the Xbox. And it ended as Xbox began, as if a torch were being passed.

Old article: Creative Assembly's new 'Super Game' FPS could be SEGA's own Fortnite: https://www.tweaktown.com/news/79603/creative-assemblys-new-super-game-f... Maybe this is exactly that Super Game.

So, "Super Game" is a bit weird because (as best we can tell) it's not just a game, but a surrounding set of new development tools and an ecosystem that Sega can use as a platform. Still not sure how it'll pan out, but going to Microsoft to use Azure for it certainly makes sense.

Definitely makes sense if new development tools allows Sega to create large scale projects, but doesn't that mean that these tools are already available? Personally but I could be totally wrong here. Is Sega wants to create worlds that are more alive with not just players, something different than we are used to seeing these days. This would be the perfect use of Azure. And eventually Sega showcases that FPS game and give us an idea what a "super game" can be. Maybe on an Xbox Show explaining the process how they used Azure to create that game. Everything about this alliance just sounds big.

MS (and AWS) does have advanced cloud-based game development tools, they're called Azure Game Stack: https://developer.microsoft.com/en-us/games/ They're being constantly expanded and, by recent reports, they are adding "Cloud First" tools to create a single game codebase that will adapt to the hardware used bythe player. That may be what the "super game" buzzword is about.

No matter how much I love GP, the one thing I do fear is what we're seing in film and TV streaming, with 260 different "platforms" emerging, everyone locking in their IP on this platform.

I hope the whole Dreamcast, Saturn, and Genesis catalogue will be remastered and re-released!
I need Jet Set Radio Future and all the classics on PC.
Windows Central Newsletter
Thank you for signing up to Windows Central. You will receive a verification email shortly.
There was a problem. Please refresh the page and try again.