Microsoft shares details on when Windows Phone 8.1 will roll out in India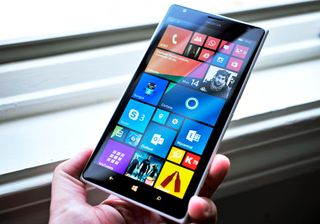 Microsoft India has stated the timeframe for the roll out of Windows Phone 8.1... in India anyway. The company teased on Twitter that consumers residing in the region will receive the highly anticipated update in the first two weeks of July. There are no exact details as to when everyone will receive the download since it still depends on local carriers and whatnot, but at least there's a clear idea as to the timeframe.
This isn't to say the worldwide rollout of Windows Phone 8.1 will commence within the first two weeks of July, but it certainly fits in with what we're expecting, especially with the next major version kicking its support cycle off last week. Not to mention select markets already receiving the update as part of a pilot program, but we'll have to see as more markets are included.
We'll keep an eye out for more details as we approach July. What are you looking forward to most in Windows Phone 8.1?
Source: Microsoft India (Twitter), via: Softpedia
Windows Central Newsletter
Get the best of Windows Central in your inbox, every day!
Rich Edmonds was formerly a Senior Editor of PC hardware at Windows Central, covering everything related to PC components and NAS. He's been involved in technology for more than a decade and knows a thing or two about the magic inside a PC chassis. You can follow him on Twitter at @RichEdmonds.
Preference India - accomplished :)

Switch region to India Then Back To US :D Lucky for my Unlocked Phone

It doesn't matter your phone region. You would need to flash you phone with an Indian firmware.

Does that even work?
Still waiting here in Germany...the core & heart of the EU...
And India is getting it prior to us...

Germany is the core and heart of the EU..... lol?

Actually, economically, militarily, technologically, yes!

Not militarily and technologically. France is higher (not to speak about UK)

Dont forget Windows phone is 2nd largest os in India

Can anybody share correct information when will 8.1 version roll out in India for 1520 users! Please share I am eagerly waiting for that!

India is getting the priority because of the concentration of Windows Phone users. Windows Phone has the second largest market share in India.

That's a point, you're right.
Didn't thought of that. By the way, I did not want to offend any Indian by my comment.
I just wondered, because Germany & the EU are big markets.

Also it's easy easier in India. No carrier issues. All phones are unlocked

Yeah...you are right..but this may be due to increasing windows phones customers in India.

After this update for Indian users will they be get to use Cortana in India region

No buddy, Cortana is only available in US for now but will be available for India tentatively in the next 6 months.

So what else is coming in next update-the 8.1 update?

Is it Germany where largest no of WP are sold ?? No

ok, relax now. the release of the update has nothing to do with the "power" of a country!!! Some perceptions will never change....

I think your 70 years too late and even then they were wrong.

Yeah we are. You got a problem with that "ThePrayer" ?

No Dude, I'm happy for you! :)
I love India, sorry for that misunderstanding! I just can't wait to get it here in Germany! :)

Its all about numbers, our android user base is larger than your population. The current WP userbase will be significantly larger than yours, so you tell me if this is making sense or not. Cheers.

Glad! This time, they preferred India instead US :P

One thing to note, in india phones are not carrier locked so no issues with carrier when Microsoft wants to give the model an update. .

Hallelujah!! I wonder when Cortana arrives in India!!

Don't care, already using it, and yes,I live in India,

Cortana is arriving in January in India if that Nokia salesman is right!

Finally, she is pronouncing my name right. Phonetically correct.

Check out "killerwpv2" for Windows Phone http://www.windowsphone.com/s?appid=437ab181-735d-4fe0-bea3-8a8563903d51
..... Thread first virus for WP ... Try it I u want ...

You should already have it. The preview is out!!!!

Is it even conceivable AT&T won't be dead last to release?

I'm having doubts whether at&t will update the 920; it's more than 18 months old.

I downloaded the developer preview long ago than to wait on those jerk offs at ATT. I think the developer preview is just Microsoft's way of saying you don't have to wait on them unofficially.

Thanks god I got a 1520 already, tho hoping my 920 can be updated.

I just hope ATT doesn't remove data sense. I needed this long ago and really helps me manage my 3gb a month data usage. I was always cautious, now I can actually use what I pay for!

ATT gave us GDR3 + Lumia Black within a few weeks of the start of the rollout. Hopefully that's a good sign about 8.1

Indeed, now question is can we expect the launch of Lumia 930 by that time

I'm waiting for the same too. They are too late... I was expecting MS would already launch another flagship device by now but yeah I should've not expected that from MS :/

I think its the time when other OEM 's are releasing there windows phone, so may be MS is waiting for the right time to release new flagship wp

Once WP8.1 comes out to India.. Do I have to wait for Nokia Cyan to roll out as well or can i get wp8.1 minus Nokia Cyan?

Official WP 8.1 update will have Nokia Cyan along with it... If you don't want Nokia Cyan than you can just get WP 8.1 Preview for Developers...

So that means I'll still have to wait for it to be released for L520 specifically like amber and black.

I m very eagerly awaiting for the update in India for my Lumia 520.

Bhai, awaiting Kay baad for nahi aata. Tang nahi kar raha, sikha raha hun Hindi mein.

*Tang BEECH mein nahi aada raha..Bass hindi mein sikha raha hun!!

Yeh hindi nahi hai hinglish hai... यह हिंदी है

Looks like only Rich is working today...

It will be the first time that India I getting something before other places on the world :D

Hahaha... Sympathies of satya nadella

What are you saying?? People are complaining that more of Indian apps are being covered than for the rest of the places!!

I am not Arab, but want to show you a comparison. There are tons of apps coming out in the middle eastern countries everyday for WP, how many do you see get covered here, compared to apps from India. Kia baat karte ho!

How are we gonna know that?? We see mostly articles like-- "Official app of/from....released in India" by-Abhishek Baxi..Ab whan ka kaise pata chalega??

I wonder what apps do Arab countries use, prayer timings, oil level measurement, for how many months before you ditch the current Lexus for a land rover, or how to confiscate the papers of migrant workers to blackmail into practical slavery

Technically, it doesn't mean that India is getting it before other countries, it just mean that the rollout process is starting very soon. Anyway, I'm really happy for you, guys! India is definitely an important market for Windows Phone. :)

Yep, the second largest market in the world. Great news :D

New app folders (like IOS has) are coming to Windows Phone 8.1 http://wmpoweruser.com/native-app-folders-coming-to-windows-phone-with-i...

I also read this. Looking forward to it.. Great June

Something doesn't seem right... not sure what though.

It's given in WP website..seems true.

I would hate it if they did that. I highly doubt they would anyway.

We had something much better than folders, they were called Hubs.....so missed :'(

Ding ding ding, and the 12 gun salute solemnly sounds true

This seems true as our is given in WP website
http://www.windowsphone.com/en-US/How-to/wp8/settings-and-personalizatio...

Using preview for wp8.1, but still waiting for official one..

Hey long time no see... Remember?

Oh I guess you're the one on twitter :p

Glad you could remember ;)

@hprvez the preview can't be official , we can call the version we're. Using WP 8.1 beta

It's official in the sense that it has been issued by Microsoft, but it is not the full version, which will come with new firmware from Nokia in the form of Cyan.

am in india on idea network having a belgium rom, always recieved updates before india, now that ms has taken over i wonder when will i get it :) l620 i hope they wont leave out l620 like they did with black

Yeah that wasn't a very nice move was it?
+620

What man?
Help me iam a noob XD

juuuuuuuuust in time. althought no, it wouldnt depend on any carrier. The phones sold here all come sim-free (no contract/PayG).. so we'll get it when MSFT releases it :P

Wow... That's cool ...
For those who are said that., Indians have to wait for long time to get the update should close their ass now...
Chak De...

I want notificationcenter and custom notificationsounds (WP8.1). Well, just wait and see when WP8.1 hits HTC 8X in The Netherlands on T-Mobile. O, and wait .... universal apps. Missing out on them right now.

Hey bud, the Netherlands are good in futbol, my respects but you guys are about to lose to my Mexican team. It's gonna be a good game.

Yes, be overconfident, that's it... then when you don't expect it...BAM!! Mexico wins :D

Well, I guess I had it backwards, though that last penalty was clearly a dive..

Yeah, the penalty ruined the game which was well fought by both.

Mexis gonna blow NE-THEIR-LANDS... lol...

Many thanks for giving the date. Waiting with my Lumia 925

Roll out full to 1 country and move on from there

Yes its true.. In INDIAN region there will be no carrier problem..
Only thing is Higher version phones like 1520, 1020 will receive the update first and it ends with 520, 525 & so on...

No!! 520,,525,,720..1020,,1320,,1520----That's gonna be the order as more of lower end phones are sold here!!

Nopse it will be exactly the reverse I guess. It will start off with the high end phones and then go to the lower end.

Just one more day to go and then its July but I think the update will start on Thursday or Weekend of Frist week

I think it'll be 1520, 520, 925, 920, 525, 720, 1020, 625, 620

1320 too there in the list ;)

Something "pretty amazing" is coming to Windows Phone: http://wmpoweruser.com/something-pretty-amazing-is-coming-to-windows-phone/

More color options?! Yay! :D

I hope gdr2 can bring interactive live tiles

CANT WAIT!! Mabe 3-D touch!!?

I was thinking the same but I guess WPC already covered that...

Yea I know..that comes before December, then the sales gonna go up like anything during Xmas!!

Yes, lets hope MS gears their delivery up!

I hope this includes the following
* interactive tiles
*960x540 screen resolution
* integrated stylus support
* over lap functionality of apps, like fb chat heads and floating window features
* resizable keyboard (essential for phablet size devices) or perhaps support for third party keyboards
* universal apps
* LG and Sony devices
* more background themes apart from the current black and white
* more toggles in notification center
* more open file structure
* lock screen getting more options

Its 3d touch rocks windows phone sucks android

So are you saying WP sucks or the other way around ? android sucks ?

I think he's saying WP rocks because of 3D touch (to be released) and android sucks maybe?

I guess it's "android sucks"

Oh I dream of a world where updates and new devices roll out world wide equally and without hindrance from telecoms... Oh what a world it would be.

With MS now officially owning the Nokia handset division, I hope that we can bypass the carriers altogether. The Developer Preview allows us to bypass the carriers and get the OS early. Now if we could only get the firmware at the same time so the OS "talks" properly to the hardware, all would be well in the world.

It's a Dream World for sure!

We, in India, don't have any problem like that. By chosing a carrier locked phone, do you get any advantage? I guess the only one is that the cost is less. Is it considerably less? Why don't you chose an unlocked phone? First of all, are there unlocked phones available?

Ohoooo waiting with my 925.... And the best part is their is no carrier crap in India.....

wow thats great news... :)

thanks for the microsoft developer preview program, it doesnt matter whenever the actual release is. i only want app for wifi file transfer. :(

Yeah.. Me too... But I don't think that's possible in WP, Is it?

try easy transfer app, i dont know what you meant exactly by wifi file transfer.But you can transfer files between pc and wp by that app via any browser using wifi no need of usb cable

I think he's talking about mobile to mobile transfer.. Eg.Superbeam in android.

by wifi transfer they mean the "wifi direct"(u can find it in samsung handsets) function by which u can transfer any kind of files between 2 devices using wifi length or something like that, not wifi internet zone

Awesome finally, My lumia 925 has be complaining about my insistently pressing check update button hehe...

Nice to see comments like "Switch region to India Then Back To US ... "!! feeling happy to see the usual US previlege shade off..!!!! C'mon INDIA............!!!!!!

Let him..These privileges don't come often!!

It's only one comment, and it's not gonna work...

Yeah but these are OS updates. You don't get it sooner by changing regions unlike the Store apps. The update server is in the ROM which needs to be changed to the corresponding country if you want early official system updates.

Hope so the update will kill off all the bugs which are present in the Developer Preview. Sometimes the Start Screen shows Loading...., and those annoying dots irritate me... :/

I haven't seen that problem on my 1020 with the 8.1 preview. But yes, the official release should be relatively bug free.

Btw we don't have the carrier problem here ...pheww...

Thats a great news now! Will expct it in the first week of july

"Something Amazing is coming" says Microsoft

I prefer Chicken myself. :D

I'll laugh, just remind me alright

is there any way to put likes on a comment? :D

He means the country, but you don't have the ability to get it, do you?

No, I am completely devoid of intelligence and sarcasm to get it.
I'm sorry but this user base is lacking in any form of humour. This wasn't the case when I first joined up because it was a fun place to hang out to chat about Windows Phone. However, it has recently become a hot bed of Windows Phone Fanboys and fanatics.

Operators don't matter in India, Rich. They don't have any say in updates.

Yup that is the main reason why India is getting is first. Mobile manufacturers solely control updates and bug fixing on their handsets. So no middle companies like at&t are involved.

Will the Nokia Lumia 630 receive any update along with the Cyan update for the existing WP8 devices?

I think it will receive some bug fixes, nothing major.. let's see

@Shiba_Ranjan
Where is your source? It is no use saying"I think".
@Shashank,
What makes you think the 930 will get another update above and beyond all other Lumia phones?

Am not working with wpcentral or any tech site that I have a source or something, I just expressed what I thought, am not claiming it to be right.

The power of an Indian-American CEO, Satya Nadella. God bless Microsoft!

This is much better than the old system, where bald people got all the updates first.

Yeaaah !!!! Oh wait I already have the dev preview ...fine

But you don't have the Nokia Cyan Firmware which is really important for stability. ;)

@Yousef Kawmi, And you know this by what exactly? Have you been testing Cyan by any chance? No, of course you haven't but you do love to speculate for the sake of posting a comment.
Seriously, if people want to comment then by all means do so, buy only if you are equipped with the facts to do so. Otherwise don't bother, because you sound like a bunch of attention seekers.

I've 630 which does have Cyan, it's just like my other 520 and 620
do you accept my comment now ? or should i cry ?
and you do look now like attention wh*** seeker

I hope it addresses the battery drain issue, I am not using developer preview, but I have read about it. Hopefully it addresses all the loose ends.

It's already been addressed previous month by a small update from MS..now its good

@Shiba Ranjan,
I'm sorry, but reading about something is not the same as actually trying it out for yourself. Therefore you shouldn't remark on something you haven't experienced for yourself.
I have been using the preview for some months now and haven't seen any problems with battery drain, or at least anything out of the ordinary.
However, considering the preview had been available for months now, I can't see you bothering to try it out, now that it's official release is imminent.

while I agree with you there that reading about something and trying it out are different, that doesn't mean I can't ask something or say something about what I read.

No no no...
Developer preview is just a sample version given by M.S When u get CYAN Update,
It'll Provide u Full Featured W.P 8.1
&
it'll Enhance ur CAMERA Features, and others like Lock Screen features, battery stability, & also this update helps us to get much awaited personal assistant CORTANA... As for the info available,
for INDIAN region CORTANA will be available by August or September... And in this CYAN UPDATE
NOKIA / M.S mainly concentrated on HIGHER END phones.. So wait for the much Awaited Updates

I will hate microsoft if they release update in US before india.

All thanks to satya nadella :P

Exactly the article I was waiting for

If it is going to release in India first...then sure something good is coming for us Indians in future...:dancing:

Aahooo Bhai ye to kamal ho gaya... Microsoft now understanding international marketing, that's unbelievable.
Jite rahoo Nadela.

Thats great news. Eagerly awaiting the Nokia Cyan update. July come fasttttttttt !!!!! :P

Won't there be a table listing all countries and regions and highlighting whether 'Not available' 'Coming soon' or 'Available' ? ...like it was for black and amber

I would think so. It's nice to be able to track it that way.

Finally..though m happy with dp. But voice navigation not working in Here drive since the update. Hoping official update would solve this!

so did anyone realize that current Microsoft CEO is an Indian :D Kudos to Satya Nadella !

Wallpaper please !!! Guys

Wallpaper is present in 8.1 along with transparent tiles (mostly).

Why wait till July? If you can upgrade to Windows phone 8.1 via developers preview! Microsoft has released preview on mid April.

There is a fine print.. You will void your warranty..

Wish Microsoft Australia were as clued up. Vodafone Aust is testing 8.1 for the 925.
Usually takes two weeks of testing so people with a 925 should get theirs in the same timeframe.
I'm guessing that the other phones will follow later in the month.
Guess we should all be getting updated mid August at the latest.

Finally... Woohw!!! The pure oosmness is here. Thank u MS for the info. Love ya

Finally Microsoft showed some importance to Indian users hope this continues:)..!!

Wow India getting it! Sorry US! :P

Read the article again. It doesn't say that India is getting the update before the U.S. It just mentions the timeframe for when Indian consumers can expect the update.

but it will be before us probably coz there is no carrier crap in india

Wondering when we get it in Hungary...

You can already get it via the Preview for Developers program. However, that will only get you the 8.1 OS update and not the Cyan firmware update from Nokia. That's what I'm waiting for now. I've had the OS update for months and it has been rock solid stable for me.

finally Microsoft shows some love towards India :)

you are saying it like you guys don't get updates at all

Wooohoooo! Go Microsoft. It pays to have an Indian as a CEO ;-).

Maybe he is using the Indian market as a test bed and Indian consumers as Guinea pigs. This will then allow him to release a proper stable version to the rest of us at a later date.

nice try to make us feel bad..won't work. they already tested the update by giving us dev preview idiot

The dev preview isn't the same as the final public release. Try and get your facts right before calling other people an idiot. Nobody has got to try 8.1 coupled with the Cyan firmware yet so I will repeat my previous statement. India is being used as a test bed for the public release. Do you understand?

Try something better next time.. They ve already doing that with the pilot update at Finland..

Lumia 630 already has cyan and wp8.1 genius and its out in the market. You think MS will realse a new device without testing it properly!
Get your facts right.

So the 930 is fully representative of every other Windows Phone device is it? Do you understand that there are hardware differences between the various Lumia models? And are you that naive to believe that Microsoft would release a device that is totally error free? I laughed long and hard when I read that, so you have made my night. Cheers friend. :D

How about agreeing with the fact that India doesn't have that shitty carrier crap and so they're releasing it first here?
And I'm not sure what you mean by "test bed"... "stable version" etc. You do realize WP 8.1 Developer Preview was meant for testing?
Hell why am I even explaining you -.-

No problem... Wait until everyone updates and a few more days and then update ;-) I will do it as soon as it is available though :-)

Hooo... Yes!! Before that Bill Gates used US peoples as Guinea pigs. and test Bed. If you agree this.. I will agree what you have said!!!

Hopefully the wait is over.......

GREAT NEWS!!! but one small thing though.. Microsoft had tweeted this BIG news on Jun 26th 2:59 IST but u guys are updating this a few days later! :( ... Kindly please be more vigil guys! There are things happening here in INDIA too!! ;)

Seriously.!! I kept looking at MS india tweets of 29 June but could not find this update. thought maybe this is some fake news. But WPCentral guys.....we need updates as quick as US..

It's true, I saw the tweet myself. The update is definitely coming for us soon.

Great to hear...Microsoft showed some love towards Indian users

Hehehehe unbelievable :D. Hurray India rocks

I finally got myself a Lumia Icon...my God its beautiful...hope the rollout is soon...

already with developers preview...now waiting fro main update...that will give setting for lock screen too!!!

Right!!! I almost forgot about the lockscreen API... I hope its coming in this release ^_^

waiting for sensors drivers, sensors are not working.. So really hoping cyan can fix it.. I m using dev preview

What??? Sensors not working?? Which sensor??

Exactly what I want Microsoft to do - release the update to all the carrier-unlocked standard (International released models) phones first. The US rollout will be delayed anyway by the carriers and their custom devices. And I am not saying they should release it in India first, since they have the updates ready, rollout to the rest of the world with it as well. If I get this update within July, I will be surprised (I live in India, but the phone was bought from Hong Kong, so I will have to wait - and no I won't flash my phone).

That's what I think they should be doing, unlocked and unbranded devices first then everyone else.

Looking forward to activating Cortana without changing my region, etc. settings, but I guess that's in the "later" category.

Huarry finally we getting it the earliest....

Finally after a long long wait......hope it rolls after my exams.

My Lumia 920 is eagerly waiting :-D :-D

Finally !!!! Starting from 1 July have to check regularly :D

I wish that WP 8.1's phone dialer has a cursor. With a cursor, I can: 1. Add a prefix (operator VOIP) to dial back an overseas number. For example, I receive a call from +658888. I want to dial back 0100165888. Having no cursor, I can't add the prefix 01001. 2. Edit/delete wrongly entered number. With the current dialer, if you entered a wrong number, you have to delete all number, up to the wrong number. For example, I want to dial 88 999 but I entered 888 99. I had to delete two 9's before I can replace the 8 with 9. A cursor on the phone dialer is a very basic feature. Every handset I've used (Motorola, Nokia S30, S40, Symbian, Sony Ericson A200, Nokia X) has this feature. The only one lacking cursor on its phone dialer is WP8. I won't recommend a WP8 handset to my friends and family, until MS fixed this.

That means WP 8.1 is coming in the month of Ramadan

Nokia Lumia 1520 overheating when doing heavy tasks on 8.1 preview for developers, I hope they fix it

Cool..... What about Cortana?

Guys I was the who called up Satya Nadella and told him to release the update in India first :P

I'm using wp8.1 And can someone say me what more can i expect in Lumia cyan?

Where do you get this cool Backgrounds from? I want also something like this. :)

Which background are you l taking about?

The roll out will not depend on local carriers and what not. While carrier contracts are available for select devices, the majority are not locked into those carriers. And even if we were I doubt carriers would bother having carrier specific updates.

wait till xmas for something is going to happen in the windows phone space which is going to upset the entire world across anything https://www.youtube.com/watch?v=VUQmzYrJ1tg

Does, Cortena Will Be Given To India At First Or What It Would Be Look Like.

It's supposed to come to UK "soon" and maybe then India.

:D yay!
Vote Ron Paul.
The n word.

I hope they have fixed this bug, or oversight where you can only see/display the actual number after tap & quickly tap end call then tap the icon on the contact in call history if the contact has only one number. Direct searching and viewing of numbers a contact is only possible if the contact has more than one number. If it is one, it goes straight into calling mode

Hitting the contact will call, but when multi number the phone takes you there to choose his number is not a bug hitting the contact Icon next to it will open the menu

What about in some part of asia?

Got an update now!!! Installing....

He must have updated Lumia black! Poor little fella

Didn't read all the comments, but no details if Cyan update might delay WP8.1 update to Lumia users?

Mission accomplished! Have patience guys, tou will get the update soon.

I am from India, and I change my region to us to use Cortana, do it effect updates on windows 8.1. ?

Initially I was able to get Cortana by changing region n speech language to US in my Lumia 625.but not now.why?can u explain it.....

Its probably best to wait for cortana... It wil release in January in India

Glad they are giving priority to India, cant wait to get my hands on with cyan

Other countries should get the update at around the same time...

It's cuz of that new Indian guy isn't it? Saita satia sieta I don't remember

For Cortana to unconditionally works in other regions is my wish!

The one news I've been waiting for...... N yess, India firstt...:)

All though I m using developer,s previews still I am eagerly waiting for this updates.....

Too slow Posted via the WPC App for Android!

In 1st week 1520, 1320, 1020, 925, 820, 625 and in 2nd week rest of the low end ;)

So glad my 1520 will be first off the block to get the update! Although I am running preview I am going back to 8 just for this update!

Lol! Daniel is looking cool wearing a bandana scarf or what I think is one.

I'm happy that its just around the corner but WP 8.1 still has certain irritating lags which affects usability

What kind of irritating lags ? Plz explain...

Only at certain times ...the icons disappear and phone would take a few seconds to respond.

Great, now I can stop hearing how Microsoft "hates" India in the comments of every article.

Hahh... At last India getting it's deserved priority... I just can't wait for the update...
And also expecting the release of Xbox music soon in India....

Yes finally in india... Waiting

I look forward to it all! Looks like a very full update of greatness.

I taught indian roll out will be pushed back later ..at last heard d much awaited news abt blue updated for my L820 in India ..countdown starts ..i had downloaded d developers preview version but im still waiting d official one without installing d downloaded one

Finally
Cortana for India

To be able to update my phone for firmware n additional 8.1 features... Should I need to switch back to India region?? M using US now ..for #cortana

U can change the region only for the update...
Once the update is done... Change d region back to US for Cortana..
Cause Cortana won't be available in India before January '15

So AT&T will permit it in about November.

Awesome now indian wp marketshare is getting the respect it needed hoorah

Just found this forum post from Virgin Mobile UK replied by a VM staff member stating that MS have a rollout towards "the end of July". http://community.virginmedia.com/t5/Mobile-Other-Queries/Windows-mobile-Cyan/m-p/2340815/highlight/true#M11138 Hopefully July will be a good month for everyone, well everyone with a unlocked phone... G.

Can any one tell how cortana tells the owner name

Will the icons in the notification centre be changed in this update? Like adding cellular data toggle, wifi real toggle in notification centre icons?

For all those who are waiting for CORTANA from this CYAN UPDATE may Surely have a Bad news... According CORTANA DEVELOPERS/ ENGINEERS.,
CORTANA for INDIAN & rest of world region ( except U.S ) is under work...
And the process may take some 2 to 3 months to get complete... So most probably M.S will update the rest of world phones ( 2 nd update ) by the end of August or September...

Sir I will installed alleady preview developers prog.8.1 so your officially 8.1 version when. Coming

As somebody above said, It helps that there are no carrier locked phones in India, so Nokia and MS (and others) can release updates whenever they are ready to.

Hey Guys, I live in India and currently have set my phone region to US. Now that WP8.1 update will be released in the first or second week in July'14, will I get the update or do I have to change the region to India? PS: The reason to set phone region to US is to get Cortana once WP8.1 is released.

Finally, a reliable time slot for stable release ! Thanks MSFT. :)

What is that background image? I want it!!

Well having an India born CEO has its benefits

Cellular Data in notification centre

I have got a serious doubt, though, what does pressing and holding the start button launch, is the cortana is enable, in WP 8.1?

The update will be available for the high end phones first i.e +925, +1020 and +1520 f/b +920, +520 so on and so forth. I suppose even +800 and +820 will receive the update.

Probably its releasing early in India due to a good WP market also as there are no carrier locked phones out here in India

Well..thats fine.. Will cortana be there in this GDR1?.. Missing her a lot in India..

Getting excited. Can't wait. Want it as soon as possible.

I have a 1520, 920, and 1020, all have 8.0. When the heck is at&t going to make 8.1 available in the US? It shouldn't take this long!

It's 2nd of July & no sign of update... Can't wait

Guyz any news about update release date??

Not just the OS!!!! Launch your flagship device as well, Microsoft!!!

Any news on the update release?

Hey guys! My phone is from middle east, i live in India. Can i get cyan update releasing in India or i need to wait for release in middle east? Reply soon plz!

Hey everyone! Can anyone finalllyyy tell, when will the users in INDIA, be getting WP 8.1 update...?

Still no update, does anyone when shall we receive the update

It says in first two weeks of July! And now...? What we still have is... Nothing!

If the update is arrived,can I update with mobile data??

Nope, u cant update with your mobile data. You have to do it over wifi. However question remains when we are getting windows phone 8.1 ?

Tomorrow is the last day of the 2nd week , and as per the information..the update should have been available..........
When is it coming ???????

Ok.... second week is over...no 8.1 still..in India...any Ideas folks??

I guess ul get it before 1st week of august

Microsoft, First 2 weeks of July already over, what about WP8.1 in India?? I don't know, why u people lie to the world..

I guess for Microsoft a week has 10 days :P

Ok then as per your logic let's wait till 20th.. And see when actually we r getting 8.1.. And then we can decide, for Microsoft, how much days a week have..

Finally Update available for Lumia 925...wooohhhoooo

on which network you are ?

.....annnnddddd..lumia 625!!!!!!!!!!!

I am using L625 and i got the update yesterday. The update is being downloaded now :D