Microsoft smartwatch teased with recent patent filing, looks super sleek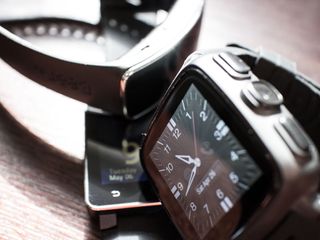 It's no secret that Microsoft is working on a smartwatch of some kind. We've seen patents filed and have heard rumors for quite some time. Wearables and the Internet of Things is the future of technology and one Microsoft is intent on being a big part of. Today we're looking at a patent granted to Microsoft for an "electronic band."
Last week we saw another patent granted to Microsoft that teased their upcoming smartwatch plans. That patent described a device with fitness-tracking features and a detachable body. That body could then be removed from the wrist band and attached to other accessories like a belt clip or lanyard. The body itself featured a touch panel where you could interact with to see different information displayed.
That patent included a dock where you could attach the body, presumably to charge or sync. Something we've seen other smartwatches like the Galaxy Gear or Qualcomm Toq do.
The filing discovered today shows off an electronic band that looks similar to previous patent images we've seen from Microsoft. Carl Ledbetter, the man behind the design at Xbox, is listed as one of the inventors.
Anyone looking forward to a smartwatch from Microsoft? The design in the patent images looks very sleek. Better than [Android Wear](https://www.androidcentral.com/android-wear "Android Wear")? We'll see.
Source: USPTO, Google Patents Via: WMPU
Yeah, and i've been one of those guys who never really wanted a smartwatch. But if done right, i might love it. I do a lot of walking and stuff, so this would be cool. That way i don't have to drain my phone's battery to track me. The samsung one is just stupid because it try's to be too much.

I'm in! Have a Nike Fuel - looking forward to something that can be used cross platform.

I wonder what happened to Nokia Smartwatch *flexible ?

Same here, looks very good for a smartwatch.

No thanks. I'm more interested in what Nokia may release.

No. I mean Nokia. The real Nokia.

So in otherwords, you're nothing but a troll.

It takes one to know one I guess?

Thats argument is for three year olds. I'll bet you know what a toilet bowl is, so.. Does that make you one?

priceless response dude lol good one

This guy is definitely a troll. See his posts on Android central especially this http://www.androidcentral.com/nokia-x-software-update-adds-little-more-m...

Djcbs u have no option use this

Oh, not Nokia....Microkia....

No, he means the Nokia that exists only in his head. The one that still produces mobile devices independent of their mobile devices division.

If you weren't an idiot you'd know that Nokia not only still exists but has an R&D division (under Technologies) that's precisely developing these kinds of things.
But then again, that would require you to not be an idiot.

Nokia isn't going to release a smartwatch. If you weren't an idiot, you'd know that Nokia isn't that kind of company anymore. But then again...

If you weren't illiterate you'd have read what is the mission of Nokia's technologies division. But them again...

You could less of a douche but then again...

Then again I'm less of one than you.

yea, you've really shown that.

Listen people, stop being so stupid. Nokia is still a separate company and it can produce devices if it wants. I think the Microsoft deal blocked them from doing it for around five years, but after that period passes, they can go back to making phones. Nokia kept ALL the patents except for some design ones. AND they even kept a factory, the one in India that was having tax issues. Therefore, yes, Nokia can make smartwatches, they have patents for them, and their patents look way cooler than this.

No. Years sooner than that. Nothing in the deal prevents them from re-entering the smart-mobile devices market (including phones) by about the end of 2015 if I remember what I read correctly. However, they'd have to assemble a team and an operations strategy from scratch, having divested 27,000 employees and most of their accumulated manufacturing division. But then again, maybe they'd decided they couldn't compete with Asian manufacturers in the long run, are happy MS has all that to deal with and could - with a lean engineering staff (and the aforementioned patents) - "Foxconn their way back into the market" with design chops (tho' probably not that soon). Whatever, Nokia's still a going concern in some areas they're doing well in - and shed a lot of anchors that were dragging them under as well as losing some things that they're sorry to lose. And still have a bunch of smart people and the implicit backing of a determinedly independent, tough nation. (MS also had to agree to maintain lots of jobs in Finland for the ops they bought as well, btw. Though the majority of the employees are in other countries.)

Microsoft purchased the entire Devices section of Nokia. Ergo all the hardware, including any smartwatch.

No. Not ask the hardware. Nokias R&D division had their own hardware just like the former NSN.

I'm not sure if you're trying to troll or if you're just in an advanced stage of denial. ALL NOKIA HARDWARE as of April 2014 is a subsidiary of Microsoft. This doesnt take away Nokia's identity, Satya Nadella already stated that Nokia's device creativity and innovation wouldn't be held back or changed by Microsoft in anyway. Microsoft just pays the bills and signs the checks.

Dude, Nokia is Nokia, Microsoft is Microsoft. Nokia no longer produces phones. That doesn't mean Nokia CAN'T produce other technologies. Their R&D division remains intact and can produce hardware. It's not my fault you don't grasp the deal that took place.

Apparently I grasp it better than you, all hardware endeavors by Nokia from this point on are funded by Microsoft.

Go read Nokia's website (the real one, not the one controlled by Microsoft). I'm tired of wasting my Latin with stubborn folks like you.

Oh gawd...are you still on your cult like mission of semantics?

So why do you keep doing it then! Oh I forgot - of course you do it because you're an idiot, illiterate, troll, douche-bag, rolled into one! Nokia doesn't care what you're doing so that makes you all of the above.

If you read the official press release, and even on Microsoft's site itself, it says "Nokia DEVICES"... not "phones"... and what do you see in the photo? A TABLET. They bought their entire HARDWARE devision, not just Phones. The only thing left with the original Nokia is the location services. They are now a service company. Deal with it. You'll still see awesome hardware since it's the SAME PEOPLE... just under a different name... gosh.

No, They are different Companys. MICROSOFT does not own nokia ^^ only their (ex) devices division.

Exactly... Key word being DEVICES!

Nokia's Technologies division also works on devices.

Ok then.. We'll just have to wait and see what the two companies release... I'd take a watch from either one.. Win win situation for me.. I love Nokia, and MS... Lol!

And I'm only interested in what Nokia may bring forth in the future. I don't even like smartwatches! Or watches in general, for that matter! lol That's why I'm not interested in what Microsoft may present. Neither Microsoft, nor Apple, nor Google. The only OEM that so far I'm curious about is Motorola and that's only because their smartwatch is actually circular and I'm curious to see how they implemented that.

I agree with the idea of the curcular watch. I won't get one that looks like a minature Surface on my arm, especially if it looks like it was born in a bag of Skittles.

You don't have to keep repeating yourself. You already made it very clear since last year that you're only interested in Nokia, and once Micorosft gets hold of the D&S, you'd be leaving for the iPhone 5S, the Z1 and the Z2, the Nokia X, the whatever. So what are you still doing here!!!

Dude, why do you go to such lengths to comment on potential microsoft smart watches (that have nothing to do with Nokia smart watches) given the fact you "dont even like smart watches" and the only one youre interested in has nothing to do with this article. I try to give your comments the benefit of the doubt, but its pretty easy to understand a lot of other people's POV on you.

alright enough with these... the whole stupid thread went south.

Nokia gave up it's entire device division to Microsoft and the rights to their patent portfolio for for the next 5 years or so. They said they would be focusing on Here Maps for the foreseeable future.

Enough "vapor comments" ("Can!" "Cannot!" "Can too!" "Sez you!") A few facts can settle this: "[Nokia's] new structure will see Nokia focus on selling mobile broadband infrastructure to providers through its NSN (Nokia Siemens Networks) division and mapping through its HERE operation. Nokia's Advanced Technologies division will explore new businesses and licences of new patents. NSN boss Rajeev Suri said Nokia will "continue to deliver innovation" through these remaining businesses. HERE .. "intends to accelerate our investments in areas such as the connected car, automatic cars, and maps which can update in real-time. The growth in smart cars will open a new value chain." ... "Nokia's Advanced Technologies division [AT] has a mission to discover the 'next big thing' in technology." ... ...mobile broadband was an "area with considerable opportunity". It [Nokia] sold £1.037 billion of equipment in Q3 last year, rising to £1.287 billion in Q4. ... ...new deals to supply LTE networks in October and December to US operator Sprint and Chinese operator China Telecom were cause for optimism about Nokia's future. "All three of the world's largest LTE networks use NSN tech..." [And despite losses during 2012 and into 13] "Over the whole of 2013, net sales fell only one per cent, from £440 million to £436 million. The AT business is expected to benefit from Samsung's five-year extension to its Nokia patent licence agreement, plus Nokia licensed many new patents in Q4. "The sale of the phone business to Microsoft will not harm innovation here," Ihamuotila said He said Nokia filed 900 patent applications last year of which around 600 came from AT. Patents licensed to Microsoft for 10 years will increase AT sales too. It expects the Microsoft deal – which will see some Nokia patents licensed to the company for 10 years – means AT sales will rise to around £492 million by the end of 2014. http://www.mobilenewscwp.co.uk/2014/02/11/nokia-bloodbath-could-turn-int...
So OK, that's who the new maybe more nimble Nokia is, and yeah they build devices. Great big heavy ones that help build the backbone of LTE systems. And could build small ones by 2015 as commented earlier and confirmed here: http://seekingalpha.com/article/1679072-will-nokia-phones-make-a-comebac... But probably won't for at least awhile. And no one commenting here (if anyone even at Nokia at this point) know when or if they will. So what were we talking about in the nearer future anyway? MS watch designs anyone?


This probably is what Nokia is working on.. What???? Microkia.. Come on now!

I don't care what Microsoft Mobile is doing. I care about what Nokia's Technologies division is doing ;)

Bro.. That part of Nokia is now under the microsoft umbrella.

No, it's not. Nokia Technologies is a division of Nokia post-deal.

Nokia cannot and will not survive without Microsoft. What's left of Nokia won't last very long on their own.

Oh, don't go there today.. Please don't take it there... It's mothers day for Christ sake..

That would be for the sake of Mothers Day.

Right!!!... I'm tired of arguing about MS/Nokia...

(ps - It's only mother's day in the US. Mothers day alredy passed a week ago)

LOL Nokia has been around long before Microsoft and will be around long after Microsoft.

Yes, producing rubber boots.

May I suggest a subscription to the Wall Street Journal or FT? Other Nokia divisions were profitable..

That's funny, because I don't think WP would have as much traction and attention without Nokia.

Dude Nokia is going to make money from cellular network technology, patents and researching the next big thing. They'll be around for a long time. Maybe even one day in the future they MIGHT release a meego device, big might though.

Nokia will not only survive, but prosper!

The only part of Nokia that is not under the Microsoft umbrella is the SERVICES. I/e HERE Maps, Nokia MixRadio etc. All Nokia hardware from this point comes from the division of Nokia that Microsft bought. Sorry.

Agree, just services and car navigation stuffs.

You're so but so wrong, my friend. Really, really wrong. The only thing that moved to Microsoft was the mobile division and services with them associated (like MixRadio). All that is part of the R&D division remains at Nokia, including patents and technologies.

Devices = HARDWARE Microsoft now owns the division of Nokia that produces HARDWARE components. Why this bothers you I don't know, as Nokia would be shutting down without Microsoft coming in and taking over the balance sheets.

WRONG. How stupid can you be? The hardware from the mobile devices isn't the same hardware from the R&D division. IT'S SEPARATE. Nothing prevents the R&D division from producing hardware. Nothing. What Microsoft bought was the D&S division, meaning the employees that produced the phones. However, the R&D division develops technologies separately. For example, they developed the PureView tech. Then that tech was moved to the D&S division for them to include in their phones. Here, from Nokia's Technologies division purpose: "Through Technologies, Nokia will invest in the further development of its industry-leading innovation portfolio. This will include expanding our successful IP licensing program, helping other companies and organizations benefit from our breakthrough innovations, and exploring new technologies for use in potential future products and services." This is NOKIA saying. Not Microsoft nor Microsoft Mobile. Grasp the difference now? Or should I draw you a diagram?

Why are you so hostile? LOL Microsoft bought the hardware division of Nokia I don't know why this is so personally offending to you,

He's passionate...............

he's passionate like the NSA is passionate about privacy. definitely has everyones best interest at heart /s

You know, you're making a real dick of yourself. All you have to do is read the contract between Nokia and Microsoft. Nokia are legally prevented from doing anything like this for 5 years. Any work in progress at the time of the deal became the property of Microsoft. This is what they got paid money for. Legally, Nokia Technologies can R&D any kind of device they like until the reindeer come home. But legally, Nokia ar not allowed to sell it and they can't license it off to another company. It's all there in black & white.

FWIW, before you refute what I'm going to say outright, let me see if I can put another spin on that statement that will clear this up. All I ask, is that you give me a chance, and consider what I have to say, without jumping to your gut reaction, okay? Let's take a look at the highlighted part of the statement you posted: "...exploring new technologies for use in potential future products and services." First, taking that one piece of the larger sentence and giving it emphasis, weakens the intent of the statement (and your argument) as a whole. Look at the whole again with a little different emphasis: "This will include expanding our successful IP licensing program, helping other companies and organizations benefit from our breakthrough innovations, and exploring new technologies for use in potential future products and services." In context, Nokia is saying their efforts to "explore new technology for future use" is part of their overall program to expand IP licensing. They're also issuing a new mission statement of sorts with three key words: "expanding, helping, exploring." That doesn't mean the lack of an R&D department; in fact, those three words are the hallmark of an R&D company. It's just that their R&D will be focused on the technologies they can license in the future to others who will make practical use of them. Right now, Nokia has no manufacturing arm independent of Microsoft. They still own the factory in India, but the only reason that one was left out of the merger, was because it would've continued to delay the closing of the deal, and neither company wanted to put it off any longer. It is likely, that factory will sit inactive until the tax issues can be settled, and then it wouldn't surprise me if Microsoft buys that one too, or Nokia sells it since they are not in any position to make use of it as per the terms of the merger. Next. Nokia is a services company now; the statement from their press release makes that clear. They retain their maps tech, and are continuing to license and administer all the various patents they've built and held for decades. That is where the bulk of their income will be. If you put that quoted statement in this context then, what you get is that Nokia will continue to conduct research and development in an effort to secure additional patents, which it can then license out to other companies (including Microsoft) who will use that technology in their devices. Having said that, this does not mean Nokia will never get back into the hardware game; it's also not to say they will either. A lot can happen in six years, and with the rate of change in the industry, Nokia may not even be interested in becoming a manufacturer again. There are, after all, many more headaches involved in manufacturing your own goods (i.e. sourcing materials, cost of capital equipment, personnel and all the incumbant associated costs, shipping costs, paying taxes, etc.) than in just licensing out patents to others who will. I honestly don't think the Nokia BoD would've accepted the sale if they didn't see it would benefit the company in the long run, and with Nokia's hardware sales being as low as what they were compared to their peak before the first precursors to "smartphones" phones came along, the manufacturing arm of the company may have been losing money for too long; so they sold it to a partner of many years who actually wants to preserve the work Nokia's already done while building further upon it. I have been a Nokia fan for decades. Some of the first mobile phones I used were made by the company -- in fact, until the Razr came out of Motorola, I never looked at anything but a Nokia phone. They've always made great products, which is why I have a Lumia 1520 even today. I believe you're reading more into that statement than is intended; and if you look at it again from a different angle, you'll see that. Finally, please remember the commenting rules here are to be nice to one another. It is possible to express different opinions without insulting one another, or condescending to others here. I ask that if you choose to respond to me, please do so with the kindness and courtesy I've shown you. If you feel you are unable to do so, then just tell me you disagree, but do so without the hostility I've seen you display with others. Thank you for your time.

HERE is a separate division btw

See my referenced post above. While what they were best known for in the tech press was their phones, famous because they once ruled the cell industry, they had and still have a big ass LTE world-wide infrastructure manufacturing industry and a fair amount of other "Advanced Technology" assets along with the mapping and services stuff (HERE - the other thing casual blog readers know them for). So what they gave up were not "all devices" rather all "user facing devices." And only for two years, but as also noted, a quick move (if ever) back into a commoditizing world of phones from scratch is in no way a sure thing as they figure out their ongoing missions in their new slim config.

Then go to a Nokia specific site and interact with your fellow like minds. This is a windows phone site and your Nokia does not make windows phone or any phone. Everything you state is correct (for the most part, kinda...) but you are preaching in the wrong place. We are Nokia fans, (most of us, not trying yo speak for everyone)but we are Nokia fans because of the platform that sits on it. If Nokia did not make WP then I would not be using a Nokia. Probably an HTC, but who knows. The point is , you are barking up the wrong tree.

Now, that's true... I love Nokia, but I'm a WP fan first, and a Nokia fan second...

Your misconception is that I'm preaching anything. I'm not. I couldn't care less what other people think so I couldn't care less about what they buy our prefer.

OK, preaching may be the wrong word, lets say complaining. My point still stands.

Again, I'm not even complaining. I just said I'm not interested in what Microsoft may release in the smartwatch department.

I am just tired of seeing you and your negativity in every damn post.

Too bad for you. Besides, it's not my fault stupid fanboys always read more into things they should. If you fit the frame, I guess that's your problem. As I've said before: I couldn't care less what others think.

We are a community that gathers like any other community, to have a constructive conversation about our platform of choice. There are many in here that are critical, as they should be, but still support the platform. If anyone is the stupid fanboy, it is you. I don't want to or mean to be critical of you, hence my original post stating you may be in the wrong place. That was my PC way of calling you a troll. You are nothing but a troll. Go away.

I've never seen a single post by you contributing to the healthy exchange of ideas. Sam asked if we were looking forward to a Microsoft-produced smartwatch. I wrote "No thanks. I'm more interested in what Nokia may release." I never preached anything, not said people shouldn't buy a Microsoft smartwatch. Actually, I haven't said a WORD about Microsoft's eventual smartwatch. Everything else came from the minds of fanboys that read more into it than they should. Sam didn't asked about smartwatches running a Microsoft OS, he asked about Microsoft-produced smartwatches. And I didn't even say anything about them. Just that I'm more interested in what Nokia may release on the segment. If you're an idiot that can't understand that well, too bad for you. Again: I don't give a damn about what you think ;)

Ha, ok. I highly doubt you recall any of my 199 comments. I rarely comment but i enjoy reading through a healthy debate. The vast majority of your comments are not constructive in any way, and you are constantly called out for it. Again: All I stated is that maybe you are in the wrong place and you should find a community that you can have healthy debates/conversations with. And now I feel pressure to make my 200th comment a good one, so this interaction is now over, though I know you will get the last word. :)

Why do you even post here if you don't care?

Microsoft will be using Nokia smartwatch patents in this watch, by all intents and purposes this is the Nokia smartwatch. Redmond just decided to brand it differently.

This patent is a Microsoft patent. Not a Nokia patent. Which seems to indicate that Microsoft is developing their own smartwatch patents and not going to use Nokia's. Which can be understandable as Nokia's patents can be used by anyone who licenses them and Microsoft might want to bet in differentiation.

"I couldn't care less what other people think" I noticed.

For someone who "couldn't care less what other people think", you sure spend a lot of time arguing with them.....

This ... A contradiction ... Don't you think? Saying not care but always replying to every comments.

If you did only careless about what people buy or prefer, you wouldn't talking this long explaining what happen with Nokia-Microsoft deal. I mean, you already state that numerous times. And most of us (who able to) already grasp what you mean. Repeating these explanation over and over again will only make you look like a troll. If you need to explain something, do it once. If they still didn't understand, let it be. You already try. They are the one who refuse to understand. Just let them be. Don't wasting your time to endless debates like this.

Nokias not releasing a Smartwatch. Just because they filed for a patent does not mean they intend to build one. Yes, from past design posts of their smartwatch battery idea would be awesome to see but, take it for what a patent is, an idea.

Now go see the objectives that were placed in line after the deal for Nokias Technologies division. If you still think that they are not going to keep developing the wearables they're working on...

Actually DJCBS is right on that Nokia's R&D was not sold and they are continuing on device developement. Even Siilasmaa said in an interview, that it is not ruled out that Nokia will return to consumer electronics. Phones, wearables or something else. He also said there is nothing that they rule out, meaning that they dont have any solid plan to do so atm. So, coming here to say that you are more intrested on something, that might be, or as much might not be, is kind of insane.

From Nokia's Technologies division: "Through Technologies, Nokia will invest in the further development of its industry-leading innovation portfolio. This will include expanding our successful IP licensing program, helping other companies and organizations benefit from our breakthrough innovations, and exploring new technologies for use in potential future products and services." This is what I'm interested in. In what Nokia might bring forth. I didn't said I was expecting them to present a smartwatch in a week or a month. Actually, I don't care if they present a smartwatch only in 2016. I don't even like watches, no matter if they're smart or not.

A hard fought troll score of 25. Like making a campfire in the rain.

This guy is definitely a troll. See his posts on Android central especially this http://www.androidcentral.com/nokia-x-software-update-adds-little-more-m...

So from that statement it seems most likely they will invent something and then license the tech to another company. That seems more likely at those point then them manufacturing anything.

You do realize that "new technologies" doesn't mean "new hardware", right? Software is as much capable of including "new technologies", so is their NSN devision. Nokia is now a Service company, not a hardware company, get over it. Because their R&D devision (what partialy went to Microsoft too) still has some experiments with hardware, doesn't mean they are ever going to realy use it, neither are patents.

You know nothing in that mission statement says they will be making anything for Nokia with a Nokia branding on it all it says is they will explore things for future products and services those products could be for Microsoft and I have a feeling if it says Microsoft on it you won't like it so therefore you won't like anything Nokia puts out

I hope that weird 6-screen Nokia smartwatch dies ASAP. Granted, I'm not really interested in smartwatches, but based on what I have seen Nokia show off, I have no plans to buy from them (kind of like you, but in reverse).

I highly doubt that 6 screen smartwatch comes to fruition. It's just cost-prohibitive. At any rate, I have no intention in buying any smartwatch, as I don't like watches to start with. I'm just more interested in what Nokia may present. Doesn't mean I intend to buy it ;)

If it does, I will officially lose all faith in Nokia, but I also don't think it'll come out. So far, only the Moto 360 has made me think "oh, that looks nice", but I have yet to be convinced of a practical use of smartwatches aside from "it lets me check notifications during meetings because I'm so busy and important that I can't be bothered to pay attention to what's going on in front of me, and I don't want to be rude and check my phone during a meeting, so I'll do the rudest gesture possible and look at my watch the entire meeting"... Or something like that.

Unlike these folks that have refuted you, I understand what you mean by Nokia's hardware and R&D, but I don't think you're serious in wanting to wait to see what they offer. I feel like we're gonna be waiting a long time lol.

Lmao. If nokia releases a sleek, affordable smartwatch, I will instantly buy it.

Lol! what a long thread! xD Whatever it is, me too interested in their windows phones more than the coming smart watch.

They wouldn't. There wouldn't be any Microsoft money to bail them out as with the smartphone division. Nokia was smart enough to sell and move on.

Shut the fuck up. Your whining is irritating to the core.

Oh my god! All of you just SHUT UP ALREADY!

LMFAO!!!❕❕❕❕❕❕❕❕❕❕❕❕❕❕❕❕❕❕❕❕❕❕❗❗❗❗❗❗❗❗❗❗❗

I swear I will never buy a Nokia product again in my life, just because of your lame comments. So you are doing harm to Nokia already.

Interesting...too bad its barely at this early stage though