Microsoft steps up 'Cortana versus Siri' campaign with two new ads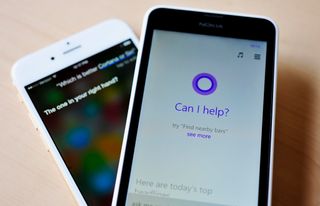 Microsoft's routine of comparing Windows Phone to the iPhone is continuing with two new video ads published to the web (and likely to air on US TV). The 21-second commercials called 'Remind Me' and 'Lost' highlight two features of Cortana that Siri simply cannot do, despite having a significant launch advantage of years. Both ads feature the Lumia 635, which does have an aggressive TV presence in the US with T-Mobile and AT&T.
In the first ad the ability of Cortana to notify users of driving times for an upcoming appointment is juxtaposed against Siri, where no such function exists (Android can do this as well). Cortana users should be familiar with the feature as it often prompts you with an alert, letting you know that you should leave now if you want to make your appointment.
The second TV spot spotlights the 'Remind Me' feature of Cortana. This feature is where the personal assistant can send you an alert when you are speaking with the designated person on the phone or even through a text message. For instance, if a friend texts you, Cortana can remind you that it is her birthday and to say something. As far as we know, this feature of Cortana is unique, and it is certainly helpful for those with busy social lives.
The two new ads are an expansion of the previous Cortana vs. Siri battle. The ad 'Groundhog day' highlighted a few Cortana features in one 30-second spot, while the 'Group therapy' commercial takes a more unorthodox approach in comparing the two virtual assistants.
Both of the new ads are short, to the point, and precise enough that consumers can discern the main selling point. They are also a little humorous, if you appreciate tongue-in-cheek wit. However, there is a strident contingent of people who believe Microsoft should back off on doing iPhone comparisons, and instead focus on boasting about Windows Phone on its own. Surely, it is a touchy situation, but we will leave it to you to judge.
Windows Central Newsletter
Get the best of Windows Central in in your inbox, every day!
Daniel Rubino is the Editor-in-chief of Windows Central, head reviewer, podcast co-host, and analyst. He has been covering Microsoft since 2007 when this site was called WMExperts (and later Windows Phone Central). His interests include Windows, laptops, next-gen computing, and for some reason, watches. Before all this tech stuff, he worked on a Ph.D. in linguistics, watched people sleep (for medical purposes!), and ran the projectors at movie theaters because it was fun.
"Hold on. I'm turning on my GPS"... Like Cortana I was wondering why. Then Siri just threw me off with "cause I'm completely lost". Lol

Nah, that would be Google Now in my opinion. Cortana is great though.

Verizon icon users will see the ads and wonder why they don't have Cortana...

Just download the developer preview dude, it's so easy. You enter your email and credentials online, download the developer preview app, install updates.... Why wait for the carrier. I am using DP 8.1 since day 1, have had no issues, battery life is amazing, and all the new features are amazing

I know but there's lots of normal users including business accounts that won't use the preview.

works fine and it is easy!

Also, notice it says available at Amazon.com at the end ads. That's because best buy and some of the carrier stores are too stupid to carry Windows phones.

Some of Best Buy's problems are due to carrier restrictions. About a month ago I watched a TMo couple interact with a BB clerk. The couple questioned why Best Buy didn't have all the phones. The clerk flatly said the carriers have restrictions on which phones and which plans Best Buy is allowed to sell on behalf of the carrier, so if you want the full range of options you have to go to a carrier store.

Sounds like complete BS to me. I asked the Samsung rep at best buy whey they didn't have the Ativ S and he told me it wasn't popular enough... Again more BS. It's not going to be popular if they don't try to sell it. I think the people in the store have no clue and just make up the first lame excuse that comes to mind.

Either it was some stupid corporate decision or they've been paid off by google or apple not to carry windows phones. You're tryint to tell me every single wireless carrier won't let best buy sell a windows phone? Have you seen best buy tv commercials talking about all the choices customers have when they purchase a cell phone at best buy... LOL

I would believe that there are carrier restrictions. When I got my Lumia 800 through Best Buy they told me they only had the Black one, while I know that Telus, the carrier I am on, had a few more of the colours. I guess that is supposed to provide you motivation to go to the carrier and buy the plan directly if you care that much about the phone colour or specific model.

You think the carrier wouldn't let them sell the other colors? I guess it's possible but probably a best buy policy not to stock all the colors. Also, I'm not talking about colors or specif models. I'm talking about windows phones in general. Most best buy stores don't carry a single one. They do have some on their website though.

Well, that is part of the whole problem facing Microsoft. The Lumias came with wireless Qi charging and they stripped it which makes no sense but it put the Lumias ahead of the Android phones feature wise in my opinion and the carriers did not want that. This my opinion.

I like them. Short, sweet, and to the point. Great TV spots.

"Can you remind me to get an update?" Smooth move Microsoft!

Tell that to Icon users at verizon.

Siri: Can you remind me to get an update? Cortana: Sure. Siri: Oh snap. The update is broken and Apple pulled it.

The videos don't exist (I don't know if it is because I am on Spain).

Maybe it is because I'm on the app

Cortana is better than Siri, so Microsoft should keep pushing in that direction

I dunno. Most of MS's messages often revolve around the competition. Sometimes I feel it can be viewed as childish, mainly because it seems to be their only advertising mechanism. Don't get me wrong, I know it's a primary one wherever you look, but it's not offset by a couple, "We can stand on our own, look at our awesomeness" commercials, mostky, "Hey, we know you like those guys, but look at why we're specifically better than them". Hopefully the difference in interest to some people can be seen...

On the other part, iphone does nothing similar, just says we released iPhone 6! If you like that better than something is wrong with you

I think you're missing my point. I'm reflecting across the broader spectrum. I'm not saying do one thing or the other. I'm suggesting taking multiple approaches to their advertising. And yes, that does include a simple message that showcases their products' and services' pros, without any slingling. Some audiences react differently to certain messages.

Apple has produced its share of Apple vs Microsoft ads in the past. Turnabout is fair play. Besides, these look very tame and playful compared to the increasing onslaught of political attack ads.

Agreed, but please keep in mind; my original point was not that they shouldn't do these commercials, it's that they should have them and others that showcase their products in more than one particular way.

Considering how Microsoft has not put out many ads in the past for Windows Phone in the past, especially here in the US, and doing this on primetime TV, speaks volumes and is getting the point across to the millions of iPhone followers that there is a better alternative.

True, and as I said above, it's not so much that I'm saying they shouldn't do these types of ads, just that it'd be nice to mix it up. Just as we have a samsung ad that bashes the Surface 3, they have a Surface ad that bashes the iPad. Fine all well and good. But then you have the samsung ads that just show their product and highlights it. MS has a had a few of these at one point or other, but they weren't as detailed (like the I'm a PC, or how it helps me commercials which were just people talking). Appl does very little reaction commercials and leaves the bashing to their fans. I'm just suggesting that a protfolio mix occurs. If all of MS's commercials are basically here we are compared to an iPhone, it can be as alienating to a group (making them more defensive) that it would attract them. So have these commercials, yea, but have the other ones that show and highlight just your product (like the stormchaser one). They have em, just saying have more diverse ones.

It seems that to some extent, market size and consumer awareness determines the type of ad a company makes. So yes, what your saying is true, but if everybody already knows who you are. But the windows phone still only contains a small portion of the market. The comparisons are necessary to, for example, the iPhone user who thinks there is no better product out there. You show them that yes, there are other options out that that just might be better. However, if windows phone owned the market, there really would be zero need to make comparative commercials like this. Are you playing offense or defense? The strategies for both are vastly different.

Fair point. And in fact checking myself, I do see there are a fairly good mix of adverts (though some are online only) that talk about what I'm mentioning to an extent. Some still seem to be missing feature highlights, but overall I can eat most of what I've said above.

These commercials are just the MS version of "Hi I'm a mac. And I'm a PC"

LOL, yup, I realize. I don't take an issue with the commercials, again, not my original comment or point.

I agree that Cortana is better, but I would prefer to see ads about how awesome WP is...not one way that its better than a single competitor. These ads come off as petty. Like they are trying to redo the I'm a Mac, I'm a PC campaign.

Rofl epic cortana!! Siri you can suckon!!!

I don't like these sort of ads, I just think they are detrimental to the brand without really showing the advantages. That's just me though!

The ad only showed advantages.

These ads are proving how advantageous Cortana is over Siri. They drive that point time well.

So what do you suggest? Perhaps that Microsoft show commercials that only shows Cortana's capabilities? While that would be ideal, it doesn't directly tell people that Cortana is better than other digital assistants out there. At the very least, that would put Microsoft in a position of hoping the consumer makes the distinction that their product is better. It is better to come right out and say what they are trying to say. It is direct and takes the hope that their message is coming across the way they want it to go away. Think of it this way, they show only Cortana and the iPhone user says, Siri can do that, and then tune out the message. That would be horrible for Microsoft because the fact remains that Siri can't. It's direct and to the point, good advertising.

I didn't knew this features of Cortana!!!

Cortana will always be better lol

That's why Siri wishes she was the only phone that could talk

MS should stop altering Siri's speech in their ads or it could backfire on them.

Could be a rights issue, no?

Could be, but the iPhone in the ads is real.

Backfire how? Should MS give a damn about apple to the point where some people think they shold fear them??

The goal of the ads is to gain exposure and interest with potential buyers. Turning off those very people is a backfire.

I know of a few people that switched to windows phone because of Cortana. These ads directly influenced at least one of those. The only people that this would really turn off are the people that think big mean Microsoft is picking on the poor little startup Apple, who would never run a campaign like this in return.

My point was about credibility. I've watched some of the ads with my son who has an iPhone. We both know that Siri doesn't sound quite as robotic as depicted in the ads. It's a minor detail, not feature related, but this is a market full of nit pickers. Why give them the ammo?

??? yes she does and google now is worse.

If people are more concerned with the voice of Siri rather than the mere fact that Cortana does more, then chances are they aren't going to switch no matter what.

I'm a Windows Phone user, and happily recommend the OS to people on a regular basis. I personally don't like these ads, but, have talked to a couple of coworkers who did ask if Cortana could do what's being advertised. While I may not like them, they do seem to be hitting the target audience.

Yeah, I think these ads have convinced my roomate to switch over. My other roomate told him to get the new iPhone. His response - "I don't know man, I think I'm going to get one of those nifty Windows Phones."

It's nice to see ads specifically showing features the competitor doesn't have.

Funny I tried asking Cortana something on my laptop last night had a lil chuckle.. She's good, that one.

i can't view these right now because i'm at work, but the previous ones were corny in my opinion. and my brother and friends, who don't know much about technology, agree. google and samsung have OUTSTANDING commercials, in my opinion, and microsoft's suck. the product is great, i use it, i love it, but i think the marketing is very poor. samsung's next big thing commercials are awesome, they target the iphone but in a mature way, not with childish type humor. they make an argument in their ads. google's commercial with the boy at the end asking if dog's dream also captures your attention. microsoft should either get better at attacking, or just focus on their OS's strengths, with slight jabs at competition. just my 2 cents

"just foucus on their OS strengths, with slight jabs at competition"
They are showing where their os is stronger than the competition. Samsung ads have been no better with their whole barista comment about iPhone users while failing to actually show why someone should leave one line to join another.

Hahaha.Cool :) Who wants to buy a phone that bends if you carry it in your pocket and talk but not remember anything? Certanly not me :)))) Eat that Apple :)))))))))

I prefer putting 1000 dollar paper money that bends too rather than a peice of cheap aluminum,f**k me right?

I didn't say that Sir, but be fair. You can't afford releasing a phone that bends and brakes specialy not for that high price. This only expose that Apples latest product has not passed the attestation which is against the law. This tings should be properly tested accordance with the industrial law, before releasing. It's not fair eather to their customers. What if someday phone brakes in someones pocket and harm him? Emagine lawsuits that would befall Apple. This just show how ignorant Apple is. No excuses for that!!!

I think you misunderstood me on this one,I am in favor of your point!apple sucks! Problem is people stand in line for their s**t!

Sorry Sir :) Yes,they stand in line for their product but not for long if you asked me. Only the hardcore Apple fans will stand in the line for a product who's potentialy dangerous. I don't want to say that iPhone and Apple completely suck. Or that people who stands in their line are iSheeps or something. I've got a felling that they are just blinded by their design and a status symbol but they don't see the fact that they're victms of their capitalistic philosophy. I prefer using Microsoft WP. It's more personal and user friendly OS, with good design ideas and warmth colours. They are not perfect but definitely more domestic. At least they give you the feeling that you're worth something :)

I think the commercials are definitely working. Whenever I use Cortana my coworkers ask "oh is that Cortana?" whereas most of them didn't even know what a Windows Phone was previously.

I agree with you, I want to a Cricket store about two weeks ago and people were asking about Cortana. Sadly when they guy said that's on Windows phone they said oh we want Android. But the point is they came looking for Cortana. So to me the ads are working.

This highlights the other problem with WP retail markets -- the sales people don't spend any time discussing the reasons to select a Windows Phone. Cortana is great -- but there are so many other great things about Windows Phone that makes it so incredibly useful in my life. For example, OneDrive integration and the ability to take a picture with my phone, go to my surface and begin editing or making use of that photo in a document. Or OneNote integration -- take a note on my surface or work computer and review it before talking to a client on my phone.

These are a joke. Does Microsoft seriously think someone would think Cortana is so great they would rather have a $100 phone with no front camera or flash and a host of other hardware that even a iPhone 4S can offer?

Do you seriously think someone would think Siri/iOS is so great? My Lumia 1520 was less than $100. With no Cortana, a smaller screen, less processing power, less ram, a poorer camera, less memory, and many other features how does that iPhone even compare?

how does it compare? it sold 10 million units last weekend. that's how.

You don't use crappy hardware like a 635 to bash the iPhone-that's my point. Cortana as good as it is, is not significant enough for anyone to choose a 635 over and iPhone- even an iPhone 4s. That would be like Ford putting chrome rims on a Focus and making a commercial on how much better their car is then an Audi A3 because the A3 only has alloy rims. Once someone drives both cars they realize how much of a joke the Focus is next to an Audi.

They're advertising Cortana, not really the phone being used. In case you didn't notice, there are ads with the HTC One M8.

That's not surprising -- so many people have locked into Apple for one reason or another and many others fear stepping away. I have many friends with iPhones that really like my L920. They've all told me if they weren't already invested in Apple they would gladly give WP a serious look. Cortana has many of these friends seriously taking another look. It's these users that Microsoft is hoping to attract -- what some call the late adopters.

I'm not sure which country you are in, but here in the US the 1020 is $100 on a 2 year contract. That's a pretty impressive phone with a 41MP rear facing camera and a front facing camera and can do quite a bit more than the 4S. It might be a fair comparison when considering the 635, but hey, that's free on a 2 year contract. If you look at the Next program, then you can pick up the 1520 for less than $25 a month over 18 months.

You all are missing my point- they are using a 635 in the commercial, not a 1020 or 1520. BTW an iPhone 5c is free now-you telling me you would pick a 635 over a 5c?

They are NOT comparing the phones. They are comparing Cortana features with Siri and since Cortana's features are the same on any WP, it doesn't make any difference whether or not the phone has flash or a front camera. It also makes sense since the Lumia 635 is available on more than one carrier in the US and they show a cheap phone having better personal assistant features than Apple's super-expensive phone. Good ad I think. Nothing wrong/problematic with the Lumia 635.

If you want my honest reply -- yes. I have very rarely used the front facing camera on my L920 so it wouldn't be a feature I would miss. However, I must also point out that I am not at all attracted to Apple products because I really see them as overpriced for what they offer me as a consumer. I would more likely pick up the Moto X over the free iPhone or the L635. I must also point out that I would very quickly replace the 635 (or Moto X) with a 1520 just because I do find the Lumia 920 camera so much better than most other smart phones I've seen on the market. Even my wife, who uses a Galaxy S5, will often request that my phone is used for pictures of family events because it does so much better in low light situations.

I think this advertising against iphone need to steal customers to android. "We have a phone from 200 € which is better than iphone ....... why buy more low-end Android phones"

10+ million ibend 6/6+ sales on its launch weekend says these ads are complete worthless. They should absolutely focus on what WP has to offer but since Microsoft is consistently moving those features to ios they probably don't have anything left to show...

Is Cortana not a feature windows phone has to offer?

I suppose Justin Bieber's sales prove that other singers are worthless too...

The next Commercial should include the iPhone 6/6+ in a bend test against the Lumia 1020/1520. I think that would show the build quality of the Lumia phones.

Reminds me of PC vs Mac. "Hello I'm Siri. And I am Cortana"

To me I think its time for Microsoft to give ads with cortana only one or two times comparing Siri ok but always its irritating...now denim is coming cortana will be available in more countries and alpha stage cortana in India will be in beta so air cortana featured ads in India & other countries...here in India less Lumia ads are seen in tvs....

Umm these are meant to be quick commercials... if they only had 1 or 2 people would get sick of them. They have a nice series of quick ones like this to show how much more feature-rich Cortana is. And they're hilarious to boot.

And the 530 ad is so boring..

And here come the "microsoft shouldn't do that" crybabies.

Anyone with HTC 8x still not having Cortana like me?

Maybe they should push Verizon to release 8.1 so we can utilize cortana on the Icon.

My wife is an ardent Galaxy S5 user, hates the iPhone that her work makes her carry, and loves these Siri/Cortana commercials. Bit by bit, she sees the exceptional value of a Windows Phone, and maybe, someday, I'll get her to convert.

Scroogled Returns. But now with Apple instead of Google

Scroogled felt stupid and immature. This comes across as playful and positive. IMO.

I don't see how it's touchy at all, because a lot of people just don't know much about Windows phone. This is a great way to show some of the things that WP can do that the Market leader just can't do. People that complain about these type of ads mostly only complain when it's Microsoft doing them. The car industry use comparisons in about 50% of their ads and no one ever say a word.

I wish the travel notification was 5 minutes prior to when I need to leave. If it is telling me the exact time I need to leave I am already going to be late.

I didn't get the source Nokia 1,2 what actually is that?

Siri is much better than Cortana in the UK currently though

After the 8.1 update to my AT&T 1520 Cortana is almost unusable.Can't even pin it to the home screen because it's so unstable.Kinda surprised that WPC has not touched on this issue.

Those of you against going head to head against Apple... Remember... Apple started this banter back and forth with the Hipster vs. The Businessman. This is an extension of those ads that have been going back and forth for years.

yepp... Al my apple friends were shocked after I showed them those adds. "Omg, Apple started that" hahah.

Cortana: The Gold standard of personal assistants on phones.

Sony Bravia 4K? Gold standard of televisions? :P

Haha mybe
Have not used one. lol :P

Enough man don't do such negative ads it impacts us in the future.

It's a positive, humorous ad highlighting advantages. It certainly worked for Samsung and Apple (remember Mac vs PC?)

Again? Why? The last two lines of the article resume what I think. Stop comparing Cortana and Siri, you're making some free advertisement for Apple! And if there's a device that should be compared with the iPhone, it's the HTC One M8 for Windows.

These are not Samsung kind of ads which only mock Apple and never really show their phones and tell how they are superior than Apple's (they are not, btw). These are ads which actually establish that Cortana is superior than Siri by showing that Cortana can do something better than Siri. People will not notice Siri but how Cortana can do certain things Siri can't.

These commercials are getting really old fast! They are childish at best and no one cares anymore. Why can't they just show off some of the best features of WP and stop comparing to Siri all the time? Maybe show off the new innovative camera features coming in Lumia Denim. That's what people need to see!

oow, micrososft. You are mean... In a funny way. Hhahaha. Though Cortana doesn't sound that good...

She certainly sounds better than Siri.

Although I prefer windows phone over IOS I find those comparison ads unnecessary since WP is a very solid OS and the Nokia (now Microsoft) hardware is quite good; I mean, all they need is better marketing

These ads definitely get WP attention. Too bad that people won't find phones with Cortana on them in the majority of stores where phones are sold though. And that where WP is sold, the sales people will steer people away from it. What's the point of ads if people will not be able to BUY the product? THAT is Microsoft's challenge.

I agree! stupid sales people, maybe we need MS to pay more commissions to reps. that'll be one way for reps to push the phone, $$ talks.

This is something I notice too.
When I was in the store buying a phone, the salesman said that don't buy Windows Phone and buy an Android (he did not have iPhones). But i was determined form the beginning to buy a Windows Phone and bought one (which got stolen). But the same did not happen when my mom was getting a phone. It was during a time when i did not know much about tech, and got easily carried away by the salesman, who this time tried to influence me by saying that it will be hard for my mother to use. Lol

My only problem with these ads is that I dont see them enough. I watch a lot of tv and rarely any of the newer ads.

I watch very little TV (only football (NFL and NCAA)) and I've seen a ton of these ads...

Same. I don't even have cable, so I only see TV at the gym when running...there I can watch 10 different channels at once, and I see these ads a lot during the evening.

I do see them during NFL but they have a partnership so it I expected. I should have been more clear. I do not see all of these ads. I generally see the same ones over and over. For instance I repeatedly see the ad with Siri sitting on her speaker. There are numerous (good) ads that I see on this site that I have never seen on tv.

Push for more countries, improve the typing keyboard even more efficient in English and Chinese methods, thanks.

Two first ads were one too many. This is just stupid now.

This is good, but the app situation is the single biggest reason why ppl dont switch. MS has to make it so that theres no hassle, that all the important apps you had in iOS or Android are available on WP, that u can still chat with all your friends and use whatever you need for work. Right now, this just isnt the case. There are too many compromises involved and rules out even considering WP for most ppl.

Cat ad of MS was funny indeed.

we need more! we need more!, that was the only way that the galazy S was able to break through, there were way too many commercials, sooner or later all that brain washing gets to people. More commercials, more often, more funny, more more more!!!

Those animation while switching apps though.

I find Cortana better than Siri. Not totally more useful (since both can do things the other can't, at least while Cortana is still on beta) but better. But I don't think the aproach of 'upping' itself by 'downing' Siri is the right path. Just because I feel like it's a cheap shot. I always felt that apple cheap shots Microsoft, so I don't like Microsoft doing the same. That's just how I feel.

Are we living in 2014or 2050????

Sure wish I could try it with my Icon!! C'mon Verizon

Both features are neat, not big on the commercials (liked the older ones more). The only complaint I have is that the song in these commercials is SUUUUPER annoying. Of course, that's how all of the Microsoft ads seem to end--with music that leaves my ears bloody.

That was a hit song... Kangaroo by Kyle Andrews.

Is there any way we can get Verizon to push the 8.1 update out to the icon? Obviously Verizon is protecting cannibalization of the new HTC Windows Phone sales, by not pushing 8.1 update to the Icon. How much longer will Verizon persist in doing this?

We Verizon subscribers have very little influence with the company short of switching providers. Microsoft however is another story but as of yet seem to to be unable or unwilling. So many more WP users out there ready to tell coworkers,friends and family about the new features that come with the update but are unable to due to Verizon decision to not support.

But it still can't dictate punctuation like Siri and android can. Yes...eventually I'll shut up about this. I mean...they HAVE to fix it eventually right? Riiight??

Yeah, that is weird. It understands "smiley face" but not "comma".

You don't use crappy hardware like a 635 to bash the iPhone-that's my point. Cortana as good as it is, is not significant enough for anyone to choose a 635 over an iPhone- even an iPhone 4s. That would be like Ford putting chrome rims on a Focus and making a commercial on how much better their car is then an Audi A3 because the A3 only has alloy rims. Once someone drives both cars they realize how much of a joke the Focus is next to an Audi.

I agree that a flagship phone would've been a much better product for these ads. The problem is of course that they don't have any other phones with Cortana on them in stores (and barely the 635), except the HTC M8 which has also been featured in some Cortana ads.

I want to see other comparisons...

I'll say this, Cortana has been mentioned to me by non-Windows Phone users more than WP has and Windows Phone has been available to consumers a lot longer than Cortana has. When Cortana has been mentioned, people are mentioning it with excitement and intrigue, a total opposite of mentioning Windows Phone. One of my coworkers, a long time iPhone user and Mac user voluntarily told me that he has been seeing the Cortana commercials and that Cortana will be the deciding factor of switching to Windows Phone from iOS if he decides to do so. Microsoft should keep these commercials going as Cortana is unique to Windows Phone at the moment. The average consumer doesn't consider switching OSes just because the same apps are available as they could stay in their current ecosystem for their apps. Consumers are intrigued by what is different or what is deemed better, cool or new. Cortana is providing the "cool" factor, the wow factor or the fun factor that Windows Phone needs. Keep the ads coming, get the awareness up, make Cortana a desirable feature to where users of a different ecosystem realize that they are missing out on something great. More consumers will CONSIDER making the switch whereas they may have never given Windows Phone any consideration before.

If only these kind of direct comparison in advertisement were allowed here in India, people would have known where WP stands... :)

Instead of mocking the competition with silly "Apple is Bad, Microsoft is good"-Ads, Microsoft should focus on marketing its flagship handsets. How does the Device look like? what are its strong points and what is it called? Also they should never ever do the failure of airing Honestly-Campaign like Ads again, those were horrible! They were only talking about OneDrive or Office and people were totally confused. Most People give a shit about Onedrive or Office, their interest lays in Xbox Music, Video and their beloved Apps. Just take a look at Apples Ads they give a shit about rivals. its all about the Product and to some extend its entertainment Services. A Smartphone is not a productivy device, we have tablets and laptops for that, its a consumption device.

Cortana is one of the few places that WP is definitively better than iOS. I say that should flaunt it.

Funniest part will be when consumers inquire about WP with Cortana and find out they are all midrange or outdated devices.

While I agree that Cortana is better, the market won't respond to these commmercials the way Microsoft is hoping they will. People still wait in lines for the iPhone, and they still gush over all things Apple. They and most viewers, because they still hold negative perceptions towards Microsoft, will see these commercials as cheesy. All they'll think when they see this is that Microsoft has copied a feature that has been around for several years on an iPhone. Microsoft already has a huge perception problem. People refuse to give them the credit they deserve and even accuse them of copying the very things they invented. Commercials like these only make that perception worse. And anyway, competitive commercials like these rarely go over well and you'd think Microsoft's marketing team would know that. The second big problem is that Windows phones are still difficult to find, at least in the US. What's the point of advertising devices people won't encounter in most stores? Solve that problem first, then worry about marketing. Tied in with this are the ridiculous carrier exclusives. The last thing this platform needs is exclusives which limit access. I just read earlier that the Samsung Gear S, a watch phone, is going to be available on all carriers. Why the hell is Microsoft incapable this? Why is there no flagship phone available on AT&T or T-Mobile? It really is just one misstep after another preventing Windows phone from thriving like it should.

Excellent points. There is VERY little WP presence in Carrier stores and less in our BestBuys here in Canada. I can't understand why Microsoft cannot use their financial clout to turn this entire situation about face.

A majority of Apples 10 million sales over the weekend were current customers finally getting bigger smartphones that many others have enjoyed for a few years now with WP and Droid. Ask Apple how many new icloud accounts were registered over the weekend. I really love these ads, gives a quick glance of what Cortana is capable of over the overhyped Siri. Funny thing, a coworker was so excited to show me features of Siri with the new ios update, and I'm laughing, telling him the MotoX has been doing that for well over a year now

it sucks that they are using an old version of Siri's TTS vs. live voice talent instead of real Cortana.

VS comparison comercials are stupid IMO. You are basically advertising your competitor's product and the comercial look childish. If I was a iPhone user, I would be offended and wouldn't get a WP based on that comercial.

waste of money. Make those new devices AVAILABLE in more markets!

Reading these comments is depressing. MS has the worst fans of the 3 major competitors. Always whining about "bad perception", when they are the ones who do it. Every single thing MS does, its "fans" jump on bad mouthing.

I think you are at wrong page.. You should be in either on Samsung or apple page.. Those guys are real trolls.. We just like what MS does.. That's why we are at this page..

"However, there is a strident contingent of people who believe Microsoft should back off on doing iPhone comparisons, and instead focus on boasting about Windows Phone on its own." I believe myself to be one of these people cause sure everyone gets that Cortana is a great assistant, but there are still other features that could do with a little boasting about as well, primarily - live tiles.

Get it released in the UK already.

Lmfao!! Hilarious indeed!! I think they should keep them up. Samsung pokes fun at Apple and everyone else. I also think that they should have other non-competitor commercials as well,just focused on Windows Phone's features and benefits. Run both styles of ads together. I love'em!! Side note: I texted my iPhone 5S toting good friend to ask his iPhone 6 toting wife to ask Siri "What is a crunch" after texting him a screenshot of Cortana's results. He texted me back Siri's results this morning. She returned a similar result,however I told him that Cortana will open up the health and fitness app from the search results.. :)

Someone should ask Cortana why verizon doesn't have the cyan update yet.

Cortana is easier to understand

Sick voice. Lol. I don't know there is a feature like that. Haha!

I appreciate these, but I must say, I think these commercials should focus on Cortana all by herself. I know many, many iPhone users (in fact, everyone outside of my family and work crew), and have never seen any of them use Siri after the shiny wore off. Cortana, in my humble fan boy opinion, is just another beast that delivers usable value. It seems like comparing apples to oranges. I will also admit that I haven't used Siri since her debut.

I think that's part of the point. They're targeting people who were disappointed that Siri wasn't more than a gimmick they used for a couple of months, reminding them of what they expected Siri to be and showing how Cortana is that personal assitant they thought they were getting

Remind me I need an update !

Can't see anything. The YouTube page says it's not available or has been removed.

Hey Cortana, next time my boss calls, remind me to use my sick voice...

I was talking about Cortana to an acquaintance who asked me about my Lumia. After explaining few things, he asked me "Where can I buy Cortana?" Lols! I think I missed the most important introduction to Cortana. "She is your personal assistant built-in with your Windows Phone, and she does this, and this and this...

Hahajaha its funny how they appeared to make fun of Siri

The second ad... I was rolling!!

Don't stop doing this Microsoft show them how inferior they are compared to our windows phones :D

Too bad that Cortana can't work without GPS...at all...

I've got an iPhone and Lumia 920. I can confirm that Cortana works better than Siri. Siri's voice is shitty while Cortana sounds more like a human being.

A friend who using an iphone was rather impressed with it.

Cortana is good.. But not best.. It lacks in few places..
1. It cannot have conversations but Siri can... And I like that about Siri..
2. We have to press the mic button every time we want to speak to it. That's just plain stupid. It should open with mic and with option to type if required.
Except this two flaws, it's just beautiful.

without the mic to press, cortana will listen to everyone around you and might confused who is talking to her exactly.

Cortana is really good for a beta even more with the update I'm loving windows 8.1

Microsoft should keep doing these commercials (they're funny) as well as other commercials highlighting other features that are unique to the WP platform (camera, etc.) and the most important thing is that they have to personalize the commercials (i.e. showing everyday people using WPs doing everyday things like banking, playing games, texting, using apps, etc.) like that Surface 3 commercial that ran a couple months back with the designer.

Comparison advertising can backfire...


I wonder if MS is paying the Siri voice actress to do the voice for these commercials

My girlfriend has an iPhone but she loves Cortana

Cortana is still asleep. Np Cortana fr malaysia

How to use sick voice feature?

I'm from Canada and love WP OS but we have had NO flagship Windows Phone since Lumia 1020 which I have offered by any of our Carriers. Microsoft paid huge bucks to buy Nokia and thereafter has done practically NOTHING. I'm not in the least interested in Lumias/WP models such as the 830 or 730 etc. I acknowledge that such handsets are necessary to satisfy the budget conscious consumer but with over 10 million people buying the latest iPhones within a weekend including a few people here I've already seen toting their iPhone 6, consumers have NO reasonable WP options to even consider choosing. I cannot even get the HTC One for WP yet, if I was willing to abandon Nokia. WP may be a superb OS, but it's being overseen by a slothful (thus far) company with pathetic indifference to their Customers desires.

When cortana coming in india? Plz give the update. .

Cortana Reminds: "Siri, I think you need an update." Siri: What is an update?

Cortana is dead in Malaysia... Not available yet

I Hope that cortana will be soon available in Europe (Italy please)

Yeah, I do think Microsoft should let windows OS stand on it's own not just targeting Apple. Let consumers see how it works in their daily lives at home, work, school, etc. No need to be conservative Microsoft. Windows can hold it's own ground in a fight.

Why is it that Cortana is the only feature being used to highlight WP? The commercials are somewhat funny, but it's going to backfire. If Cortana is the only feature that is better on the WP why would anyone switch platforms? I understand the fans here enjoying being able to have something better than what Apple has on the iPhone,,but if this is all that can be shown to be better, then you better enjoy this while you can... Cause it won't last long or do much to convince many others to the platform. It seems to me that if Microsoft really cared about WP, then they would be taking care of the rest of the issues that WP has to keep their customers instead of losing them to Android or Apple. They would be getting flagship phones out of the design stages and into their customers hands and that the availability of these phones are uninhibited by carrier exclusivity. Everyone here knows deep down the Cortana commercials are just a smoke screen to mask all the real problems facing WP.. so enjoy the notoriety while you can. Posted via Windows Phone Central App

Hooray to your Comments. I hope someone of significant clout within Microsoft reads these Comments and takes them seriously.

The situation (popularity and no. of users of Windows phone) will be far more better if they start comparing themselves with android.....

Feels good to return back the favor to Apple after all these years :)
Windows Central Newsletter
Thank you for signing up to Windows Central. You will receive a verification email shortly.
There was a problem. Please refresh the page and try again.