Microsoft Store opening in New York City will include free Pitbull concert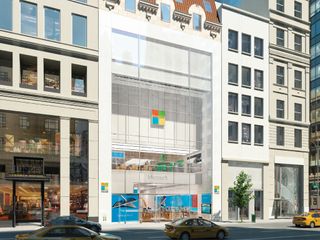 Microsoft usually holds a free concert for a few lucky fans to celebrate the opening of a new Microsoft retail store. The opening of the massive flagship store on October 26 in New York City will be no exception, as it will include a free concert featuring pop music artist and rapper Pitbull, best known for songs like "Timber", "Don't Stop The Party" and more.
Microsoft says at least the first 1,000 people in line for the opening of the store at 677 Fifth Avenue in New York City will receive two free tickets for the Pitbull concert on October 26. Here's how the schedule will work:
6:00 AM ET: Line up for a chance to get concert tickets and win a meet and greet with Pitbull
11:30 AM ET: Grand Opening ceremonies begin
12:00 PM ET: Microsoft on Fifth Ave. and 53rd St. opens
6:00 PM ET: Customer line opens for the Pitbull concert at Rockefeller Center, South Plaza (Plaza Street between 48th Street and 50th Street)
7:00 PM ET: Gates open
8:00 PM ET: Concert begins
The Microsoft Store will also be holding a launch event later that night for the Xbox One shooter Halo 5: Guardians, with more details to be revealed later. By the way, if you happen to be in New York City today, Microsoft has set up some food trucks around Manhattan with free food that will be served from now until 2 pm. Here are the locations:
Chelsea, 23rd St. and 10th Ave.
Midtown, 33rd St. and 5th Ave.
SoHo, Broadway between Houston and Broome
East Village, Union Square West and 17th St.
Upper West Side, Columbus Circle
Source: Microsoft Store (Facebook)
That's a reason NOT to go

Ahhh, the usual critics are out. First of all, no artist is going to please everyone. Secondly, no one cares what musical taste each person has. Bottom line is that he's a well known name in the mainstream, with recognizable hits. The air must be thin on the hight horses. Posted from this here device.

*high horses, actually. :) Posted from this here device.

I thought it was haight horses ;) Posted via the Windows Central App for Android

There's truth to not playing everyone, but they basically picked the worst guy around.

Sales charts and ratings would probably say something different about his appeal to the mass market. I trust that a marketability to budget ratio was used to come to this decision. The real issue to me, is whether having celeb performances has any positive effect on sales. I went to a Nokia sponsored Janelle Monae show, here in Los Angeles at the then Nokia Center. I saw just a few Nokia devices with people in line and no one seemed to chatter about getting a Nokia because they liked the show. Posted from this here device.

Of course, popularity doesn't equate to quality. I don't think Pitbull really helps the cause when it's a free concert for people already going to the store, especially with a fairly limited number of tickets. No idea who Janelle Monae is, /shrug.

Popularity means that it is quality to many, because quality is subjective. You like what what you like. I like what I like. That guy over there hates what we like. Popularity is subjective and determined by raw numbers data. Still, we agree that this approach, even with a mythical, super-artist that everyone loved, wouldn't advance sales. The cool kids will just be SnapChatting it with their iPhone and Androids. Posted from this here device.

It really only speaks to two things: availability and tolerance. Go grab a bunch of random Pitbull fans, and you probably mostly pull out folks who just take what the radio gives them. If you ask those people to name ten of his songs, they probably can't, and few (if any) would peg him as their favorite artist. He's kind of like Android--it's everywhere, so people just like of accept it and learn to tolerate its problems (in his case, a total lack of intelligent lyrics or variety in content). Another analogy: Look at CoD's sales, then ask its players who considers CoD their favorite game series ever. On the flip side, Halo and Fallout sell less, but their fans have much more of an attachment to those series.

Get someone decent for God's sake..

Lol pitbul. Mr world wide. Good job.

Mr. World Wide.. Seems like he took patent for these words. Every damn song of his have these words in it..

Well I suppose this is msft appealing to the younguns. Have to do something. Suppose aaa artists like that swift woman were too busy.

Aye. She's very commercial.

Yeah but they do this.. They pay a shit ton of money to any artist who will go after the dollar, not the actual endorsement. To whit, Katy Perry, James "Fat Talentless Fuck" Corden and Holly Willoughby. None of whom use WP any longer. Kids will scream and turn up for this ranting twat Pitbull but not for the tech.

Did they make sure he can distinguish the floor from the presentation tables...?

It was a coin toss between PitBull and Kid Rock.

So MSFT won that ... Well I'm sure they'll get their moneys worth.

Nobody wins in that scenario!

Should have had a collaborative effort then. All of the awful they could gather.

Eminem would have rocked! #rapgod

*Insert some quip about nickleback*

I'd only go for the girls that dance with him

That's the main reason why i hate Many of Pit concerts, but the truth is Mr.WW contorlling the World with his Spanish - Latino Lyrics :)

When I first saw headline I thought it was a store giveaway thing, "Free Pitbull...." lol

Lol. Free PitBull with every Lumia 950 you buy.. :P

Would still rather have a dock lol

Michael Vick would be first in line

Saw this and had a thought to throw my phone in the trash. Blech.

I read your comment, and my thought was "idiot".

Pit.......bull? Even Brad Pitt or an actual bull would have been better choices #mrworldcried

He's kind of a big deal here in Manhattan. Not bad MS, not bad at all. I'll make sure to bring some nice isolating ear buds when I go though.

LOL if you think PitBull is a big deal in Manhattan then you've never set foot in Manhattan let alone go to a show there.

Not a fan of any rap beyond the NWA era but like the Pitbull music I've heard. Lots of hate here. If your petty enough to throw your phone in the trash over a perceived sponsor of Microsoft, do it.

I'm sure he'll put on a good show! Also, pitbul is banned from all hotels, motels and holiday inns. True story.

What's Chingy got against Pitbll?

I don't think Pitbull is considered a rapper, but what do I know.

If you consider Pitbull rap, then you haven't ever listened to rap.

I don't listen to rap, and even I don't consider Pitbull rap.

I don't consider him rap either but the article above stated him as a rapper, I assumed that's the genre which he is commonly labeled.
Edit: Wikipedia in it's opening sentence calls him an American Rapper. I listen to heathen metal, so what do I know.

If the source of info is Wikipedia...........

Embarrassing, really. You can call me a snob or whatever, but Pitbull (just his name, for fucks sake) is the worst.

It's for the opening of a...store. A store. How high of expectations could you possibly have had? How much more money should Microsoft have spent to secure someone else instead? Geezus, people. Get a grip.

It's too bad they can't get someone good to play.

Pitbull? They should have paid for Taylor Swift. They need someone that will dare attention from the kids that can make stuff cool with their me me me I wanna be like Taylor oh look at her phone mentality. She isn't controversial as Bieber and more well known and probably liked than Pitbull. Ok,maybe controversial. She called out apple on not paying artists during users trial periods for Apple Music. Meh, what do I know! Just an odd event. Either way, free is free, and people will enjoy it.

Probably couldn't afford her tbh

Wait...WHAT?!! Can't afford her, man get real.. This is a billion dollar company and you say they cant afford her just like they couldn't afford to pay 2billion dollar's to the Minecraft developer huh? Hahahaha! Funny!

Being able to pay for something, and being able to afford something aren't the same thing.

Man what.. Ok I'll let you believe that.

Just because they have billions doesn't mean they want to waste it on a single store opening... e.g. say Pitbull will take $200,000 and Taylor Swift wants a million then it doesn't take much maths to work out the cheaper option. Are they gonna get $800k more sales by TS being there instead of PB? Hardly. All they need is someone with a name to put on a show that'll draw attention to the opening. The actual music matters far less.

I'd prefer an old TV playing that video of Ballmer and Gates dancing to What is Love than that Swift bitch Posted via the Windows Central App for Android

I would take this over Taylor Swift or Pitbull any day ;) https://youtu.be/RYMH3qrHFEM

Folks gettin salty over Pitbull on WC, lol

Microsoft Ft. Pitbull (Remix)

Who the f**k is 'Pitbull' ? Posted via the WPC App for Android!

They should get AC/DC and have them play Thunderstruck because Microsoft is bringing the THUNDER with the Surface Pro 4 and Surface Book!

So....I went to the food truck on 33rd and 5th Ave.........total Marketing Fail....not a single person with a Lumia Phone, all the people were wearing MS Tshirts, and using iPhones and Android phones.......to top it off, the girl holding the Surface Pro 4 didn't know $hit about it.
Windows Central Newsletter
Thank you for signing up to Windows Central. You will receive a verification email shortly.
There was a problem. Please refresh the page and try again.