Microsoft Store will have the unlocked BLU Win HD for $129 online Tuesday and $99 in store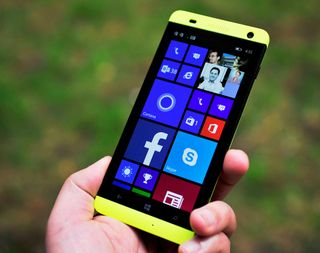 The Microsoft Store's "12 Days of Deals" event began today, but the company has already announced Tuesday's big price cut in advance. Starting at 8 am Eastern time on Tuesday, the Microsoft Store websites in the US and Canada will have the unlocked BLU Win HD smartphone on sale for just $129, a $50 savings.
If you live near one of the over 100 Microsoft Store retail locations in the US and Canada, you could get that same Windows Phone for just $99 on Tuesday if you are one of the first people to arrive in the store location when it opens. Only a limited number of the phones will be sold at that price in those stores; after that; the BLU Win HD will be sold Tuesday for the $129 sale price.
The BLU Win HD has a 5-inch 720x1280 display. Inside, there's a Qualcomm Snapdragon 200 1.2 GHz quad-core processor, an Adreno 302 GPU, 1GB of RAM, 8GB of internal storage. an 8MP rear camera and a 2MP front facing camera.
Source: Microsoft Store (opens in new tab)
Windows Central Newsletter
Get the best of Windows Central in your inbox, every day!
Its really looks gorgeous in picture... And very cheap too.. Worthy if u r new to windows phone...

Actually played with this phone at the MS store a couple of weeks ago. Beautiful phone and display. Felt like an almost Lumia, but the display being edge to edge made it prettier, IMO than the mid-range Lumia models(which it competes against). Its not an M8 though. The M8 is far more well built and expensive feeling and looking.

We can buy 4 blu phones with the money we pay to m8... ;)

I'd take an unlocked L830 for $349. No questions asked

Does this $99 deal also apply to the small kiosks yoy see in malls, which aren't the full fledged stores?

Also in store there's a 25 off voucher.if its stackable...i hope they have some when I'm off work Tuesday

Microsoft store promotions are never stackable.

I had this phone. I really liked it but damn was the camera awful and the touch screen had major issues while its plugged in. I returned it

The touch screen issue doesn't happen to some people. I think there was a bad batch

I'm hesitant for this reason.

I used to have that touch screen issue back in the days when I used to have Android... NexusOne... Terrible phone. Terrible OS.

Looks like a better version of the m8 windows as far as color options/design go.

Are you crazy? Oh you must've mint the 830. Posted via the Windows Phone Central App for Android

No. The phone looks just like an m8 why would I be referring to the 830

Looks nice, but not better than the M8. Processor is much slower too. Looks like a great phone for $99 though.

Looks better... Dont be a smart Alec kid.

Damn! That's a deal! :D Cheers to whomever gets it!

I have a 630, is this a worth upgrading? Or should I wait till march or April?

From Lumia wouldn't be recommended it's like downgrade for processor and camera all those go for a Lumia 535

The 535 doesn't support all the typical North American frequencies, so simply isn't an option for most people here. Aside from cameras (which aren't great on either device), these phones are very similar.

If you have a 630, you must have bought it a few months ago tops. Already considering an upgrade?

I went from a 920 to the 630, hoping a new phone would launch soon... I miss the screen real estate and ram. The 630 just seems to show lag way to easily if u have 4 tabs open...

The Lumia 630 had a better processor, the Blu Win HD has more RAM, so it's a trade-off. For gaming the 630 is better, for web browsing the Blu Win HD is better.

Wait, there are more interesting windows phones that coming until then.

Am i the only one that thinks this phone is only worth $129 in the first place? It seems kinda craptastic to me and not worth $179. My nokia lumia 925 that i bought for $200 off contract about a year ago (when they went on clearance everywhere) beats the blu in every spec except screen size and my lumia adds LTE, all the exclusive lumia apps, optional wireless charging, etc. At $179 it was a joke in my opinion.

Too bad TMo pulled the 925 before it had a worthy successor. If you walk into the stores, it still doesn't. The M8 for Windows on TMoUS is going to be an utter fail. I wouldn't be surprised if this fail (nevermind that it's entirely their own preventably fault) will be the final nail in the WP-TMo coffin.

I love the WindowsM8 but its lack of wireless charging makes it a pass for me, maybe i could get past the no lumia apps but lack of wireless charging on a high end device? Can't get past that one!

Does the iPhone 6 have wireless charging? Do you know htc has a new charger that charges super fast? Just look at the Turbo. 8 hours of life on a 15 minute charge. With this available why would you want a wireless charge that takes forever? Posted via the Windows Phone Central App for Android

I make it through the day on a single charge and charge my phone through the night so faster charging means nothing to me. However having to fumble with a plug in the dark is a pita and a deal breaker for me. I just drop my phone on the pad and presto, it is charged in a few hours.

That's why Lumia is boss. Wireless charging ftw

I would be willing to give up wireless charging for the IR blaster to use as a remote for TV etc, nice speakers for music, the DOT view case, and all aluminum body (probably the reason for no wireless charging). The Super LCD3 display is also nice although I prefer Amoled. But yeah awesome phone.

And quite frankly I'd be afraid to pull trigger on this purchase then the next days of sales, a better phone is on sale lol.

You could always return it. Though I suppose you can't get back the wasted time.

You're comparing the regular price of a device versus a clearance sale price of another. That's hardly fair.

you got a deal. that's not the case at all so you can't really complain about this phone at its price range. It would be like saying because a dealer closing let you get a BMW for the price of a corolla, that the corolla is overpriced. you just got lucky.

Yeah, would love to get it.. But first Microsoft needs to acknowledge the existence of Europe.. So thats never happening unfortunately.

Well, it's non USA, so also probably non existant to Microsoft.

This device doesn't have European frequency support for 3G, so you probably wouldn't want it.

It's also available in Canada. Though (unlike Europe), this phone actually will work in Argentina if you import it.

this phone must be like sold to employees where a company cant afford bettef Lumia smartphones. and can get good specs within the range.

So BLU phones are selling better than Huawei windows phones..

I wouldn't be surprised. I'd rather a Blu phone than a Huawei. These are the best dual-SIM phones with North American frequency support.

Might consider this to finally move my wife off her WP7 phone, but the camera sounds a little iffy, and she uses the camera frequently.

Just got one 2 weeks ago. My girl friend lives it

I see the $50 off in store price of $129 online for Canada, but no mention of the $99 sale price for instore - any idea if this is in fact an in store deal up here? Would be a good phone to replace my sons broken L520 with at $100 price.

The website says it is on for $99 here in Canada, but only for the first 50 people instore. After that it's $129

Perfect thanks! Must've missed it

Bought a Blu Win HD last week,and my only complaint is 6tag doesn't work on it.

I have the same phone and 6 tag works for me, I only use 6 tag

How does this compare performance wise to the Lumia 925? Is the snapdragon 200 faster than the snapdragon s4 in the 925? Wondering if it would be an ok backup for that - I'm pretty sure it couldn't be a direct replacement.

The Snapdragon S4 is faster than the Snapdragon 200. This is a good phone, but not a powerhouse.

This would B a nice upgrade for my son. But I think his hands are a bit small to handle a 5" phone

Microsoft also sells a 4" phone from Blu for $89.99.

ah but the win junior isn't as good. not even close. the winHD's screen is gorgeous.

'Tis true, but such is the way of things. :-)

That's more like it. $180 was too much. It's nice for $130, but it's nothing special at the higher price.

How is $180 too much for an unlocked phone? Would you like them to give it to you?

Cause its 3G only, I see that as a problem when using on ATT or TMO. I want a 635 upgrade with 1 GB ram and FFC.

Had you said that about using it with a Canadian carrier, where LTE is dramatically faster than HSPA, I would have agreed. I get as fast as 79Mbps down in Canada in real world terms on LTE (out of a theoretical max of 150Mbps). I've tried both AT&T and T-Mobile in the U.S. and in my experience they're nowhere near that fast compared to HSPA, in real world terms. Reading forum threads on it on Howardforums suggests that a lot of "in the know" people in the U.S. turn of LTE because of less congestion on the HSPA side of the equation. I suppose it can depend where in the U.S. you are, though. Also in Canada carriers are rolling out LTE Carrier Aggregation and one has rolled out LTE-Advanced, whereas most haven't rolled out DC-HSPA+ and probably won't. Now if only they'd roll out VoLTE here like the American carriers are doing.

Because it felt flimsy compared to a Nokia, and it isn't substantially better than an 820, 920, or an Ativ S Neo, other than the screen size, and those three are easily found for the same or less in great condition online. I will say, however, the Win HD felt a lot better than the Billy, which was toy-like. The Win HD's battery is also quite small, considering the screen.

This will be my Xmas gift to my mom...

Can it work on TMOBILE LTE?

HSPA+ only.T Mo and AT&T.

Juts ordered one of these for $100 from deal.fisher on ebay, good deal but I would have liked to get one direct from MS. Looking forward to receiving it.

I just bought this phone on Saturday. I enjoying it so far. I guess I'm SOL on the deal. Feeling a little bitter about that.

Contact them and ask about a credit. They may help you out.

They should offer unlocked 930's as well as 1520's at all their store.

I agree strongly with this. I note with interest that the Canadian Microsoft Store has offered the last two released Lumia devices factory unlocked (the Lumia 635 and Lumia 830). I hope this tend continues.

They did the 1020 as well. I bought mine from Rogers, but bought my wifes unlocked from Microsoft in Yorkdale. Hope they keep this up, I would do this for myself moving forward likely

I love this device but if they had shipped it with snapdragon 400 and a better digitizer it would be a win over any lumia handset at the price point. the big issue is the digitizer. not sure if it is because of snapdragon 200, but it really really lags. For instance, you swipe down and half the time thinks you clicked because it doen't scan the screen fast enough to see your finger moved before it leaves the screen. I misclick on the winHD so often, I've learned to do slow-mo swipes. This wasn't a case with any of the snapdragon 400 devices I've used. or it may be blu's way to keep it cheap. btw batterly life on this gorgeous screen and device is amazing. unlike with any lumia i've owned.

I'm glad I have that phone. It's the best phone ever.

This doesn't have SensorCore does it?

Hmmm, at $129.99 I think I'm going to have to finally bite. Amazon had it on sale for $149.99 and I still hesitated. GHlad I waited. I know it's no flagship, but the bigger screen size should hold me over until new Windows 10 devices start showing up.

what this deal offer availabe in middle east?or this offer availabe worldwide

Wow no one hear at the Boston store. I kinda feel like an idiot now lol

do they still have that offert please tell me yes i want so bad that phone