Microsoft working on streaming game service. You could be playing Halo 4 on Windows Phone someday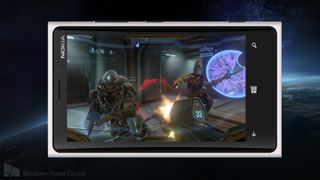 Halo on your phone? No, not Halo: Spartan Assault (although that is a great game), but bonafide Halo on your Windows Phone. That's something we've been dreaming about since Microsoft rebooted their mobile efforts with Windows Phone 7 Series. Can you imagine a world where you prop your phone up and connect your Xbox controller to it and get some Slayer action on the bus? It could be happening sooner than most of you think.
Earlier today, Microsoft had a company wide meeting and demoed some upcoming projects. One demo easily caught the attention of the tech world. Protip: Don't have a bunch of people in an arena and expect things discussed there to stay secret.
Cloud gaming is something we'll be seeing in the future from Microsoft. The demo had Halo 4 running on multiple devices like a Windows Phone (Lumia 520, natch) and a low-end PC. It's a concept right now, but one that works like a charm apparently with latency in the 45 ms range. The demo featured an Xbox controlled attached to the Windows Phone with an accessory (how bad do you want that accessory?).
The service could stream games to any Windows device. And those games could even be a way for the Xbox One to gain backwards compatibility. Right now you can't play Xbox or Xbox 360 games on the Xbox One, but you might be able to stream them with the power of Azure in the future.
How many of you would want to play Halo or Titanfall on your Windows Phone or Surface when you're not at home in front of your big screen? Sound off below.
Get the Windows Central Newsletter
All the latest news, reviews, and guides for Windows and Xbox diehards.