Microsoft talks Lumia 950 and 950 XL camera prowess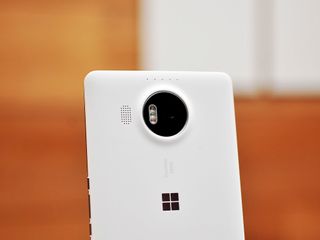 When Microsoft took the wraps off of the new Lumia 950 and 950 XL, one of the big highlights was the camera tech packed into each smartphone. Now, in a new blog post, Microsoft's Director of Imaging Technology Development, Juha Alakarhu, has taken a deeper look at the image technology packed into the new flagships.
Alakarhu is quick to note the camera specs, including the 20MP sensor, F1.9 Zeiss optics, fifth-generation OIS, 4K video and more. However, the Alakarhu says that the real highlight is the image processing software, which Microsoft has developed and tweaked so that everything from a spur of the moment group shot to an extreme closeup will look good without laborious input from the user.
Essentially, Alakarhu says that the camera software on the Lumia 950 and Lumia 950 XL is great at choosing the right exposure, ISO, and other settings for you so every shot comes out great. Particularly noteworthy are the natural colors and fine details that pop out in a variety of different situations. Below, you can check out a couple of Alakarhu's test shots to see the detail for yourself.
Between the camera's specs, software, low light prowess, and natural flash, it looks like you can expect some great shots out of the cameras on Microsoft's latest flagship phones. For more, be sure to check out Alkaharu's full post at the source link below. Also be sure to check out our closer look at the Lumia 950 XL camera with Alkaharu from last week's launch event below.
Source: Windows Blog
Windows Central Newsletter
Get the best of Windows Central in your inbox, every day!
Dan Thorp-Lancaster is the former Editor-in-Chief of Windows Central. He began working with Windows Central, Android Central, and iMore as a news writer in 2014 and is obsessed with tech of all sorts. You can follow Dan on Twitter @DthorpL and Instagram @heyitsdtl.
Yes, very detailed. Hope these cameras are fast at taking shots, no buffering pause. Can't be released soon enough. My 1520 is near death!

No buffering pause. I was at the Microsoft Store in Schaumburg Illinois yesterday to reserve the 950 XL and I played with the camera. The pictures are taken instantly. Also the phone is extremely light almost hollow feeling.

That's great to hear. My M8 smokes a lot of phones at image processing speed so it's very encouraging to hear MS has upped their game.

The M8 smokes at speed because of the crappy low red camera.

....except it's not crappy at all....or red...

Whether or not it's crappy is subjective (I find it sub-par as well), but it does have a low reS camera. For something so low in res, my Lumia 920 has always still beaten my friends' M8's.

In terms of quality, yes my 920 beats my M8 all day, but as far as processing speed, I can take 5 or so pics with ProShot on the M8 before the 920 finishes processing the first so it's really great to hear MS has the 950XL shooting much faster.

RED camera in a phone? Why have I not heard about this before?!

Where is superboy mica, or whatever he calls himself anymore, when you need him...

You are right about that. Very quick pics and they look amazing. Pre ordered mine from the Microsoft soft in Vegas. I was very impressed!!!!

Were they offering you a single-SIM or a dual-SIM variant of the 950 XL?

Have you tried the slomo? Posted via the Windows Central App for Android

I tested the 950XL and you can tap tap tap tap tap tap and it just keeps taking pictures without delay. Very similar to the iPhone experience. Sure there's a photo burst option but i think sometimes tap tap tap is much more fun than having to go to settings switch, since by then you could have missed your shot. Towards @9:34 in this video you can see him doing that.

Superb! Can't wait to get a hands on in the UK. MSFT really should open stores up over here!

No buffering pause.. Taking picture really fast like iphone.

Yeah, agree. I'm terrible at knowing when to take a picture so many ate literally, quick take a pic. When it takes a few seconds to open and stuff well... Many moments can pass in that time. Ask my dog who thinks she is a man bear pig cat horse when she begs.

Where do you have photos set to save to?

I am on my third used 1520 ... they are hard to find, even broken :(

WC should have also shown the girls' portraits (follow the source link) for two reasons: 1) quality is mind blowing, 2) draws 10x more clicks!

Shame the living image didn't work.

That's weird. I downloaded it, and it works.

Yeah. Those photos though... the camera comparison shot shows the girl on the left with a resting bitch face, while the one with the Lumia is where she's smiling. Marketing gimmick? Posted via the Windows Central App for Android

I also smile when I see people that don't use Android. Nothing strange about that.

I was going to say "does the camera come with the girl?"

And then what happened? :)

Yeah, the plant pic is very nice example. Well no doubt that Lumia is consistently have great camera but this time they have need to feature always how fast it is. So far the video shows that is really snappy (pun intended) which is awesome, I can't tell yet though if how fast it compared to iPhone, Samsung and LG, we have yet to see the comparison reviews. I hope it will at least on-par with iPhone since it looks really quick. Still great to see that Lumia camera finally catches up to camera performance, it may become a benchmark or not but still.

You mean, the camera prowess they didn't (dare to) show on stage at their big launch event?
For me the only thing that really sucked about their event, was that they didn't show anything about the Lumia 950 and 950 XL but Panos saying "I'm recording 4K video right now".
I'm not sure if that was his personal message that he was not too much involved in the development or if it was Nadella telling him to cut it short, to emphasize the new (non-)importance Windows on phones has for Microsoft.

Here is a 10 minute video showing the camera at the event. https://youtu.be/1pPMYFOy3No Worth watching to see how it actually works in real life.

Will we get the same image processing software on older hi-spec devices like the 930 when they get upgraded to W10M?

Good question! In particular I want my 930 camera to be faster!

do note that 930's quad core 32-bit 2.00 GHz processor may not be strong enough to perform at the same level as 950's quad+dual core 64 bit 1.44+1.82 GHz or 950 XL's double-quad core 64 bit 1.56+1.96 GHz

It's 1.969999997 Don't skimp on the gigahertz.

Thought the 950xl was octa-core

It is, that's why he wrote "double-quad core" ;)

I haven't really tried taking a bunch of pictures in succession in a little while on my 1520 since I moved to 10. Tried today after watching this and I was surprised. Not as fast as the XL in the video, but much faster than I remember it being on 8/8.1. I really want an XL though. Happy with my 1520, but I may have to move on.

My 930 with w10m shots with a 1-2 sec delay, all the processing is in background so the problem is image opening time after you take a picture but I guess that can't be avoidied.

Does the Chinaman come with the phone or will it cost extra?

The chinaman is not the issue here, HaroldWang. I am talking about taking a great picture, also, HaroldWang, chinaman is not the prefreed nomenclature. Asian-American, please.

How do you know he's Asian-American? All I can see from that pictures is a man with predominant East Asian facial features. No telling where he's from though.

he's quoting the big lebowski. and it was awesome.

American is not an ethnicity.

That's the codename for the 550. To go with Cityman and Talkman.

@Chris Sandiford:
Made my day. Really, really thank you very much.

Holy crap. Zooming in on his face is amazing.

Not as amazing as my 1020.

The 1020 zooms in further than that? I also have a 1020 and the zoom is my most-used feature. Not sure whether to get a 950 or not.

:( I love my 1020, but the bumming part that has pushed me to upgrade this time around was how slow the camera is to start and the delay between pictures. If Microsoft had done what Nokia promised and improved the Lumia 1020 algorith for the camera to start and save faster then i think i would hold off until it broke. It's really a shame, because the 1020 does have a lot of potential still but it was forgotten since it barely has marketshare in comparison to the others.

The 1020 is hampered by the chip more than anything. The S4 just doesn't have the oomph to process the 40MP files. The 810/808 do.

This is why we need at least the modern version of 1020 with latest specs even better than 950/XL (especially if let's say it will be released next year). Even with same 41MP but with slimmer and nice design (except for camera which may still leave big hump) but camera performance is instantenous and still got alot of nice features, it should be very unique and worthy as a benchmark true camera phone. 1020 successor may not sell alot but I think it will sell way better than 1020, most important thing is it will put W10M and Lumia again in the spotlight in terms of camera prowness and became benchmark again. More awareness to W10M and Lumia, the better.

A new 1020 will come only if windows phone is successful. They are not investing in such a low sales % device if they do not have enough market share.

I love my 1020 too. I wish there was a 1050 option right now, that would seem like the perfect phone to me! I agree, the 1020 didn't get the love it deserved.

L1020 had its glory but techs are moveing on. Except the 41MP sensor, the rest of camera techs are all aged. That includes Xenon flash, mechanical shutter and 5MP oversampled images. In L950/950XL, the new OIS, new color algorithms, RGB flashes, new sensor design, ISO limit 12800, 8MP oversampled images, two exposure times in same image, 1080 video at 60 fps/ 4k at 30 fps, new dynamic exposure, the speed, etc. have left L1020 in the dust. The successor to L1020, if ever, would have to be built on the new techs along with a more powerful processor like SD820. My L1020 will be retired as a capable backup to L950XL.

There is nothing aged about a true flash unit like the xenon on the L1020. Triple LED flashes are cheaper, not better, and they only user triple LEDs to work around the limitations of using a poor light source like an LED instead of a proper one. Seen any LED flashes being sold by Canon? No, and there's a good reason. FYI mechanical shutters are superior to digital ones, and their absence eliminates bokeh. The very nice leaf photo shows here is greatly diminished because of it. It looks like something taken with a cheap "Kit" lens. It may be sharper than the L1020, but same photo taken with an L1020 would look much better simply due to its rather nice bokeh. Stop believing what you read about the iPhone camera set up. Is mostly propaganda and ignorant fan boy worship. It's a real pity that MS has taken the low road along side them.

Digital shutters reduce bokeh..?? Didn't know that.. 700d user here..

Yeah, same video... No new info... So...um... ???

WC should show a daily article regarding the new Lumia camera's, as I said in comment below, these camera's alone on a point and shoot would cost you over $500/$550, so I'm really impressed how Microsoft is probably subsidizing the high price of the camera hardware to make these smartphones very popular in the US.

What about the comparison in the forums between the s6 edge and the 950xl?

I'd be willing to bet the store demo models have older software.

They absolutely do. Still slow processing and details aren't as sharp either. Still good for prerelease software though.

Can you summarise the results?

You mean battle of the Phablet's? Lumia 950 XL vs iPhone 6s plus vs Note 5 vs Nexus 6P vs Xperia Z5 Premium! Seems to all have very good camera's this year! I have been with Microsoft OS phones since 2006....now lets see what Win10 Lumia 950 XL can do! So excited

Won't matter if they won't make the darn phones available on more than one carrier. I would love to get one myself but I don't think it's worth buying off contract at least until I pay off my Z3 which isn't until next October. But I can easily use my Jump upgrade to get one or switch to Jump On Demand. Come on Microsoft!!

Not gonna happen. Change your Carrier.

Nice phones but not worth changing carriers for. A Lumia 1030 type device is the only phone I would absolutely consider changing carriers for. Otherwise my Z3 has been great and after I finish playing through Final Fantasy VIII (I'm on disc 3 now playing with my PS3 controller), I'll probably get the LG G4. Posted via the Windows Central App for Android

The specs released are pretty amazing, but I want to know sensor size? It's as important, if not more so, than MP's to picture quality.

https://twitter.com/jalakarhu/status/651892852981690369

Thanks, these should smoke the iPhone 6. If the software is good

iPhone isn't even in the top 10 these days. It will be embarrassing if Microsoft cannot beat them. Posted via the Windows Central App for Android

well Top 5 lol but yeah if we cant beat the iPhone on pure quality then its embarrassing. No question I think the tech field is expecting MS to come out ahead of the Note 5. MS has something that Nokia had that just now Samsung and LG are catching up with, and that's the software side algorithms. If they don't capitalize on that then its a huge fail.

When they launched L950 and L950XL on 10/6, more time should be spent on the camera tech along with Continuum. Continuum and camera are the two most important selling points for these flaghips.

Agreed 100%. It took me 2 days following the Microsoft event to track down any sample shots (apart from the low lighting one) and they were only displayed on a 3rd party youtube video. They didn't even have any on the website listing page last time I looked. I can only assume they were still tuning the processing. Considering they claim it's the "best camera Microsoft ever made" I find it difficult to believe they simply forgot to show it off fully until now?

The very short presence and lack of focus on these devices is mostly due to Windows 10 being incomplete, as well as being able to fit in the rest of their other big announcements, the Surfaces, into their timeframe.
-------------
Im sure MS know that if they were to demonstrate the devices the way they should have ...there might be surprise hiccups here and there due to the unfinished OS ...which wouldnt play out well for them since all eyes were on these devices.

Also take into consideration the water cooling for the Snapdragon 810. I saw a youtube video today showing how water cooling a device with SD 810 can give you much better performance and avoid thermal throttle. Also don't forget the amazing AMOLED Quad HD screens of these phones, they're much better than the iPhone 6S/6S Plus.

But still weird that it can only film in 30fps. Had at least expected 60fps in 720p or maybe 1080p. But maybe it'll come in a software/firmware update some day? Also hope for better low light capability for filming than the 930. Can't pick up anything in darkrides in my favorite theme park (while it isn't even dark, my lumia can't capture most of it).

I'm not sure where you got those specs, but I looked at one in the store and as I recall, they had a bunch of choices including some 60 fps in a menu. Don't quote me though because I could be mistaken.

Oh I'm almost certain it can film 1080p in 60fps with an 810 processor on board. That would be criminal if it couldn't.

It does that. 60fps is highest option in store firmware

720p 120fps
1080p 90fps
1440p 60fps
2160p 30fps

Whoa! That's awesome. Can you link the source? I want to see the rest of the camera specs.

Juha is awesome! I'm so happy that the Nokia Lumia legacy of high quality, industry leading cameras lives on at Microsoft Mobile.

Those software algorithms are seriously worth millions of dollars lol Just ask Sony how valuable they are, they have amazing sensors yet their software is really bad and it hurts the result of every Xperia Z out there lol

True. Though at this point I think Sony does it on purpose to keep selling sensors to everyone else. It's infuriating that the best way to get a great Sony camera on mobile is by buying an LG or Samsung but here we are... Posted via the Windows Central App for Android

So is there any difference between the 950 and 950 XL cameras?

Nope, exactly the same. Think of it as the 930 and 1520. They also use the same optical sensor ;)

they only look different, but they are the same

I was wondering the same thing, I know they said that they have the same camera but Juha kept mentioning that the 950XL was the best camera they ever made....

The 950XL might get a slight boost from the extra processing power. So it probably does image processing a little better and a little quicker. That might be the reason they focus on the 950XL rather than th 950.

I am very pleased to see that fire engine shot. In the hands on video Las week it looked orange, but he kept saying it was red. I am pleased to see that the truck is indeed red.

I think the WinCentral's camera's white balance a little bit messed up back then :3

Anyone know if these new phones support shooting in raw?

I would think so considering the 1520/930 do also.

100% confirmed. He mentions it at the end of the blog post.

I hope the speed is good, that's mostly what I care about. My Lumia 925 just drags.

Watch the video. I think you'll be pleasantly surprised.

Speed is excellent. From playing in store.

Everytime I miss apps and almost switch to the iPhone.... I think of the cameras. 920 in low light and the 1020.... Can't leave 'em. Like my 930 but the 920 in low light and the 1020 in detail have me spoilt. The 930 speed plus 920 low light plus 1020 detail would be my ideal. Heading to the store as I type :)

just tested the 950xl... My concern has always been the camera so more on that.... ​speed - it is blazing fast. I've used a s6 edge... (Bought my brother one who btw still thinks nothing beats Lumia cameras) and if my memory serves me right this felt a lil faster. 6 taps of the camera button and it captured 4 with flash in rich capture. I am fairly certain I tapped 6 times but could be Lower. The point here is still crazy fast.... I haven't tried the iPhones since the 4 so can't compare but doubt it is faster. Plus even at a kids bday you wouldn't try and do 6 photos in say 3 secs. Me personally I want fast but I also want to maintain quality. GRADE A+ ​image quality - amazing detail across the board. Shot in store light so didn't do low light as I do with Astro photography but I'm happy. However...... for objects a lil far you do get noise in the jpegs if you zoom to the extreme. Here's the thing... I get noise in dslrs which I like to keep images natural and not overly processed and the noise here is mostly good. Comparable to what I got on my 1020. I saw some ppl had clicked pics of their faces in the gallery and zoom in .... You see the detail Juha talks about. To test it myself I asked the store guy to click a pic of me (nfc to myself to play around in PhotoShop) and my initial reaction is...those are not doctored images. The detail is there. And this from a guy who claimed not to be a pro and shot it without rich capture (I was a lil disappointed with eye detail... Hence the store guy caveat). Grade A (only because I'm impressed but need low light and more testing plus I felt some noise was avoidable...nothing a lil tweaking after or maybe ms can update the software can't fix. This is serious nitpicking at this point partly driven by my super high expectations) Pro settings - what you know and love BUT could not go beyond 3200 ISO. Not in the sense of image quality but that was the max I could rotate the dial to (I would never push my DSLR beyond it for the most part but raising it because Juha says 12800). Maybe it is a software update waiting to happen. ​video- did not test partly because I am more photo biased and I forgot about it in my excitement. ​would I recommend it over the 1020....I'd say try it out. It comes very very close (if I also include the 1020 zooming capability). I'm general with the blazing speed and the accuracy if the detail I'd be tempted to oick the 950xl and relegate the 1020 for very specific use cases. It's THAT good. ​ non camera observation Battery - felt like it was draining a bit fast went from 57 to 49 with my fiddling the camera for about 30 mins (with one freeze that I hard restarted... Froze in the photos app when i might have closed the camera before the image saved). And I'm also spoilt with the battery life on the 640xl with its low res screen and huge battery (my back up after I broke the 930). Think in real life it'll do fine for a typical day but I don't expect 1520ish battery on this right now. I could be proven wrong. ​ screen resolution - mind blown. ​look and feel - trust me I was one of those ppl thinking it looks bland but can't be a negative nancy BUT it looks awesome! Feels awesome. YES it didn't feel S6 edge "rich" ( the iPhone doesn't either to me in anything outside the gold from images I have seen) but I'm also one of those ppl while admiring and wanting the S6 edge like being a lil understated but elegant. And this feels that way. Even as I walked into the store, I was thinking of "it'll look awesome with the Mozo back covers so don't worry just test the camera and see if you want to jump ship if it is bad". BUT it looks good. Photos don't do justice to the small bezels or the sleekness. You have to hold it in person to know. I was testing the white phone btw. Having said that I still would get the Mozo back because I like the leather concept and would like to try and see if it feels rich in person. ​ size - I have to use two hands at times for the 640xl... One handed through out for the 950xl. Fits right without straining your hand and feels right. The bezels again.... I think it is the smallest 5.7" phone yet. ​ AND as you all probably know by now.... The camera is keeping me anchored to Windows. Pre ordered the white phone with the band. The band btw runs a bit larger than gen 1. So if you're a medium , a small might suffice. Cheers. ​ ​ ​ ​ ​ ​ ​ ​ ​ ​ ​ ​ ​ ​ ​ ​ ​ ​ ​ ​ ​ ​ ​ ​ ​

And to think it's only going to get better with firmware releases+ official release. That phone can't come fast enough for me.

They should offer to let FB, instagram and Snapchat use the living image tech, so that images uploaded from Lumia devices would have it..... Amazed they don't. Would be a superb differentiator.

I would rather have same iOS/Android Instagram,FB and Snapchat apps than dedicated ones that no body supports, thats why I have so much hope on WIndows 10 mobile and project Astoria!

Maybe they can explain why they removed all the demos from the store. Went in to preorder and was told that MS told them to remove the phones from display and send them back. I hope that isn't an Omen.

I don't get the camera-on-phone craze. They are only useful for wide-angle shots in daylight.

Not really.. I own a semi-pro dSLR with pro lenses and many accessories, and my old Lumia 920 is still my most useful tool because in no way can I always carry my heavy camera equipment with me. A good camera on a phone is important to me. But some people are maybe only thinking about Instagram and slapping on filters.

You'd be surprised. Some shots can be incredible. Take this long exposure for example: http://i.imgur.com/8SdQfcR.jpg Shot that with my 920 without a stand. Sure, may not be as good as a DSLR, but some can be really nice. Same with macros.

Is RAW/DNG format still supported? I assume so but I haven't read it anywhere.

Did you read the blog: "And yes, we also support raw capture."

No, I guess I didn't. Thanks.

Is Microsoft's Image Processing Software continuation of Nokia's PureView technology or something entirely different? EDIT, also does it have the same features as Lumiacamera5 on the 1520 & 930?

I find the video shooting/photo sound recorder flash on the camera on the 950XL really amazing, is worth probably between $500 and $550, if you take into consideration the 950XL have Snapdragon 810, QuadHD AMOLED, Iris Scanner, Continuum support using USB Type-C, and comodity flagship hardware like 4G radio, Bluetooth, Wireless AC, 32GB fast storage, 2GB RAM, NFC sensor, Compass sensor, Accelerometer, Ambient light sensor, etc I find this phone the most valuable product in the market, beating Galaxy S6 Edge+ and iPhone 6S/S Plus Great job Microsoft.

Boy, you could really see the reflection of photographer's hand in the eye of the first girl.

Wow. That closeup looks amazing. It always annoyed me with my 1020 that the camera would not focus on anything closer than approximately 20 cm. Even more annoying was that it would initially focus, but then immediately lose focus. Sigh. Very much looking forward to my new 950XL.

One of the annoying things about both the 520 and 1020 cameras is the fact that up close shots are pretty much impossible to get auto-focus on (and manual focus isn't always available when taking pictures like business cards). I hope that pictures of the plant suggest that up close shots are going to be better.

They need a commercial where they have a picture of someone or something taken with the 950, but zoomed up really close (Zooming out slowly); Saying "This photo is not taken from Professional DSLR, this is not an iPhone, Android or any other phone... This photo was taken on a Microsoft Lumia 950..." You get the point, Specs blah blah awesomeness'

Maybe all the 1020 owners refusing to get anything else other than the cancelled 1030/mclaren can get one of these and be happy? My old 12mp nokia n8 still produces images on par with most flagships of 2015. Just like the 808 it unfortunately runs Symbian and that I cant live with just like 5-8 sec to open camera on 1020 then another 2-5 sec to process and take another and that's why I moved on to 930. 1020 had its day and mine will always be treasured tech but that soc just cant operate efficiently with that camera tech taxing it and lack of sd.

So, is over-sampling still a thing with these unreleased phones?

So should we wait for Surface phones coming out in May? (Hopefully) and if that gets delay (and then we're stuck with our old Windows Phones) get the 950? Please some professional insight here.

I just wm10 is just as smooth 8.1 when I get my new white 950xl.

I love the phone. But................ Its audio is meh. Not sure why the speaker is where it is by the rear camera. And yes, I've tested the sound at a Microsoft store.

This is great! Now the Camera software needs to reimplement removed/missing featuers like Panorama, Refocus, Cinemagraph and RAW. Also new features like Slow-Motion Video (120FPS Full-HD and 100FPS 4K).

I tried the 950xl camera at the store and it was super fast. Can't wait to own one

They need commercials yes but also need availability of products, WP phones in general are impossible to find anywhere

Because retailers think that no profit will be made if they sell Windows Phone. They only sell Androids and iPhones. Such a big disappointment.

No love for verizon, so I don't care :( Posted via the Windows Central App for Android

That software better come to the 1520...

Microsoft, please start the sales of 950 and 950XL in the Philippines! Can't wait.

Me too. There's no point of having 2 Microsoft stores here if these flagship phones won't be available.

I wish they can make a phone like Lumia 1020. When I use my fds phone to take a pic for them, my hand shakes, they are too light. Man, how can u take a decent shot with that stuff. I mean even a g4. A 1020 with the camera grip, that's perfect. Cool, Bulky, Sassy.

Photos look amazing but these are the same pics that they show in the video you guys upgrade. Except by two of them, cant wait to see more pictures in different light conditions.

I would love to hace this Phone by the way

Who cares about the camera when the phone is set up to fail due to the low availability Posted via the Windows Central App for Android

Low availability? You mean you that you live in the U.S. and have low money availability in your pockets? :D

Low availability? What? You can go to a store and touch it today...

You mean, the camera prowess they didn't (dare to) show on stage at their big launch event?
For me the only thing that really sucked about their event, was that they didn't show anything about the Lumia 950 and 950 XL but Panos saying "I'm recording 4K video right now".
And I'm not sure if that was his personal message that he was not too much involved in the development or if it was Nadella telling him to cut it short, to emphasize the new (non-)importance Windows on phones has for Miccrosoft.

Alkaharu? Lol Posted via the Windows Central App for Android

Guys we need lumia 950xl in india

I have a Lumia 925, think its worth the upgrade? Or wait til the successor to 950 mid next year maybe /?

look at my opinion above. def upgrade.

It seems to take better photos than Panasonic gm1.

How big is its image sensor?

I'm sure all those AT&T customers are going to love the camera....

They should just advertise well on TV now. Even the 550. Microsoft has improved their ways if advertising on internet with the surface.

The Alakarhu. Is that like The Dali Lama?

I have been able to upgrade my phone for almost two years. I waited and waited for the next Windows Phone all this time. Finally, Microsoft releases the Lumia 950, only to find out that my carrier will not offer it thanks to Microsoft. I even would get the Lumia 550, but all I read is only for countries like India. I will not change carriers just to get a windows phone, no matter how much I want it. I have had my current plan for years with my current company and I will not terminate it just to get a phone with a different company. I have 5 lines, unlimited talk, text and web. Since we split the cost, each one of us pays less than $65 a month, including taxes and all that. So what is the point of waiting another year for another super phone from Microsoft if my carrier will not offer it. I am very disappointed at Microsoft right now that maybe they deserve not to succeed in the mobile phone business anymore. I will just have to get an iPhone, something I never wanted to do. But looking at the bright side, iPhones have all the apps you can think of, very cool and stylish case covers and all that, they are compatible with all car manufacturers, oh and my service provider offers them.

Had a look at 950 XL in MS store. Camera is great but the software had plenty bugs. Seemed like it ran an old W10M build. Dimensions are great for a 5.7" screen with less bezels but the materials used are horrid. The build quality is a BIG downgrade from the 930. The rep told me that MS is launching unlocked 950 in Canada (not in US). So only 950XL is on pre-order. I'm mostly going in for an AT&T 950 and use it with my current carrier (cricket).

What is the difference between Nokia Lumia 950 and Nokia Lumia 950XL?