Microsoft Translator adds text support for Kiswahili African language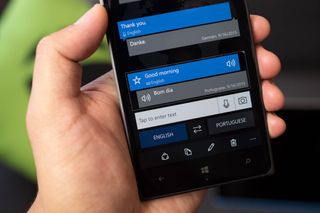 Microsoft has expanded access to another language for its Microsoft Translator apps, along with the many other apps and services that use the company's translation features. The Kiswahili language can now be used, in text form, by Microsoft Translator, and become the first African language to be supported by the company.
Kiswahili is better known as Swahili by some people. Microsoft says:
Microsoft worked with the non-profit group Translators without Borders to add support for Kiswahili. It's also available as part of the recent real-time translator features added to Microsoft's Skype for Windows desktop app.
Source: Microsoft (opens in new tab); Via: WinBeta
Windows Central Newsletter
Get the best of Windows Central in your inbox, every day!
This app is so surprisingly good.

Is Translator beta also updated?

What I want is camera support for Japanese to English and vise versa. Im slow at learning to read and it would be helpful when I travel to Japan

What is the enterprise mode on the translator?

No Setswana? Oh man, real bummer

No siSwati. Man that's disappointing ))) Posted from my Note 5

No swatsasookasukki? Darn it

It's good to hear that support for an African language is here. Now if only Cortana were available is South Africa, that'd be nice. Posted from my Note 5

Why don't you try to make a translator support for Greek language? Is this so hard? The most famous language in the world.

That comes with free phones distributed. Just about had it with Window Phones.

This was the only vine that ever made me laugh

Still waiting for offline Japanese pack...i suppose have to wait longer as MS working on Africa packs. How silly.

Not sure why that's so silly. Why is one language more important than another? Maybe they are doing easier ones (for them) first. Maybe they are doing them in markets they feel are better served. Honestly, is it only silly to you because they did something you don't want to use and left out something you do want?

I think its fair to think that. I mean, to him it is silly. It doesn't mean it is silly overall.

Well we should see how many people in Africa who speak siwahili use windows phone, and from those who use the app. Compare it to another language like Japanese or Greek, and the one with most users should be the most important

That's importance based on your own metric. Ask 100 people how to guage it for this app and I'd bet youll get quite a few different answers as to how to measure importance. I'm sure Microsoft has their own and they are following it.

Well, for starters if MS wants a product that is useful for business users and travelers I don't think kiswa. should be high on the list. I see this move by MS to gloat on their altruism. What else is new.

Well considering it's the most spoken language on the African continant I don't see see why it wouldn't be high on the list for travelers. If you bring a phone to Africa, odds are now better you can translate the local language.

Stop. Just stop. Really. What I'd wrong with you? Think before you talk out of your ass. East Africa speaks Swahili and if you're an investor coming to Africa having this app benefits you. How many international investors are running towards Europe and South East Asia at the moment? Demand is in the developing regions. Africa, Indus, China and South America. Crack open a book please. Or use Google. Posted from my Note 5

Fully aware of hoopla. As investor I know where to place money....long run perhaps parts of Africa are interesting, but most are not and very risky. You do best not to blindly follow crowd and what agenda-driven business publications/media broadcast.

No love for Klingons from Uranus either :(

MS has a larger African audience than Japanese, why wouldn't they focus on an African language before Japanese?

Firefly1 you win the dumbest comments of the day!

And you, the most useless.

Dear Microsoft just add worlds oldest language Tamil first....

Sanskrit also but number of speakers may also be considered.

i wish they'd make more languages available for offline download. this is epecially useful when you are abroad and dont have unlimited dataplans or wifi.

What we really need is for APIs for other apps to auto translate anything when the phone detects a different language to your phone's set language.

That's an excellent idea.

Please send through the feedback channel. Great idea.One could communicate with Cortana in any language without changing language settings. A definite differentiator from other os's.

Great job MS. I love Swahili.

But what about Azerbaijan language?! Because of this, I use t translator

Hakuna matata! Ahsante sana!

Good! I really hope a Latin support soon!!!!!

Been waiting for this FOR AGES:)

Asante sana! I've been begging for Swahili support since Klingon. I feel better