Microsoft Translator for Windows 10 gets Cortana integration and ink support
Now you can ask Cortana to start a conversation, or translate your written text to another language.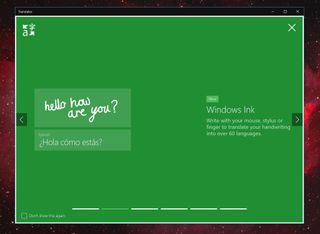 After rolling out some AI-powered goodness to its Android and iOS Translator apps in mid-April, Microsoft is now turning its attention to the Windows version. The company has shipped a pretty major update to the Translator app for Windows 10 that includes Cortana integration, Windows Ink support, and much more (via MSPU).
The addition of Cortana integration means that you can use Microsoft's digital assistant to either start or join a conversation in supported languages. All you have to do is use phrases like "Hey Cortana, start a conversation in Translator," or "Hey Cortana, ask Translator to start a conversation." The feature is supported in Chinese Simplified, English, French, German, Italian, Spanish, Portuguese, Japanese.
With Windows Ink support, you can now write out text with your mouse or, on devices that support touch, a stylus, and have it translated. That's in addition to new offline language packs that give you access to neural network-powered translations when you don't have an internet connection. The update also packs in a phrasebook and dictionary that includes more than 200 "essential phrases and words," Microsoft says. These can be saved so you can access commonly used phrases from your Favorites list.
Lastly, the new "Live conversations" feature lets you join and participate in multilingual conversations across multiple devices. This feature is built for either one-on-one or group conversations and works by sharing a "conversation code" with people that you'd like to speak with. From there, you can speak or use the keyboard on your device and your words will be translated to the languages of the other participants on their devices.
All of the new features are available to check out now in Microsoft Translator version 5.2.0.0 on the Microsoft Store.
See at Microsoft Store (opens in new tab)
Dan Thorp-Lancaster is the Editor in Chief for Windows Central. He began working with Windows Central as a news writer in 2014 and is obsessed with tech of all sorts. You can follow Dan on Twitter @DthorpL and Instagram @heyitsdtl. Got a hot tip? Send it to daniel.thorp-lancaster@futurenet.com.
Features are great but they should add more Indian languages first. Been expecting 'Tamil' for years.

it does Tamil if you are referring to translator

The app page on the Store no longer lists Mobile.

"AFTER" (all caps mine)... "rolling out some AI-powered goodness to its Android and iOS Translator apps in mid-April, Microsoft is now turning its attention to the Windows version." I think this clearly shows why BUILD 2018 is NOT sold out. Unless they alter course by year's end I really don't think there's a reason to hold BUILD 2019. The simple and strong word "development" has become a dirty word at Microsoft, replaced by fancy, dandy words like "hybrid cloud" and "intelligent edge".

"I think this clearly shows why BUILD 2018 is NOT sold out."

It's not because Google I/O falls on the same days, different state? Not even a little?

Brilliant app. Wish the mobile updated to be like this ☹

this app has literally the ugliest and stupidest UI ever created. Its designers and developers are the most mediocre and talentless people ever born, that should be fired and never hired anywhere else

Better treat yourself that way first.

I don't create crap products! My boss and customers see it and that's why I am still hired.

Remains to be seen. But, tell you what, name it and let's put it on the front page of Windows Central and let our audience rate it.

I know the app's icon is green, but..., no need to fill entire window green. Hurt my eyes!😵😌

The app is not green. It's an intro card you're seeing in the article.

If so, why still/must used said color? It's still...🤷🏼‍♀🤦🏼‍♀

Are you confident that if you lined up 100 people they would all (or even most) agree that green is a color that should not ever be used, even for a single tutorial card you literally see one time after you run the app on its initial start?

Apps is no longer for windows phone, removed it to install updated version and now I can't install it anymore. Sucks

Why this crap still doesn't have synonyms and transcription like Google Translate in 2018? Just tested both this and Google Translate with a paragraph in Romanian - Results: Google Translate is like an absolute native Romanian speaker. Just amazing how damn accurate it is! Microsoft's Translator looks like a complete retard and jungle boy Tarzan trying to talk.. absolute nonsense. Shame on Microsoft and all their BS about AI/ML that they promote. Pathetic compared to Google in almost every aspect. No trolling, just telling the truth that obviously can be seen and measured this time. Sorry about butt-hurts

Don't worry, it's the same for both Portuguese and Norwegian, from English. I can NEVER trust the results, whenever I try to use the words from the app, people just stare at me and tell me "that's not the right word". Useless app.

Indeed, this makes it absolutely useless for what it is and what it does. No different than a fart app, if it doesn't serve you for what you are using it for, no point for it to exist. Microsoft are big on words and promoting their ML/AI efforts on stage, but the reality is they are light years behind Google. No matter how hard they try, Google is always beating them hard. Azure ML/LUIS this, Azure AI/LUIS that. Come on! You are so far behind that probably Apple has more advanced Data/AI back-end. Big words, and only failures. Just friking look at your translations and compare them to Google... then talk about how good you are at cloud and AI and know your real place! Truth is noone can beat Google at Data now, which is the essence of AI and Translations, currently and I mean NOONE can beat Google Search engine! Bing and its back end are bad jokes. If you could understand how bad the Romanian sentences were translated you wouldn't even laugh, you'd probably cry out of shame, and yes, I am 100% sure it's the same sh*t in other languages. Microsoft are so pathetic. Like, come on, Nadella, is your team that mediocre at almost everything it produces in terms of actual product quality compared to competition in every possible area? (and btw Azure is so unstable and buggy compared to AWS's portal...)

...and yet Microsoft Translator has 30K reviews in the Store with 4.3 (out 5) average rating for Windows 10. For Android, it's 4.6 (out of 5) with 180K reviews and over 5M downloads. (Google Translator, meanwhile, maintains a 4.4 rating (out of 5)). I find your comment hard to reconcile with that. Care to explain? Or rather, care to justify why anyone should take your unhinged rant seriously?

Do you actually speak any other language than English fluently enough? If answer is Yes, then copy your entire comment, paste it in both Google Translate and MS Translator and compare the results. Then Ill be right here waiting for your honest opinion, and see if the numbers you just pulled out actually even mean anything at all. (Hint: they do not). And then I care you to explain how I am bad at explanation with my "unhinged rant"... Waiting Dan, share the results with us, please!

At last! I use translator almost every day. The old one was total crap when it comes to usability. The new one looks promising. Let's see - only time will tell!

No update in Mobile though.

translation into different languages is possible, but still not all languages. The achilles heel of the app and Cortana.
Windows Central Newsletter
Get the best of Windows Central in in your inbox, every day!
Thank you for signing up to Windows Central. You will receive a verification email shortly.
There was a problem. Please refresh the page and try again.