Microsoft Translator is a must-have travel app for Windows 10 PC and Mobile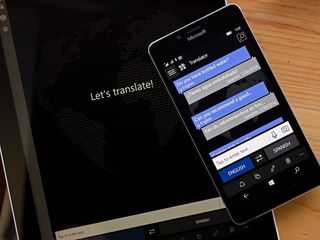 If you are traveling abroad and don't speak the local language, you don't need a phrasebook anymore — you need Microsoft Translator. Available for both Windows 10 PC and Mobile, the app can translate text, audible phrases and printed material into a number of languages.
The interface is simple and straightforward with some of the language databases available to download for offline use. Otherwise, a data connection is required. We have seen Microsoft Translator grow over the years from a basic translator app to a feature rich communications tool. It is a must-have app for anyone who needs translate foreign languages.
While we tested out the Windows 10 Mobile version of Microsoft Translator, the app's interface is consistent with very few deviations when used on a Windows 10 PC — most differences come down to the increase in screen size.
Translator opens up to the main translation screen where you can enter text or audible phrases for translation. You can also launch the camera to translate printed material (road signs, billboards, menus, etc.). A menu rests in the upper left corner that provides you access to your language choices, offline translation, favorite translations and the app's settings.
At the bottom of the Windows 10 Mobile version, you will find your selected languages and options to share, copy, edit or delete a translation. A similar layout is present with the Windows 10 PC version.
Settings for Translator include:
Clearing your translation history
Turning on/off a Spell Checker
Turning on/off the Word of the Day feature
Choosing the language for the Word of the Day
Selecting dialects for select languages
The Word of the Day feature will display a new word to learn when you pin the Translator app to your Start Screen. It is a nice feature to familiarize yourself with a new language.
As far as the translation languages are concerned, they span everything from Spanish to Klingon (yes, Klingon — qapla'!). Translation's available in three different methods: text (51 languages), voice (18 languages), and camera (22 languages).
The camera translation is possibly the coolest feature. If you are dining out and need help making heads or tails of a menu, just launch the camera feature and fill the frame with your menu. Once everything comes into focus, the app will superimpose translated text on the screen. You can capture the image to share or simply save for future use. If available, the captured text can also be translated and spoken aloud by the phone.
Of the 51 total languages, 17 are available to download and store on your device, letting you translate without having to rely on your data connection. Each of the downloadable language packs support the same translation methods (typing, voice, and camera) as when used online. Downloading these packs before setting out on an international escapade will help you to keep translating while avoiding being hit with painful roaming data charges.
A Rosetta Stone for Windows 10
Microsoft's Translator app has always been a quality app to help bridge language barriers and through the years, it has only gotten better with each update. The interface is simple and the translation library has a broad range of languages. I just wish the translation methods were consistent throughout the language choices (and that Latin was also included).
The audible recording was accurate (even with my Southern accent) and the playback offers a mix of male and female voices. Translation speed was quick for text translation or voice translation. Camera translation took a few seconds, but nothing overly dramatic.
Translator is a great tool while traveling, not only to let you find the right words to say but also interpret what's being said to you. Even if you don't travel much, the free Microsoft's Translator is a good app to have on your Windows 10 PC or Mobile devices just in case the need arises.
Download Microsoft's Translator for Windows 10 PC and Mobile (opens in new tab)
George is the Reviews Editor at Windows Central, concentrating on Windows 10 PC and Mobile apps. He's been a supporter of the platform since the days of Windows CE and uses his current Windows 10 Mobile phone daily to keep up with life and enjoy a game during down time.
This truly is a fantastic app. Been using this for a long time already and indeed a must have! Offline dictionaries are an awesome feature!

Its an excellent & very helpful app.
The Word of The Day is one of my favorite features.

It's good but , doesn't even get close to what google has , it misses alot of words in my local language and gets them wrong

Not correct, it´s works absolutely great.

Too bad though that it translates into brazilian-Portuguese instead of proper Portuguese. It's my only gripe with the app.

Config > Voice Language Dialects>
Portugues (Brazil) -> Portuguese (Portugual) ;) Or even with that it's broken?

That only considers the voice and dialect you listen to when you want to hear how the translated word is said. I was talking about the translation itself.


Doesn't even stand a chance in front of Google translate!

Is dat echt zo? Heb serieus mijn gerede twijfels daarover. Ik geloof niet dat google echt beter is, dat het vaker gebruikt wordt moge duidelijk zijn daar de meeste mensen alleen maar Google kennen en daarom geen gebruik maken van andere diensten......So Google that ;)

Use the app. Dutch -> English.

This sounds like someone who hasn't use Microsoft Translate and just wants to bash.

A Android spy has infiltrated the Windows Central Resistance

Please Microsoft, bring this app to iOS as soon as possible...

Your wish will be granted.

Not sure if you're being sarcastic or not, but it has been available on IOS for a long time.

Many years ago I think this used to be ahead of what was available on Android, but recently it's fallen quite a bit behind IMO. The Windows 10 refresh provided a nice visual overhaul of the app, but the translating itself doesn't seem to have gotten any more reliable. My biggest gripe is the lack of Japanese support through offline dictionaries or camera translation. As someone who travels there for business, it's a sore point compared to my co-workers using Android devices. Different strokes for different folks I guess, but MS as a whole seems to be ignoring the Japanese market. Really wished they put more emphasis there rather than developing something like Klingon.

I was excited when I tried this..because it has japanese on the icon! But was disappointed

coming soon : an even better version for iphone !!!

Should be preinstall from now on

Does it have Japanese translation through camera now? I've tried it before but nothing on the *** side..even when the logo has it.

Nope, unfortunately not. Not sure why Microsoft seems so hell bent on ignoring the Japanese market. Hopefully in time things will get better though. 3 years ago, Bing maps was compeltely unuseable in Tokyo, had to resort to GMaps Pro instead. Recently at least that seems to have gotten better though. It may also be related to shifting away from using Here data. If you look at maps.here.com, Tokyo still looks completely barren.

The app is okay, but not good.

Yeah.. Good one. I've heard about the app improvements, new features and added languages in W10M. Been using it in WP8.1 for a while. I hope I'll be more than satisfied when i get hands on the W10M.

This worked flawlessly for us on our Euro vacation. Menu's, speaking with locals and reading signs st tourist attractions.

No good for Russian. Sometimes I need to translate English words to Russian on the fly and it misses, I would say, 80% of the time. Very specific nouns are ok (ones that don't have one or more meanings), but verbs and phrases?? Forget about it. Open up Edge and go to Google Translate website. They are at least 80% right.

Rosetta stone :) Lol
@George this is awesome, I love this app, hopefully exclusively on wp.

It's totally dumb when it comes to China. If you ask for a translation of an English term, it translates it into Chinese and presents it to you in Chinese language with Chinese characters you have no idea what they mean or how to speak them. In other words, you have to be able to speak Chinese to use the software. So what's the point? Why doesn't it present a Pinyin version of the Chinese translation so you can at least speak what it says? Duuuuuuuh. Totally dumb.

Well, there is a play button so you can hear how it is spoken.

It did a good, speedy job translating signs at work from Chinese to English via the camera on my L925.

It has a button to tap to that tells you how to say it!

I work in an airport and I use this app almost daily.

How about bring back "bing vision"? Oh while we're at it QR scanner as well.

Doesn't support Bangla Language.

Windows 10 made me Trade my pc lol..

Yes, if it Supports all languages like google translator...then it is the best. otherwise ---

Japanese support is crap though. Who gives a crap about Spanish

People who speak Spanish, I suppose.

People who speak Spanish...and most of the population of the united states

who gives a crap about Japanese?

Great work Microsoft! This should be preinstalled app in W10M.

Cannot install this app anymore since I bought a 950xl. Had this app running on a 1020 before that was sporting the insider preview. If I try to install it now it end the installation with an error that always has a different error code - very annoying.

This app is a joke compared to Google translate.

Why, I just install it a 950 XL, maybe you need to install it on the phone, instead of the memory card (SD). Sometimes it´s necessary to change to the device. It´s the same with WhatsApp and Skype. After you install it you switch back to SD.

Alot of Google/Android fans in the comments lately

Many windows fans went over to Android after the fiasco that was 2015 from Microsoft. We still come in to check how things are holding up. I still run inside builds on my 635. It's like checking up on your ex. Posted from my Note 5

I was giving this app a workout on a Lumia 735 recently when travelling through Colombia. I had the offline Spanish pack which worked well to translate typed text and images quickly into text all without an internet connection. It's amazing. Tried to google alternative on a friends android phone once they saw what this could do but the offline features of Google's offering is severely crippled to only translating typed text and no images.

Its database is so primitive

Why my mic and camera button on translator app is disabled?

It's a good app. We teach English conversation in Japan, and although this (and Google translate) still have a way to go, apps like this really do help people a lot.
Windows Central Newsletter
Get the best of Windows Central in in your inbox, every day!
Thank you for signing up to Windows Central. You will receive a verification email shortly.
There was a problem. Please refresh the page and try again.