Microsoft updates Bing, gives us proper navigation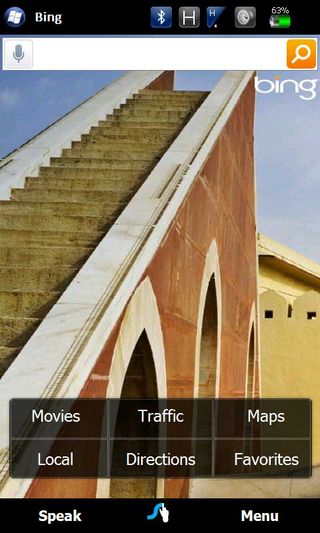 In a move that may console some of your concerns about the future of Windows Mobile 6.x, Microsoft has updated its Bing application. While the version numbers don't seem like a big jump (5.1.2010.3290 to 5.1.2010.5040 is what we're seeing on our phones), there is some new functionality that a lot of people have been pining for.
Bing (and its predecessor, Live Search) have offered minimal navigation options in previous iterations, but as of today Bing offers voice guided turn-by-turn directions. (Huzzah!) Settings include the choice between the fastest or shortest route, avoiding toll booths, avoiding traffic, and voice guidance. Get the latest and greatest version from http://m.bing.com/download/. More information is available at Microsoft's Bing Community Blog.
More screen shots after the break. Let us know your thoughts in the comments!
Windows Central Newsletter
Get the best of Windows Central in your inbox, every day!
Daniel Rubino is the Editor-in-chief of Windows Central, head reviewer, podcast co-host, and analyst. He has been covering Microsoft since 2007 when this site was called WMExperts (and later Windows Phone Central). His interests include Windows, laptops, next-gen computing, and for some reason, watches. Before all this tech stuff, he worked on a Ph.D. in linguistics, watched people sleep (for medical purposes!), and ran the projectors at movie theaters because it was fun.
Awesome...I've been waiting for this.

Now its worth installing again! One wonders why MS wasnt pushing applications like this to WM before now, but late in the day. This new version should be exclusive to WM but MS seem to love the iphone so I doubt that will be the case...

Why limit Bing to WM which is, so far, only losing market share when you can target it on more platforms like iPhone and Android? It's not like Bing has the same sorta tie-in to the mobile OS that for example Googles services do for Android. The business model between the two is a little different.

Wny not limit it to WM? Then it transitions to WP7 as an exclusive Windows Phone feature and 1 positive reason to buy a Windows Phone. Do you see google navigation on WM currently, or on any other platform? Does apple's mobile me support other devices besides their own? If MS wants to have some kind of differentiation for its devices this is the kind of program that can do that. You seem to be missing the point, all the WM exclusive features of the past like exchange activesync are the same features being used by their competitors to generate sales while WM sinks. If MS is going to give away all their core services to competing platforms, why bother with a mobile platform of their own at all?

Bing exists for iPhone. On Windows Mobile, unless you live in the USA and use specific carriers .... Google is doing a much better job with mobile search on these devices. Much better. You can travel with the device and still use location based search. Google Navigation isn't available for Windows Mobile - but they are already developing it for other platforms than Android -- I'll bet Google has Navigation available in Canada and most G20 nations before Microsoft makes this available in a country other than USA, UK, Italy, or France. If MS limits this to a Windows Phone 7 feature, they're shooting their own left toe off in the International Market. Really, does anyone in Germany, Japan, Russia, Canada, Australia, CHINA, India, Mexico , etc etc etc give a hoot about Bing --- it's not a selling feature in places where you boot up your new Windows 7 phone and the search app says "We're sorry, but your location is not supported. Please check back as we'll be adding locations soon" while the guy standing next to you is saying "Pizza" into his Android phone or Blackberry and getting turn by turn directions. Microsoft is selling vapourware just like IBM used to. We all saw what happened to IBM's world dominance.

NICE! Looks very functional.

Well, nice to see another big update that ignores Canada. I can't say I see too many Windows 7 Phones selling here in Canada. Google offers directions in Canada, and I can get street view in 3D here - and now I can use voice search in Google Maps on my Windows Phone, and on my Blackberry. Hell, I can't even get distance units in kilometers here -- every GPS and mapping device has that as like the second option in the initial config. Bing mobile is a waste of memory on my device as long as they ignore the entire country. USA's closest friend and trading partner my foot! Android, iPhone and Blackberry are very well poised to wipe Microsoft - literally - off the map here in Ontario if this is what Microsoft's offering is. Why do they even bother having Microsoft offices in this country anyway??? -- http://appserver.m.bing.net/webdocs/en-us/wm/help.htm "Q: Where can I use Bing Navigation?
A: Navigation is currently available in the continental US, Hawaii and Alaska. Routing through Canada isn

Don't feel bad Canada. It doesn't work for the largest cell provider, Verizon, in the US either.

I'd feel less bad about it if they'd just come out and say that Microsoft does not support Canada, and never will. To access location based services in your location, here's a link to some nice Blackberry and Android devices. I've been looking at a "Canada: Coming soon" message for three years now on MS' Live/Bing services for mobile. I no longer believe them.

Wait it doesn't work at all on Verizon? I thought it was just my Omnia. WTF VERIZON?

Probably because Verizon wants you to use their own pay version, rather than the free Bing application.

I've been using it today. It's very, very good. Yes! (Finally)

I've been using it today. It's very, very good. Yes! (Finally)

Wow...nice job MS. Great functionality is back in bing. My only issue is with the speed of the app. Running it on a Tilt 2 with one of NRG's roms. Scrolling through lists of movie times, and sliding around the map is nowhere near as smooth as google. However the addition of turn by turn is huge! Even if I end up using Bing only for directions it's worth it to have it installed. Syncing favorites to our live accounts would be nice too.

Well it's about F'ing time! Seems to work on my Tilt 2 w/ NRG 21903 ROM, but I guess the real test will be when I take it on the road. Google Maps and Copilot have been my main mapping software on my phone, but Bing will be the new sheriff if this works.

After reading many of the Bing blog comments, I think I'll skip this update. I don't like that people are complaining about lost functionality and I already have Sprint Navigation on my TP2 which does turn by turn so there's not much added value with this, at least until the lost-functionality complaints are remedied - if ever.

Turns out it works fine on my Verizon Touch Pro 2. Don't know what people are talking about when they say it does crazy things like launch VZNavigator.

Flashed my Omnia i910 (Verizon) with an updated build of 6.5.3 and then the marketplace prompted me to download this new version of Bing. Okay, so I do it, get it installed, fire it up start using it and then a minute later Bing pops up a message saying my device isn't supported. I won't even let me install the December version, so I'm SOL. /sigh I guess I just need to dig into the cab and see if I can rip out the device check or something.

Yet another US-eless app, if you don't live in the US and happen to have the correct mobile carrier. Why do US companies keep living the fantasy that the US market is all there is? Come on, M$ has been around long enough to know that outside the US is where the money is at.

Visit http://www.mobilereflex.com in particular, can help streamline the way healthcare professionals enter, access, and share data, resulting in improved healthcare at reduced costs. Patient care is an inherently mobile proposition, and innovations in hardware, software, and wireless are needed to distribute data and make it available to clinicians.

The best iPad Video Converter software can convert to iPad format from AVI, WMV, MPEG, DivX, XviD, VOB, 3GP, FLV, SWF, etc. to iPad MPEG-4, H.264 MPEG-4, MP3, AAC, AIFF and WAV. Meanwhile, it can be so easily realized to split file into clips, alter video dimension, brighten video and strengthen contrast. Users could customize individualized videos with your text logo or image. Free download the iPad Video Converter and enjoy unprecedentedly pleasant enjoyment.
iPad to Mac Transfer
iPad to Computer Transfer
DVD to iPad Converter
iPad Manager
iPad Transfer
iPad Converter for Mac

The bing voice search does not recognize any request on the Sprint Touch Pro 2. There need to be an update for this bad. The Sprint Store found the same problem on all tp2 phones with WM6.5 installed.