Microsoft updates Sway presentation tools by letting others collaborate on projects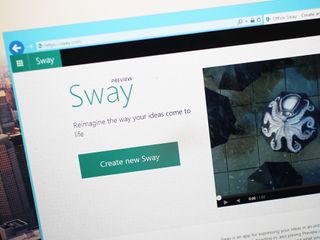 Microsoft has updated its Sway web-based multimedia presentation tools yet again. With this update, any project created in Sway can now be edited by more than one person.
Microsoft says:
The update allows Sway creators to keep track of what other authors are working on their project, along with which sections of the presentation they are editing. Any editing permissions can also be revoked if need be by the original author of the Sway document. Microsoft is also rolling out a way to create a quick copy of any Sway project for situations such as making a basic template of a report that others can change if they don't wish to start from scratch.
Source: Microsoft (opens in new tab)
Windows Central Newsletter
Get the best of Windows Central in your inbox, every day!
Still waiting for WINDOWS app!

Is there an Android app or only ios still?

My grup had started making our projects presentation on sway. But the presentation got cancelled for some reasons.

Too bad you can't create and play locally. Not a tool to present sensitive information and someone else hosting the presentation sucks. If this functionality could be integrated into PowerPoint then it would be great.

Dear Windows Central team: Could you please stop reporting on this app, because it has nothing to do with Windows.

I think it's directly related to office, and office is related,to Windows

It is used by many on windows in IE, working with Bing and Office.

WindowsPhoenix Sway is an awesome tool which is part of the Microsoft Office Productivity Suite. Its very useful and its applications diverse. It's pretty simple to use as well. Microsoft which is expanding its "Microsoft" brand came up with a great platform agnostic tool in Sway that anyone with an idea can really create something useful. Windows Central reports on the Microsoft ecosystem of products and services. Sway is a growing part of that. If you'd like you can check out my use of Sway in my latest piece "AI Wars Part 2: Hey Cortana Watch Out Apple May Have Given Siri a Nasty Left Hook", here on Windows Central. ( You'll need to view the article in the browser as the Sway won't be visible in the app)
The author of this piece, John Callaham, has done a fine job keeping us informed on Microsoft news:-)!

@Jason Ward:
Checked it out. It worked like sh** on my Lumia. Stuttery, laggy, grainy. Simply an awful disgrace to look at.
It's not like I didn't know what Sway was beforehand, I'm simply sick of reading about stuff that shows how Microsoft neglects their own ecosystem (talk about "Windows best", eh?).

Window central writes about anything related to Microsoft.​ This is related to Microsoft.

What about an application for windows phone

@orwae52:
Not under Nadella's watch...

And they've launched on other platforms today too

When,we have app for windows phone.

Hi wpkevin:
Just keep in mind its market position. Sway is not meant as replacement to PowerPoint. It was actually added to the Office Suite leaving PowerPoint in its place. With Microsofts goal to brand itself as the "productivity platform"(work and personal) it needed an easy to use tool, that works across platforms that competed against other tools in the space that did similar presentation functions, and are easy to use/format.
What it does, is provide a easy method for a progressively mobile populace to create easy to share, was to update, presentations. Some individuals find PowerPoint difficult( not everyone) and will never use it unless they have to. Sway, especially as apps are made available on all platforms and become more mature, and the web interface improved, Microsoft will have positioned itself to to have an available tool that makes creating simple presentations easy for virtually anyone from anywhere. PowerPoint's not going anywhere:-)