Microsoft wants iOS developers to submit their apps to test on its Windows Bridge porting tool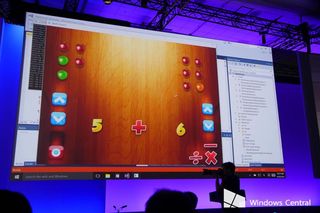 Microsoft is continuing to work on "Project Islandwood", its effort to port iOS apps to Windows 10. The company plans to launch a web-based tool to analyze iOS apps and is asking those developers to submit their IPA files (essentially the binaries and assets that compose an iOS app) so they can be tested with the tool.
Microsoft states:
Microsoft released a preview of its tools to port iOS apps to Windows 10 in August as an open source project.
Source: Microsoft; Via: Frawin
Windows Central Newsletter
Get the best of Windows Central in in your inbox, every day!
I hope Schwab is reading this.

When it actually launches, I'll be sending the link to several developers/companies. :)

Start sending this link now to developers. Might as well keep them informed, if they aren't watching already. Perhaps they can get a head start by submitting their IPA. I sent to a contact at Teamstuff.com.

Just sent to Trello & Coffee Meets Bagel. I'm trying to find a good way to send to Amazon for the Prime apps.
Maybe we should send to the Microsoft Garage, too! ha ha

And it's their choice whether they play ball and make use of the tools. Major devs have had access for a while but, so far, there's a lot of ambivalence. Hope that changes.

Where are you getting your insider info on what developers have been granted access and are ambivalent?

I own a hedge fund - also part of a conglomerate - msft have approached ALL the major institutions. MSFT are trying to make strides in enterprise; their programmes are in demand: On competing platforms for mobile. No one cares about their mobile offering. That may change, out is early days though, this far, that hasn't tracked. Fire the consumer sides of things, well there are markets where the cheap offerings sell, and others where no one cares. Again, this may change - I will say that the apple ibm cisco tie up is finally paying dividends for Apple ( until recently it was a bit of a non starter) and giggle with Knox is also finding traction. That's just how it is. I'm sure things can change.

I do hope it changes. Sending the I fo to customer service of desired companies may inspire some action from within as well.

I gave up on Schwab. Switched to fidelity and their app works great. Everything else is better too.

Why can't they just make this like a virus and it automatically converts all apps to the Windows Phone? :)

Td ameritrade is apparently working on one which is good. This is the kind of business that shouldn't be so sensitive about user adoption as something that is an advertising driven service like facebook in my opinion as revenues are tied to an external product rather than the app itself, which is more about convenience, acknowledgement and service of its customer base.

Love how MS is trying to run everything...... Basically, if this gets support from IOS developers, there would literally be no reason for people to get an iPad anymore.

So you think people buy apple products because of its app store?

I would say that buy them in large part because of the App store.

That's why I brought an ipad mini.

Yes, app store is exactly the reason, you can just see how much (or rather how little) share do Mac OS X products have comparing to their iOS brothers.

As if there was any other reason. If Microsoft somehow got even 50% of apps from the app store. Then apple is done!

Yes, otherwise there is no reason to own an iPad, or any other tablet, unless you want to use it as a browser Posted via the Windows Central App for Android

That is the only reason why I have an iPhone 6.

Besides wanting to pay a higher price for a product because it is, you know, cool, apps is probably the #1 reason people buy/bought iPads. ;)

Nope, common people buy iPads and iPhones because is a trend and everyone has one, simple as (most of them don't even know what they can and cannot do with them...)

But they don't. Everyone has an Android device first. Outside the US at least.

Yes. the original iphone sold ok for a new product when it launched, but it wasn't massive success. The introduction of the app store and carrier subsidies made it a huge success. How useful is an iphone without those apps? Do you really think so many people would buy it if only Apple's 1st party apps were available?

With carrier subsidies going away, it's down to just the apps being the reason for success. That, and people with the mentality, "It's the only thing I know."

I would say many do, others are basically tricked intot hinking they NEED an apple device, some don't know there are other options, some are basicaly fanboys(girls)

that and ecosystem lock-in.

The brand name matters for some.. So there are 1000 reasons to buy an iPad for those who love Apple products.... Let's not blind our eyes and say it's dark.. ;)

And price matters for many others. hence the success of the PC over the Mac. If you have the same apps available, many people would by the less expensive product and there are many good windows tablets available that can not only run those mobile apps but also x86 apps.

That market is already filled on mobile, by Android devices. Android is the 'Windows' of mobile. Microsoft was just too late to the game, and even once they entered it with WP7, their development was just too slow, with one too many restart/do-overs with WP8/8.1 and now Windows 10. At some point, consumers get fed up and leave, hence the drop in marketshare for Windows phones from 8% to currently around 1-2% globally.

It's too late now, app store had everything 4 years ago. think people switch thier tablet from iPad to Surface? lol

people know that surfaces are essentially ipad + laptop and that they work well, so if they had the apps of iPad they'd know there's literally no reason to buy an iPad then. Apple shills are a different thing

Let me know when you can download Steam on an iPad Pro. You can play games like Fallout 4 and GTA V on a Surface Pro 4 Core i5 8GB RAM.

yeah, but we are talking about app store and tablets ...

and we are also talking about porting IOS app to the windows store. If major IOS developers do this, you would get the IOS mobile apps, steam games, and all the other x86 apps. What would be the the point of getting that Ipad Pro considering it is a very high priced tablet.

You're comparing apples with oranges, you're comparing a PC OS vs a tablet OS, the point of a tablet is to have touch friendly software to go with it. The Surface is basically a PC that happens to be touch sensitive, whereas an iPad is touch friendly, you see the difference?

Nope. The surface is just as touch friendly as the ipad if you are using the universal apps. It's only when you use the older x86 apps that were never designed for touch that you have to start using a mouse. Luckily, the surface switches between those 2 uses very easily. Disconnect the keyboard and you have a tablet just as good as the ipad. Connect a keyboard and get the desktop and you use it like a PC.

And that is the misinformation that has spread among Apple fans. They think the Surface is a PC first, tablet second, when in reality, it's a touch PC first, period.

Really? So Microsoft should just close up shop? People are so ridiculously negative

I guess I have to tell my 6 year old she has to give up her iPad Posted via the Windows Central App for Android

Yep, it's good for playing kids games on.

My 10 year old is the only one still using the Ipad. My wife and 16 year old daughter gave up on it a while ago. They stll use their iphones as primary consumption devices but when they want to watch a movie or do any work, they pull out their laptops. Frankly, if all the games were available on the surface, why would your 6 year old care?

I agree. One thing about ios is that it's dumbed down enough that mostly anyone can do the basics with it Posted via the Windows Central App for Android

You know that iPad sales have been on a steady decline over the last two years right? Besides, Surface competes with the MacBooks. If they pick up a Surface Pro, they'll end up using it in tablet mode when all they need is a consumption device. They'll still use the iPad, but it will be less and less. It still has the apps/games, so the app store is very relevant for now.

If I knew it also had all those same apps it wouldn't even be a debate. I'd go for the Surface.

iPad sales has been dropping 20% per quarter for the last 3 quarter while Surface tablets are rising. The fast growth of W10 will change everything.

Actually, I know several people that switch to Surface from iPads, they got the ease and lightness of a tablet and still have a real PC.

Not surface exactly. But it is happening. Windows tablets are starting to increase in sales. Desktop + App store is an interesting thing. Desktop + Good App store is a no brainer for most people.

Yet people will still buy them because that is their choice, so there will still be a reason to buy an ipad or anything else they choose.

Other than it starts with i and that's all they care about.

The only issue here is... Are you really going to spend hundreds (possibly) of dollars to convert from iTunes and app store? That's what it would cost. Some have the entire (if not more) cost of an iPad just in apps alone. It would certainly make an other item more appealing to first time buyers or those without much invested, however.

That's a ludicrous assertion. Not all apps are paid, and the average user has not spent hundreds of dollars on apps.
I used to work in games, so we researched how many people spend money. Let me tell you... its not many. I know its not an exact comparison, but less than 10% of people who use smartphones (or play games) actually spend money on app purchases. If the apps are converted over, the biggest problem would be platform specific save data (cloud saves, for instance). For banks, investment firms, photo editors, etc... there would be no problem converting over.

The vast majority have free apps only. Rarely do people spend much on these devices. Apple customers on average spend more, but when it comes to paid apps, they give away so many through sales and promotions, and the typical user has few apps to begin with that they actually use, let alone pay for. There have been many studies conducted on this. The most recent I found was from 2 years ago that said users have 5 paid apps on average on their phone. Another from the last year(2014 in its entirety) had 60 apps on each mobile device on average and 55% of users gad never paid more than $1 for a single app. So 5 paid apps on average and over half have never paid more than $1... That's hardly hundreds of dollars to move over on average. The big spenders are definitely a minority.

My experience is that most people don't have all that much invested in itunes and the app store. Most of the apps people get are free. Itunes is available for PC. So, that shouldn't be an issue at all. The people who have spent a lot in the app store are probably also people who are heavily invested in the Apple ecosystem with the macbook and apple TV and aren't likely to move to other platforms anyways. I've read several reports that the average user has a few apps that they use regularly and the other apps they install don't get used much. Most apps in the store either don't get download or aren't used at all after they are downloaded.

Hope not freezed as astoria :o

We have always had ipads and surface devices around the house for the family. A couple years ago everyone was fighting over the ipad but I watched as even my four year old now prefers the surface and plays minecraft with his brothers using a mouse. I stopped using the ipad a couple years ago as I repurchased my movies library so I wouldn't have to travel with two devices. Only one left that still uses the ipad is my wife who plays a game on it and looks up recipes. That usage is hardly worth $600 or whatever it is these days so I doubt we will ever buy another. Noting that we aren't making a specific effort to move to windows, it was just a natural migration for us with available choices so I suspect it is happening for others as well.

They could start the testing with their own Outlook app that happens to be so much better on iOS compared to W10/W10M...

It's marginally better. Rendering is the only issue I have with it. On my iPad is not any better other than that aspect. What else does it do that I'm not aware of? It is possible you use it more than I do

Woohoo! Let's get this done!

Yeah, this has huge potential. Crucial if WM ever wants to move beyond 3% market share.

Then again, in Europe the Marketshare already is much higher about 10%.

Was. Nadella ruined all the momentum.

This cannot happen soon enough, that being said it would be nice for already established app (I'm looking at you facebook) to have already gotten this treatment...

All candy crush games in Windows are fine examples

The new age is started!! Rise of MS

Dat enthusiasm tho Posted via the Windows Central App for Android

Unfortunately the WinObjC bridge isn't really remotely close to feature complete right now... But this is good progress.

I'm more interested in Win32 porting than this one... Still.. A welcome news.. Keep em coming... :)

I'm curious as to why? Windows already runs Win32. What would the benefit be? Automatic updates handled more smoothly? Certainly, that could be nice, but I actually hate the store model of app distribution, so I'm wary...

Store apps don't affect a user's registry, much cleaner app handling. Better app distribution and monetization for devs as well as being higher profile. It's also a chance to bring back "old" games to the new Store.

@Daniel If we're talking old windows games I would love to see Chuzzle Deluxe from Popcap converted to W10M.

And if they become part of the Universal App Platform that would be killer! You wouldn't need to run x32 apps in windows 10 mobile. Imagine if we could run those ex-x32 apps via continuum

Found this article... explains it pretty well... http://liliputing.com/2015/05/this-is-how-win32-apps-can-become-windows-store-apps.html

Uninstalling an app by just right clicking on the icon without the mess of files or registry entries remaining on the computer. No worries that the program you just downloaded is coming from a reputable site. No more programs installing adware everytime you install an app. Pretty much every utility app I've downloaded attempted to install at least 2 programs or toolbars that I didn't want. Is that enough reason to love the store model?

Yeah, I expect some announcements in regards to Centennial at build in March/April.

Don't expect the bridge to be feature complete anytime soon... the idea of this tool is to help the developer check what is missing on the brigde AND to check what APIs Microsoft should priorize to implement...

Bring project Astoria back ms....bring project Astoria back

You mean that subset garbage that bogged down the whole OS? No, thanks. Now, if they used it for porting (as it was advertised originally) instead of emulation then I'd have no problem with that.

What android only apps are there? That have more than 10k users.

Mostly ones that take advantage of awesome Android only features, so porting them to another OS would have no point. Posted via the Windows Central App for Android

Really? I honestly don't know. What are some android only features? Besides launchers, hacking, system edit type stuff.

I would love to see Torque come to Windows natively. It's an Android only OBD2 car-monitoring app with almost 40,000 reviews on the Play store.

There are OBD apps on WP that work nicely. I have one and a sensor. I guess certain name brands carry weight, but if it is so large it most likely is on iOS too. https://www.windowscentral.com/e?link=https2F%2Fclick.linksynergy.co... http://www.amazon.com/Vgate-Bluetooth-Scanner-TORQUE-ANDROID/dp/B00AAOOQ...

No thanks. Astoria sucks because Android apps require to be emulated (i.e. it needs Android subsystem installed, which REALLY slows down the phones). Islandwood RECOMPILES iOS apps, which then convert them to native Windows apps. This is way better and brings better performance. Plus, iOS apps are generally more higher-quality and nicer designed.

The astoria tool is meant to recompile apps to, but they inserted an android emulator in the os because and devs could test their apps before converting them, and because it's possible, not the same withan ios emulation

If iOS apps are easily ported to WM, then forget about Astoria. Rather not have anything to do with Android versions of apps.

Android apps are usually ports of iOS apps anyway. I'd much rather see direct ports from iOS than second tier ports from Android. If it becomes widely used, it would mean the W10 apps would be released sooner too... Probably at the same time as the Android ones. Of course, still after iOS but that's not bad for now.

No way. Astoria won't work. Maybe in a few years as technology moves forward, but definitely not right now. Be grateful for Islandwood man, iOS apps are damn good.

Great News... I think now things will change with greater pace if this goes successful......

MS might just have to stick to good old fashion bribing to make this work. Perhaps a bonus of X amount if their apps get submitted to Windows Store and another X bonus when the app recieves it's first update.

Or maybe they get expemted from the 30% MS commission on sales for the first 6 months, or year.

I think they should allow the devs to publish and only give 10-15% revenue for a limited time. The reason is this would prompt the developer to work quickly to get the app into the store AND incentivize them to market the app themselves to maximize their revenue. We would see the Windows Store logo on commercials and webpages much more often than we do now. Microsoft really just needs to take the hit on this one. I'd suggest a 9 month period of reduced cut for MS. in the 10th month, the regular 30% would go into effect. If that doesn't spur growth, I'm not sure what will.

And then we will have the same problem of WP8/8.1... apps launched and forgotten...

Not if they actually put apps in the store and people start buying devices! Why would they abandon it if they have a timed period of maximized value? That would get the DEVELOPER to push for people to download the app for Windows 10 on their tablet, phone or desktop. They'd probably go as far as to start advertising the app for Windows 10 on Android and iOS just to get more downloads.

Shouldnt this have been provided right from the beginning?

Only for few developers like King and facebook. No it was pretty basic in the beginning. I think its better suited for games.

"Shouldnt this have been provided right from the beginning?"

Beginning of what? This a project that is in development. They are adding libraries, opened it up on Github, collecting data and info from actual devs. Providing this from the beginning makes zero sense when the project is just getting started. "Here, verify your app works with this bridge that we have yet to complete or even begin". Huh?

This a project that is in development. They are adding libraries, opened it up on Github, collecting data and info from actual devs. Providing this from the beginning makes zero sense when the project is just getting started.

And thats the problem. The project was announced with lots of hype and promises but the reality is it is yet another half baked solution that they are still figuring out and seemingly making up as they go along. I suppose this is yet another Windows 10 feature that will be perpetually "coming soon"......

You're absolutely ignorant of the development process. This isn't half baked, its a project in progress. Announcing it before completion doesn't make it half-baked. And because you've got no experience, and you're knowledge is limited to a semi-retarded fly on the wall, it doesn't mean MS is making things up as they go. They're a large, extremely organized corp who knows how to make software. Guess what... software doesn't take 2 programmers a couple months to create anymore.
Those games you play in moms basement take hundreds of people years to make. Literally.. years. I can't even imagine a project like this.. .creating a tool that analyzes another platforms executable and maps it to your platform, then tells you what you should change to make it work on your platform? Its absolutely amazing technology. Go to bed, young man.. you need a nap.

Devan, you are right. Im a developer and I don't recall ever seeing this kind of technology before. It is truly amazing. Even if it works perfectly, it is still a gamble on whether it will draw developers to the platform but it is amazing and it makes me hopeful.

Yea! And why don't we have zero-point energy already? Should've been provided right from the beginning

Yeah, I was wondering how updates would be dealt with. Would a developer who has already ported an app through this simply re-submit the updated IOS app and would it be less work than submitting the app in the first place?

Islandwood provides a way to import all of your existing iOS code, wrapped into a Windows UWP project. The developers would still be able to update the original iOS app and the Windows app would, by extension, also get the update. The key is the ability to re-use the original code in both places.

I am pretty sure Apple will impose some bullshit TnC regarding submission of iOS apps on non Apple platform.

They can't really, Objective-C is open-source. They already can't block apps on systems like Cordova and PhoneGap, so it would be very hard for them to block Islandwood.

I think Apple and MS has a good working relationship so I dint think this would be a concern. Google however..........

Google wants to see the destruction of Microsoft, and then become the new Microsoft. It's really ironic.

I think they cant, as swift programming language also became open source.. I just thought.. May be i was wrong

This is about developers "porting" apps to run on one platform or another. It would be entirely up to the developer of the app. Has nothing to do with Apple. Just because a developer creates an app for iOS, it doesn't mean Apple has any rights to it. The intellectual property rights still belong to the developer. If the dev decided to port his/her app/code to Windows, it would then become a "Windows App". Apple wouldn't have any say so whatsoever. In other words, the developer wouldn't be "submitting an iOS app to a non Apple platform", they'd be submitting a Windows app. All the content and code of the app still belongs to the developer. Microsoft is simply giving these devs the tools to make it easier to convert what they already have written for iOS into a working Windows app. It's entirely up to the developer where, and which platform he or she decides to code for, and deploy their apps to.

I think he meant apple adding some sort of "non compete clause" to their TnC

I meant something like that.

Like how indie games first had to be submitted on Xbox platform. And then on any other console.

I would think that would be very difficult. Essentially they would have to say, if you want to submit an app for iOS, it must remain exclusive to the platform. I would think Apple would have to offer some guaranteed ROI for something like that.

Thanks for the explanation.

I don't think making it easier to port apps from iOS or Android is going to make a difference...it has to be worth it financially for the developer to take the time not only to develop and port the app but to support and update it as well. A few may try it out as an experiment to see how it goes. I hope I'm wrong...I just traded in my L1520 for a 950, went with 12 month Next, will see in 12 months if the app gap closes significantly (banking and other useful apps...not games), if not will switch to iPhone (Even though I dislike the cumbersome and disorganized GUI and lack of features). Really love WinPhone since 7 and want it to succeed.

Ummm, Microsoft is betting on 200+M Windows 10 users as an incentive for devs. Last I checked, that is a lot of potential people to buy your app or game and that number is only going to grow.

Developers can choose to post app for PC only in the store, otherwise why haven't they been posting before?

The problem is that many apps only are useful on mobile devices, such as the Starbucks app. Posted from my Moto X Pure Edition via the Windows Central App for Android

Completely off topic, but that Moto X, is that a decent replacement for a L830? Tks

Yes. Bigger screen, faster processor, more RAM. Posted from my Moto X Pure Edition via the Windows Central App for Android

Islandwood is for tablets and PCs as well.

In this case easier = cheaper. Updating would probably be easier(cheaper) too

There's always someone repeating this. It's as if they think anyone who has developed for this platform is just dumb and not interested in making money. This "analysis" also ignores a drastic change in the cost of production variable. If a developer is able to port with some tweaks, that's a lot less time/effort/money that goes into bringing the app to Windows. I imagine that porting the updates would be even faster/easier.

Then analyze this...why aren't more developers creating and posting apps in the Windows Store (phone not PC)? It's about profit. Hell, Windows Central hasn't even jumped on the UWA bandwagon.

You assert to know what is and isn't profitable. Are you saying that all who DO develop for phone are just stupid and need your insight? This is a moving forward issue. Are you denying the role of this NEW tool in decreasing the cost of production, an important variable in the concept of profit?

Stupid....no....there are developers who love the platform or who juat want to make it available across all platforms, just as there are people who would continue to stick with a WinPhone if there were only a few apps available apps available Will the new tool make it easier to develop? Probably, but profit is the main incentive, if it wasn't WinPhone whould not have the app gap problem...if the Windows PC didn't have the market share it does it would be in the same boat, so as for my insight try not being naive and look at this realistically, I really love WinPhone....I have always thought it's the best there is....hate Apple and Android sucks, but you either WANT to succeed or not, you can't go in half-baked and I think Microsoft feels they make their money on software, hosting and such, WinPhone if it did go away would not hurt them a bit in the pocketbook. And as for needing my insight I guess no more than they need yours.

@Michael_JL Actually Windows Central has been working on its universal app for some time but it is still in beta. It has also been said many times on this website, by people who are actually developers, that it takes months to create an app. You are making assumptions about what is and is not being developed by a network of people that you are not plugged into. Unless you are a developer yourself and have inside knowledge, you are jumping the gun and rushing to conclusions because the store isn't growing fast enough in the arbitrary timeframe you have in your head.

it release in August 2016 !!!! Mean later this year.

Keep in mind that you are not Satya Nadella or even Bill Gates.. Don't act like CEO..They are already making impossible into possible!!! So keep quiet

Cool cool cool. Keep the momentum going. Always have been awed by how aesthetically beautiful, fast&fluid and polished iOS ecosystem is. Hoping same quality or better comes to Windows ecosystem.

If they're trying to get Islandwood working like Astoria did, this would be great!

by looking at image above, I thought this was for bringing iOS tablet apps to Windows 10 desktop, not for bringing iPhone smartphone apps to Windows 10 Mobile, can you confirm?

iOS for tablet and phone are the same. This does both.

Thanks for the response, it is known that iOS has very well designed apps for tablets that need a large screen, so these would work great on 2 in 1 convertibles running Windows 10.

Is that sarcastic? Because Astoria didn't work at all haha

I meant like sideloading apps

Actually you can tap xaps in your file explorer on the phone and install it

Is this bridge primarily for games?

Games already run on Windows 10 devices like Surface Pro, just need Bluestacks 2, no need to reinvent the wheel.

But why go through the trouble of getting bluetsacks when you can have it downloaded right through the windows store

No, but Games are most easy to port.

We need iPad/iPad Pro apps on Surface Pro 4/Surface Book. For mobile apps like games, Bluestacks 2 does the work already by letting to sideload Google Play apps and games. BTW this is for WIndows 10 desktop right?

No, this tool is to convert objective-c code of ios apps in native code to be compiled in uwp apps

I'm giving the app problem a year to get better. It it doesn't I will completely abandon Windows mobile and switch to Android for my mobile and apps needs.

That's crazy. If you were going to switch to another platform, why wouldn't it be iOS? Android bogs down, has security problems, and just sucks overall..
I really don't like Apple, but they're the obvious choice after Windows 10 mobile, not Android.

Agreed. IMO android is just the poor mans iOS and always has been. If you want the best, you go with iOS. If you want a cheap alternative, you go with Android.

Hate to say it but I have to disagree. I have been a long time windows phone user since Samsung focus. I have been using an asus zenfone 2 for about a few months and although it is considered to be mid range, it runs extremely well. I still favor the lumia and will probably be back when the uwp matures. I have also owned several iPhones and they were OK. All the current smartphones midrange and up run prett good. It all boils down to user preference at this point. Posted via the Windows Central App for Android

Or, why wait? Microsoft gets ultimatums like this daily. Gotta be tiresome, although they probably ignore. In my opinion, I haven't seen Microsoft this energized in years.

It's not affordable for all. So, don't be silly asking "why not Apple?" Apple iOS is really the smoothest OS right now, imo, but it costs a good lot of money dude!

Why wait? Go now! Shut the door on the way out...

the web will say. you will need to do 99% work. lol

The devs of these apps need to do this asap: AT&T UVerse, Direct TV, Dish Network, Comcast, Vudu Player, AMC, Amazon Prime, Chase and other apps that are on Windows already but don't have feature parity such as TNT, TBS, Flixter and LinkedIn. AMC already has a windows pc app and it is a very nice app. You can shrink the width of that app to a phone screen size and it responds appropriately which means it might be a universal app so why they don't have it on Windows phone too doesn't make any sense to me.

I really want the ability to publish vb.net programmed apps to the windows store... :( Posted via the Windows Central App for Android

I can see this is a big plus for people to consider Windows Mobile. Everyone that I've shown my Lumia to frowns upon the App Store, but once they actually see what's in the App Store. They realize that it's not too far off. It's just the major apps that everyone knows on iOS and Android. Microsoft made their empire on software in on mobile hardware, their mainstream revenue comes from software. I came from iOS/Android and so far away is Microsoft has delivered. Has made me happy and very optimistic? I know that with their future releases of software/mobile hardware will not disappoint.

Islandwood will be a game changer.

I'm just wondering if this will support Swift 2 any time in the future

Come on developers! Please, pretty please..... Seriously, please, we're *begging* you

The effect of porting apps may be that eg the Facebook app from Microsoft is replaced with the official app ported from IOS, which may mean we lose the last bit of people hub integration. Ported apps may have dead tiles rather than live ones, if the developer doesn't care about customizing the app for W10M. Which they probably won't because they would have to re-apply those customizations after each update of the app.

This message is either a troll ( because ive heard that like 4 or 5 times already in the past 4 month ) or Microsoft is like doing no progress whatsoever and telling everyone the same bullshit over and over again >.<
Because there have been at least 3 or 4 articles on windows central about that particular tool ms is stating about already including " support your apps " " now with the special tool " "easy as possible " . John you don't have to post the same content over and over again.

I think the previous articles you are referring to are about the tool Islandwood. This article is about a tool that will check existing ios apps and determine how well they will convert using Islandwood. If a dev finds out that his/her app will convert with a 90%+ success rate, it might be worth it for them to give it a try. Posted via the Windows Central App for Android because I am unfortunately with Sprint

Dear Amazon,
Please submit your Comixology app.

I wonder what kind of performence limitations come from porting with Islandwood. I have heard that it will work better out of the box with games. We have seen it done pretty well with candy crush but then why wouldnt Supercell do it with Clash of Clans. Is it possible the tried it and it didnt perform well and/or needed way to much bug fixing or are they just not wanting to develop for the platform.

Let's see if Snapchat will continue to be a d*ck to Windows...

I hope developers will port their apps here in windowsphone. Im excited lol .

Microsoft is now more interested in Apple Developers transforming thier Apple apps into Windows 10 Apps because they are well made and chosen by Apple staff to be in the Apple store after a more serious evaluation program and they are just as numerous as Android apps

I doubt how many will port their apps, even though Microsoft is clearly making efforts!

First I think they have to fix the store, the last few times I was there I couldn't even do a simple search

C'mon ios devs give Universal Windows apps a shot! Be part of the next step...

Damn man....windows is really trying its best.....i so wanna see its rise in the market " THE WINDOWS DYNASTY SHALL RISE"

When i will see some new apps (ported)

Is the tool sound and easy enough to use to serve as a DIY porting option for average users? Yeah, proabbly going to need to take a tutorial or consult forums, but I (and probably many others) would love to be able to take a neglected app like snapchat, waze or Hearthstone from the Appstore to convert and sideload into our phones.
Windows Central Newsletter
Thank you for signing up to Windows Central. You will receive a verification email shortly.
There was a problem. Please refresh the page and try again.